After 6 years of presenting at SMX London, Ann Stanley had entered the SMX Advanced Hall of Fame by presenting at SMX Advanced for the first time. The talk was on e-commerce panel and focused on "Buy buttons, shopping ads, social shopping, PPC remarketing and feed management software". The panel was moderated by one of Anicca's  heroes Ginny Marvin from Search Engine Land.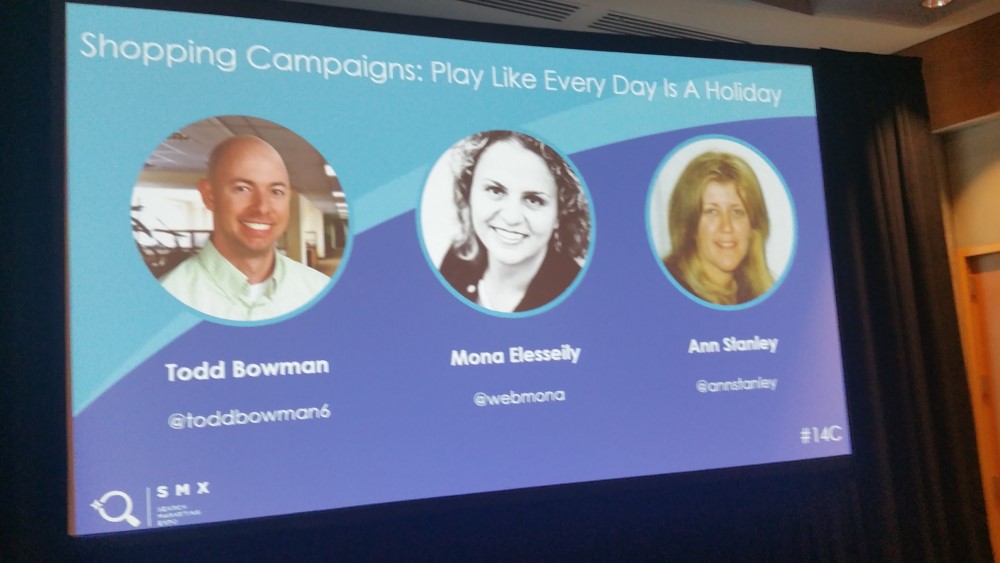 You can download the presentation below:
Details of the presentation
The presentation covers:
Search

Shopping ads in search
Shopping ads in Bing vs AdWords

Introduction to social commerce

Stats in the growth in social commerce
Different types of social commerce

Facebook and Instagram

F-Commerce (Facebook shopping apps)
Facebook buy buttons
Instagram Shop Now buy buttons

Pinterest

Pinterest Rich pins
Pinterest Buy it buy buttons
Practical tips using Pinterest buy buttons

Twitter

Twitter dynamic remarketing (product ads)

Social shopping

Top social shopping sites by sector
Introduction to Polyvore
Introduction to Houzz

Display ads

Products and price buttons in display ads
Buy buttons in TrueView video ads

Cross platform remarketing tactics

Use of honey pots to get visitors to your site so you can remarket to them
RLSA for shopping
Facebook dynamic retargeting product ads
Dynamic product ads in display (AdWords)

Feed Management

Examples of Feed Management Software
Why you should use feed managment software
When to implement feed management software and how much will it cost
Do you need help with your e-commerce marketing?
If you need help on any of these areas then contact one of our ecommerce consultants by emailing [email protected] or give us a call on 0116 298 6460.