Using Facebook Lead Generation Ads to Grow Your Business in 2022

Have you ever thought about using lead generation campaigns in Facebook Ads? I thought you'd say that… forget everything you know/ don't know and bookmark this blog, you might need it again later…  
Want to skip to the good bit? Click the relevant link below to find the section you want to know more about: 
Why should I be using Lead Ads?
Why should I be using Lead Ads?
Lead generation ads are native to Facebook meaning engagement happens on Facebook.

Facebook tends to prefer these ads over posts/ads going to links off Facebook

Engagement and form fills tend to be high due to users remaining on their Facebook feed and can be submitted in a few easy steps

If you were to run a conversion campaign for example, then you would need a website to send people to fill out a form. However, a landing page isn't critical/ needed to run a lead generation campaign as the lead form is completed on Facebook.

Facebook pre-populates contact information for the user, making it easier for them to complete your form.

Tracking requirements are kept to a minimum as the whole process is on Facebook. Thus, reducing the risk of lost tracking/other channel taking credit.

Your CRM can be seamlessly integrated into the process.

 
The iOS 14.5 Update
On April 26, 2021, Apple released the iOS 14.5 update and turned off IDFA "cookie" (Identifier for Advertisers) by default. This meant users now had the option to opt out and as a result advertisers would then be unable to track user behaviour. 
If you don't already know, this is what it means for advertisers on Facebook: 
Reach & frequency buying options for apps are now unavailable when creating an ad for iOS 14 devices, only the auction buying option is available

 

For both app and web conversions, delivery and action breakdowns such as age, gender and placement were severely limited with some of the placement data initially & still falling into "uncategorised".

 

The attribution window has been reduced from a 28-day click to a 7-day click with attribution being delayed by up to 3 days.

 

Custom Audiences such as "website visitors in the last 30 days" began to decrease as people fell out of the audience and were not replenished due to the lack of user tracking.

 
How can Lead Ads be used?
Job fulfilment

– this will depend on the sector, as recruitment of some job roles may lend themselves more to the LinkedIn demographic. However, LinkedIn is considerably more expensive to promote when compared to Facebook Lead Ads

Instances where a

tailored quote

or price is provided based on your circumstances/ requirements rather than an instant price.

 

Where you're offering

something for free

i.e., provide us with your contact info in return for a discount/ free eBook.

 

Email signup/ subscription – It can be a cost-effective way of generating subscription sign-ups. For example, the campaign could offer 10% off the first purchase if the customer provides their contact details. From our activity, a cost per signup can be between £2.50 to £7.50

 

Surveys

to gather customer opinion; this may be for a specific location or a new initiative that you have been doing and would like customer feedback on.

 

Promote events

/

evaluate the demand for an event i.e., promote or gauge demand for a comedy show in Leicester.

 
Special Ad Categories
If you're creating a campaign that advertises one of the four categories below, you must apply the correct category to your campaigns or risk your ad account being disabled. 
Credit –

These are Ads that promote or directly link to a credit opportunity such as credit card offers, car loans, personal or business loan services, mortgage loans and long-term financing. In addition to this, you cannot run brand ads for credit cards under any circumstances.

Employment –

Ads that promote or directly link to an employment opportunity such as part or full-time jobs, internships or professional certification programmes must use this special ad category, regardless of a specific job offer. This is to prevent discrimination against gender, age and specific postcode areas.

Housing

– Ads that promote or directly link to a housing opportunity or related service such as listings for the sale or rental of a home or flat, homeowners' insurance, mortgage insurance, mortgage loans, housing repairs and home equity or appraisal services must use a special ad category. However, ads designed to educate consumers or housing providers about their rights and responsibilities under fair housing laws are not required to use a special ad category.

Social issues, elections or politics –

If you are running ads for yourself, on behalf of or about a candidate for public office, a political figure, a political party you must run these ads in this special ad category. You must also do this for ads that are about social issues in any place where the ad is being placed.
The category you chose dictates what targeting options are available to you: 
For the

first three categories (Credit, Employment, Housing)

, targeting by age, gender or specific postcode is unavailable.

 

Location targeting must be town, city or pin drop (plus a 15km radius).

 

For the

fourth category (

Social issues, elections or politics)

,

advertisers may be required to get authorisation in the country they wish to run ads.

Additionally, a disclaimer will be added to the ads such as "Paid for by". 

 
Types of Lead Generation Ads
When creating a campaign you can choose from three types of lead generation as shown below: 
Instant Forms
These are the most commonly used type and are made up of an introduction, questions and privacy/completion screen 
Content, settings & form type –
Before creating a lead form it's important to make sure the lead form settings and type are correct before proceeding. If you do make an error, you will have to duplicate the lead form and correct the settings before submitting the form again.
Intro-
When uploading an image and writing the intro, ensure the image is relevant and the intro has a clear call-to-action and tells the person what they can expect when they have filled in the form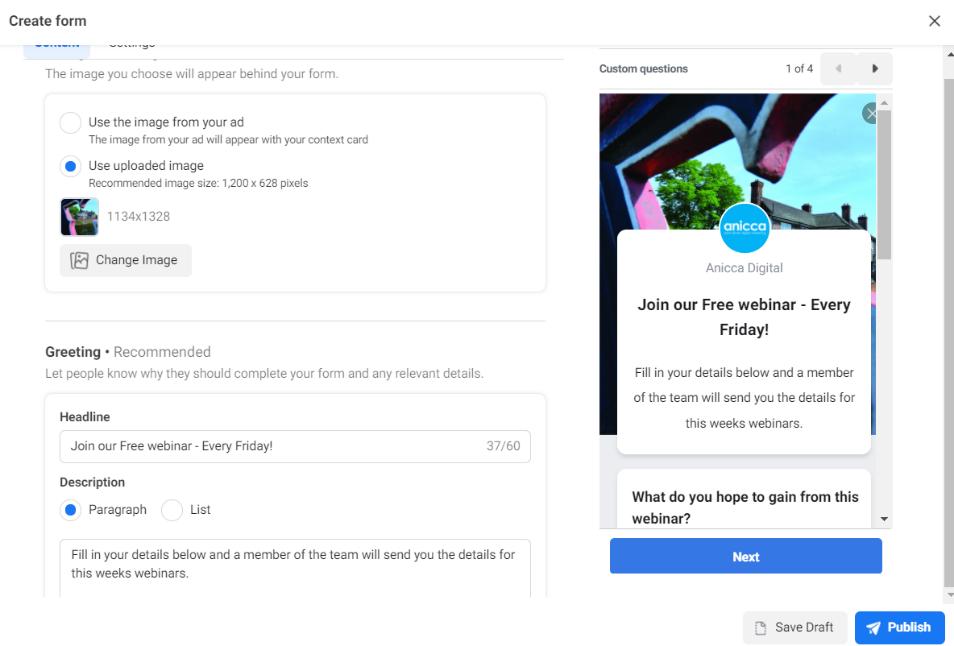 Custom & Short Questions-
Try to keep your questions aligned to your goal and ask as few questions as possible, to make it easier for people to submit your form. It's therefore recommended to limit the number of short answer questions you ask and only ask for information you need. 
Unless a closed question, multiple-choice should have another option followed by a short answer. Although there is no wrong way to do it, requiring a short answer vs. a multiple-choice answer may impact the type of answer you get for certain questions.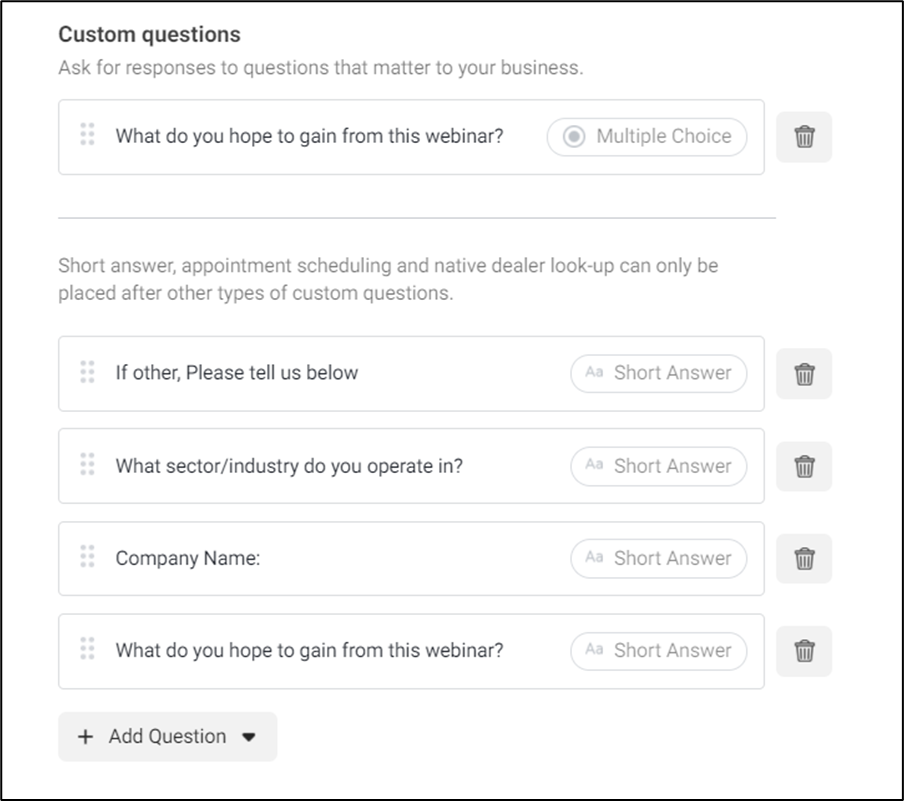 Appointment Requests-
You are unable to change the date and time availability within the form. As a workaround, you could highlight your opening times in the confirmation message. 
From our knowledge, you are unable to link this to software that auto-confirms appointments and therefore it is a manual process of confirming the appointment with the customer.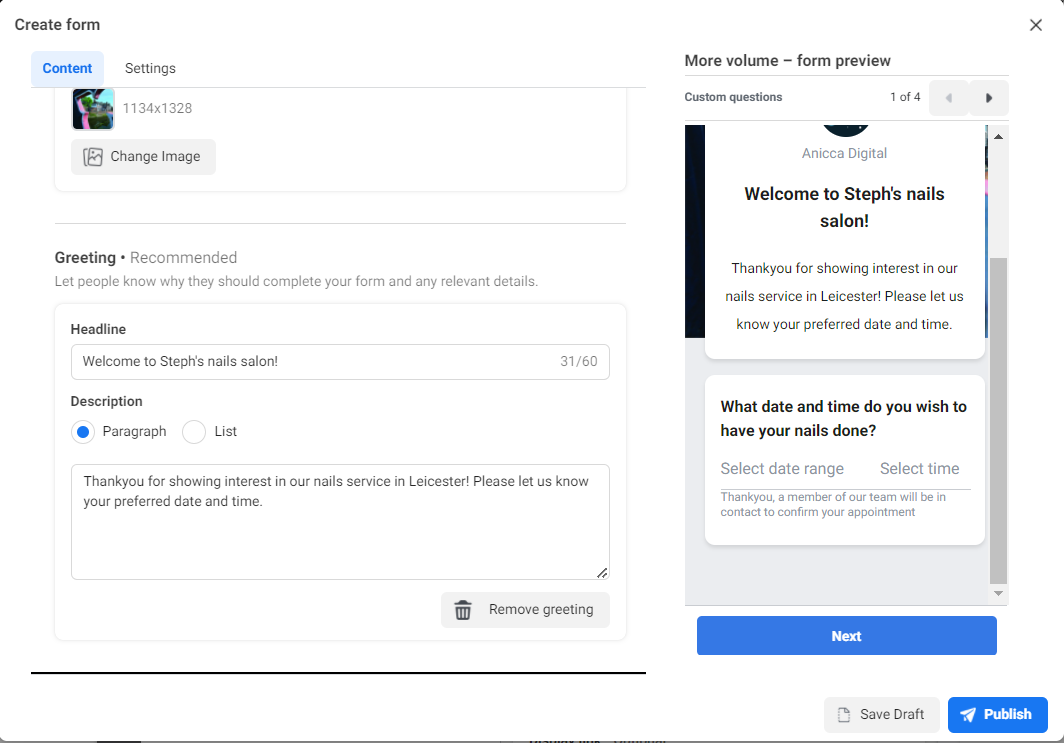 Conditional –
A CSV file is required in order to set up a conditional question, click this link to download our template.
Once you're happy with your questions and answers, select the conditional question option in the lead form and upload the CSV file.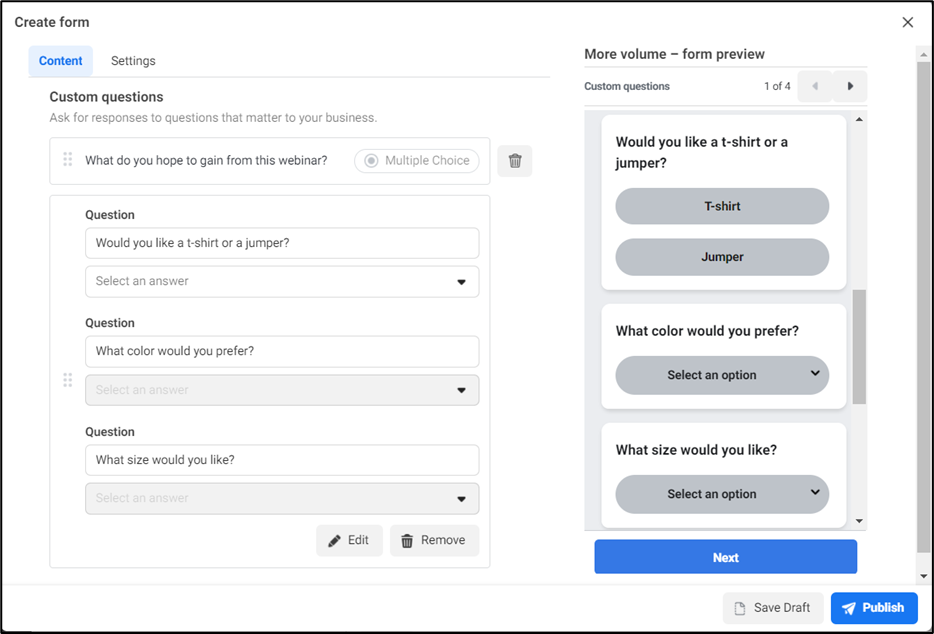 This example shows someone wanting a medium red T-shirt: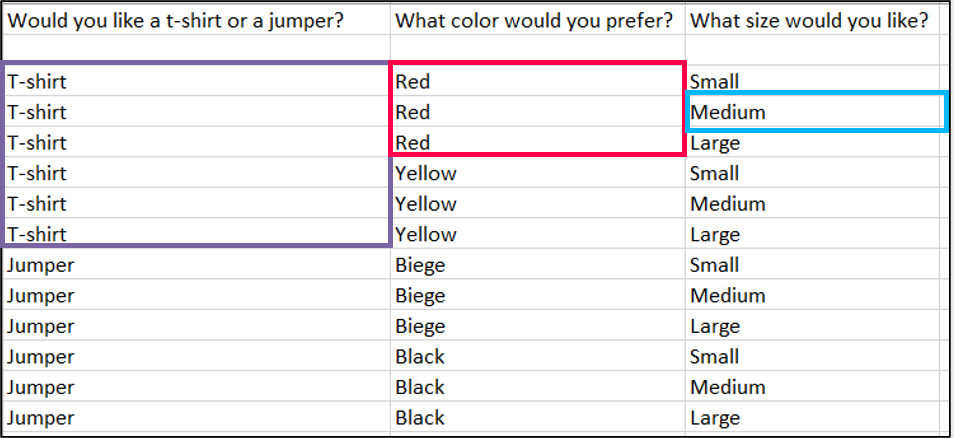 Prefill-
Using pre-filled fields make it easier for people to give information and reduces the risk of being given invalid information. Where possible pre-filled fields should be used to get email addresses, full names etc.   
You cannot ask for the same information twice, e.g., you can't have a short answer asking for their full name as well as a pre-filled field. You should only ask for the information required to complete your goal. For Example, if your campaign is targeting the UK, you can assume their country without having to ask.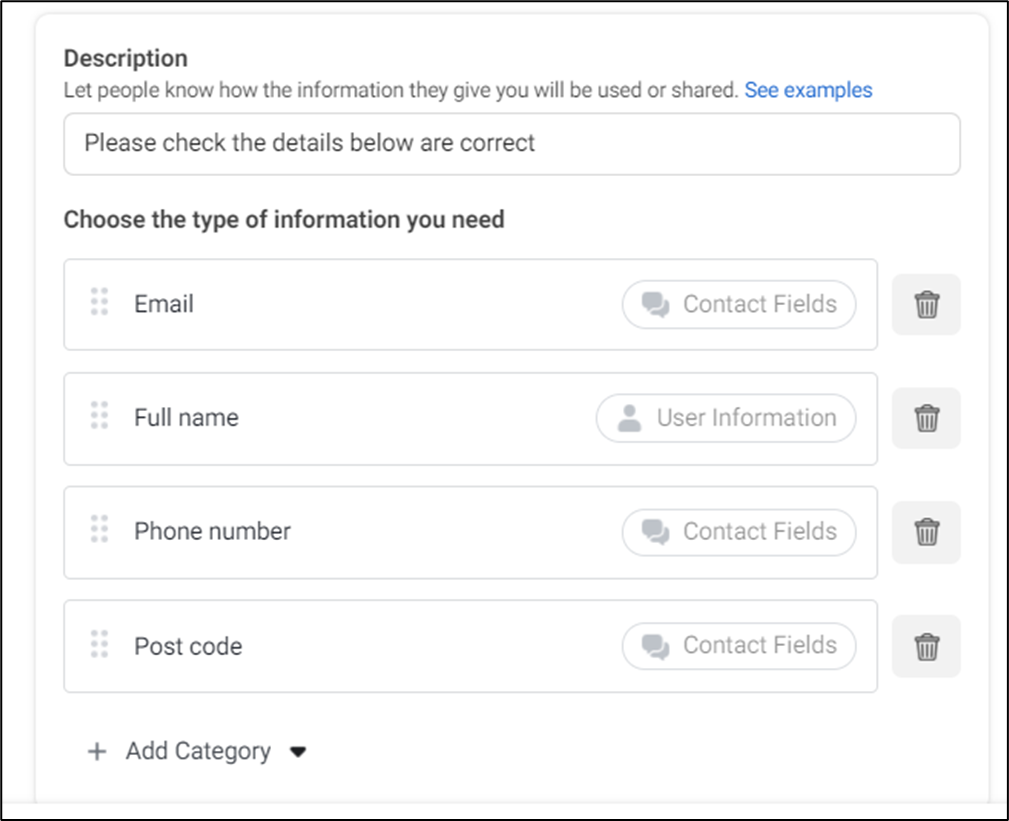 Privacy & review –
When setting a lead form up for the first time, you may need to accept Facebook's privacy policy if haven't done so already. To publish a lead form, you must provide a link to your own privacy policy and you may choose to add additional disclaimers if desired.  
Note: At this stage, the 'higher intent' form types will present a "review your info" element that the person will need to swipe before seeing the completion screen, as shown below: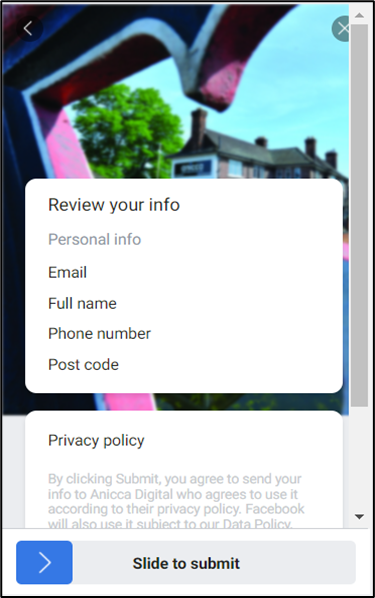 Completion-
The completion page is just as important as the intro page. You should ensure that the customer is once again notified of what they should expect to happen next. At this point, you can also provide a CTA of either visiting a specific page on your website, calling you directly or downloading a resource.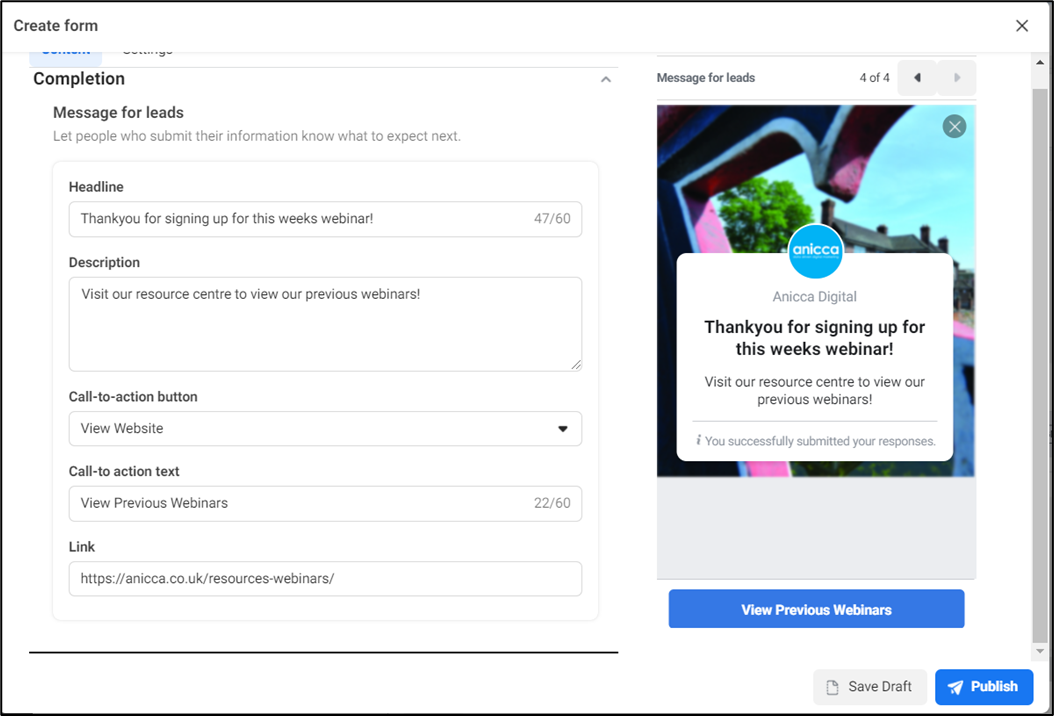 Note: You cannot send customers directly to a PDF but instead, should send them to a landing page that enables to them download the document/resource. 
Automated Chat
Note: Lead generation in Messenger is not currently available for ad accounts or Pages in Europe and Japan. 
Settings (Advanced) –
If you would like to edit the reminder message or the error message people see, this can be done through the advanced settings tab.  
If a piece of information isn't critical or you are aware that customers may not have an answer, it's recommended that "Answer validation" is disabled and "allow to skip" is enabled. However, if the above is true, you should consider if the question is essential to achieving your goal and if should be included in the chat or not.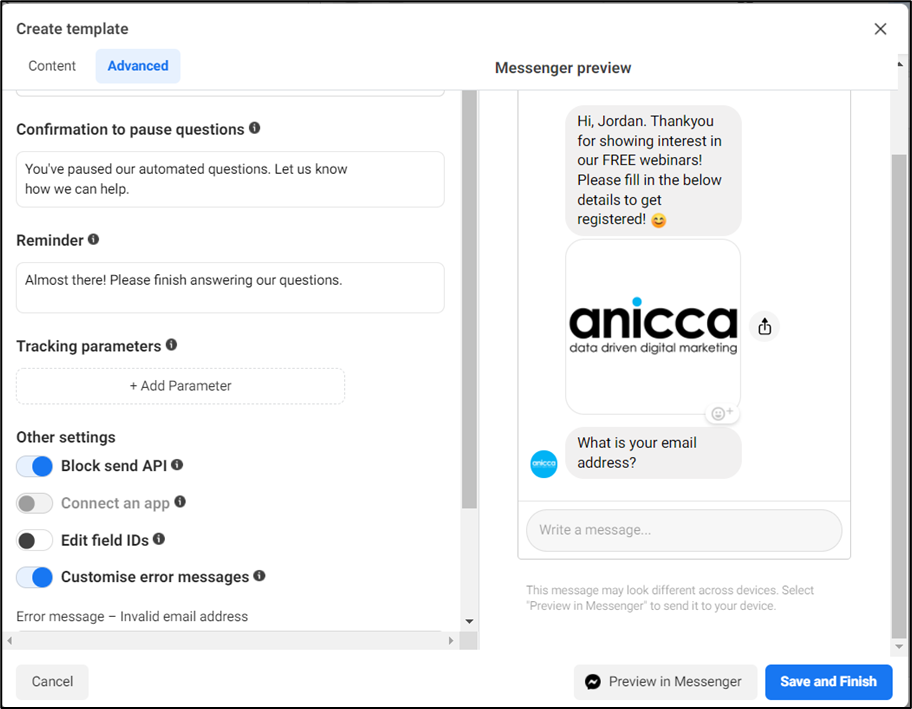 Intro –
When writing an intro message, you can add personalisation to the message with automated name insertion. In addition to this, Emoji's can also be used throughout the automated conversation, and you can upload an image or video to appear under your text.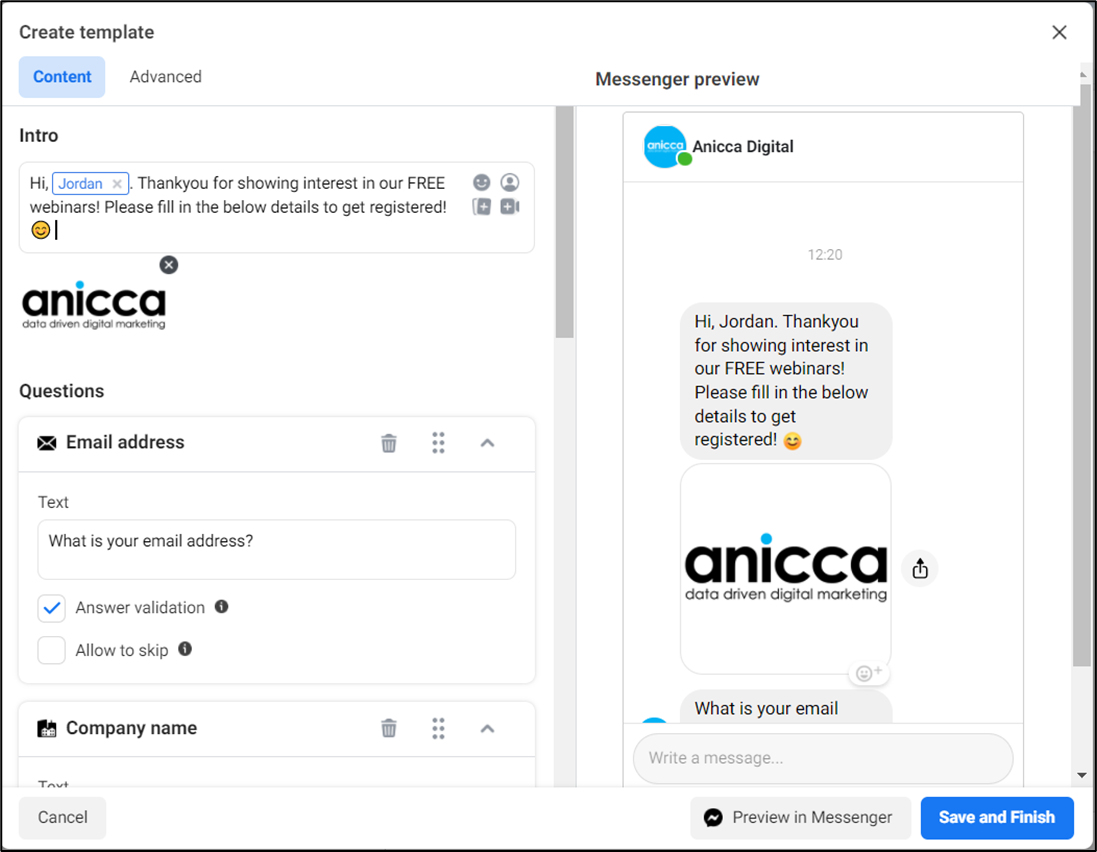 Custom & Short Questions –
The same practice as instant forms should be followed. 
Option Questions –
Option questions should be used sparingly to not overload the person with decisions. They should also enable the person to get onto the next question easily i.e., an option that says "Skip" or "other". Unless the answer is critical to dictating whether you can help the customer, disqualification should be used sparingly.  
For example, if a person is required to be over the age of 25 and isn't, this would be a good use of it.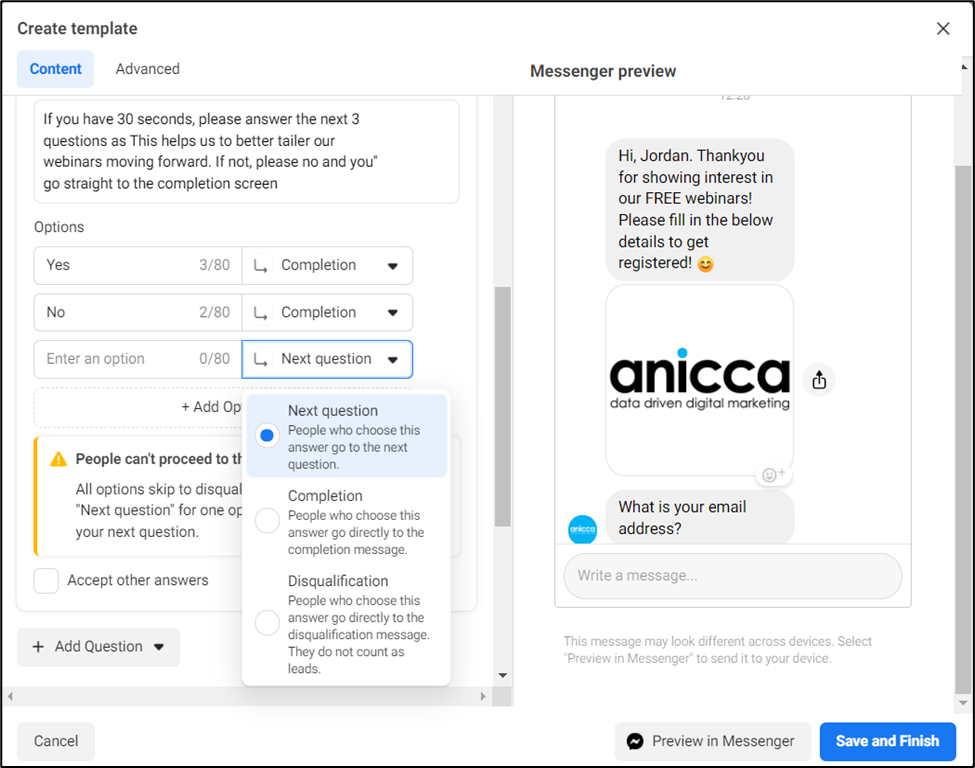 Completion –
The same practice as instant forms should be followed. 
Calls
Calls setup is the simplest of the 3 lead generation types. You are only required to provide primary text, a headline & description, and a phone number. In addition to, a 1:1 image which can be used on it's on own or as part of a carousel ad. 

 

Carousel ads allow you to provide different numbers in the same ad, realistically the need to do this is limited.

 

Ad placement is also simple with ads only being able to appear on the Facebook feed and Marketplace.

 

Call generation campaigns only show up on mobile devices and can be run on a schedule if needed i.e., 9 am – 5 pm (only if a lifetime budget is used).

 
How to access your leads on your Facebook Page
Go to your Facebook Page and

Look

at the left-hand column

 

Scroll down

until you see "

Publishing Tools

" and

Click

 

Scroll down

the left-hand column again to "

Lead Ads Forms

"

 

Under this, click "

Forms Library

" and find the relevant form

 

Click

the download button on the relevant row to download the leads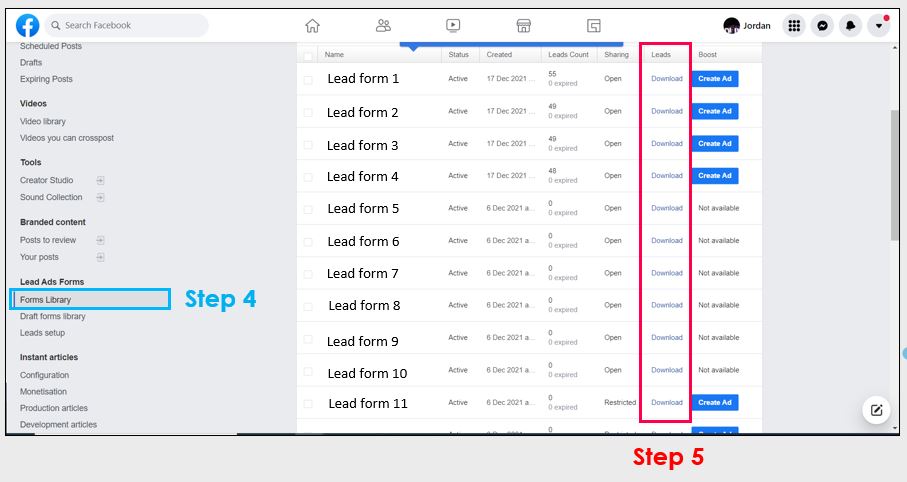 How to access your leads in your Facebook Ad Manager
Go to Ads Manager and

select the

campaign tab on the left-hand side

 

Select

the relevant date range & campaigns, then go to the ad level

 

Ensure you have the "

Results

" column applied (If it isn't applied

click

on "

Columns

" and

add

it in)

 

Where a number appears in the column

click

"

On-Facebook leads

"

 

Download

the leads and repeat the process for each ad that has received leads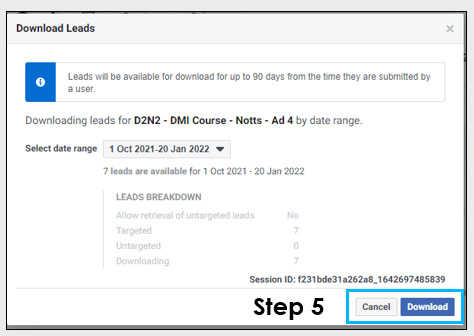 Switching from Meta Business Suite
Once in Meta Business Suite (Desktop),

look

in the bottom left and

click

"

Help

" or "

Give Feedback

" (depending on what version of Meta Business Suite you have, you will see one

or

the other)

Once Clicked, you should see a "

Switch to Business Manager

" button,

click

on this and

click

"

Switch

"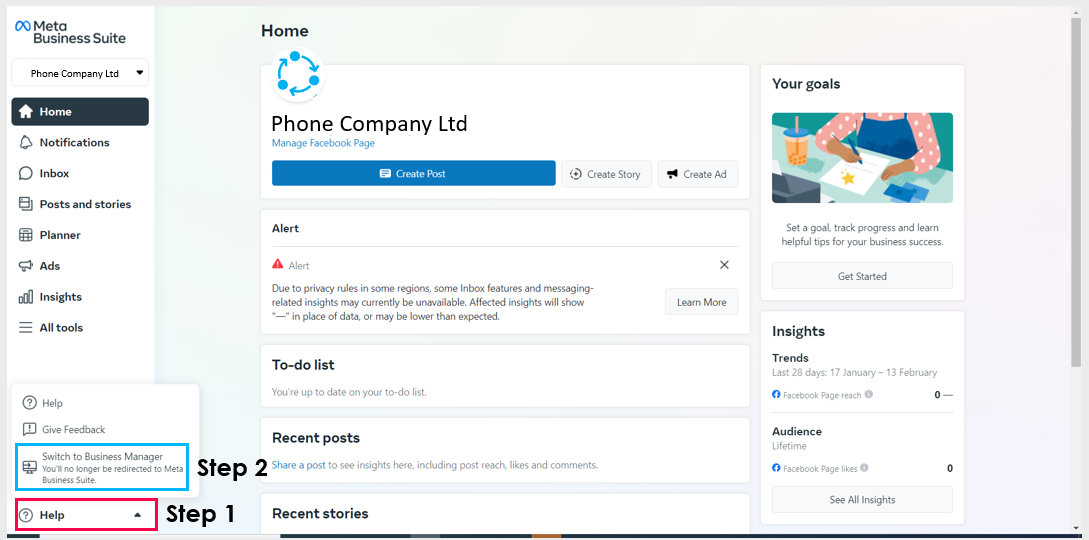 Automating the process
Facebook lead generation ads can be very manual and time consuming without help from software. Integrating your CRM software with Facebook can help ensure that the leads you generate through your Facebook lead ad campaigns are followed up within a timely manner due to them going through to your CRM automatically and in real time. There are over 600 software integrations available on Facebook so it's likely your current CRM can be easily connected (if you have one). 
Alternatively, we would recommend using third-party software like Zapier, which can be used to automatically send an email notification with customers' information, every time someone completes a lead form. 
What we've learned
Lead quality can be lacking sometimes however, the low cost per lead means that the overall cost per conversation is still highly competitive when compared to other types of campaigns

 

You must test multiple lead form variations, or you'll be none the wiser in terms of how you can improve your campaign further

 

Remarketing through lead forms can be effective

 

Depending on their usage, short and snappy Instant forms aren't always the best

 

Manually sorting and downloading leads is too time-consuming – automation is needed

 

Lead forms are a cost-effective way of getting a substantial amount of enquiries in a short space of time.

 

Lead forms combined with special ad categories can be highly effective despite the restrictions

 
 If you're interested in finding out more about our Paid services or want to know more about our training programmes please contact us today. Our team is on hand to help bring you up to speed with the latest digital marketing techniques and help create winning campaigns across paid, organic, and social platforms.