As part of our New Frontiers in Digital Transformation & Digital Marketing event at Space Park Leicester, Anicca Digital MD Ann Stanley shares an update of the latest developments in search, paid and social.
How are your users finding your website? There are three main methods your target audience (new and potential customers) use to find you:
Search
Social
Other, e.g. websites, news sites
These digital channels drive traffic to your brand site, but as only 1-5% of traffic converts into sales or leads once on your site you need to drive a lot of traffic to gain enough conversions.
With a niche subject like STEM, it is even more difficult to get your target audience to your site, so understanding the role different digital channels play can help you to be more strategic.
When it comes to innovation in particular, a lot of your target audience don't know they have a need for your products or services.
Social media can be great for raising brand awareness and generating conversations, but you need to be aware of where your audience are and the best ways to reach them across the various digital channels.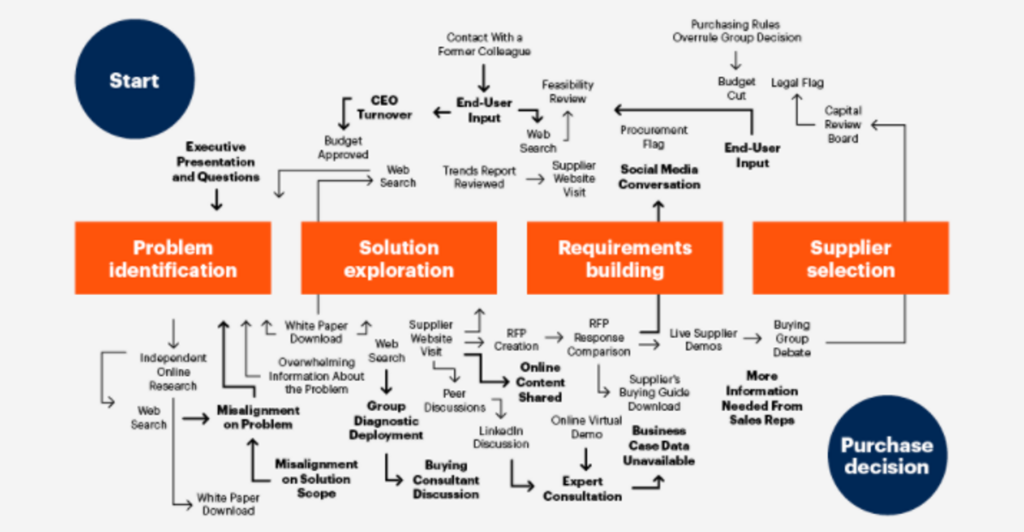 Understanding the B2B buying journey
Gartner research demonstrates the complexity of the user journey and how various channels play a part in the buying process.
Greater understanding of the buying process can help us plan our marketing activities much more effectively. For example, B2B buying is usually done by a group of people and is a much longer process than B2C buying.
It is likely that your audience will have completed 50-70% of the awareness and decision making process before they even reach out to a sales person.
This diagram underlines some of the useful tools B2B can utilise to assist users with this process, including whitepaper and downloads, supplier price lists and trade shows.
It is important to note however, that Covid-19 has changed the usual patterns of interaction and have brought the majority of that behaviour online. It emphasises the need for digital marketing across the full buying journey.
The added benefit is that an increased online presence means you potentially have the whole world as your audience.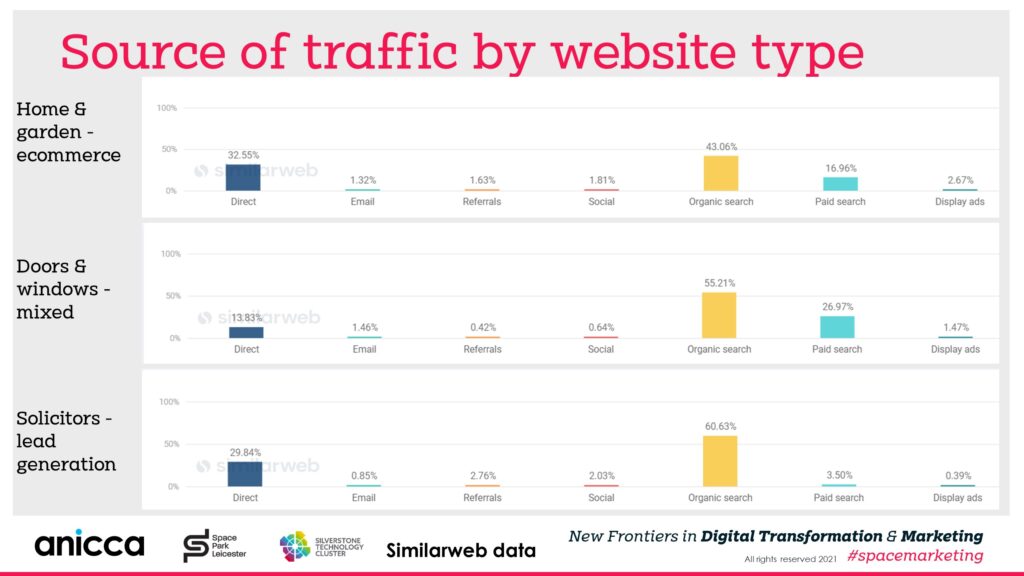 B2B Marketers' Priorities
According to B2B audiences, new social media platforms are a priority, but the evidence shows that they don't drive traffic.
So how do you know which digital platforms you should be looking at? And, more importantly, which channels will drive traffic to your site?
Data from Similarweb shows that for B2C audiences direct is a key driver due to brand awareness, with organic and paid search also driving traffic, but within B2C these are very competitive.
In areas where there are fewer well-known brands, e.g. doors and windows, there is greater reliance on organic because the target audience is having to do more research to find what they are looking for.
This also shows that organic social media drives only a small fraction of traffic, typically less than 2%.
For B2B and other sectors there is even greater reliance on organic for reaching audiences. In science, medicine, engineering, manufacturing, organic is the biggest driver of traffic because audiences don't know the brands within those spaces.
This places greater emphasis on paid media and SEO for brand awareness and to get people to site.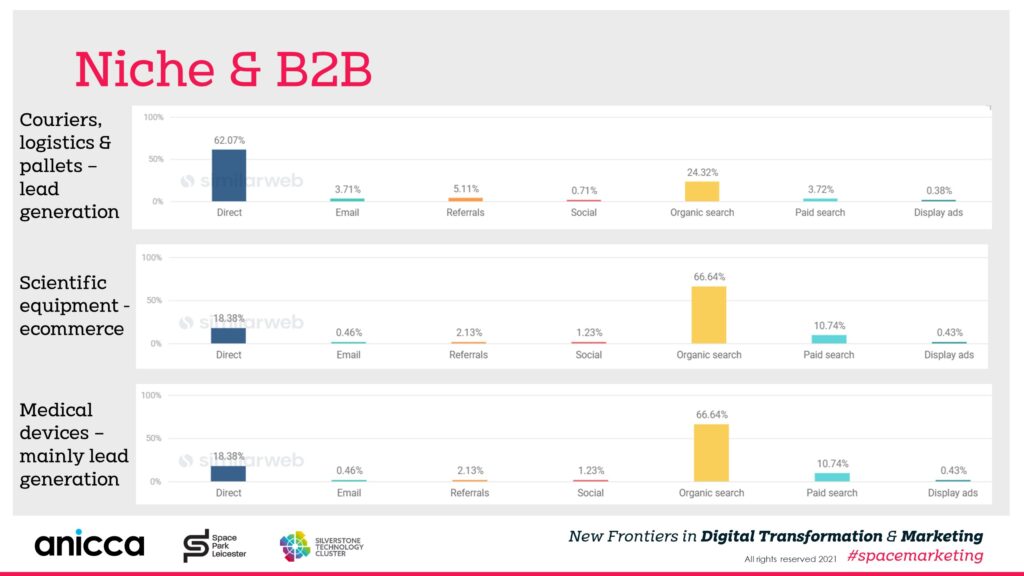 What happens after users search on Google?
User behaviour is always changing and Google is developing new ways to keep users within its own platform. The result is a large increase in zero click searches, this is where users don't click through to another site from the Google results.
This behaviour underlines why brands need to invest time in SEO, as title tags and meta descriptions are the key method for driving clicks to your site.
Zero click searches are different depending on the device being used:
Desktop 46.48% of searches are zero click
Mobile 77% of searches are zero click
– conversion rate much lower, more traffic, but never leaving google, cos getting info they need e.g. phone number
This shows that even if your site appears on page one of the search engine results, it can still be difficult to get traffic to click through.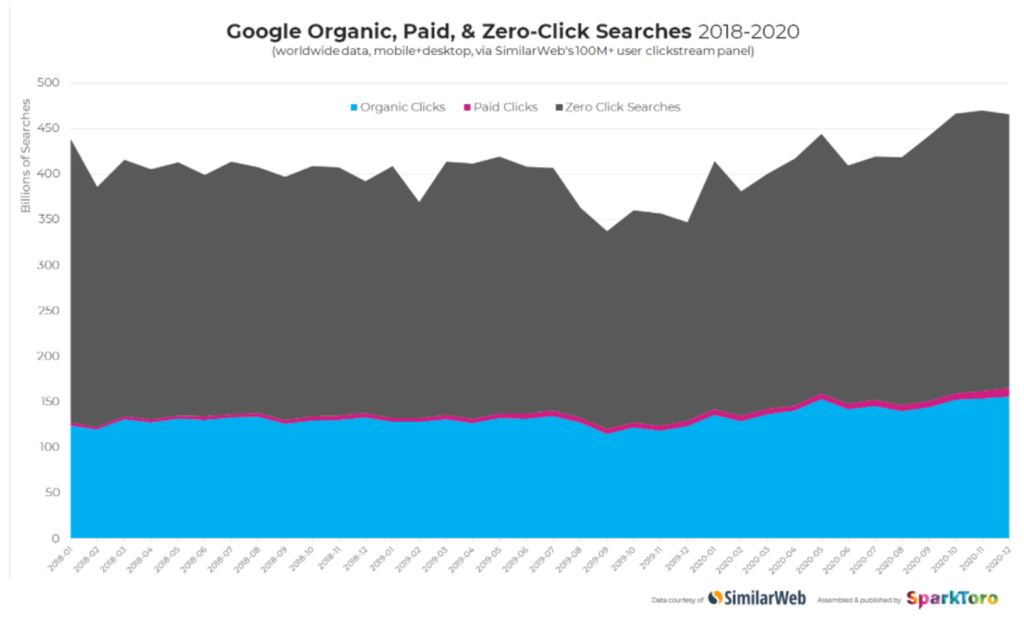 Interesting takeaways:
Getting found in the search engines is still the most important way to get found – even if you have to pay for it
Building your brand will generate direct traffic but also people will search for your brand in Google – difficult if you are new brand and it highlights importance of content, PR to get in front of audience
Some sectors have more paid search ads than other e.g. when there is not is a lot of competition or research before a purchase or lead. However, this is the fastest way to get new leads or sales if you need sales now
Social media drives very little traffic to website (typically <5%, unless paid social ads are used). Assists in the customer journey but not quick for leads or sales
However, social media can be great at increasing brand awareness and helping to get more brand searches or direct traffic
Just because someone does a search does not mean that they will even click through to another site; as search engines often display what they are looking for without the need to go to another site
What's new in organic search (SEO)
Page Experience – Core Web Vitals – 4th June – 12th July 2021
The algorithm considers how well users perceive and engage with web pages
Google will reward positive rankings for good performers and may reduce rankings for poor performers, relative to their competitor's performance
Find out more via our Core Web Vitals webinar and blog post
Google's July 2021 Core Update – July 1st
Impact: For this update you may have seen a fluctuation in keyword rankings or organic traffic.
Action: There may be nothing to fix, but Google has offered a checklist of ranking consideration to go through just in case – we can audit and suggest specific actions if you suffered any major ranking changes
Google Algorithm updates – August
Google re-writing title tags in Google SERPs – August 23rd
Impact: May affect your click through rates from Google search.
Action: to ensure enough useful text is displayed in the title tag Google chooses to display, include keywords people would search for you pages in the title tag and H1 tag.
Google Link Spam algorithm update rolling out – August 24th
Impact: You may have seen a drop in domain authority and/or rankings if you had a lot of low-quality, spam-like sites linking to you
Action: check your sites for free or using a premium tool for low-authority directly –looking sites (Google info on what to look out for) – or, get us to audit your site if you spot any issues with rankings or domain authority at that time
What's new in paid advertising
Advertising in the UK, over 70% is now digital, so essentially it has become traditional advertising due to having the largest share.
There is a recovery happening following Covid-19 following a dip in 2020.
Traditional and digital channels are merging to create new opportunities, e.g. digital TV and Sky Smart Ads and podcasts overlapping with radio.
Massive growth in video ads – between 2019 and 2021 there has been a big spike in the growth of advertising, with video becoming bigger than predicted.
What's new in the social platforms
Facebook and Instagram
Facebook becomes Meta
Facebook's challenging iOS14 update will soon see a similar one from Android (date TBC)
Reels for Instagram – these are new ads – which is their push to be more like "Tik Tok" – see handout
Insta trying to compete with TikTok
Twitter
Twitter is finally trialing new image sizes in feed to come away from that algorithm that "clips to a random area"
LinkedIn
LinkedIn now have "download document" ads which is really helpful for company pushes with Case studies and brochures etc. Especially those companies still struggling to embrace digital, it allows them to use their traditional collateral online. Good for B2B.
LinkedIn have just announced competitor insights for your company primary
You can now request service reviews for your LinkedIn profile
TikTok
Taking market share from Facebook, Instagram and YouTube – with significant growth across all ages
Age profile is increasing
More time spent on TikTok than YouTube
Some juicy stats from the world of digital marketing!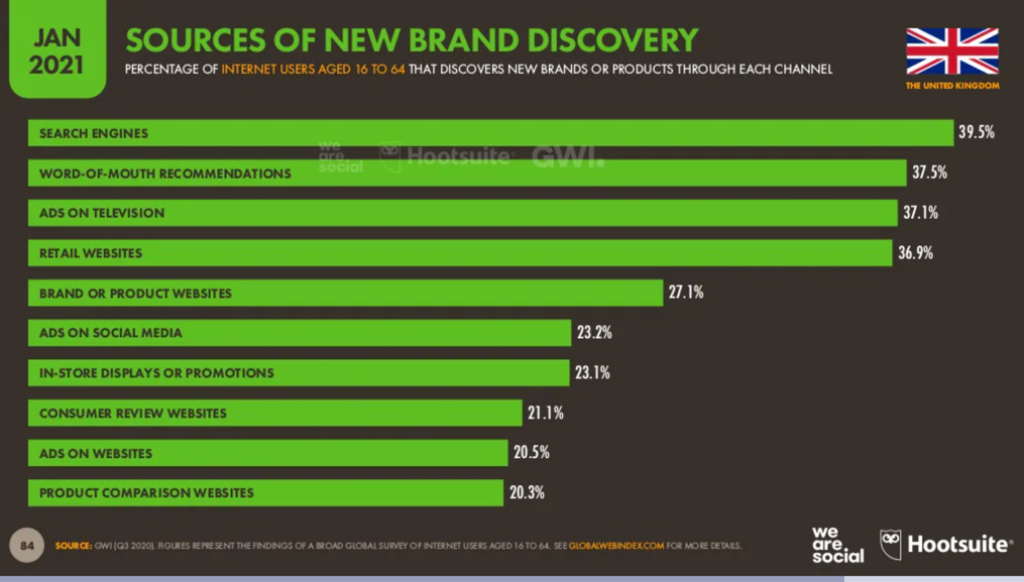 Check out the full talk via our resources library, keep up-to-date with the latest digital marketing news with our blog posts or contact us for advice and support.