E-Commercial 2018 Speakers
For the fourth year running we lined up some brilliant speakers with expertise in all aspects of digital marketing and provided attendees with bundles of actionable insights to improve their digital marketing.
John Rowley – Thorntons Ferrero
Subject: Why Profitable Customer Journeys Need People, Experiences and Analysis
John will discuss why profitable customer journeys to need people, experiences and analysis. Breaking down complex digital strategies into smaller topics, John will share strategies which can be applied to all businesses - from large multi-national organisations such as Ferrero down to sole traders and SMEs looking to improve their online performance. If you are looking to improve your online customer experience, increase sales, loyalty and customer satisfaction, don't miss this talk!
Ross Davies – Strafe Creative
Subject: How to Overcome Objection Through Great Design
Ross is the Managing Director for Strafe Creative, an award-winning agency in Nottingham. Diagnosed with dyslexia from childhood, this has influenced and shaped Ross' learning journey to date. His purpose-led approach in web, graphic and Game UX Design has made Strafe Creative one of the fastest growing digital design agencies. Be prepared to see things from a different perspective as he shares his findings with you.
Ann Stanley – Anicca Digital
Subject: What's New in Paid
Ann Stanley is the founder and MD of Anicca Digital. She will be sharing all the latest news of what's new from the world of paid media including Google Ads, Facebook, Twitter and LinkedIn. Ann is a much respected figure in the digital marketing industry and has spoken at events across the UK, Europe and even the USA!
John Cave – Shoptimised
Subject: Successful Product Feed Optimisation
John is the Director of Shoptimised, a feed management software that gives you full control over your
product feed optimisation
. With Shoptimised, you can optimise and edit multiple shopping feeds without changing your website or relying on your developer. He will be talking on best practice for successful product feed optimisation.
Samantha Hearn – Watches Of Switzerland Group
Subject: The Power of Video
Sam is the Content Manager at The Watches Of Switzerland. A specialist in e-commerce digital marketing, she has implemented multiple campaigns, led global social media teams, managed substantial media budgets, and created award nominated work. She has a proven track record as a conference speaker with talks at Brighton SEO, SMX London, SAScon, Hero Conferences, Internet Retailing Expo, B2B Marketing Show and previous E-Commercial Conferences.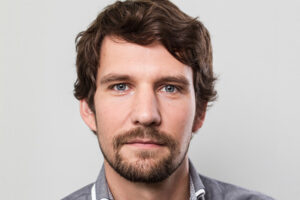 Andraž Štalec - Red Orbit
Subject: Shifting your focus to retention
The increasing number of online retailers on one side and slowing growth of online user population on the other side are the driving forces of change in e-commerce. Number of returning customers is in decline as new competitors are entering the market. Cost of advertising is rising. One-time customers are not profitable anymore so online retailers need to shift focus to retention.
In this talk we'll walk you through the process of building the new framework. We'll deep-dive into data-driven digital marketing framework, explain how to use CRM data to enhance your segments and finish up with case studies expaining how to use the new metrics to identify top customers and maximize your profits.
Holly Kelly / George Price - Anicca Digital
Subject: Segmenting Your Audience Characteristics and Developing Bespoke Targeting Strategies
Katie Smith / Bakti Jethwa - Anicca Digital
Subject: How to use Social Media for E-Commerce
Ed Truman
Subject: Using Google Data Studio to Super-charge Your Website Reporting
Prabhat Shah - DAYTODAYEBAY
Subject: Amazon Advertising Best Practices
Gareth Bakewell - Sky AdSmart
Subject: Sky AdSmart and targeted TV advertising
Interested in speaking at the 2019 conference?
If you have an awesome topic you'd like to talk about at our conference then please get in touch with us by email. Simple email [email protected] with the subject line 'E-Commercial Conference Speaker'