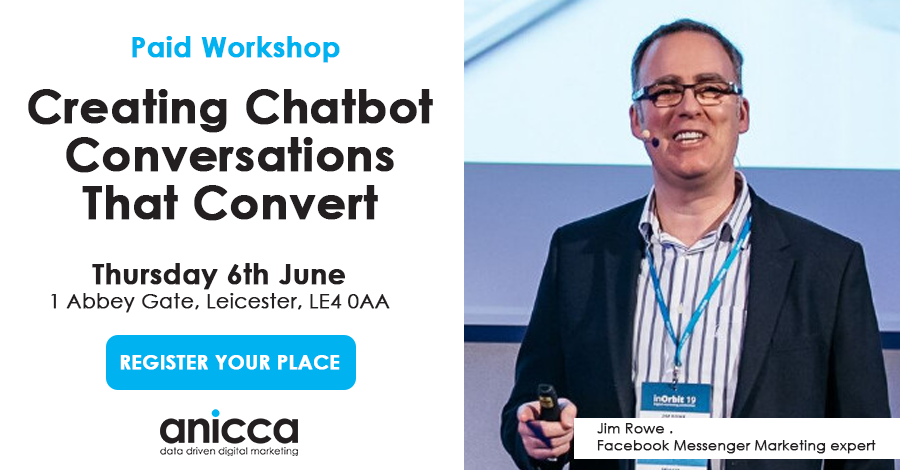 Date: 6th June 2019 9.30am – 5.00pm
Location: Anicca Digital, 1 Abbey Gate, Leicester, LE4 0AA
Cost: £100
Anicca is excited to announce that we will be hosting a full day workshop on how to plan, create and publish a REAL-TIME Website Chatbot driven campaign.
Working in small teams using conversational best practice, you'll work together to create a campaign with a specific outcome in mind. During this workshop we will be using the skills we learn during the session to plan, create and publish a REAL-TIME Chatbot driven campaign and launch it to the world.
We will explore the Facebook eco-system and where Facebook Messenger Chatbots fit in. How Facebook Messenger Marketing is policed by both Facebook themselves, and us, it's users. The plethora of Messenger Chatbot building platforms on offer, and discuss Conversational Commerce best practice and of course, ethics.
Those attending the workshop will leave with a better understanding of how Facebook Messenger driven Chatbots can enhance marketing campaigns and better engage communities. You will also hopefully leave with your own chat-bot product you can implement for real on your own website.
In this workshop we will cover:
Understanding the Facebook eco-system and where Facebook Messenger Chatbots fit in.
Facebook Messenger Marketing – The rules
Messenger Chatbot building platforms
Conversational commerce best practice
Conversational design
Testing & optimisation
Measurement & Analytics
Who is it for?
Marketers
Facebook experts
PR professionals
Business owners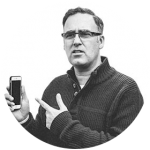 Who is Jim Rowe-Bot?
Meet 🤖Jim Rowe-Bot, The Chatbot Guy🤖 ► Helping businesses of all sizes with their Chatbot and Conversational Commerce development. Jim works with commercial clients across many sectors including retail, financial services, celebrities, media and more. He has designed & developed chatbot experiences that act as "virtual assistants", drive sales, and ultimately provide customers with access to information quickly and efficiently.