Once upon a time, TV advertising was reserved to those with massive marketing budgets who could afford a slot on prime-time TV. In the past few years, Sky has revolutionised TV advertising through their AdSmart scheme and TV advertising is  now open to the masses including SMEs.
This March, I had the pleasure of attending Digital Growth Conference at The King Power Stadium in Leicester. Having listened to the thought-provoking talks presented by such talented key note speakers, there was one talk I found enthralling. I was amazed by a talk on the advancements of TV advertising presented by Joada Allen & Kelly Diver from Sky.
Sky TV launched in 1989 in the UK, with only 9 channels. Now with hundreds of channels, Sky TV can deliver thousands of television ads every day. Having worked in the online advertising landscape for many years, I was keen to learn more about the effectiveness of TV advertising.
Key milestones in the world of TV advertising
The first TV advertisement aired in 1955 in the UK
In 1958, subliminal messaging was banned in the UK
Hidden messages which promote products in films caused a moral panic which lead to the currently ongoing ban of subliminal messaging.
"James Vicary astonished reporters by announcing that he'd repeatedly flashed the slogans "Drink Coca-Cola" and "Eat popcorn" throughout a movie, too fast for conscious perception. As a result, he claimed, sales of popcorn had risen 18.1% – and Coke by 57.7%. This, he declared, was "subliminal advertising." Source: BBC
In 1961, the Committee of Advertising Practice (CAP) was introduced to ensure that ads were trustworthy
The Advertising Standards Authority (ASA) is the UK's independent advertising regulator. The ASA ensures that ads across the UK media adhere to the advertising rules (the Advertising Codes).
In 1969, the first colour TV advert was launched by Birds Eye
In the late 1980s, Mazda was the first brand to use interactive advertising
In this ad, viewers were instructed to video record the ad and play it back frame by frame. By doing so, they were able to take part in a competition to win a Mazda car. This new method of advertising took the nation by storm, the opportunity to win a prize was an exciting new concept taking product promotion to another level.
In 1992, Sky Sports launch its first Premier League advert
In their presentation, Joada and Kelly explain how this ad revolutionised the world of sports advertising on TV
In 2004 First Banned advert – Tango
"Tango first caused public outrage over an ad in 1992. The advert titled Orange Man, which showed a man getting "hit" in the face by the taste of Orange Tango, had to be banned due to fear that children were at risk by copying it. It was shot in the style of a football reply it features an orange man smacking his victim around the face and ends with the tag line "You know when you've been Tangoed. After numerous reports of children being hurt in the playground by copying his antics and might perforate each other's ear drums. It is perceived that this advert gave rise to the "Happy Slap" craze." Source: Banned2viral
2014 – Sky AdSmart launch the first Targeted TV advertising platform
Sky AdSmart is the revolutionary approach to TV advertising which levels the playing field, so businesses of all shapes and sizes can benefit from the advertising impact of TV. With Sky AdSmart, ads are tailored to different households watching the same programme. This means brands and businesses can now advertise on national channels, but to their target audience.
Advertisers can cherry-pick their audiences using thousands of combinations from age, location or life style. All this means the power of TV can now be used to greater effect by existing advertisers, whilst becoming accessible for the first time to niche brands, small & medium-sized businesses (SMEs) and location-specific advertisers. Source: Sky AdSmart
Having little time to now watch live television I was blown away by how targeted TV ads can be
The way we consume video content has changed drastically over the last 10 years. Even with the introduction of on demand channels such as Netflix and iPlayer and an increase in mobile access to the internet, the consumption of television time is only down by 4 minutes.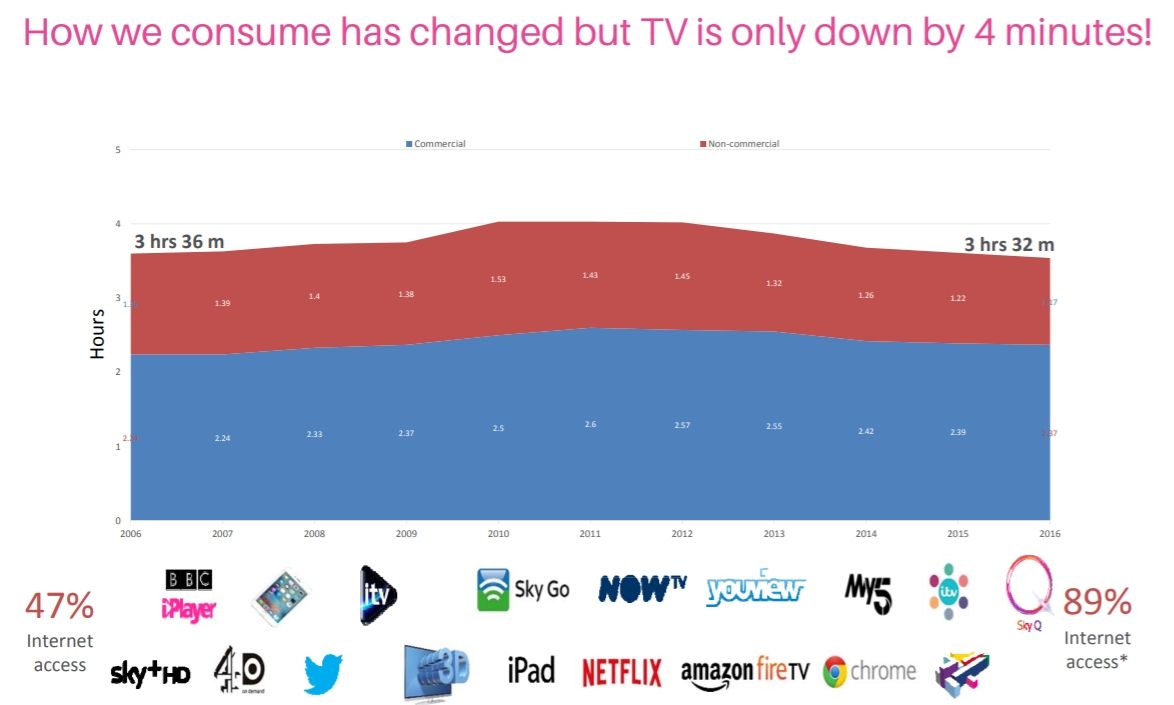 Sky boxes now act as servers and store the right advert for the right household
Ads are delivered based on market segmentation – location, demographic. Similar to those methods used in Social media targeting.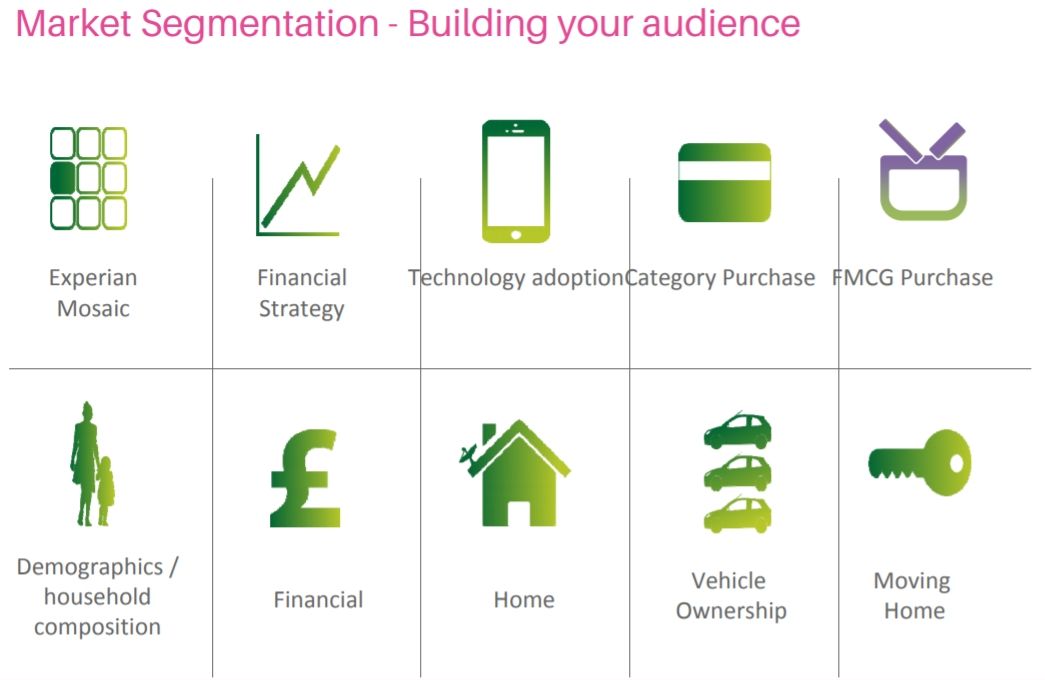 Although you may not be watching live TV, the ads in your programme selection are catered to you, by information collected on you by your Digi box.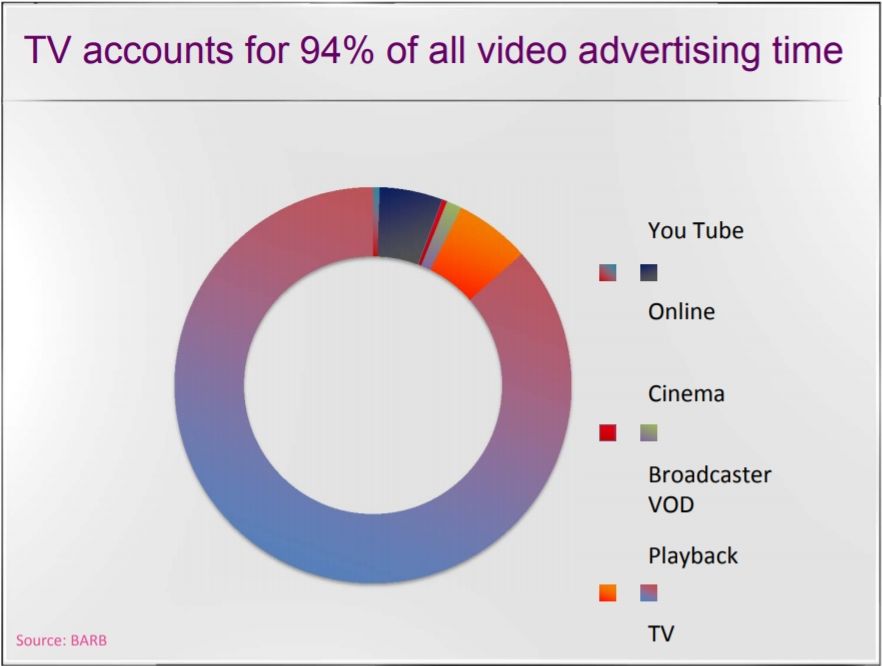 Iconic moments in TV advertising
Television advertising has certainly evolved since 1955, the way we consume ads has changed significantly but great ads leave a legacy, here are some of my favourite iconic TV ads you may remember;
2007 – Cadbury's Dairy Milk drumming Gorilla
2009 – 2012 – TV goes Digital
The digital switchover was the biggest phenomenon to happen to TV since the introduction of colour. TV in the UK went digital and the old analogue TV signal was switched off  by the transmitter group in 2012. The Switchover meant that almost everyone could receive digital TV through their aerial.
2011 – John Lewis Christmas advert moguls – the ads containing emotive stories that get more impressions and engagement year on year.
Now in it's 4th year, this year's E-Commercial Conference will cover a multitude of topics including SEO, PR, Social Media, PPC as well as interactive workshops. So, whether you're working in-house or part of an agency, you'll be able to take away marketing tips you can implement straight away with our afternoon of practical workshops.
Early bird tickets for the conference are currently priced at £25, for a limited time only!