Bootcamp Dates: 28th May – 7th June
Anicca is now looking to train our next generation of Paid Media Executives to join our award-winning digital agency based in the heart of Leicester city.
We are looking for new executives to join our growing team of paid media specialists; to learn how to create and manage advertising campaigns in Google, Bing, Facebook, LinkedIn, Amazon, Pinterest etc. For the full job description download the document here.
There are 3 ways you can join the trainee program:
Paid Media Apprentice– starting salary of £18k.  You may have studied for A levels or a degree but not got the results you expected, or you may have ended up in completely the wrong job. You now want to make a new start in an exciting and challenging role in a fast-moving agency.  If applicable, we will partner with a local apprenticeship or training provider to give you the required support and level 3 or 4 training.
Graduate Placement Program– starting salary £18k. Ideal for marketing, media, business, science, maths or similar degrees. You will be looking for a long-term career in a dynamic digital agency and have a passion for the Internet and business.  You must be highly analytical and love numbers! Depending on your degree you are also encouraged to study day release for the Level 3 or 4 digital marketing diploma.
Career swap or paid media novice– starting salary £18k depending on your qualifications and experience. You will already have had a few jobs – perhaps you are finishing a current contract or want a career change. We are also interested in any applicants that have some experience of digital marketing and would like to make it their profession. You can also join the apprenticeship scheme and take advantage of the free training course.
This is a fast track program – with performance reviews every 3 months, regular pay rises and promotions leading to Account Manager within 18-36 months.  We are also looking for people who want a long-term career with us, so you need to live or want to stay in Leicester. So, to ensure we get the right candidates we have developed a unique selection process.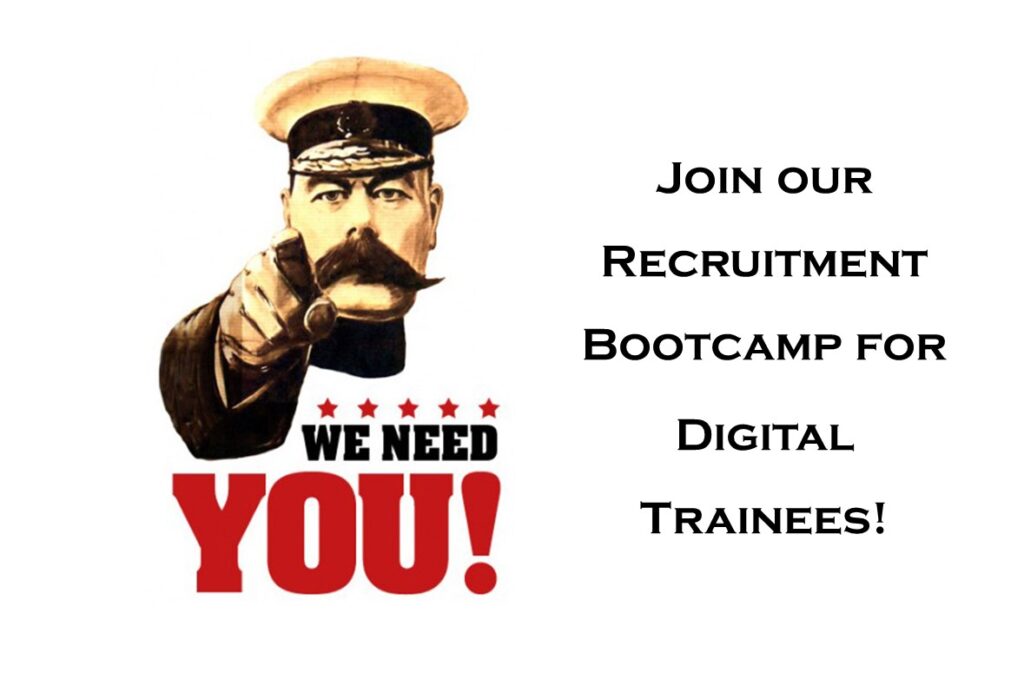 The selection process!
If you are interested in this exciting opportunity you will need to go through our rigorous selection process:
1) Please send your CV with cover letter to [email protected]
2) We will give you an initial phone interview and if successful, face to face interview in the 2nd week of May 2019.
3) Up to 12 candidates will be invited to attend the 2-week Boot Camp at our offices in Leicester (starting 28th May 2019). You will receive nine days of intensive class room and hands-on training, plus practical assessments.
4) Two or three candidates will be offered the position of Trainee Paid Media Executive and will start their new job on a date agreed during the interview process,
Paid Media Boot Camp – 2-week training course and trainee selection process
This Boot Camp is an extensive mixture of taught classroom sessions and practical workshops. Our team of paid media account managers will deliver the classroom sessions. For the practical sessions you and another candidate will be teamed up with one of the account or senior account managers (who will eventually be your day to day buddy).
The Agenda: –
Day 1 – Bank Holiday
Day 2 – Introduction to digital marketing and Anicca
Day 3 – Introduction to Paid search
Day 4 – Setting up a paid search campaign
Day 5 – Managing and optimising search campaigns
Successful candidates pass onto week 2
Day 6 – Introduction to Facebooks ads
Day 7 – Introduction to tracking, Analytics and our tech stack
Day 8 – Case study preparation day
Day 9 – Interviews (and ongoing case study preparation when not in the interview)
Day 10 – Presentations and certificates
NOTE: You will have to make your own way to our office everyday, so you will need to live in or within commuting distance of Leicester. You will be provided with refreshments during the day. Ideally, you will need to bring your own laptop to enable you to study on your own screen, otherwise you will have to share with your training buddy.
The first year on the job
Each candidate will be paired with one of the existing senior executives or account managers. They will act as your coach and mentor. They will provide practical hands-on training and you will work on the Paid accounts that they manage. You will learn all the tasks and techniques required to set-up and manage advertising accounts across Google, MSN/Bing, Facebook and LinkedIn etc
In addition to Paid techniques, you will also learn other ecommerce marketing techniques and display advertising. This will involve you rotating within the team to allow you to work with other specialists
If applicable you will be offered the chance to study on the Level 3 or 4 Marketing course.
The first performance reviews will be after 3 and 6 months, during this period we would have expected you to have also studied and passed your Google Fundamental and Advanced search exams, you will also need to have passed your Analytics exam and started studying for your Facebook Blueprint exams.  On completing a minimum of two of these exams you will receive a £1000 pay rise. This is also a requirement to pass your probation period which is normally 6 months
You will be required to take additional Google exams and there will be other performance pay rises periodically during the first year – with the opportunity to increase your salary.
Depending on the speed of your progress and how hard you work; you can earn promotion to Senior Account Executive between 9-24 months, and Account Manager between 18-36 months.
Your long-term career progression will then be Senior Account Manager and Account Director. You may also decide to move into client account management – for example, if you have more rounded marketing and customer communication skills. However, this does involve having a broader technical knowledge of search engine optimisation, other digital marketing techniques and web development.
Is a role in paid advertising right for you?
If you are passionate about the Internet, marketing and business then you will fit well into our agency.
The paid media executive role can often be highly analytical and if you are good at spreadsheets and numbers you will probably love Google and Bing Ads.  However, paid search advertising is generally more 'geeky and techie' than paid social advertising, where you will need to create image or video-based ads. So having some design skills can help for this part of the role.
If you are highly creative, or you spend a lot of time blogging and writing content – then you might not enjoy this type of work, as much as a job that involves writing a lot of content or posting organic social content.
Finally, you need to have a commercial or business brain – we use Clients' hard-earned money to try and make the maximum return on their investment. So, you need to understand offers, ads and marketing in order to help get their ads attention, clicks and conversions! So, if you already buy and sell on eBay you may also have the right skills.
Any Questions?
Please feel free to call us (0116 254 7224) or the team – we would love to hear from you!
Angie Longman Operations Director – [email protected] or Jess Harvey Operations Manager – [email protected]