Fernando Agulo presented "The State of Content Marketing" at the Anicca Digital's 6th Leicester Digital Live Conference on 16th February.
You can watch the replay here, download the pdf and read the summary below:
Watch the video
Read and download the pdf here
9.30 – The State of Content Marketing 2020 Global (1) Fernando
Read the summary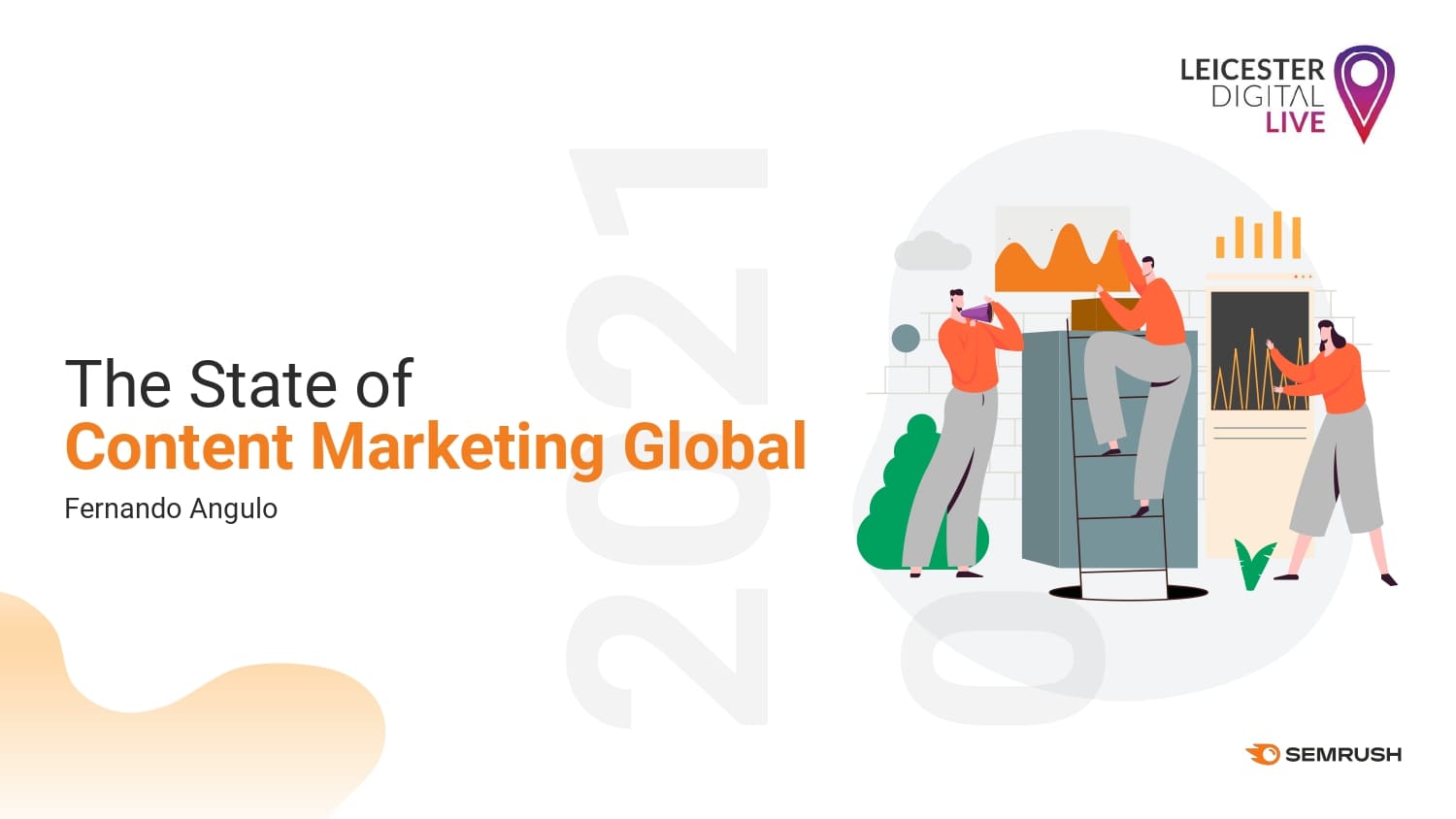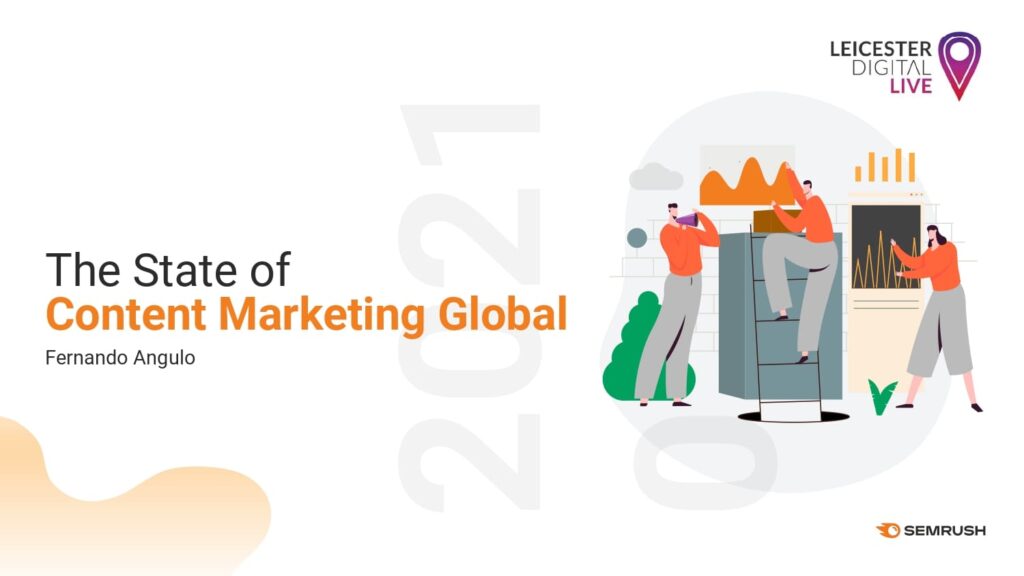 Fernando Angulo, Head of Communications at Semrush, shares an in depth analysis of content marketing and delivers actionable tips on how to drive more traffic to your content.
For the State of Content Marketing 2021 Semrush analysed:
600,000+ tweets
Hundreds of thousands of search queries
1,200,000+ blog posts
Surveyed 1,500+ marketers across the globe
The analysis found that strategy is the number one topic discussed within content marketing, with @NealSchaffer named as the most influential content marketer on Twitter.
Top Google search queries related to content marketing:
Content marketing strategy – 9,900
Content marketing agency – 5,400
Content marketing examples – 5,400
Top question about content marketing asked on Google:
What is content marketing?
Why is content marketing important?
What is content marketing strategy?

Key Takeaways:
It takes a strong strategy to do content marketing well
Businesses are looking for new ways to promote themselves on social media
The ties between SEO and content are getting stronger
Analytics and technology are getting serious
Automation and outsourcing are here
Everybody likes visuals
Anatomy of Performing Content
The following analysis enables us to create content that drives more traffic and more shares.
Headlines that include questions, guides, lists and how-tos gain more shares and more backlinks.
H1 tags featuring more words perform better, with 10 – 14 words gaining more shares and backlinks.
Incorporating these findings into our content can help us to gain more traffic, backlinks and social shares.
Content Analysis of Longreads
Long texts (3000–7000 words) get x2 pageviews and 24% more shares than articles of average length (900–1200 words).
7000+ word articles drive almost 4x more traffic than articles of average length (900–1200 words).
Short posts (300–900 words) gain 21% less traffic and 75% less backlinks than articles of average length (900–1200 words).
Short articles (300–600 words) are shared 3x less often than longreads of 7000+ words.
Content Analysis of Visual Content
Posts with one image get twice as much traffic as posts containing text only. These also get 30% more shares and 25% more backlinks.
Posts with 7+ images get X4 more traffic than articles containing just text.
Posts that don't contain a video get 92% less traffic and 24% less shares than posts with at least one video.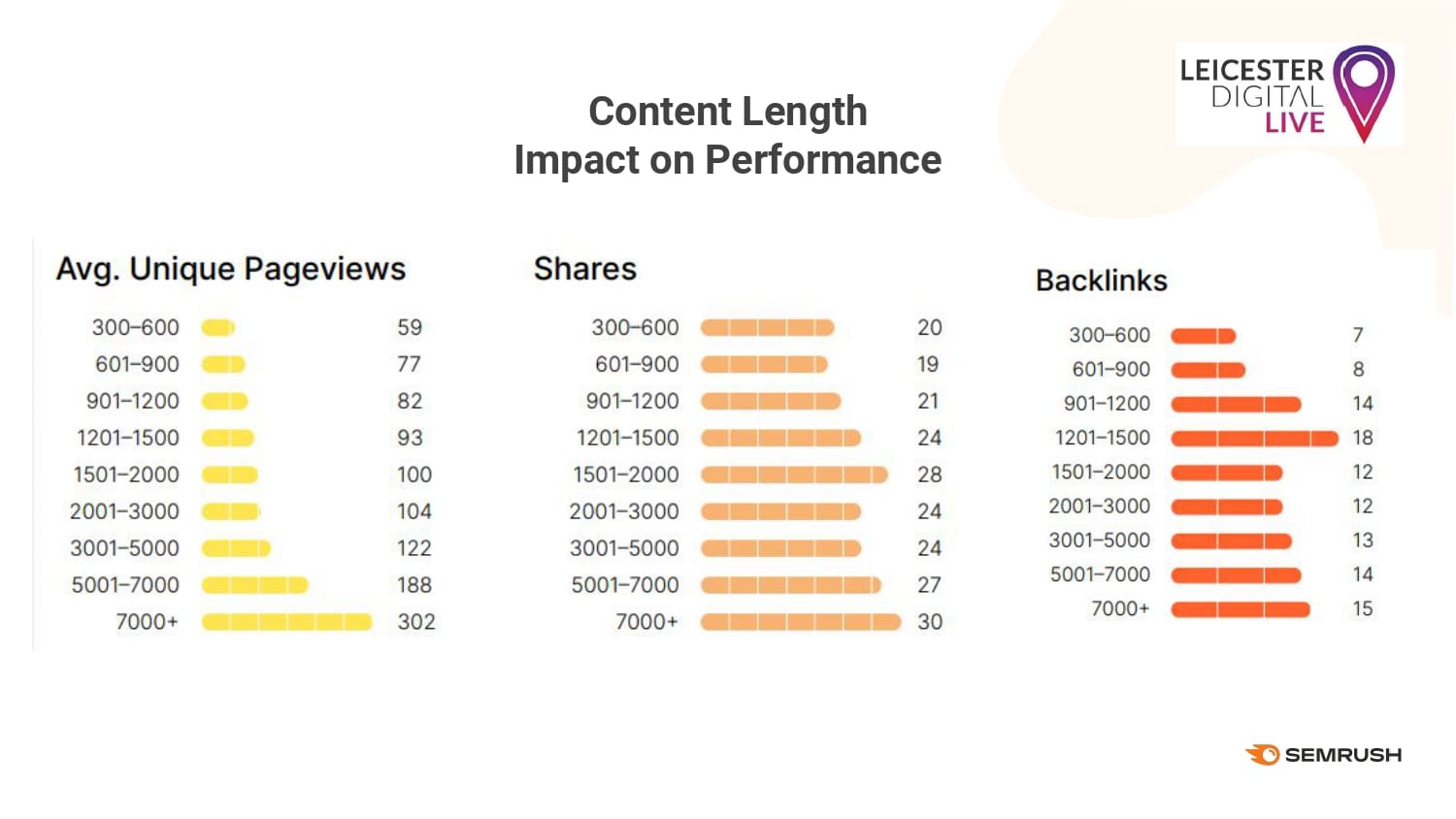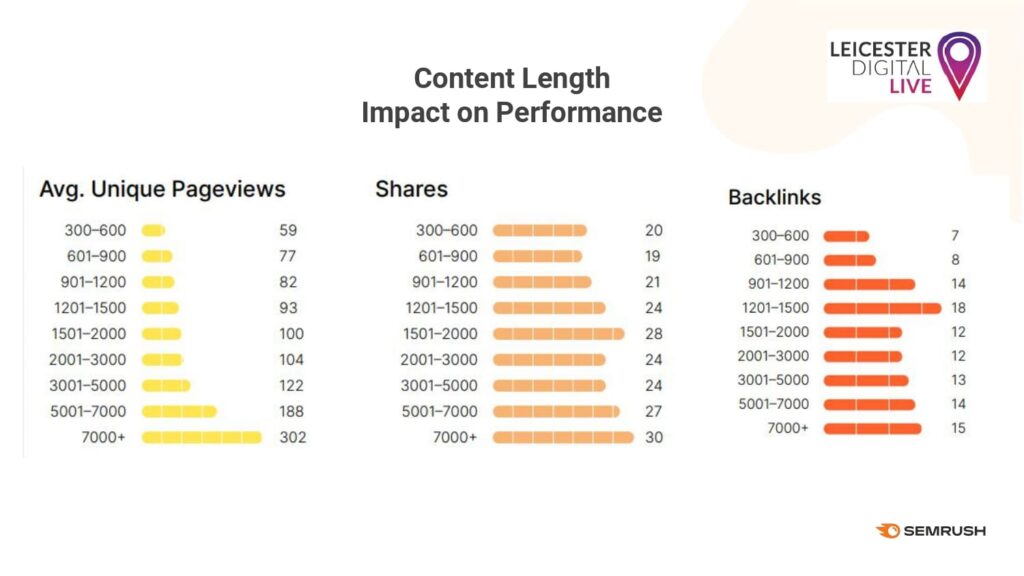 Key Takeaways
Longreads are the best traffic drivers
Explanatory headlines look more attractive
A clear structure makes your content better – use of H2, H3 tags
Visuals are great for increasing engagement
Lists can increase your number of readers
Marketers say their biggest challenge is creating content that generates quality leads and while 94% of companies are using content marketing, only 61% are measuring the ROI.
Measuring ROI is essential to understand what works and how to adapt your strategy to increase traffic and leads. The following tips provide a useful guide for creating content that drives traffic.
Key Takeaways
Users are driving the conversation and intrusive irrelevant ads don't work anymore
Content should drive traffic and leads
Always think of the distribution channels before creating the content. If it's text, then it's Google
Create content with users & search engines in mind from the first word
Aim for text that is 800 words long, reading level should be above plain language. Reading time 3 minutes.
Visibility of your content in search is a collective effort of all marketing team members.
Look for low hanging fruit – long tail keywords
For more insight, follow Fernando Angulo on Twitter .