I thought today I'd share something a little different than the usual SEO posts I write. When I am not at work I can usually be found around my car. I'm quite a keen petrol head and spend far too much money on running and modifying my car, as well as products to keep it cleans, so let me introduce my money pit!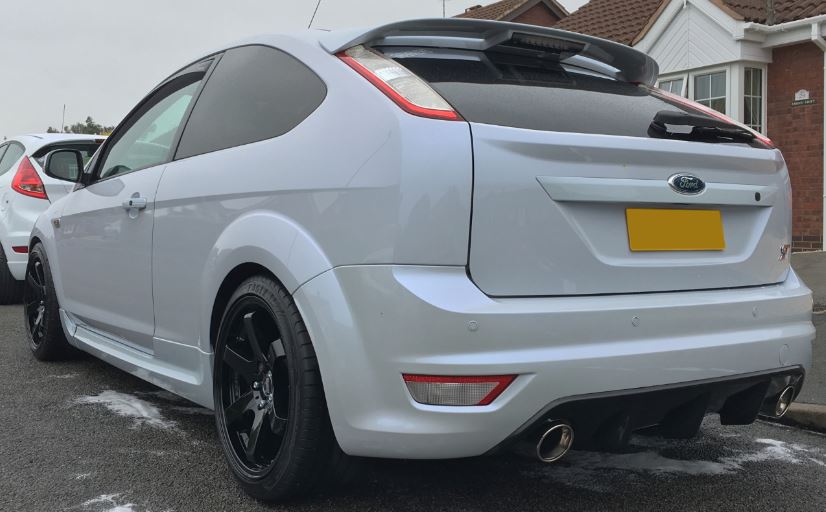 I've been running UK Car Scene now for 4 years. What started out as a forum for like-minded car enthusiasts to share their cars, their projects and their experiences has now turned in to a complete multi-channel club and we've seen massive growths over the last few years. I have also learnt a hell of a lot that I can use in my daily life when working here at Anicca so I thought I would share some of my thoughts with you, including how hard it is to gain results when you are working on your own without the resources of a whole team of people
It's Challenging
Running a car club, or any side project alongside a full time job is hard, no matter what it is. Trying to find the balance between work, finding content, creating content for the club and having some down time at the weekend is tricky. The vast majority of the content we post is photography from shows which will take hours to edit, watermark and upload. As most shows fall on a Sunday I am busy prepping my car and equipment all day Saturday and the Sunday I will be up at 5am to travel to the show and return in the evening, then it is straight on to editing the photos which may take the rest of the day and night as well as a few evenings after work. We've now got into video content which then takes even longer to edit and upload. It's especially difficult to find the motivation if you work in front of a screen all day, but if you are passionate about something, you do find the time and in that respect, it does sometimes feel like a way to escape.
Gaining Followers is difficult
In the social media world, it is very difficult to gain legitimate likes on your Facebook page and more followers on your Instagram account. We've been running on Facebook for 4 years now and we have managed to get past the 10,000 likes mark which I think is great, I'd never have imagined we'd get so many people following us. In my opinion, and I am sure other will agree the key to getting a good social following is always posting your own content. For us our own photos and images from car shows always gets more engagement than when you post other people's work. We also find that when we take a photo of someone's car they will often be tagged and then share it on their own social media channels and tag us which gets us more followers.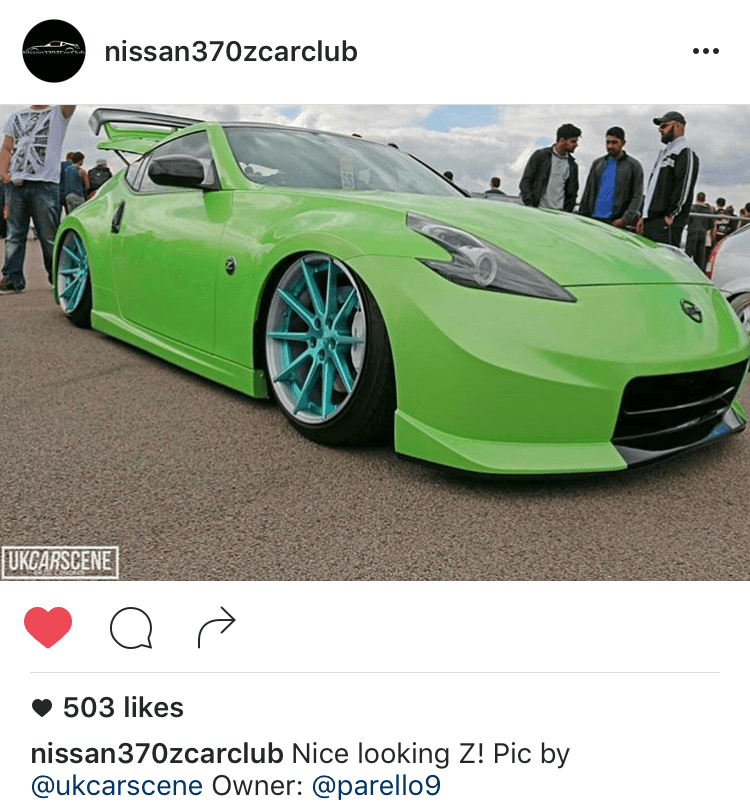 Take the example above for example. One of our photos was shared by a well-known Nissan owners club and gained over 500 likes on Instagram. We were tagged as the photographer in the photo and in return gained more followers on our account. The key really is to have content people want to share and can easily access. Never be afraid to let people share your work, just be sure to ask that you are credited.
Great content can be hard to come up with (And Expensive)
On the subject of content, I do find that trying to come up with the right type of content can be incredibly difficult. For us, our content is generated from attending shows or by finding cars we like and arranging a little photoshoot and feature. Shows are typically around £20 per person to gain entry to, as well as paying for food, fuel and any other equipment you might need for the day. What you think is a cheap entry to show can turn in to a £100 day out once everything is accounted for. As it is a non-income generating club this can be quite an expensive hobby and generally I only attend a few shows each year. In terms of marketing the content I create, I do find it is easier once you have that social following, a lot of the photo albums we share from shows gets a good reception and people are always wanting to see if we have got a photo of their pride and joy.
Successful outreach is rare
One thing I am sure all SEO's struggle with is outreach without good and engaging content. And for my club it is no different. If you have any friends that run businesses in our industry that you think you can work with then I would approach them. The key is to build relationships with people who share your passion. Luckily I do have relationships with some companies already who we partner with for competitions and giveaways. We do an annual competition where people submit their car and the photo with the most likes wins a prize from our sponsors.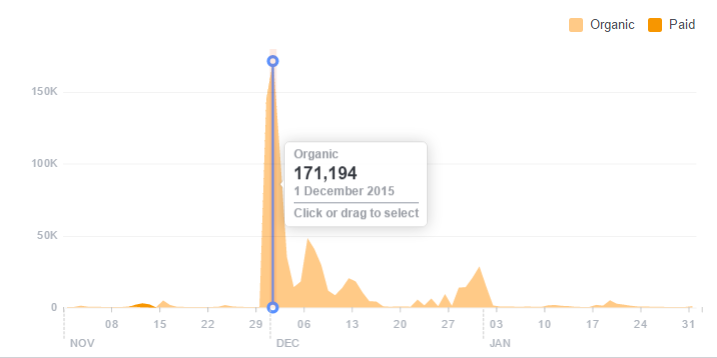 You can see here just how much engagement we received. Our competition began at the end of November and lasted until New Years Eve. Due to the engagement our page reached over 170,000 in a single day! All this reach was also organic, the only paid outreach we did was around £5/£10 to push the initial competition.  In terms of entries to the competition, we received over 500 in the space of a couple of weeks! Our page actually grew from 5,000 likes on Facebook to over 10,000 over the course of the month long competition.

Video is HUGE!
Something else I have learnt over the last couple of years is that video has become HUGE! Our most engaging posts are videos. When we take a look at the average reach for our posts over the last 2/3 months the average reach per post is between 1,500 – 3,500 people, yet a video we posted in May had a reach of over 175,000 people.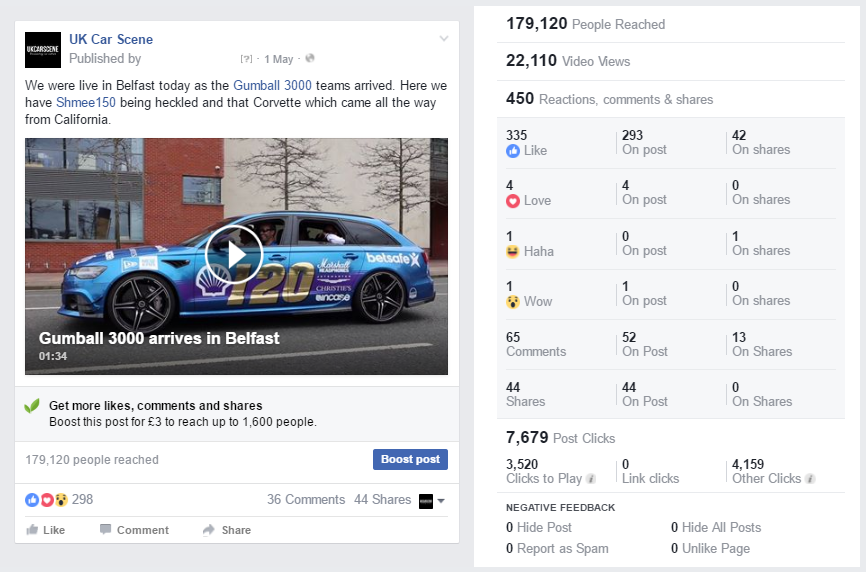 You can see the engagement on this video was brilliant and it was incredibly relevant at the time as it was the first day of the Gumball 3000 rally when it kicked off in Ireland so there was a huge buzz around the event.
The most popular video we posted reached over 280,000 people and was shared 570 times, people just love video! On average our videos have a reach of over 5,000 people – most of which were posted way before we reached anyway near 10,000 likes on our page. I would urge all businesses to try and work in an engaging video strategy to their current marketing strategy. Take a look at this SlideShare presentation on video marketing and you can straight away see just how important video is today.
Google rankings are important
Something we all know, is that ranking in Google is very important. Our blog is something we don't utilise as much as we should, but of the posts we have made, the ones that do rank well in Google and we have pushed have brought in a steady number of sessions to our website every month whereas other posts get a few views the day and the day after we publish it then die off. Your website should always be SEO friendly and you should always be making sure you're optimising your posts so they perform as well as possible. We have a good amount of resource related to on-page content on our website to help you.
There is plenty I have learnt from my car club that has helped me with my job here at Anicca as I have gained more perspective in what's it's like to replicate by myself what we do as a dedicated team with the proper resources to do it.
All the team's projects inside and out of our day jobs really helps us to push our marketing services and know how to help businesses grow online through social media and content marketing. If you're looking to grow your business through SEO, PPC or social media then get in touch and see how Anicca can help you. You may also be interested in a recent post by my colleague Ella who wrote about 'how to write a blog'.