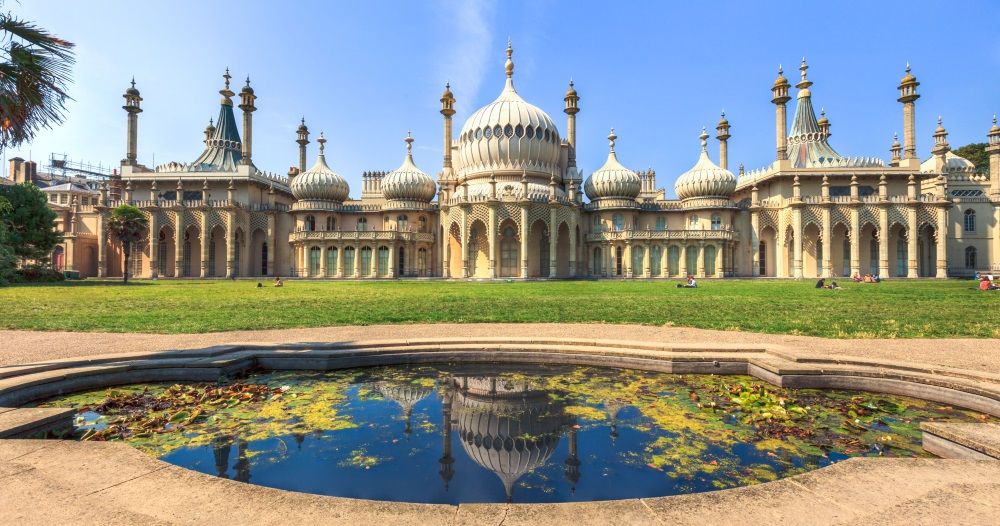 On Friday 27th April, members of the Anicca Digital team headed over to Brighton for BrightonSEO. As a PPC enthusiast I was interested to see what the paid search / PPC track had to offer.
Read on for a summary of some of the topics covered and the key take-aways…
The Hidden Potential of Brand PPC
Daniel Moore from Mindshare shared his views on competitor bidding and making the most out of your brand campaigns.
When it comes to brand PPC, many advertisers feel that if a user is searching for their brand then they expect to receive that click, no matter what, even when competitors are also bidding on their brand. The issue here is that although a user is searching on their brand, that user is not necessarily yet an advocate of that brand.
Consider the following search and the ad copy that was returned: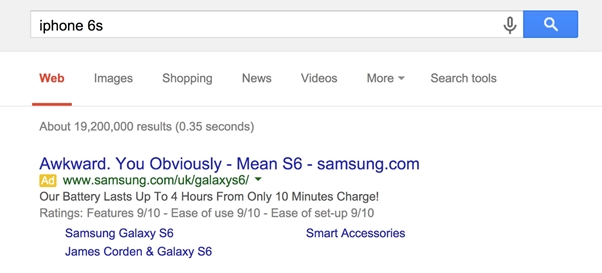 It is very possible that the user will be led away from Iphone and into the arms of Samsung!
Daniel went on to explain that when competitors are bidding on your brand term, there are 3 possible options:
Option 1: Contact the competitors
Pros: Easy and doesn't take too long
Cons: Shows the competitor that they are affecting you and your results
When to use this option: When you have a good relationship with your competitors
Option 2: Bid on them back
Pros: Shows you will not back down and that you are waiting for them to back-off
Cons: This will more than likely start a bidding war
When to use this option: When the competitors in the market are not advocates and there are no relationships at stake
Option 3: Focus on your account and forget about competitors
Pros: Improves your own account health and overall quality
Cons: Can be time consuming
When to use this option: When you have expertise in PPC
Whilst it is always good to know what is going on in the market, option 3 is the preferred option. By focusing on your own account health, you are more in control of your strategy and what you want to get out of your brand campaigns. Consider a restructure of your brand campaign focusing on 3 key elements: visibility, creative and ad extensions.
The Hidden Potential of Brand PPC from Daniel Moore
Competitor Bidding: The Halo Effect
Following on from the previous talk, it was good to hear from Duane Brown from Take Some Risk Inc. on how competitor bidding could affect the strategy of your account.
This talk explained how bidding on competitor brand terms could reap benefits and should not be overlooked.
Competitor bidding was said to be a great option to get in front of your market to make them aware that you are an option. This could be particularly useful if you are a new business who is relatively unheard of. By showing your ads alongside competitors, you are getting yourself in front of your perfect target audience. Competitor bidding can also drive cheaper CPCs compared to more generic terms, which can look quite attractive if you are in a competitive sector with high CPCs.
When creating a competitor campaign, it is important to consider the following:
Point out differences, what can you offer that your competitor can't?
Have dedicated landing pages, don't just take users to the homepage – this will not be good for your Quality Score
Research into who your users see as your competitors, not just who you think they would be
It is important to make clear differences between you and your competitors but whatever you do, don't bash your competitors, it is not a good look for any brand!
Build Competitor Campaigs That Grow Revenue in AdWords from Duane Brown
The PPC Automation Revolution is Coming
Love it or hate it, PPC automation is not something to ignore. For those looking to further embrace this technique Arianne Donoghue from Epiphany Search shared her 'automation toolkit':
Scripts
Google AdWords scripts
Google Apps based script
Excel Plugins
ASAP Utilities (does have an associated cost)
Analytics Edge
Bing Ads Intelligence
Supermetrics Data Grabber
Data Visualistion
Google Sheets – Supermetrics plug in
Google Data Studio
Microsoft Power BI
Arianne explained, when it comes to automation, there are 3 main areas automation falls into, bidding, analysis and reporting. By allowing automation to save time in these 3 key areas, this should free up more time for PPC Marketers to focus more on the overall strategy of their accounts.
The PPC Automation Revolution is Coming from Arianne Donoghue 
The Good, the Bad and the Ugly: Ad Copy Writing Tips for Facebook, LinkedIn and AdWords
Ashley Ward from SEMRush explained the common pitfalls of ad copy writing and the basic needs for each platform, these are summarised below:
Facebook
Experiment with both long and short ad copy
Write ad copy based on where your user will be in the sales funnel (top, middle or bottom)
Have fun with ad copy on Facebook – use an Emoji. It's the only platform you can get away with this!
Ask a question in the ad copy then use imagery to answer the question
Tone of voice is everything
Tell a story with your content
Think mobile first when using CTAs
LinkedIn
Keep it short and sweet
When it comes to InMail don't just copy and paste to all, customise the body text as much as possible
Be professional
Utilise video campaigns
Google AdWords
Use a structure of who, what, when, where, solution
Use long tail ad copy – like what you would use for voice search
Use pronouns: we, she, he, us – makes it more personal
Use numbers in your ad copy "4 times more likely" instead of "four times more likely"
Ask questions and provide the answer
All platforms
Use local terminology
Don't use past tense
Satisfy both bots and humans
Utilise emotions in the ad copy
Know what your competitors are doing
A/B test ad copy
Ad Copy Tips For Adwords, Facebook, and LinkedIn Ads from Ashley Ward
It was an insightful day for all that attended the BrightonSEO conference, with the team returning full of ideas and inspiration. If you would like to talk to any of the team about how we could inspire your strategy, get in touch today!