Hi, I'm Neil Hannam and I'm the newest member of the Anicca Digital team.
It can be a little daunting to find out your first week in a new job is going to be spent in a training boot camp. In addition to the stress and anxiety of starting any new job there was a nagging doubt that this boot camp could highlight to my new employers that I really didn't know as much about the world of SEO as I thought I did. Having navigated my first week here I've been asked to give you an insight into the inaugural Anicca Digital SEO Boot Camp.
My experience of SEO and the wider world of digital marketing was, to this point, primarily self taught. Having previously worked for a small company that supplies adventure attractions I'd taken on a number of different roles within the business. One of which was being responsible for the continuing development of the website and all the online marketing efforts. With little to no budget available for training the natural place to turn to for help was Google itself. I read anything and everything I could find on the subject, signed up to dozens of newsletters and followed countless SEO professionals on Twitter all with the aim of finding out as much as I could.
On joining Anicca my first week was to be spent in their SEO boot camp lead by Head of SEO Luke Glassford. After two years out on my own I'd finally be getting some expert guidance and I'd see if all that reading had steered me in the right direction. Joining five other attendees plus two more of Anicca's own team the boot camp promised to be a comprehensive overview of the world of SEO.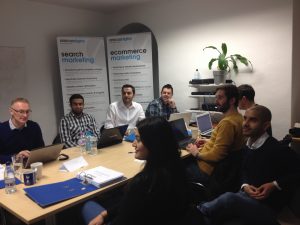 With so many facets to the industry the week was going to be broken down into a different area to focus on each day. Day one's focus was on gaining an understanding of Google's Webmaster guidelines and familiarising ourselves with tools and programmes we'd be using throughout the week. The afternoon gave us a chance to apply some of the mornings learning to begin analysing our own websites and start to construct the basis of a plan of action we'd build on throughout the week.
Each subsequent day then focused on a different area of SEO with a presentation from Luke in the morning and then practical exercises in the afternoon. The practical sessions were an excellent chance to apply the learning whilst the concepts were fresh in your mind. The group setting was perfect as it allowed people to discuss ideas, ask questions and even help out other attendees with content ideas and outreach opportunities for their businesses.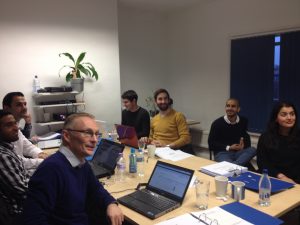 Come Friday afternoon each attendee was ready to head back to their business with a comprehensive plan of action in place. Sites had been analysed, competitors' link profiles investigated, content ideas generated and a list of potential outreach opportunities identified. In addition there were a whole host of tools, sites and plugins bookmarked or downloaded so the process could be continued in the future as peoples plans grew and evolved.
For me, I was happy to discover a good proportion of what was covered I already had some knowledge or understanding of so I guess the last two years learning has stood me in good stead for my time here at Anicca. I've still plenty to learn though so I'm looking forward to continuing to grow and develop my knowledge of SEO and digital marketing as whole.
I would recommend the Anicca SEO Bootcamp to anyone looking to learn more and develop their SEO skills.