Latest search and SEO news from July 2022. Google tests large images in search ads. John Mueller discusses linking to insecure pages and disavow files.
During July 2022, these are the main news items and updates so far:
Does Linking to Insecure (HTTP) URLs Impact SEO?
Google Ahead of Nvidia in Recent AI Benchmark
Gmail Bug: Sender Warning for Every Email Received
What are the Risks of Erasing your Disavow File?
Google Testing Larger Images in Search Ads
Get Familiar with Google Local Justifications
Privacy Oriented Google Competitors Pen a Letter on Fair Choice
There's some really interesting stuff here. In particular, this month's topic of "Privacy Oriented Google Competitors Pen a Letter on Fair Choice" – seems to relate to June's news piece which talked about Duck Duck Go being in decline. Likewise, "Google Testing Larger Images in Search Ads" may be related to past news that there is a generational shift towards users expecting more visual search results (including some users utilising TikTok as a search engine, instead of Google).
Does Linking to Insecure (HTTP) URLs Impact SEO?
Posted July 12th on Search Engine Journal
Although this post was found on Search Engine Journal, the information is actually from John Mueller at Google.
This is what John Mueller had to say:
"I kind of understand the question is like, is it bad if I link to an HTTP page instead of an HTTPS page. And from our point of view, it's perfectly fine. If these pages are on HTTP, then that's what you would link to.
That's kind of what users would expect to find. There's nothing against linking to sites like that. There is no kind of downside for your website to kind of like avoid linking to HTTP pages because they're kind of old or crusty and not as cool as on HTTPS."
We have to be careful with the above information, though. What John is actually saying is that if you are externally linking to another site which is only available on HTTP, that's okay. Be that as it may, we know that internally (for pages on your own site) – HTTPS is a ranking factor.
As such, it's important to remember that on the interior of your own site, you shouldn't link (internally) to insecure (HTTP) pages or resources (images etc).It seems that it's okay to link to external content which is insecure, if it is only available on insecure protocols.
Main takeaway: It's fine to link to external (on other sites) insecure pages, if the content is highly relevant – and if the same page is unavailable on secure protocols (HTTPS). Keep in mind though, that if a similar resource of similar calibre exists elsewhere on a secure page, it might be better to link to secure content instead. When linking internally (on the interior of your own site), avoid linking to insecure pages and resources (since HTTPS is a technical SEO ranking factor).
Google Ahead of Nvidia in Recent AI Benchmark
Posted July 12th on Forbes
In a recent benchmarking program conducted by MLcommons; 21 'submitters' (including Google, Nvidia, Azure, Baidu and more) were compared, in terms of the performance of the hardware and software which they utilise to train machine learning models. This time there was a focus on speed, as pertains to the training of various neural networks.
In a historic first (since MLPerf benchmarks began), Google's solution (TPU V4 ML) outperformed Nvidia's A100. Although Google made significant hardware improvements, Google's director of product management (Vikram Kasivajhula) stated that hardware was only half the story. This means that a large chunk of Google's success (in terms of improved benchmarks) is in fact down to software optimisations.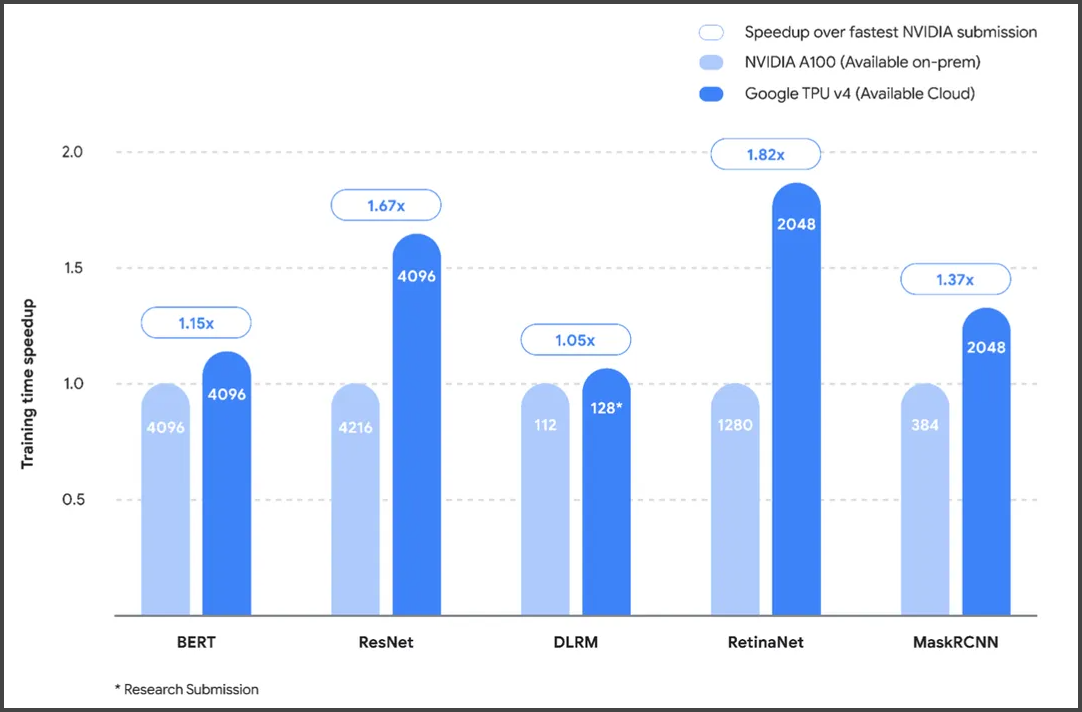 Main takeaway: Google retains high focus on AI and ML (Machine Learning). Of course, this makes sense for a company so involved in the search for, and indexation of content. How will this affect Google's various algorithms for search? We don't know yet, but change is on the horizon. Potentially, very disruptive change.
Gmail Bug: Sender Warning for Every Email Received
Posted July 12th on Forbes
This isn't traditional search news, but it's Google related – so we thought we'd include this in case you were impacted.
This post relates to a Gmail bug first encountered on 7th July 2022, and you can see the official notes here. Usually, Gmail will attach a certain notice to (received) emails if Google's algorithms detect suspicious activity. That message reads: "Do you want to continue receiving messages from this sender? Please give us feedback about this message. We won't ask you about this sender again, although you can always unsubscribe or mark it as spam in future."
In this instance, the message was being appended to all incoming email within Gmail inboxes. It seems as if not everyone was affected, but the problem was more far reaching than Google anticipated. Regular users (using standard Gmail) and enterprise customers were both impacted.
Main takeaway: Don't worry if you have recently seen a lot of spam notices in your Gmail inbox. It's likely part of this bug which Google has now patched.
What are the Risks of Erasing your Disavow File?
Posted July 11th on Search Engine Journal
John Mueller believes that many sites without a negative legacy backlink profile, are probably okay to stop using and delete their disavow files.
This is what he had to say:
"If you've been notified of a manual spam action based on "unnatural links" pointing to your site, this tool can help you address the issue.
If you haven't gotten this notification, this tool generally isn't something you need to worry about."
As we know, manual spam actions for links are quite rare in 2022. Whilst that is true, a number of sites do have spammy legacy backlink profiles, and it only takes one check to be flagged. If spammy links have already been disavowed (in advance), then you might avoid a penalty altogether.
Main takeaway: What John Mueller is saying is true. If your SEO authority woes are algorithmic rather than as a result of a manual action, disavowing links won't restore your ranking power. Although that's true, why wait until you're haemorrhaging performance to act? Performing a disavow in advance won't boost your SEO performance, but it just might prevent a penalty which is on the horizon. It's SEO work which is done as a preventative measure, rather than as an active performance enhancer. You only need to worry about this if the legacy of your backlink profile is troubled and spammy, or if you see an influx of spammy links which you feel Google might flag (manually).
Google Testing Larger Images in Search Ads
Posted July 11th on SEO Roundtable
Google has performed such tests before, and this probably won't be the last time that Google performs this test.
If Google has performed similar tests before, and identified that such change weren't worth integrating – why test again? Google is aware that user behaviours change over time with generational shift, so they're constantly testing and re-testing (even the same things).
These alterations seem to be similar to the 2019 large images test. Here's an example: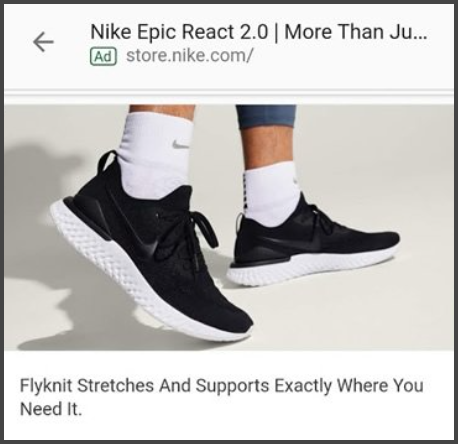 Last month in June we identified that many users are already using platforms like TikTok as if they were a search engine. Generational shift means that there are now more visual learners than ever before on the web. We predicted that Google might take action to make its search platform a bit more visual, could these tests be part of that?
Main takeaway: There's still a long way to go for Google to make standard web search more visual. As user behaviour alters with generational shift, people expect more visual search results (images, video). Is this test one movement from Google, in that direction?
Get Familiar with Google Local Justifications
Posted July 8th on Search Engine Land
Not exactly breaking news, but this post from Search Engine Land is very insightful and contains important information.
So, what are "Google justifications"? Erin Jones from Search Engine Land describes them as such:
"Justifications are snippets of text that Google shows in the local pack to help users justify why the business is showing up for their search query. There are a variety of types of justifications. The type you see highlighted in the local pack varies based on a user's search query."
Erin adds a list of justification types:
Reviews
In stock
Sold here
Provides
Menu
Post
Here are a couple of visual examples of Google justifications:

Above: a review justification

Above: a website mention justification
Essentially, these are snippets of information which help a user to 'justify' clicking on the result, as measured directly against their query intent. This means that these justifications aren't pulled through via schema, every time a certain page is served in Google's results.
Instead, Google looks at the user's search query, queries a wider source of information (against the page / linked website) and – if appropriate, returns a justification.
These are little bits of info that Google can find, to help confirm to the user – yes, this does seem to be the page you are looking for.
Main takeaway: Google are always looking for ways to confirm to the user, that their search intent has been met. Ways to give them confidence to click through! In SEO we often talk about the importance of defining and laying out your business / service / product USPs. As Google gets more intelligent, the business-end of SEO (creating USPs for your business that matter to users, rendering those on your site) will only become more and more important. Google relies less on facets directly under the webmaster's control (Meta data, structured data) and moves towards a system of unbiased input.
Privacy Oriented Google Competitors Pen a Letter on Fair Choice
Posted July 7th on Search Engine Journal
Last time we performed an SEO roundup (June), we heard that Duck Duck Go was in decline. Now we read that some of Google's rivals (including Duck Duck Go, Qwant and Ecosia) have written an open letter on the "10 Principles for Fair Choice Screens and Effective Switching Mechanisms". In a way, this isn't surprising. Here's the open letter.
The letter opens with this statement:
"The search engine and browser you use should be a personal choice, but right now it's often too complicated to switch away from gatekeeper defaults. So in an open letter to the companies, consumer organizations, and regulators with the power to create effective user choice screens, the CEOs of DuckDuckGo and Ecosia, and Qwant's President published a set of common-sense principles to improve this user experience online. This letter coincides with the final adoption of the EU's Digital Markets Act by the European Parliament this week."
Essentially, they are asking to present users with more choice in terms of how they search. At the moment, most new machines come pre-installed with set browsers and search engines.
Due to this, there are 'extra steps' involved in a user's choice, in terms of how they search. These extra steps make things easier for OS and search giants (like Google and Microsoft) and harder for more niche, privacy-oriented search providers (like Duck Duck Go, check them out by the way).
If this letter is acted upon, this movement might help to offset Duck Duck Go's declining user-base. With what we heard in June; it makes sense that they are pushing for this. Be that as it may, Duck Duck Go is a brilliant little search engine and is worth supporting.
Main takeaway: Duck Duck Go and cohorts pen an open letter which may help to offset some of their recent declines. This may seem slightly manipulative, but all search engines have to fight for their place on the web (with any initiatives they can dream up). Privacy oriented search engines like Duck Duck Go are worth supporting.
Here at Anicca, we stay up-to-date on all SEO, search and algorithmic developments and apply them to our clients' campaigns. You can check out our SEO services here. When you're ready, give us a call on 0116 254 7224.