Latest search and SEO news from August 2022. Google search outages, spam policy updates, algorithm changes and more. Stay connected to Search with Anicca.
During August 2022, these are the main news items and updates so far:
Google My Business Posts Spam Policy Update
Search Algorithm Update Suspected
Structured Data: Pros and Cons (Added by Google)
Search Operator Improvements for Search Enthusiasts
Google Search Quality Rater Update
Keep in mind that we're still in early August, so there may be more news to come later. It's been a busy start to August, in particular Google's updates to their business profile posts spam policy are interesting. It's also great to see more search quality rater guidance from Google, even if they're only adding a line or two to their documentation.
Major Google Search Outage
Posted August 9th on Search Engine Journal
Recently, there was a rare search outage where users could not perform searches using Google's search engine. This is what Matt G. Southern from Search Engine Journal had to say:
"Reports flooded in from Twitter on Monday evening as Google experienced a rare, widespread outage."
"According to Down Detector, the outage occurred around 9:39 p.m Eastern and lasted for a little over ten minutes."
The cause of the outage remains unknown.
Main takeaway: This search outage was deemed 'major' due to the fact that it was widespread (many users were affected). Although that's true, the outage only lasted for around ten minutes, so this probably wouldn't be linked to any results drops you may have observed.
Google My Business Posts Spam Policy Update
Posted August 8th on Search Engine Land
Google have updated their policies for posts created via a Google My Business profile. These posts are a great way of putting content in front of a wider audience. You can create posts inside of Google My Business, which are then appended to your brand's knowledge-graph pane when it appears in Google's results.
For example: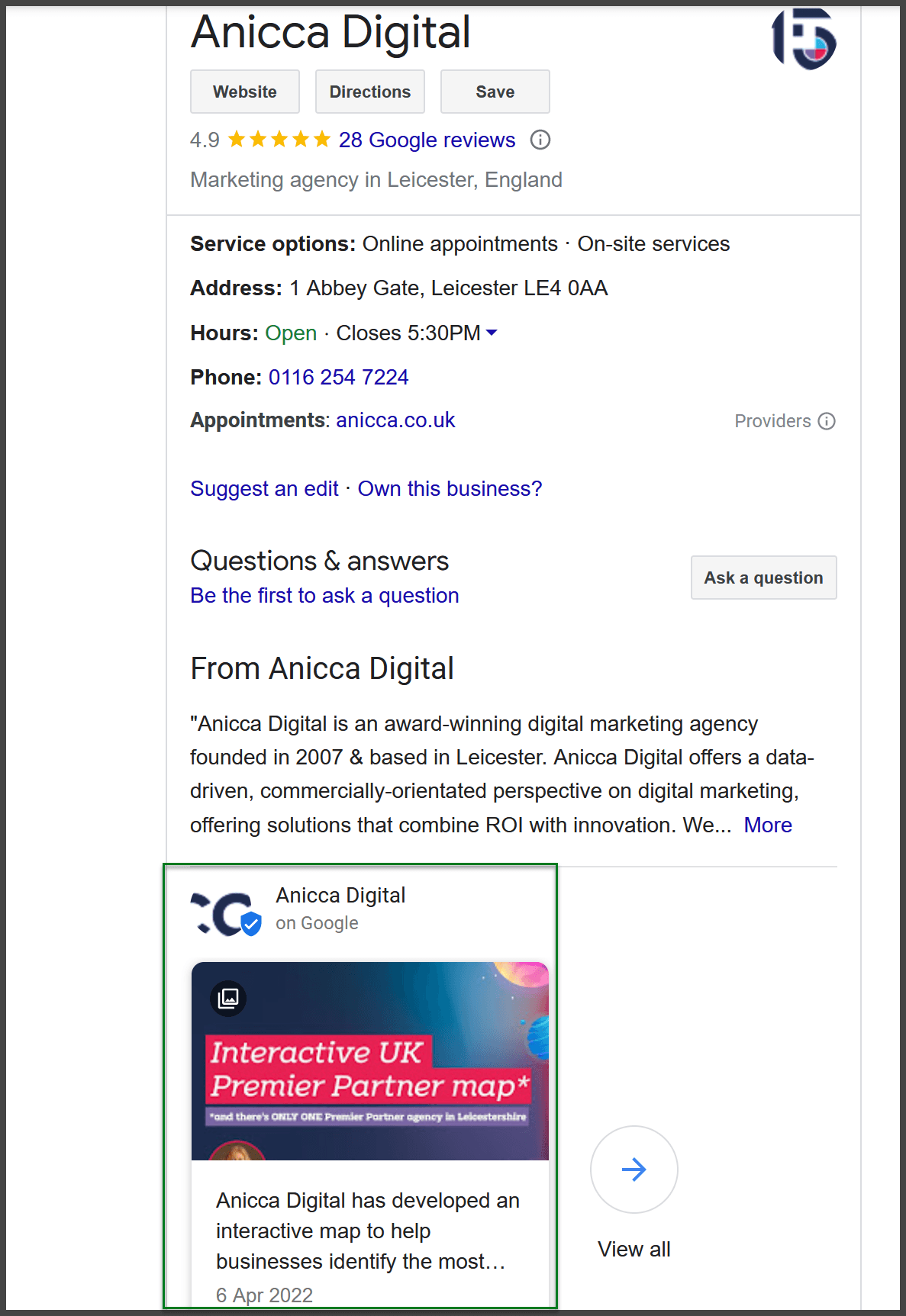 Business profile posts can be created through your Google business profile, you can even influence or direct Google to link posts from your website. Most posts though, are created through Google My Business.
Google added a new line to their documentation, which reads:
"Duplicate photos, posts, videos, and logos"
The above line was added under Google's "Avoid spam" guidance.
Main takeaway: This is the first time that Google has pushed duplication as a form of spam for business listing posts. Now there's pressure that each post should be unique and distinct, no more continual reposting of old / used content!
Search Algorithm Update Suspected by Search Community
Posted August 6th on SEO Roundtable
Recently there has been a lot of noise surrounding a suspected Google search update on Saturday 6th of August. Since Google's updates have become more intravenous in recent years (gone are all the large named updates), we don't usually like to speculate.
In recent years Google usually just releases a broad-brush statement, saying something like 'Google search has been updated with quality updates to make searches more effective for users'. Google don't tend to get specific with their search update information anymore. Many updates are no longer confirmed by Google.
Although that's true, there has been a lot of noise on Webmaster World which would suggest some kind of algorithm update. There's some data that suggests the ranking movements may in some way be connected to July's product review update.
At this point though, everything is speculation based on very light evidence.
Main takeaway: Keep an eye on your search rankings, and increase SEO activity (both from an analytical and production perspective) to make up for any losses.
Structured Data: Pros and Cons
Posted August 5th on Google Search Central
Product schema has helped search engines and also users (via rich snippet results) to understand more about products for many years. Most people will be familiar with products injected into Google's results, alongside star (aggregate) review ratings.
Google has now added support for product 'pros and cons. You can now use schema to tell Google more about the benefits and drawbacks of any product. Before you get too excited, Google have this to say:
"Currently, only editorial product review pages are eligible for the pros and cons enhancement in Search, not merchant product pages or customer product reviews. The experience is available in Dutch, English, French, German, Italian, Japanese, Polish, Portuguese, Spanish, and Turkish in all countries where Google Search is available."
At the moment, only editorial (unbiased) product review pages are eligible. This probably means external review platforms, not your own website's product listings.
Interested to see what the associated rich snippets might look like? No problem: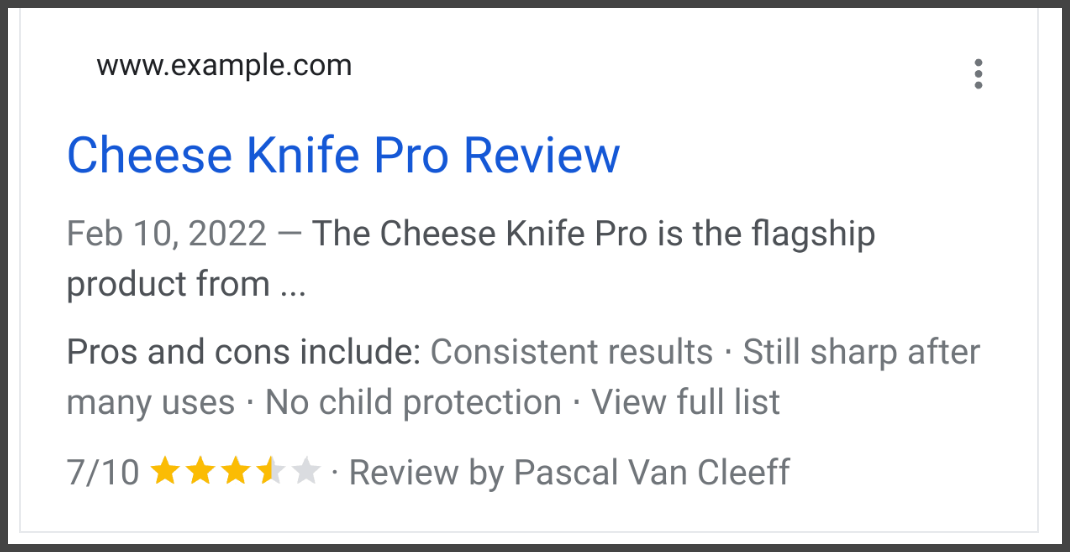 Main takeaway: Google continue to deepen their support for product schema. There are some interesting new developments, but they are not immediately actionable by most ecommerce store owners / managers.
Search Operator Improvements for Search Enthusiasts
Posted August 4th on The Keyword Blog (Google)
Google have updated how they render results for exact-match queries using their search engine. If you type a phrase into Google using double quote marks ("like this") – Google will return only pages which contain that exact text.
Previously, Google's snippets (within their results, for such queries) wouldn't always show the specified text in the SERP (search engine ranking position) snippet / description. That's no longer the case.
Google's descriptive result snippets, will now show the targeted text and some surrounding text. This will help users to more easily isolate where their target text is, on the resultant webpage: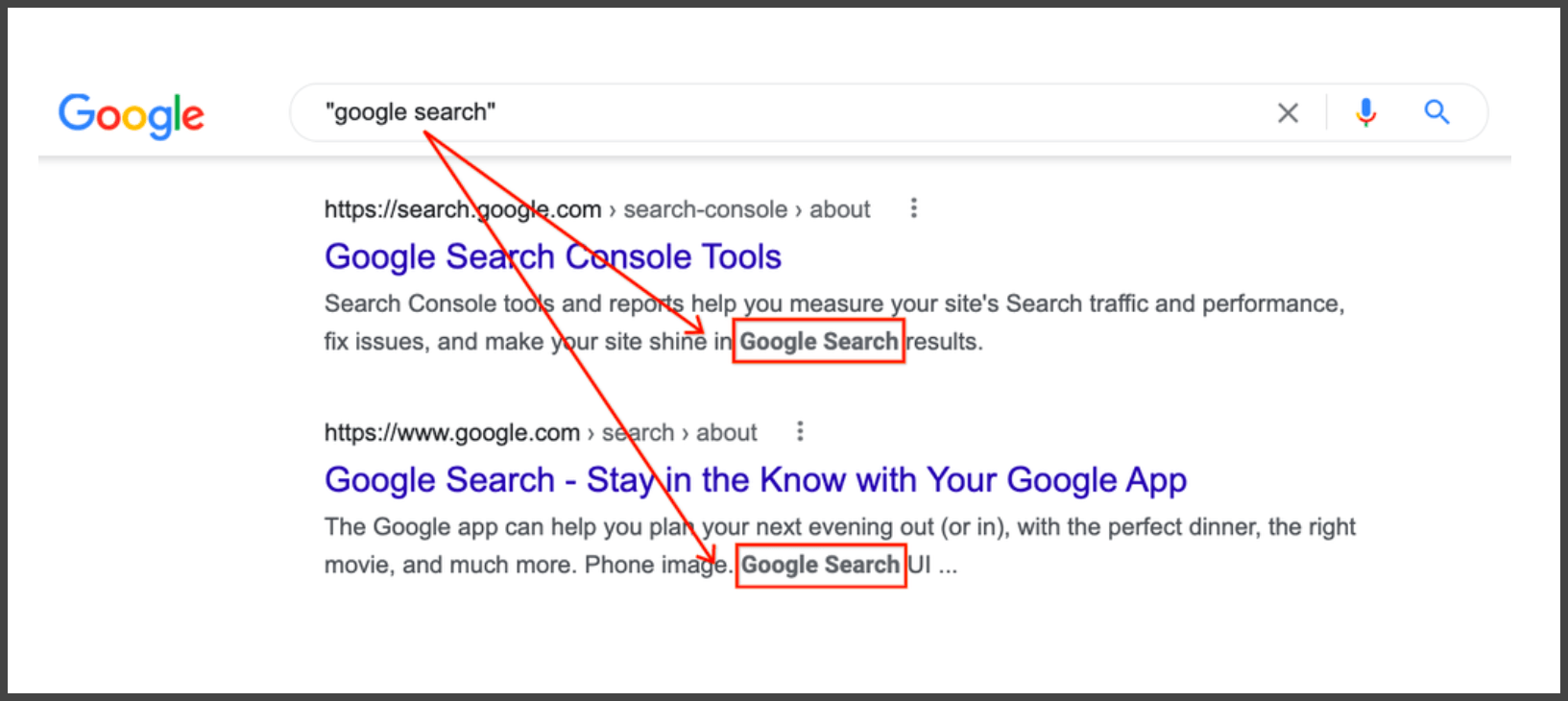 This is great news for SEO pros and general search users alike.
Main takeaway: Advanced search users will now be able to use basic search operators to find content much more effectively. This also slightly lowers the barrier to entry for those performing very basic SEO competitor research (in terms of content ranking on different sites).
Google Search Quality Rater Update
Posted July 28th on Search Engine Land
We're going to start off with some information from the tail-end of July, which we missed during July's search-news post (the update came after we had posted). This information relates to Google's well-known "search quality rater guidelines".
These guidelines are very important, they give SEO experts a window into Google's psychology. Which types of content are good and bad, which types of content are more likely to succeed within Google's organic query-spaces?
This time, Google has made significant updates in terms of YMYL (Your Money Your Life) definitions. YMYL content is defined as information which influences large (often financial) life decisions. Since YMYL content influences users on large, critical decisions – YMYL content is intensely evaluated against EAT standards.
Previously Google had broken down YMYL content into different topics (for example news, government and legislation – as well as finance, were previously considered YMYL topics). If you produced content within a certain topic, it would be considered YMYL content and would therefore be evaluated against EAT.
With this update, Google has thrown away this topical model. Instead, YMYL content will now be individually evaluated. If a piece of content seems likely to influence users in a way which 'might' possibly cause harm, that content will now be YMYL content.
Main takeaway: Some content authors will find things easier. For example, all finance content was previously defined as YMYL. Now that content is being individually evaluated, it's possible that some lighter finance pieces (e.g: thrifty savings posts) might not need to satisfy EAT as strictly. On the other hand, content which might influence users in a way which may cause harm… even if that content is no longer part of Google's legacy YMYL topics, it could still be evaluated against EAT (and fail).