Stay on top SEO news this June with Anicca Digital. A new design for Google News, Duck Duck Go in Decline, TikTok as a search engine and more.
During June 2022, these were some of the highlights:
Google Adds LGBTQ Attribute to Business Profiles
Google News Launches New Design
Google Still Recommends Hyphens in URLs, Instead of Underscores
Google Updates Guidelines for Product Variants Pages
Is Google LaMDA Sentient?
Duck Duck Go is In Decline
Is TikTok a Search engine?
Google Test some New Featured Snippet Layouts
Further details are given below.
Google Adds LGBTQ Attribute to Business Profiles
Posted June 22nd on Search Engine Land
Google has created a new attribute so that businesses can identify as LGBTQ on Google's search listings: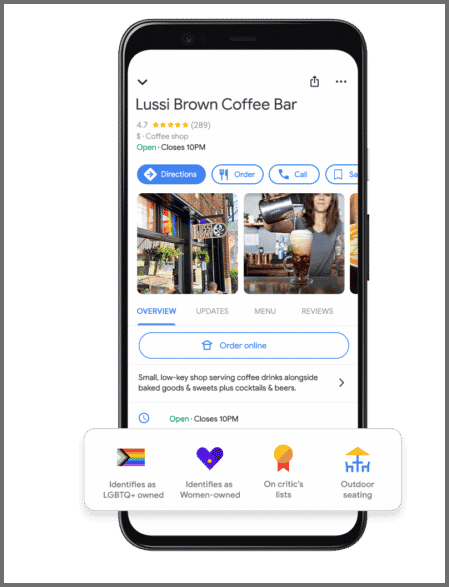 These are the instructions in terms of how to add the attribute:
Go to your Google My Business Profile
Select "Edit profile" and then "Business information"
Near the top, select the "More" tab
Select the category you want to change
Next to the attribute, select Yes or No
When you're finished updating your attributes, select Save
This useful feature should in theory help LGBTQ communities to grow and thrive. By highlighting LGBTQ friendly businesses and locations, Google might also be helping to bring people together.
For business owners and marketers, this is only interesting insofar as it pertains to LGBTQ businesses. If you or your business does not identify as LGBTQ owned, then there's no reason to add this attribute to your profile.
Main takeaway: Adding the new LGBTQ owned attribute to your Google My Business profile could help to attract LGBTQ visitors to your stores and online properties. If your business is not LGBTQ owned, then there's no reason to use this attribute.
Google News Launches New Design
Posted June 22nd on SEO Roundtable
Did you know? On June 22nd it was the 20th anniversary of Google News. On the same day, Google updated the design of Google News, bringing a fresh new look.
Here's the old design: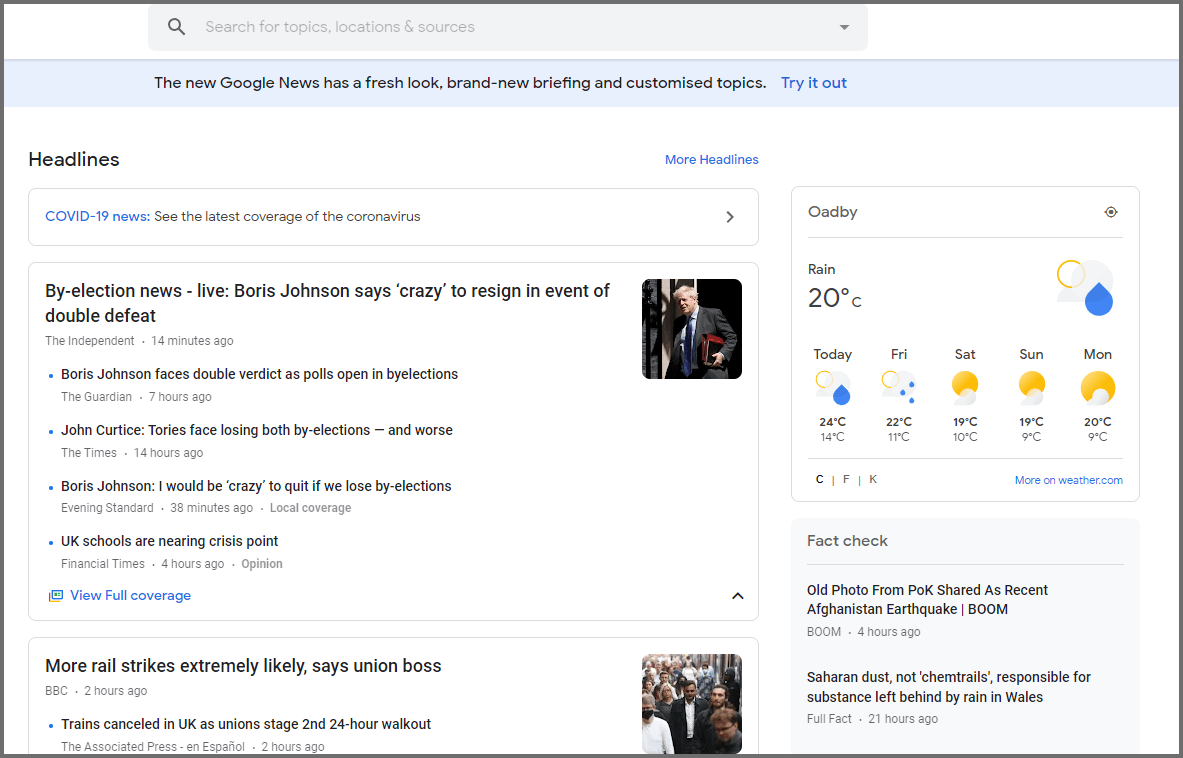 Here's the new design: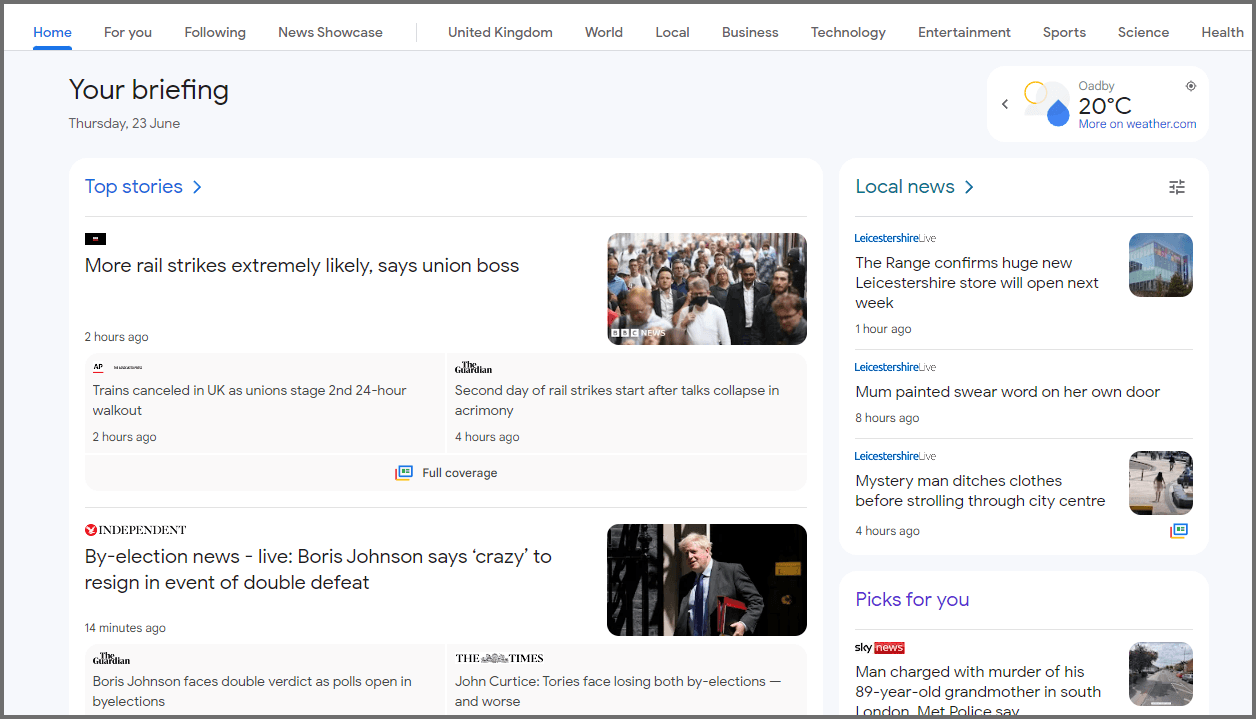 The weather outlook (top right) has been streamlined and compacted by default. At the top of the page, there's now room for some local news which supplements the main "Top stories" pane. There are a number of menus across the top to help users burrow down further into niche content and stories.
Overall, these aren't radical changes. The new design looks a lot nicer and some of these quality-of-life improvements will be really useful.
Main takeaway: Google celebrates 20th Google News anniversary with a fresh design that makes navigation easier and surfaces local news.
Google Still Recommends Hyphens over Underscores in URL Strings
Posted June 22nd on SEO Roundtable
Wondering whether hyphens are still the recommended separator to use within URL strings? Gary Illyes from Google confirms – yes, they are.
Here's the quote from Gary:
"There's a difference and that's in our segmenter. Basically, we use some parts of the URL for understanding what the page is about. The way it works is that, we need to be careful about where we are segmenting, because many things on the internet, things that people write about – have an underscore in them, so we can't easily segment at underscore and that's why we are recommending dashes."
Main takeaway: Continue to use hyphens as your main separator within URL strings.
Google Updates Guidance for Product Variant Pages and Rich Snippets
Posted June 21st on Search Engine Land
Although UX and design have been pushing consolidated product listings for a long time (where you have one product URL with dynamic options), search continues to push for the opposite.
Both the old and new advice begin with this snippet of text:
"Use markup for a specific product, not a category or list of products. For example, 'shoes in our shop' is not a specific product. Currently, product rich results only support pages that focus on a single product."
After Google's update, this extension was added:
"This includes product variants where each product variant has a distinct URL. We recommend focusing on adding markup to product pages instead of pages that list products or a category of products."
What Google is saying is that product markup is only valid for individual, single products – and that this definition does include products where the product variation spawns individual and distinct URLs.
For example, if you had a category named "pencils" which listed a range of pencils, that would not be valid for product markup. If you had an individual pencil product URL (maybe titled "Faber Castell Red Pencil") which had some dynamic variation selection options (e.g: "HB" vs "2B") – then that would be a valid page to deploy product markup. Equally, if you had split-product variant listings, those would also be valid for product markup. If you had two separate product URLs (e.g: "Faber Castell Red Pencil HB" on one URL, and "Faber Castell Red Pencil 2B" on another), all of those split variant listings (across multiple URLs) would be valid for product markup (because they all count as specific, individual product listings).
The debate on which structure (single product pages with dynamic variation selections, vs split-variant product pages spanning multiple URLs) continues. It's true that consolidated product pages are usually nicer for UX, but that split-variant listings can be more effective for SEO.
A general rule of thumb is that if certain variations have high search volumes, you should split those product variations out onto separate URLs so they can be indexed more easily. For example, there are many such searches in DIY (5mm screws, 10mm screws etc). Whilst that is true, there are products where users don't search (as often) for very specific variations. In those instances, consolidating the product URLs might be better as there is some UX benefit.
Main takeaway: Google have updated their guidance in terms of how product markup should be applied. They're saying that it should only be used on individual product URLs (not categories). Whether your individual products use a consolidated or split-variant structure, it doesn't matter (product markup can be added to either).
Is Google LaMDA Sentient?
Posted June 21st on Search Engine Journal
So, what is Google LaMDA? It's short for "Language Model for Dialogue Applications". Google LaMDA is an AI-powered breakthrough (developed by Google) which is designed to engage in a free-flowing way about a "seemingly endless number of topics". Basically, it's aim is to crack the code of human conversation.
According to Search Engine Journal (and also to the Washington Post), an engineer at Google believes that Google LaMDA is sentient. Unsurprisingly, Google vice president Blaise Aguera y Arcas disagrees. If LaMDA was found to be conscious in some way, many would worry that Google were making all the decisions regarding this new and potentially disruptive technology. That would bring a real lens on Google's activity, something which would be unwelcome.
According to Search Engine Journal, this is what makes LaMDA unique:
"It can generate conversation in a freeform manner that the parameters of task-based responses don't constrain.
A conversational language model must understand things like Multimodal user intent, reinforcement learning, and recommendations so that the conversation can jump around between unrelated topics."
Main takeaway: How far away from conscious AI? At that point, is the intelligence still artificial – or is it real? Who will make the calls on the algorithms and decisions which control such new technologies? At the moment, it seems as if Google may be ahead of the pack.
Duck Duck Go is Reportedly on the Decline
Posted June 20th on SEO Roundtable
SEO Roundtable reports that Duck Duck Go (a search engine centred around privacy) has entered a state of decline. This is sad news and hopefully Duck Duck Go will recover. When Duck Duck Go launched in 2008, it caused quite a stir by challenging Google openly on privacy. Not long after in 2010, Blekko (another competing search engine) was launched to the public. Sadly, Blekko (which seemed very promising) was bought out and closed by IBM in 2015.
Due to its roots in privacy and protecting the user, Duck Duck Go has resisted the same fate. So why is Duck Duck Go in decline?
Recently Duck Duck Go decided to demote results and websites linked to Russian disinformation ('fake news') campaigns. Since Russia produces a lot of content and web-traffic, it's possible that this noble action resulted in down-turn for Duck Duck Go.
Main takeaway: Duck Duck Go, a search engine which built its reputation on challenging Google's privacy policies, is now in decline. If your site receives a lot of traffic through this search engine, you may experience traffic hits (as fewer users are searching with Duck Duck Go).
Is TikTok Becoming a Search Engine?
Posted June 17th on Search Engine Journal
According to Search Engine Journal: "A new generation of web users is utilizing TikTok as a search engine". TikTok has been experimenting, showing "search" terms above comments on certain TikTok videos. This is a lateral search feature, which allows users to find similar videos.
Matt G. Southern (the author of the Search Engine Journal article) asserts that he discovered large numbers of users who are "treating TikTok as a search provider, with some even preferring it over Google". Many users whom are of younger generations, have a much more visual learning style. They want to search for information or answers to their questions with video results, rather than lists of web pages.
Main takeaway: younger generations are already using TikTok instead of Google, comparing the information that they find (and how useful it is) against Google's results. Many TikTok converts are unsatisfied with Google's results since they have a visual learning style. TikTok is changing into a hybrid social / search platform with video as the visual medium of information. As a marketer or business owner, you need to be where your audience is. That may soon mean that you need to understand and be on TikTok.
Google is Testing new Featured Snippet Layouts
Posted June 16th on Search Engine Land
Google continually tests new formats and designs for featured snippets, this is just one example of one of those experiments: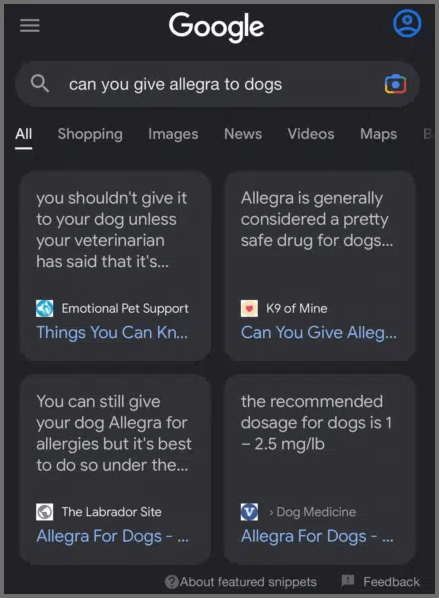 When we repeated this query, we saw the old-style, conventional layout: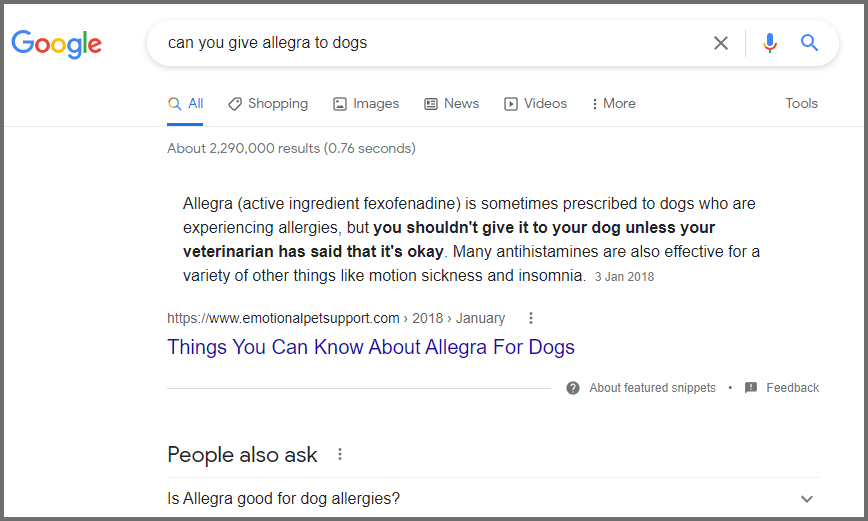 In terms of the newer layout which is being tested, Google seems to be surfacing more snippets of actual information above the fold. With the old layout, you would see one single attempt at an 'answer' (where Google surfaces text from a site) with some "People also ask" queries. From there, the results would shift back to the normal list of webpages.
It's no secret that Google is trying to become more of a direct information engine, rather than a simple list of webpages. After evaluating (in this same post) that TikTok is beginning to compete with Google, because younger generations have a more visual learning style – this move from Google makes total sense. Deliver more direct information to users and less webpages in a list-based format (thus saving the user clicks). But Google will struggle to roll this out in full – why? Google's revenue comes from its advertising platform (Google Ads). If users stop needing to click through to external sites after visiting Google, how will Pay Per Click advertising work?
That's a problem for Google. Not one which is impossible to overcome, but it will involve some very smart people working together – and some serious thought. Google will have to surmount this issue if it doesn't want platforms like TikTok to siphon its user-base over time.
Here at Anicca we can help you to implement rich snippets, monitor the rise and fall of different platforms and help you apply new attributes to your Google My Business profile. If you're impressed with our coverage of search, you can check out our SEO services here. When you're ready, give us a call on 0116 298 7857.