Now Christmas and the January sales are behind us many retailers will have their sights set firmly on the impending arrival of Valentine's Day. Whether it's a physical store, an online supplier or both, Valentine's Day is a significant day in the retail calendar.
It's estimated that love birds in the UK will spend close to £1 billion on gifts, meals and romantic escapes so marketers will be working overtime to ensure they are getting their message in front of shoppers. With that in mind we've put together this rather romantically themed infographic, detailing some of the spending habits of loved-up consumers.

The top ten most popular gifts are a collection of the tried and tested winners that give an indication to those businesses that will be particularly focused on their marketing efforts in the build up to the 14th of February 2014. However, most people – perhaps keen to avoid a wilting bunch of flowers – choose to buy their flowers in-store rather than online. For florists then, the focus must be on ensuring they are optimised for local search results.
Ensuring websites have relevant keywords, title tags and headings is a solid base to work from. Vital to all local efforts will of course be listing the website on Google's Local Listing, previously known as Google Places. Below is an example of local listings and when you click on one of the listings a knowledge graph appears detailing further information about the company.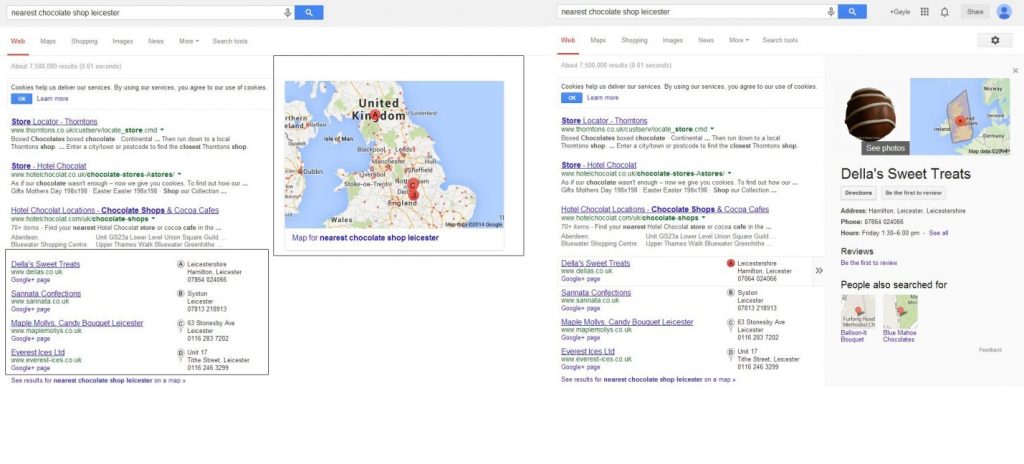 Fully completed listings on trusted local search directories, such as Yell, are well worth the effort although you want to be sure the details are consistent with those on your Local Listing for maximum effect. On site, the inclusion of features like a map, address, postcode and local reviews would be extremely useful for visitors looking for an easy-to-find and trusted florist.
A meal out is another common way to celebrate the day. Again those establishments that have a strong presence online (for local searches) will be one step ahead of those who have been slow to adapt to this type of search. In addition, according to Google, on valentines day two in every three searches for popular chain restaurants in the US is done on a mobile device on. With this in mind, it's becoming increasingly important for restaurants to not only have a presence on mobile search results pages but to invest in a responsive website that makes the mobile experience as easy as possible. Another way to market your Valentine's offering and increase conversions is to produce a Valentine's Day landing page – this is a great way to ensure searchers are served with the information they're looking for on a single page, thus improving conversions.
However you choose to spend your Valentine's day, spare a thought for those marketers who will have spent the last few weeks gearing up for the big day. There's only so many hearts and shades of pink you can stomach before it all just gets a bit too much.