On 4th February 2004 Mark Zuckerberg, with his college room mates Eduardo Saverin, Andrew McCollum, Dustin Moskovitz and Chris Hughes, created an exclusive online network for Harvard college students only called thefacebook.com. That website is now 10 years old.
Here's what happened next…
Feb 2004 – Facebook is created.
Dec 2004 – Facebook reaches 1 million users.
May 2005 – Venture capitalists Accel Partners invest $12.7m in the website immediately turning this exclusive network into an online business.
September 2005 – High school students are now allowed to join the network.
Oct 2005 – Facebook photos is launched.
April 2006 – Facebook for mobile launches.
Sept 2006 – Facebook registration is expanded so anyone can join. Newsfeed is also launched.
Nov 2007 – advertising comes to Facebook. Self-service ads and Facebook Pages are introduced.
Apr 2008 – Facebook Chat is launched.
July 2008 – Facebook's iphone app is launched.
Feb 2009 – the Like button is introduced.
July 2010 – Facebook announces it has 500 million users.
Sept 2010 – David Fincher's film The Social Network, starring Jesse Eisenberg, telling the story behind the creation of Facebook, is released to critical acclaim.
April 2012 – Facebook buys Instagram, the photo-sharing smartphone app, for $1bn.
May 2012 – the company is floated on the stock market for the first time.
Oct 2012 – More than 1 billion people are now active users
Dec 2012 – Facebook makes sweeping changes to its privacy controls following sustained criticism from technology experts and users alike.
January 2014 – Facebook reveals revenue of $2.59bn for the three months to the end of December – this is up 63% from the same time the previous year, quashing rumours started by Anthropologist Daniel Miller who claimed in Dec 2013 that Facebook is "dead and buried" to Britain's 16- to 18-year-olds! He believes they are "embarrassed to be associated with it" and prefer Twitter, Instagram or Snapchat.
It is now February 2014 and Facebook turns 10 years old! With 1.23 billion monthly active users, 945 million of whom access the network using mobile phones, Facebook doesn't want to be just a social network. It wants to be our collective point of entry to the Internet. It has established an infrastructure that we create ourselves – we populate our own treasure chest of memories, we choose our daily newspaper, we plan future events. We talk to people in the next room or across the world. Facebook is our living breathing diary and biography.
Mark Zuckerberg famously did not design his online network with profit in mind. This was a project he used to hone his programming skills. In June 2004, he was interviewed by the Harvard student newspaper and stated "I assume I'll eventually make something profitable" – little did he know it would be this that would ensure his future as an international billionaire.
Happy Birthday Facebook!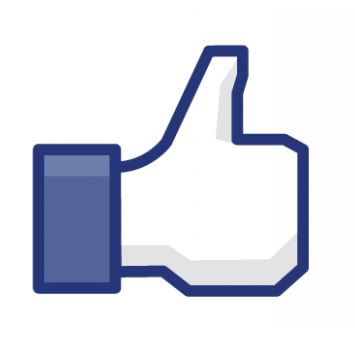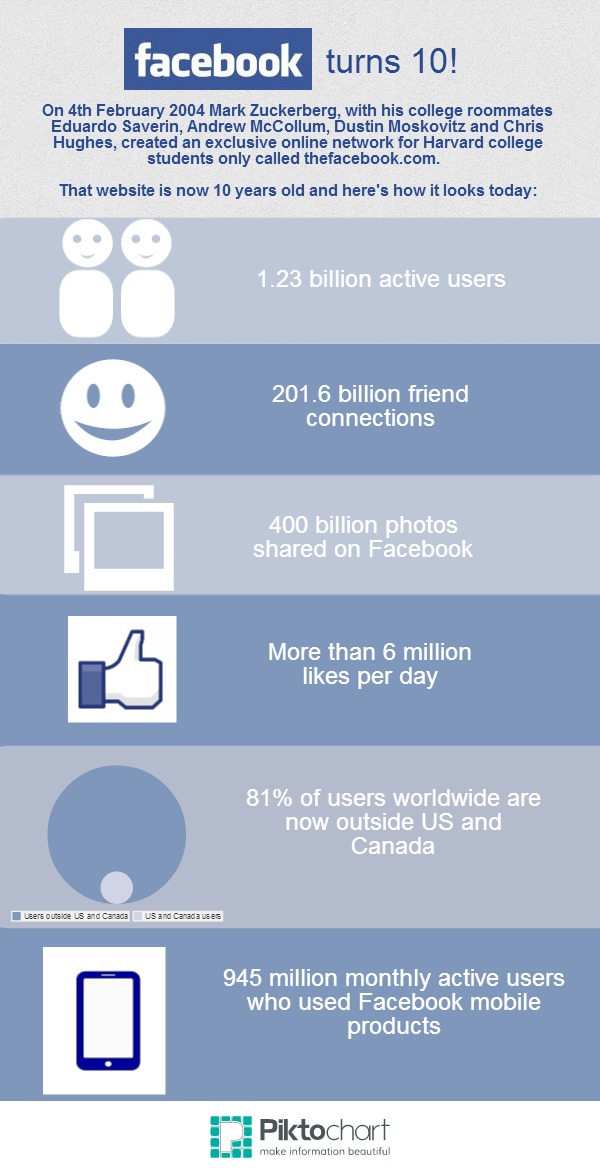 FACEBOOK at 10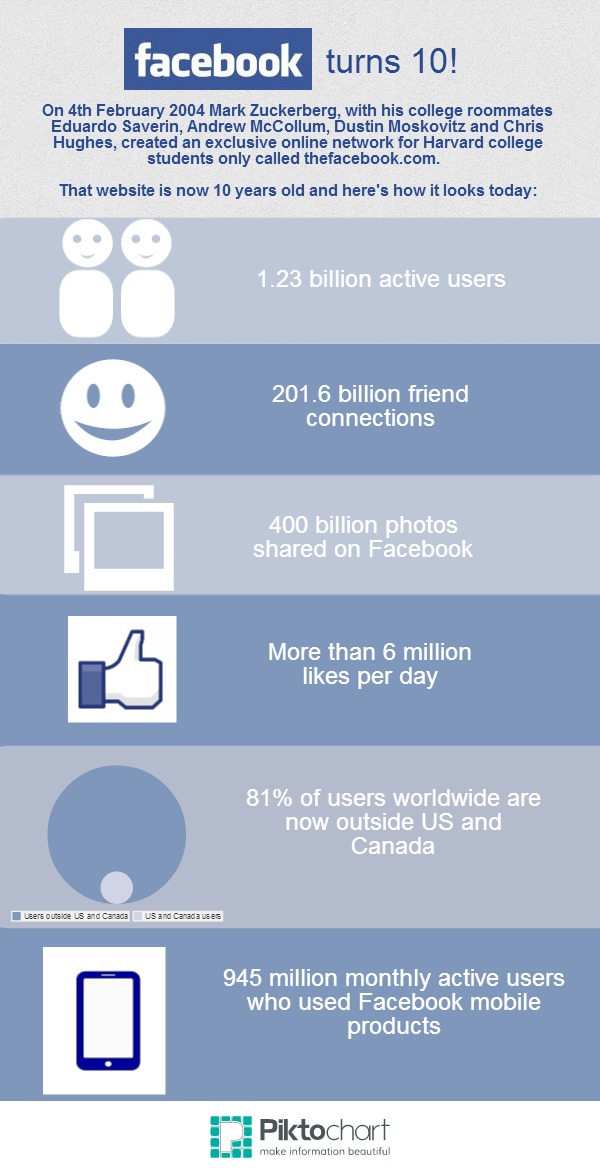 Infographic showing key stats on Facebook now it is 10Anicca Digital