E-Commercial 2017's highly anticipated keynote speech came courtesy of Sabrina Garufi, Agency Development Manager at Google, helping UK agencies on all aspects of their digital activity, with a particular emphasis on growth.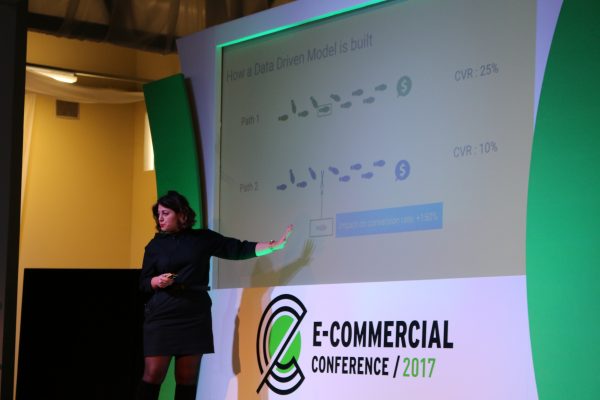 Plane, train, car or bus, followed by the short walk into the building, Sabrina begins with a real world comparison of how we all arrived at the conference. While we wouldn't class the final walk as our journey method and throw all of our budget behind improving pavements, last click attribution does just that, focusing budgets on one area and leaving us blind to 75% or more of the customer's journey. This includes the early steps that helped get us to the pavement in the first place. Essentially, when it comes to eCommerce, the value of last click attribution is questionable.
Sabrina's advice? Look at the entire customer journey using Data-Driven Attribution, which examines the impact of the keyphrases which shaped the customer's journey.
So, an extra step or keyphrase delivers an incremental increase then give it extra value.
This also works across devices. Moving away from last click gives more credit to mobile.
Why is Data Driven Attribution so important for eCommerce?
Advertisers moving beyond last click to data-driven attribution delivered a 5% increase in conversions.
When applied to Black Friday and Cyber Monday – now the biggest online shopping events in the retail calendar – data-driven attribution highlights that searches for conversions made on these key dates actually started days earlier, while auto bidding and smart bidding delivered extra conversions. Data-Driven Attribution drives more conversions at the same cost per click at a lower cost per acquisition.
Attendees to E-Commercial 2017 were also treated to preview screenshots of Google's new analytics tool, Google Attribution, which will be launched to all advertisers early 2018.
The key points to remember are:
·         When the data appears in AdWords you will no longer see round numbers
·         You need to allow 30 days to get enough data to correctly identify customer journeys
·         Once you have this, you need to revisit bids and budgets
·         Generic terms may be more valuable
·         Mobile may be more valuable
·         You may want to test new keywords which you may have previously paused