Segmenting Functionality's
It has long been a pet hate of mine the ever missing feature in Bing that is the ability to segment the data. Well finally Bing has caught up with AdWords on this one.
Over the last couple of months we have slowly started to see it creep into our accounts and we couldn't be happier, that it has now fully rolled out. This gives us a whole new level of ease when analysing performance in the Bing platform without flicking between screens and all without having to stray away from the main campaigns page.
You can now segment your campaigns, ad groups, keywords, ads and even ad extensions out based on 4 different criteria (which looks to be taken straight out of AdWords):
Time (day, week, month, quarter, year or day of week)
Network
Device
Top Vs Other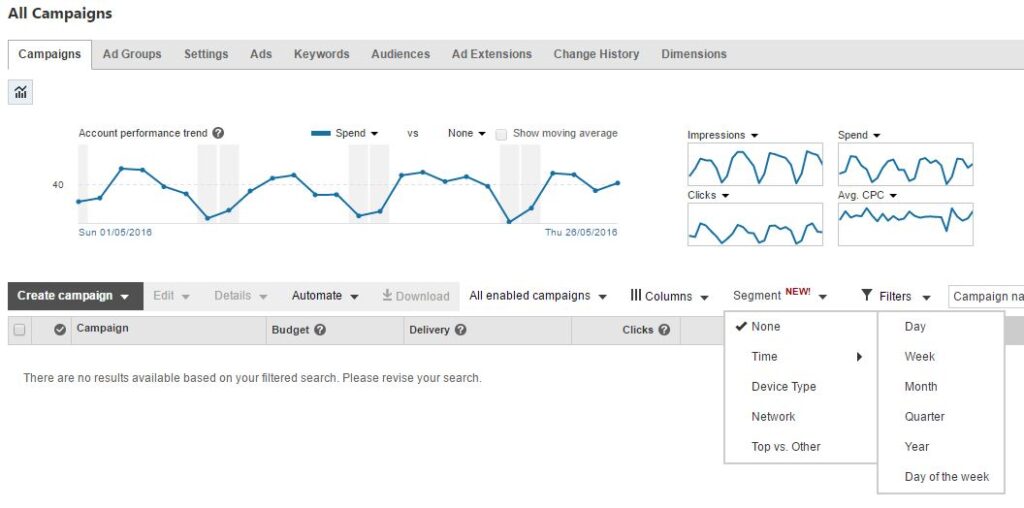 By selecting through the options you can quickly and easily segment your data to drill down to the little nuggets of information stored within. It's certainly a feature we will be making great use of.
Copy & Pasting of Ads and Keywords
It seems like an obvious thing to be able to do – a given even in this day and age. But until this month it wasn't a feature that Bing allowed.
Well the struggle is over, no more starting over from scratch and re-writing ad copy several times for different ad groups; you can now copy and paste within the platform. No more reaching to editor to make these quick and easy changes.
If you've got a winning ad copy you can now quickly copy this over to new ad groups, where you can then use the main body and just tweak slightly to fit in with the new keyword targets.
Definitely one to note as it will certainly save precious time.
Callout & Review Extensions
A little old on the scene now being released in April, but certainly a worthy mention is the release of the new ad extensions.
Again following in the footsteps of AdWords you can now add callout and review extensions in Bing. With increased ad presence and additional space to really sell your product or service it seems a given that we should all be adopting these in Bing too.

Could Structured Snippets be the next extension to make an appearance?
Trouble Shooting Your UET Tags
Introduced in mid May the UET Tag Helper is designed to give trouble shooting help for getting the UET tag installed and up and running.
The UET Tag Helper is an extension for Google Chrome that automatically validates and checks if the tag is installed correctly; similar to Google's Tag Assistant.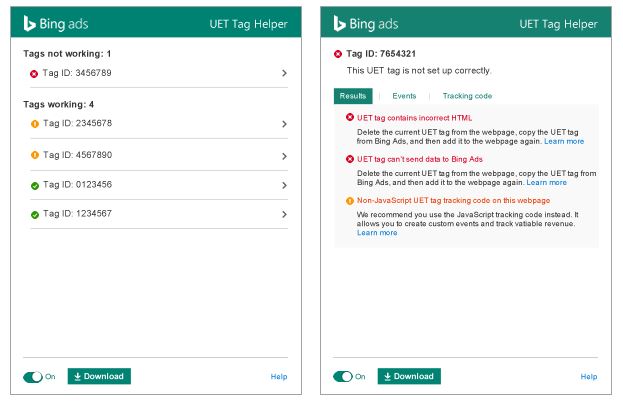 The features include:
Validates your UET tag in real time.
Highlights whether the tag has been implemented correctly or not.
Helps with trouble shooting common errors that occur with the tag installation.
Definitely worth an install if you are running your ads on Bing. You can download the extension here from the Chrome web store.
Bing Ads Editor Multi Account Management
Bing Ads editor has gone through a complete over haul this month, with a new design and more manageability functionalities.
You can now download multiple accounts at once, in comparison to the previous version where you had to go through the laborious process of downloading accounts one by one. You can also work on installed accounts while the download is in progress, allow for optimal multi-tasking.
There is now a better structure within the interface too, which gives a slight nod to the design of AdWords Editor.
The navigation has now moved into the left hand side (now referred to as list type), where you can easily break down and access the granularity level you require.
There is also a new advanced search functionality; with the main window being made more intuitive than before, whilst still maintaining all of its capabilities. You can now also more clearly see the search criteria you have entered and the number of matching results out of the total results is shown against the list type.
Advanced options have now also been moved up to the top of the page, above the manager panel to allow for more ease of use.
Looking to branch out from AdWords and trial new platforms? Or need help with your existing accounts management? Get in touch with us on 0116 298 7496 and we will be happy to help.