We are going to take a look back at the most important, anticipated and useful updates that hit PPC in July.
Let's take a deep dive into our top updates across Google Ads and Microsoft Ads. So, dive into this recap for a snapshot of the top changes in July.
Google Ads Key Updates
There were a bunch of new updates across Google in July, some of which are set to make advertisers' lives easier. Others will have an impact on the results you see in your accounts. We've got you covered on the biggest changes and what they mean for your advertising.
Updates to Attribution Models
In July, Google started to notify advertisers that existing conversion points that weren't yet using data-driven attribution will be scheduled to be automatically switched over.
Data-driven attribution in itself is nothing new and has been around for a fair few years now. However, until late 2021, data-driven modelling was only available for accounts driving a significant volume of data. Google has worked hard to update the model and make it more reliable and useful across low data sets. As of July, this means that more accounts are now eligible to use the data-driven model.
The data-driven model shares conversion credit amongst all touchpoints in the entire conversion journey. Google attributes credit based on how each of these individual interactions affected the conversion outcome.
So, what does this mean for your data? In terms of your data, if you were previously still using the last click model you will start to see a difference immediately in your conversion reports. Whereas previously conversions were reported whole, you will start to see conversions as decimals. The reason for this is how credit is split across the whole journey. It results in 3 keywords for example sharing 1 conversion, which means each keyword is attributed 0.33 of a conversion.
Overall data-driven attribution will give you a more holistic view of your ad performance, so it is recommended where possible to use it. You can use the attribution section in Google Ads to compare how the different models would affect the data you see.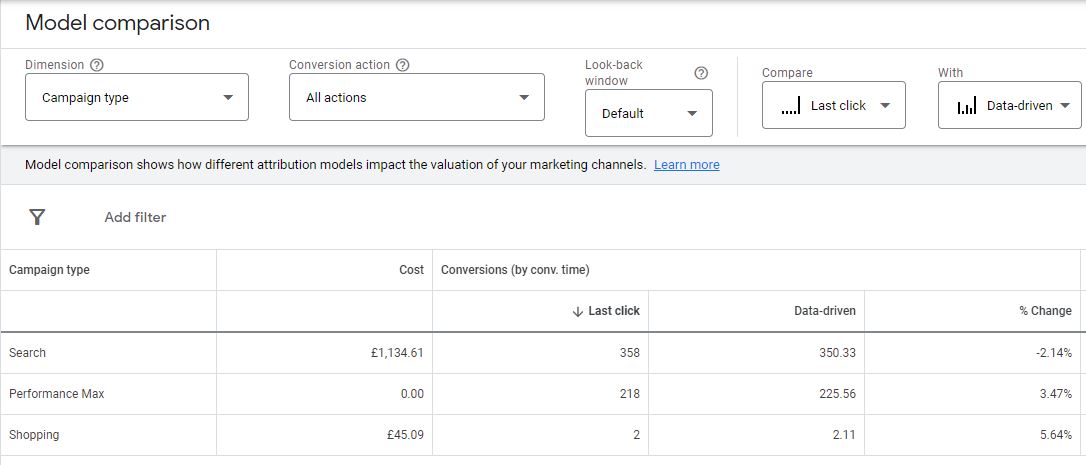 Extension to 3rd Party Cookies in Google Chrome
Google announced in late July that they will be extending the deadline for the depreciation of 3rd-party cookie support up until 2024. They had previously extended this deadline before with the cookies originally set to discontinue in 2022, before extending to 2023.
Google has said the reason for the delay is they need more time to test an updated solution, which they have currently termed the Privacy Sandbox, that adopts additional privacy whilst still allowing for targeted advertising.
Third-party cookies are any cookies that are set by websites other than the one you are currently on. The difference to 1st part cookies is that these are collected and stored by the website that you are viewing.
What does it mean for your advertising?
Currently, Google has not indicated how the Privacy Sandbox will impact targeting options. However, as each browser rolls out the depreciation of third-party cookies (Safari and Firefox already block these) then you will need to become more reliant on your own first-party data.
Launch of Video Creation Tool in Google Ads
Google has taken the step to make it easier for businesses of all sizes to create video content, with the launch of Google Ads Video Creation Tool.
The great thing about the video creation tool is that you can access it directly from your Google Ads account. You can create a video from scratch using imagery and templates or add a voice-over. You can customise with your brand colours and logo to ensure it meets your brand guidelines
If you don't already have video creative and are limited by resources, it is a great way to dip your toe in the water to test the performance of video for your brand.
Performance Max Campaigns Get New Features
As Google's newest campaign type the updates to Performance Max campaigns come thick and fast. July saw the release of advanced location targeting, optimisation scores, diagnostic insights and data exclusions.
With advanced location targeting, it brings Performance Max in line with other campaign types in Google Ads. You can now specify whether you want ads to deliver to users who are both present in your targeted location and showing an interest in the location, or just users who are present. For some businesses, this is particularly important as you may only want your ads to appear in areas you can serve.
Optimisation Scores as in other campaign types are Google's way of guiding your campaign setup and providing recommendations on performance opportunities. As with other campaign, types review each recommendation individually and decide whether it is right for your business.

Tip: not all recommendations will deliver increased performance, and some may increase your spending without increasing the conversion outcome. Any recommendations you don't think are valuable hit dismiss to see the benefit in your optimisation score.
Microsoft (Bing) Ads Key Updates
Microsoft frequently releases updates to bring the platform closer in line with Google Ads. Occasionally they release brand new features unique to their platform. We take a look back through July at the key updates.
Shopping Ads and Promotions
In July Microsoft released two news features to support shopping ads. Automatic item updates and automatic merchant promotions.
Automatic item updates are a feature you will be familiar with if you have been running Google shopping ads. It helps you to bridge the gap in data between when the feed populates and publishes to Microsoft Ads. Automatic updates, as they do in Google, run off of the microdata on your website to provide temporary updates if the price and availability of a product change.
For you it means more accurate data in your adverts to avoid wasted clicks if a product becomes out of stock, reduce customer dissatisfaction and encourage more sales if your price lowers.
Automatic merchant promotions are a step further than Google has gone. Within Google and Microsoft Ads you can submit your own promotions for review. With this new update, Microsoft will automatically crawl and scan your website's data to find and display relevant promotions.
Responsive Search Ads Updates
August will mark the final month you can add and edit expanded ads in your Microsoft Ads account. As part of this transition to responsive search ads (RSAs), they have released support for ad customisers. This rollout will mark a welcome update, to bring the personalisation in line with expanded ads.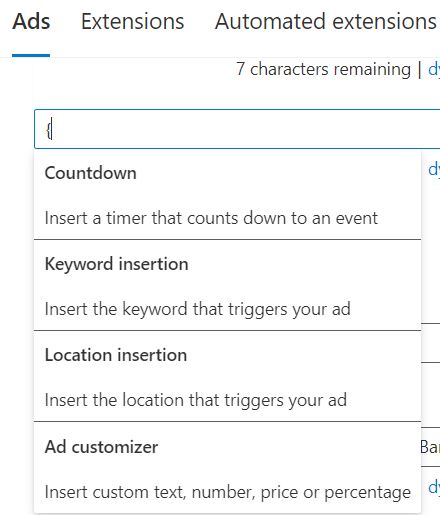 Ad customisers are great as they update your ads dynamically in real-time based on the conditions that you set. It means you are able to create more relevant and personalised ads. You can also save time by transforming 1 single ad and not having to perform manual updates.
You can use ad customisers to insert text (such as product names), numbers (such as inventory count), prices, and percentages (such as discounts).
Expansion of the automatic eligibility to migrate UET tags to Microsoft Clarity
Microsoft Clarity insights were rolled out in phase 1 at the end of 2021, in July Microsoft launched phase 2 of this expanding the availability to further advertisers.

Microsoft clarity is a great free tool that provides heat mapping and website session analysis. You can use Microsoft Clarity without a Bing account.
The update means that unless you opt out, Bing will automatically migrate your UET tag to create a Clarity account. If you don't already use tools like HotJar, Microsoft Clarity will provide invaluable insight into your website performance.
Conclusion
That rounds up our top feature updates and releases in July 2022. All of these updates can help businesses strive for better results and grow their accounts. If you want to find out more about any of these new releases, or see how they could be implemented in your account then get in touch.
You can also check out our round-up of everything new in SEO in July.