Meta has been going through a lot of changes recently, and while a lot is in the back end, we're still seeing changes and additions come through on the advertiser's and the consumer's sides.
Some of the later updates in the last few weeks/months may have caused a brief moment of confusion as they appeared out of the blue, so here is a summary of three more noticeable changes.
1. New Campaign Objectives
Setting up a new campaign has now changed slightly, with campaign objectives being grouped in a different manner.
Whereas in the past, there were three umbrella objectives with sub-focuses that you would select one of, you now have the option of 6 different umbrellas that feature a fixed list of goals.

Within each objective you have between 2-4 goals. These are as follows:
Awareness
Reach
Brand Awareness
Video Views
Traffic
Link Clicks
Landing Page Views
Messenger and Whatsapp
Calls
Engagement
Messenger, Whatsapp and Instagram Direct
Video Views
Post Engagements
Conversions
Leads
Instant Forms
Messenger
Conversions
Calls
App Promotion
Sales
Conversions
Catalogue Sales
Messenger and Whatsapp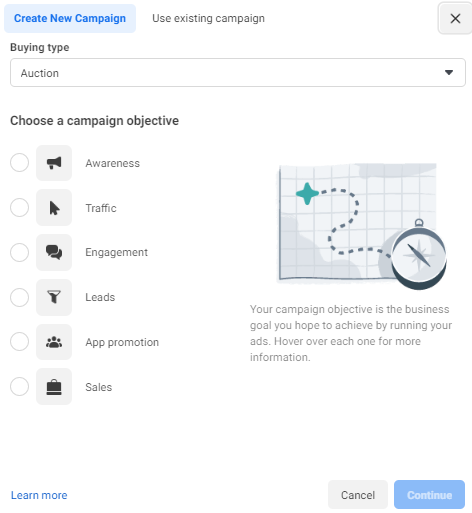 As you can tell, there are quite a few crossovers that may confuse people. For example, 'Conversions' appears under Engagement, Leads and Sales. And 'Messenger' appears under Traffic, Engagement, Leads and Sales.
So which do you pick?
In cases where you have several possible options, it's important to go back to the core objective. For example, if your objective is to sell through a conversion goal as opposed to catalogues, then Sales is most likely your objective of choice.
2. Info Labels
A more impactful new feature is the introduction of info labels. These were spotted several months ago, but they came and went and never really seemed to display on the consumer side, but now it appears they have pushed the launch a step further.
Essentially, info labels will sit in a banner underneath your ad to display additional information about your business.
Here's how Meta describes them:

As far as what we can see, there are two categories – purchase info and company page info
The purchase info gives three main options:
Free Delivery
Payment Options
Returns Policy
Within these, you can select and add the relevant information, such as the different payment methods you offer.
These can help speed up the decision making process of your target audience. For example, if Apple Pay is an option then it removes the need for Apple Pay users to add all their card and delivery information – which means they can complete the purchase in seconds instead of minutes.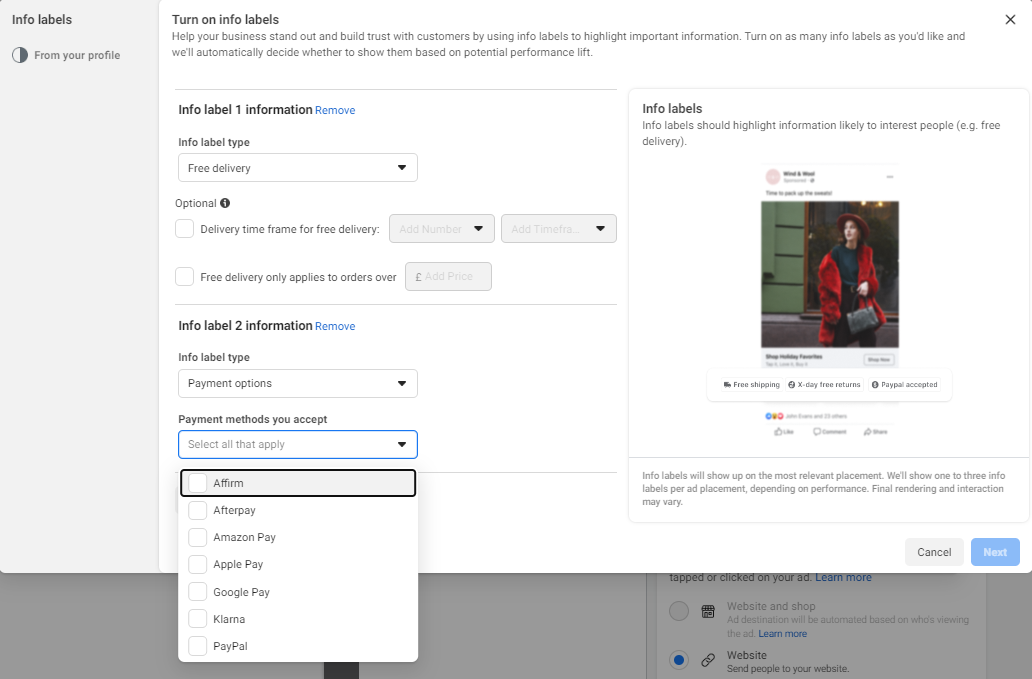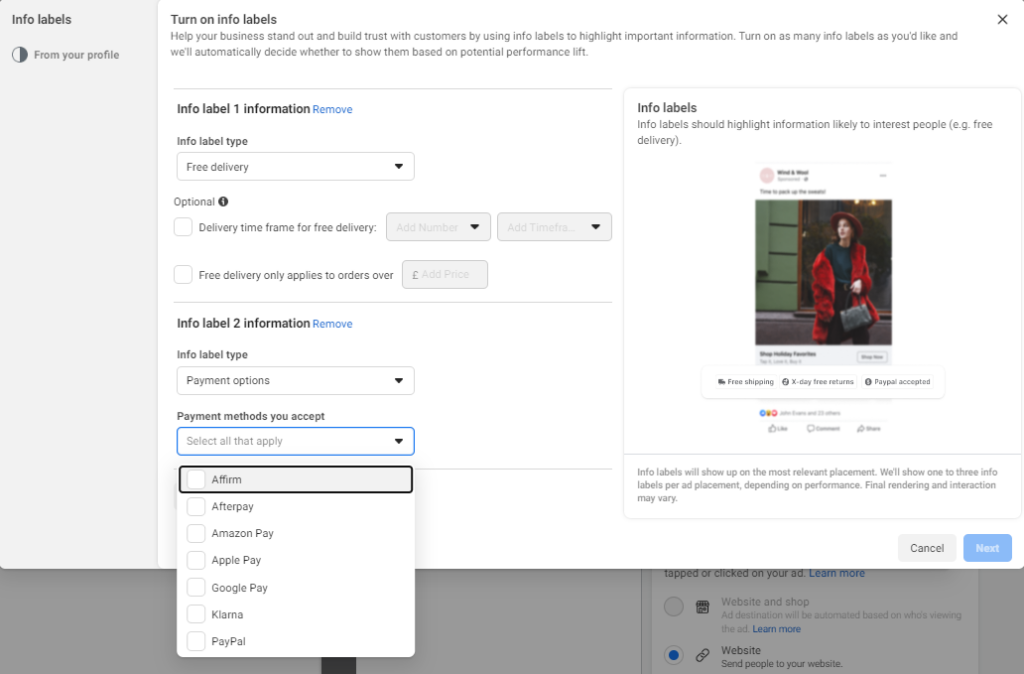 On the other side, you have info labels from your profile.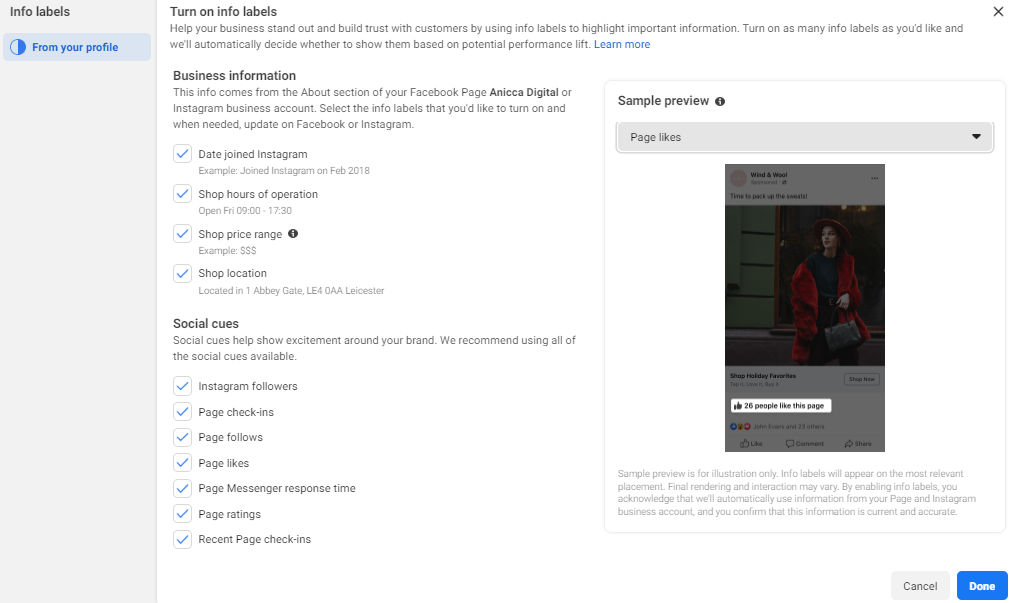 Business Information
Date joined Instagram
Shop hours of operation
Shop price range
Shop location
Social Cues
Instagram followers
Page check-ins
Page follows
Page likes
Page Messenger response time
Page ratings
Recent Page check-ins
Profile info labels can help you build trust quicker, by highlighting the correct features. If you have a large following, then that is a strong indication that your business is legitimate. There will always be a worry that a page or website is illegitimate, so building trust is important. With these labels, you will be able to build trust quickly and that should positively impact your ad performance.
It's just as important to be tactical on the flipside. If your pages are relatively new and the following is small, you should probably leave the followers/follows/likes boxes unticked, same if your Facebook reviews are poor.
3. Advantage+ creative
Another new feature you may have come across is Advantage+ creative which forms part of Meta's new suite of automated tools called Meta Advantage.
You can read more about the full suite here:
https://www.facebook.com/business/news/meta-advantage-automation-ad-suite-performance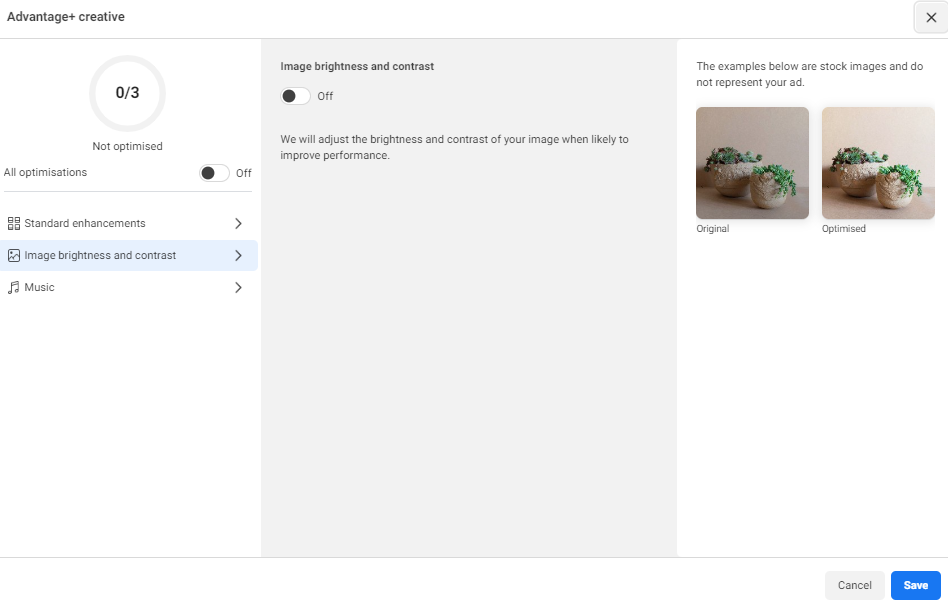 Focusing just on the Advantage+ creative feature, Meta has decided to restructure their dynamic experience tools, where you can utilise three automated features for your creative:
Standard enhancements
This feature has been around for a while, it dynamically resizes creative to optimise for individuals. One thing to note about the feature is that it can work poorly when you have a creative designed for specific dimensions and features text and logos outside the centre.
One thing that we have come across is text being cropped and thus the ads don't deliver the message we want.
Image brightness and contrast
The title is rather self-explanatory, the feature adjusts the brightness and contrast of your visual in order to optimise.
Again, things to look out for are designed creatives using brand guidelines such as precise colours. If the brightness and contrast are adjusted then the creative may become off-brand.
Music
Music is particularly relevant for the Reels placement. You can select either automated tracks that dynamically change depending on the individual, or you can pick a song.
Meta believes the above features can decrease your CPA by 3% (according to a recent Meta study) if you apply these dynamic features.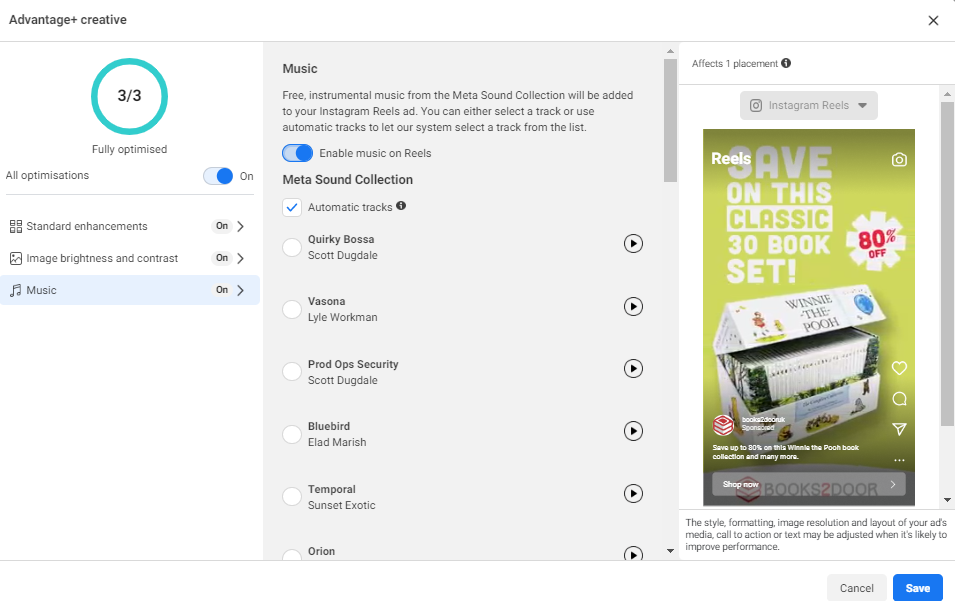 If you're interested in working with Anicca or want to know more about our paid social media contact us today.