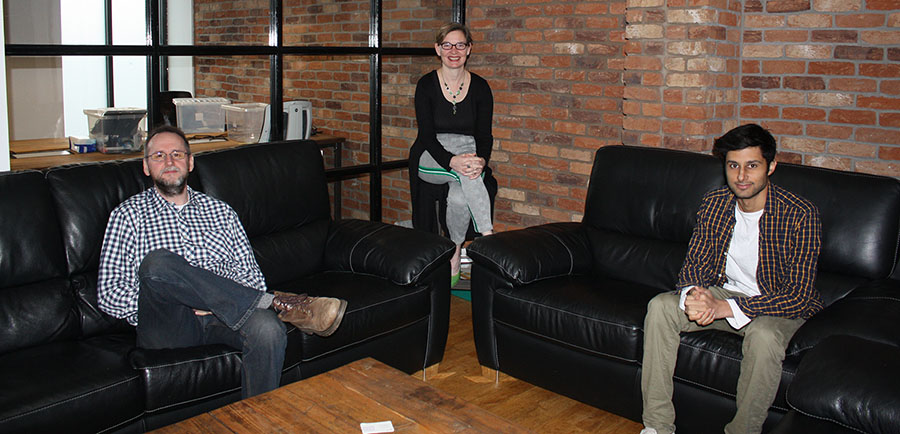 Sending out a big Anicca welcome to three new team members who have started with the agency at our Leicester offices in the last few weeks.
As a result of a string account wins, we have strengthened three of our internal teams by employing Angela Padfield as Business Development Manager, Mark Janes as Content Account Manager and Jayesh Mistry in the Paid Media team.
Angela has joined the Anicca team from Reach Plc, after supporting the Leicester Mercury commercial team for 11 years. She brings with her significant local contacts and experience of selling SEO and PPC services. As Business Development Manager, Angela will work with our Managing Director, Ann Stanley, to bring new clients into the agency.
Angela was one of many people that has suffered redundancy caused by the pandemic. She said "When I found out I was to be made redundant, I made a list of companies that I would like to work for. Anicca was top of that list – I approached Ann about a position, and the rest is history! I have been so impressed by the customer-centric approach at Anicca – I feel like we are delivering so much value to our clients."
Mark Janes brings with him over 25 years of marketing experience, much of it in the education sector, including seven years in De Montfort University's marketing team. Mark will work with the Content, PR and SEO team to create great content to attract new customers to Anicca clients. He recently completed the DMI qualification at Anicca Digital. Mark commented;
"I was really excited by the breadth of knowledge in the Anicca team. I felt that I could bring my public and private sector knowledge to the table and help our clients learn something in return. I'm very interested in the training side of the agency, and the added value skills offered by Anicca."
Leicester-based Jayesh Mistry joins Anicca's award-winning Paid Media team as Senior Paid Media Account Executive. Jayesh has spent two years at Adtrak managing Pay Per Click campaigns for a range of clients, and now brings that expertise to Anicca's client portfolio.
Jayesh said;
"I was excited by the prospect of joining the dynamic, creative Paid Media team at Anicca Digital. I have lots of ideas and having access to a sector expert like Ann was a real draw. The agency has a wide variety of clients across a range of sectors, which enables me to try out new advertising techniques to get the best results for our customers."
Jayesh, who lives in Rushey Mead, was also excited by the prospect of being able to skateboard to work.
"I'm a keen skateboarder and having the office so close and being able to commute via skateboard was a big attraction for me!"
Managing Director of Anicca Digital, Ann Stanley, said "The pandemic has seen many businesses switch budgets to online marketing, following their locked-down customers onto Marketplaces, social media or E-commerce platforms. As a result, we are thrilled to be able to employ more talented, local people into well-paying long-term roles at Anicca."
However are continuing or recruitment drive by recruiting for a further two vacancies within the agency's Paid Media team – both at a relatively senior level; Senior Account Manager or Account Director. So please apply if you have 3 years'+ relevant experience of managing digital advertising campaigns.
Click to see full job descriptions and application process.