Experts in e-commerce and digital marketing brought their knowledge to Leicester yesterday for our annual E-Commercial Conference, sharing the latest updates in Paid Search, Organic Search, Social Media and Content.
Big names including Sky and Thorntons Ferrero were among the speakers sharing their expertise in increasing web traffic and customer retention.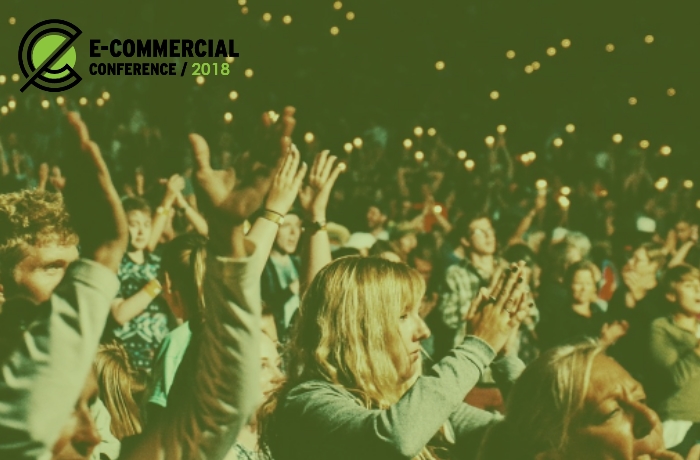 Held at Leicester Racecourse, the conference offered e-commerce SMEs, in-house marketeers and our agency peers new ideas and techniques for improving content, brand awareness and customer e-commerce journeys to increase customer retention.
E-Commercial Conference is part of the Leicester Business Festival and has grown from 75 attendees in 2015 to more than 150 delegates in 2018.
Don't worry if you missed out on attending the conference, we've put together a handy round-up with all the best tips we picked up on the day.
Here's what we learnt:
The UK has the 3rd biggest online economy in world and we now buy more per head than any other country in the world.
Our very own Ann Stanley opened the conference with the latest updates in paid media, highlighting how 52% of all advertising spend in the UK is now online – overtaking offline spend for the first time – and how Amazon is becoming a bigger advertiser than Facebook.
Bing is important for B2B campaigns, as it receives a lot of desktop traffic. For ease and speed, you can now clone your Google campaigns over to Bing and image advertising is soon to be launched.
Samantha Hearn of The Watches of Switzerland highlighted the power of video, with users retaining 95% of a message when watching a video, compared to 10% of read content, and how to ditch traditional story arcs to create successful.
John Rowley, Digital Marketing Manager at Thorntons Ferrero, informs us that a high-quality customer experience relies on three rules: Be There, Be Quick, Be Useful. Increase brand awareness, keep page load speeds quick and prioritise content that fulfils the customer's query.
Nine out of ten customers rate free delivery as the number one factor for online purchase.
85% of Google Shopping search terms are based on keywords in your product titles, so you need to get them right. Optimising your product feed can improve click through rate, reduce wasted spend and increase return on spend, John Cave is Director of Shoptimised showed us how.
Why should businesses integrate Social Commerce into a social media marketing strategy? According to BI Intelligence estimates, the top 500 retailers earned an estimated $6.5 billion from social shopping in 2017, up 24% from 2016.
Sky Adsmart technology enables SMEs to compete with big brands, with TV advertising as targeted as Paid Search and starting from only £3,000.
Logo Porn was the new term on everyone's lips thanks to Ross Davies of Strafe Creative, who advises displaying award wins on your website to help display authority and build trust with your users.
For every $92 spent on user acquisition, only $1 is spent on conversion and retention, according to Andraž Štalec, CEO at digital marketing agency Red Orbit, who shared his expertise on customer retention.
Different user bases will use different search terms and as markets mature, search queries change. Generic keywords searches become rarer as the market matures, with users turning more towards branded keywords.
We would like to say a big thank you to everyone who attended and our sponsors and exhibitors, including Premier Events, Shoptimised, Barclays, Digital Growth Programme, LNET Digital, Go Inspire, DayToDayEbay and Xapsys.