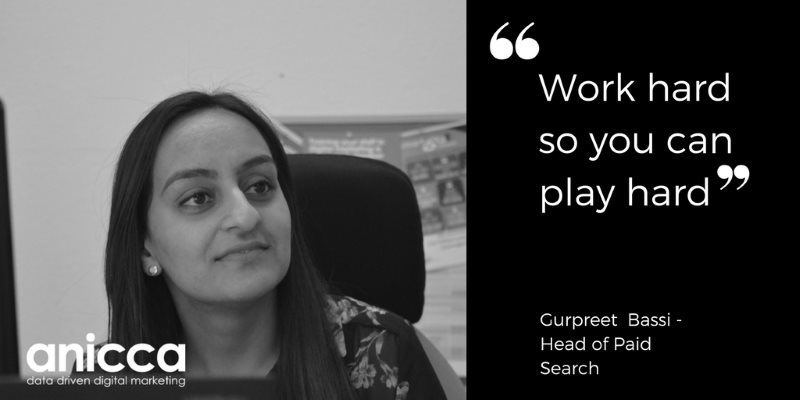 Meet Gurpreet Bassi – Head of Paid Search
To celebrate International Women's Day, we are profiling the brilliant female leaders at Anicca Digital.
We talk to Gurpreet who heads up the Anicca Digital Paid Search team – Gurpreet embraces her team's individual personalities and there are always interesting debates taking place in the office.
What is your current role?
Head of Paid Search
How did you get into your role?
It was not planned at all. I graduated in Computer Studies and had no idea what my next step would be. I gave my CV out (as you do when you have graduated).  I was approached by an agency who felt my 'skill set' would be perfect for a pay per click marketing role – and it all progressed from there.
What do you enjoy most in your role?
Working with clients from all different sectors and seeing how incremental changes can really effect how an account works over time. The PPC team is also great to work with as no one person is alike – we have some interesting debates!
What has been your biggest career achievement?
Staying in one place at Anicca Digital and progressing throughout the company.
What advice would you give to people beginning their career?
Stay flexible. Work hard so you can play hard.