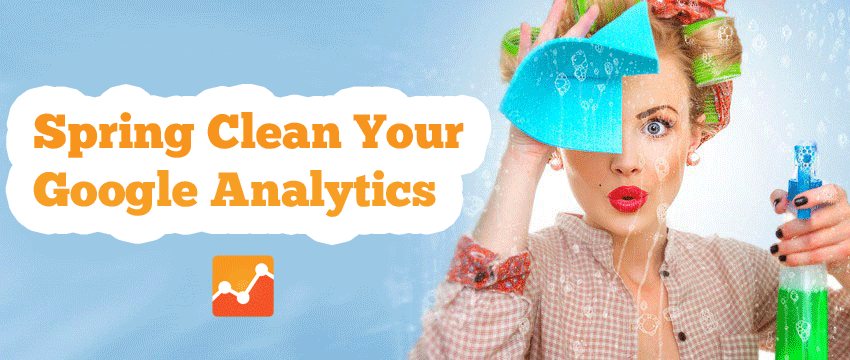 Give your analytics a spring clean tidy using our quick and handy checklist of must have checks for Google Analytics to ensure your account is in tip top condition.
#1 Check Your Website Tags
Download the Google Tag Assistant plugin (Google Chrome only) to find out what Google tags you have on your website.  This nifty plugin will help you verify and troubleshoot various tags you may have on your site and provide suggestions on what should be fixed. Use it to find out if you have any duplicated Analytics code on your site with the same ID. Duplicated Analytics code will distort your reports by doubling up on the visits being reported. Check various pages such as homepage, product and checkout pages.
#2 Are you tracking the right Hostnames?
More often than not our we find our clients are often collecting data for domains they are not aware of. To see what Hostnames you are collecting data for go to Audience > Technology > Network > Hostname within Analytics. Go through the list based on your last 30 days to see what Hostnames come up. Are you seeing data for domains you don't want to? If so you may want to exclude these domains from your reports by setting up a custom filter to only include for your chosen domain (see step 2) . Further details for how to setting up custom filters can be found here.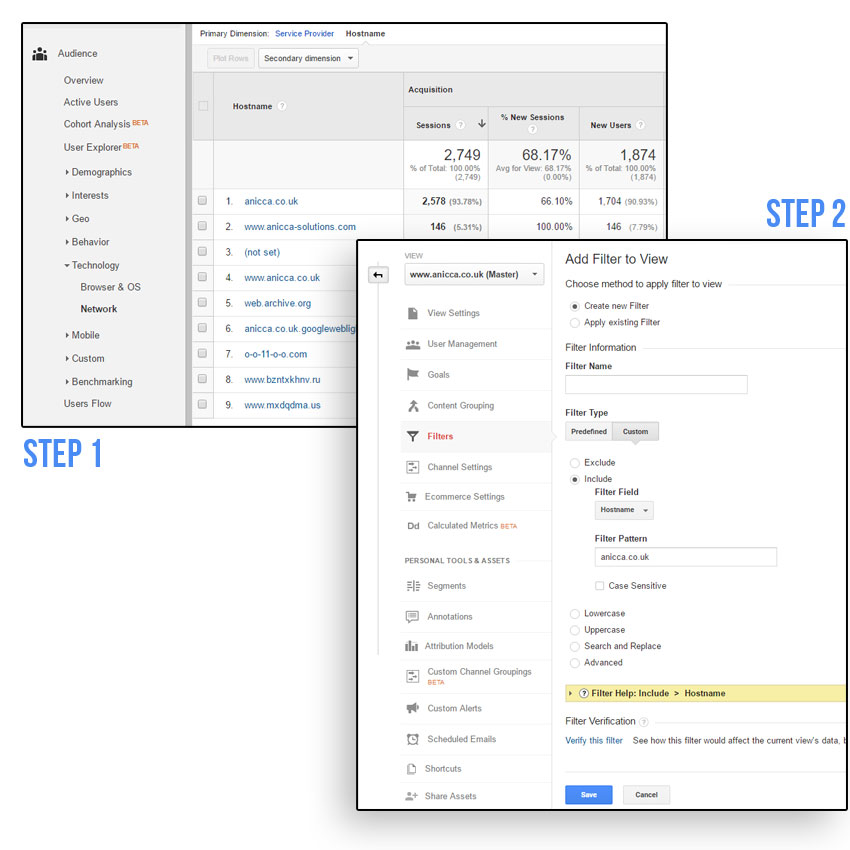 #3 Find and Eliminate Self-Referrals
A self-referral is where you see your own domain in your referral reports. To check this head over to your Analytics reporting and select Acquisition > All Traffic > Referrals Do you see your domain being listed as a referring site? Self-referrals can occur for a number of reasons, but most commonly this is due t0;
Missing tracking code on certain pages
Incorrectly configured cross domain tracking (if you take users to another website or sub-domain)
Missing tracking code – if you're missing tracking code on your pages then this will cause a session to end, so when visitors navigate to the next page with the correct tracking code, a new session will begin. You can identify self-referring pages by going to Acquisition > All Traffic > Referrals and applying a secondary dimension of 'Referral path'. This will show you which pages may be missing code.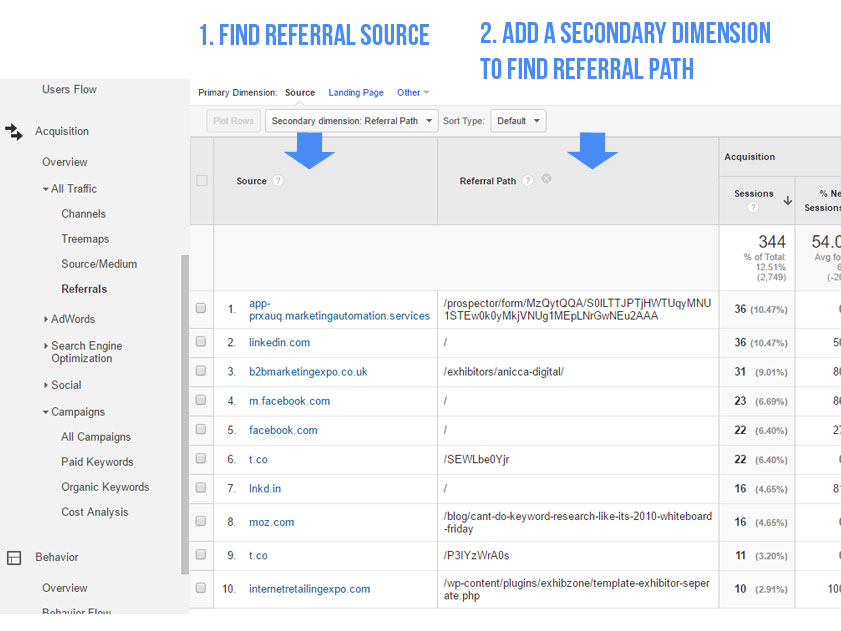 Incorrectly configured cross domain tracking Another major cause of self-referrals is sites that are not tracking across domains or sub-domains correctly. If you pass visitors from one domain to another (eg shop.com and checkout.shop.com) you will need to modify your Google Analytics code to allow visitor cookies to be shared across two domains.  If the tracking code is not modified correctly then users accessing your site from a sub-domain or different domain will appear as new visitors in your your reports. One way to identify whether cross domain tracking is an issue for you is to head to the landing page report: Behavior > Site Content > Landing Page. From here apply a secondary dimension of 'Full Referrer' to see whether your website comes up as a referring source.  If you're still seeing your own domain(s) in here then you may need to configure your cross domain tracking correctly. You can read more about cross domain tracking here.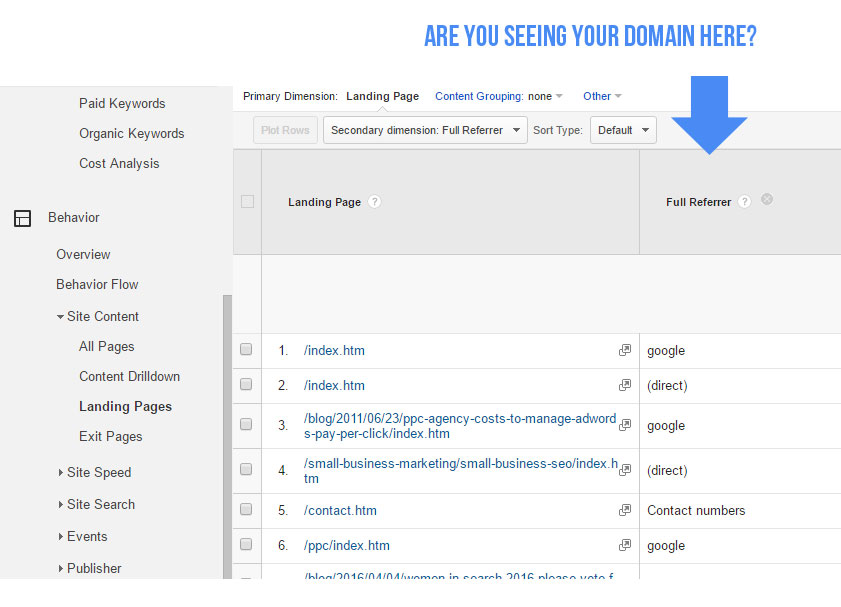 #4 Exclude Referrals from Third-party Payment Gateways
A common issue ecommerce clients face are referrals coming from domains that shouldn't be recognised as referrals. Classic examples of this comes from third party payment providers eg PayPal, Sagepay etc. If you haven't set up your referral exclusions, then each time a customer pays with a third party provider and then returns to the checkout confirmation, a referral will show from the payment provider. Obviously this can wreak havoc on your data and it can mean you lose the true referrer of the traffic, e.g. organic, PPC etc. To exclude this type of traffic, go to the Admin section of your Aanlytics account Admin> Tracking Info > Referral Exclusion List In here, just click Add Referral Exclusion and enter the domain you want to exclude.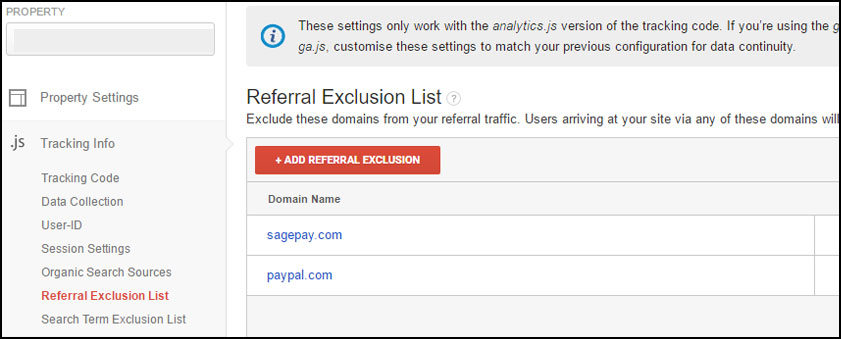 #5 Ensure Proper Campaign Tracking for Email and Paid Traffic Sources
This involves checking that all your paid and email traffic is properly tagged so it can be recognised by Google Analytics. If you're not including UTM parameters in your non-Google paid campaigns, the traffic is most likely being counted as organic or direct search visits. This is common for Facebook advertising where utm tags have not been added and traffic from ads just simply appear as referrals from facebook.com rather than paid facebook traffic. Use the Anicca URL Builder to construct your links with UTM tags. Common UTM parameters: utm_medium utm_source utm_campaign Below is an example of a link from an email campaign which includes utm parameters. You can use something similar for your own campaigns.

Google Analytics interprets utm_medium=cpc and utm_medium=ppc as paid search traffic, so one of these should be used for the medium. If you are running AdWords or Bing with  Auto-Tagging enabled you do not need to use utm parameters in your links!

Check also that any links from email campaigns also get tagged up. Many email service providers such as Mailchimp have utm tagging features built in which automatically append utm tags to any links so check whether this is the case.