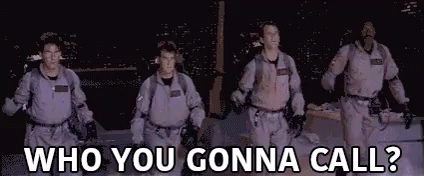 There are multiple ways to quantify your advertising spend in Google Ads with conversion tracking actions. Google website phone tracking is one of the key ways you can measure your ads performance by tracking phone calls from both your Google Ads and on your website.
Google website phone tracking – which is only available on the Google Search Network – uses Google forwarding numbers to measure the performance of your call extension or call-only ad.  When someone visits your website after clicking on one of your ads, website call conversion tracking can help you identify and measure calls from your site. It does this by generating a dynamic number which will show to each Google ads visitor to your website. This way, you'll be able to track the volume and the details of your calls and count them as conversions within your campaigns. What's more you can also choose to set a minimum call length as to what you what to count as a conversion.
One drawback of Googles website phone tracking is that the only way to verify a call as conversion is to set a minimum call duration, for example – only count calls 60 seconds or over. While  this may be a small indicator of call quality it does not necessarily mean that the call resulted in a sales lead.  For more comprehensive call tracking that can report on phone leads beyond just Google ads, you can turn to third-party tracking solutions such as Response Tap and Infinity to get this.  With a third-party option, you can set up a post-call IVR (Interactive Voice Response) to allow leads and sales to be specified by call staff . For example call staff  can press 1 for lead, 2 for enquiry, 3 Sale etc. This data can then be passed sent Google Analytics and other platforms.
Here's how to set it up  'Google Ads Calls from Website Conversion' action in Google Tag Manager
What you'll need;
A working website with the Gtag Pixel or Google Tag Manager pixel installed across all pages
Access to your Google Tag Manager account
Call extensions enabled within your Google Ads account
Be a business in an eligible country see list here
Step 1. Create the conversion action in Google Ads
Tools & Settings > Conversions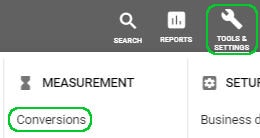 Click to create a new conversion (Blue circle with a plus in the middle)

Phone Calls > Calls to a phone number on your website > Continue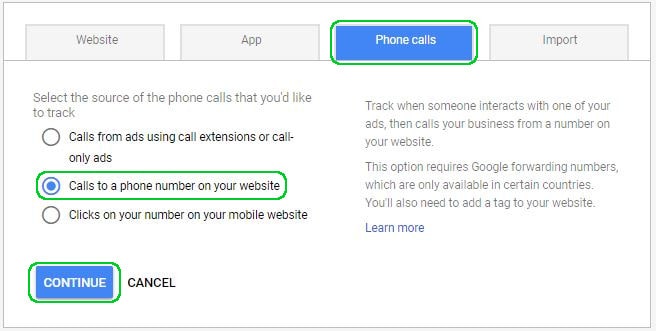 Fill out the conversion action settings; give your conversion a name, set it to a 'Lead' as you won't be sure if it's a conversion or not, 'Don't use a value', Only count it once 'One' (not each time the customer rings), the default settings for the next 3 options should be fine '60 seconds' call length, '30 days' conversion window, 'Yes' to include it in your conversions. The next part is up to you which attribution model to use, but I wouldn't recommend last click.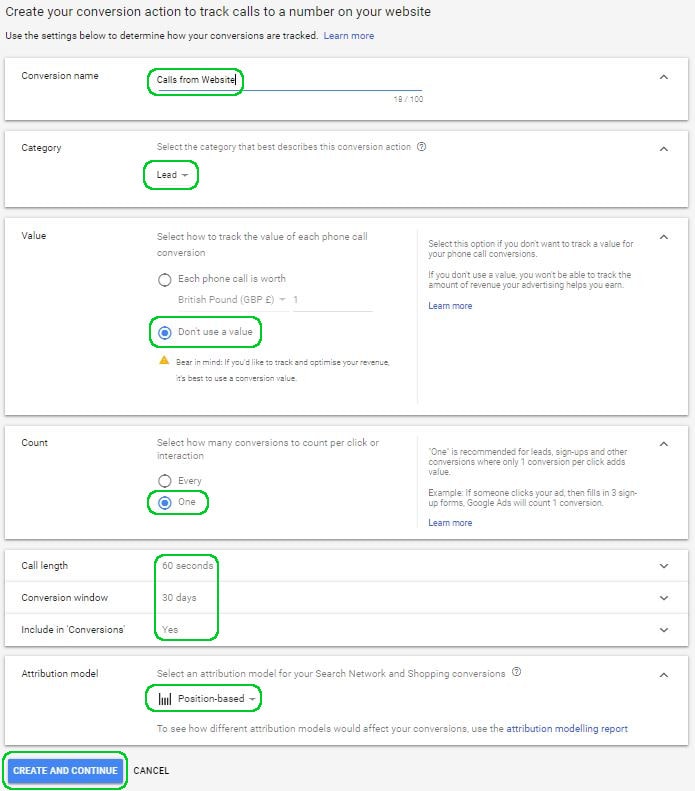 The next screen you'll want to select the 'Use Google Tag Manager' option and keep your 'Conversion ID' and 'Conversion label' somewhere safe, you'll need them later. You can just leave this window open as is to copy and paste from.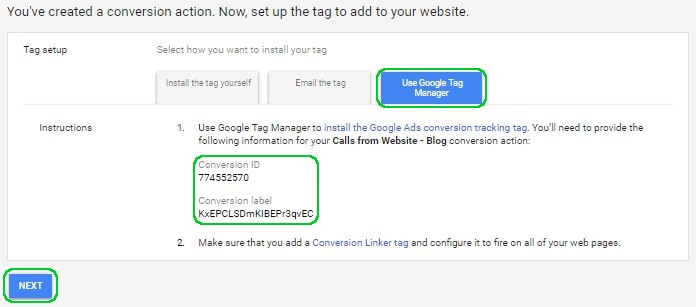 Anyway, the next screen is just the 'Done' screen – you don't need to complete this step until the rest of the guide is complete.

Step 2. Create the tag in Google Tag Manager
Tags > New


Call your tag something like "Calls from Website" and select the 'Google Ads Calls from Website Conversion' from the tag type. The next 3 fields you should be able to populate with the number from your website, and your conversion ID and label from the last step. Set the tag trigger to 'All Pages' and hit 'Save'.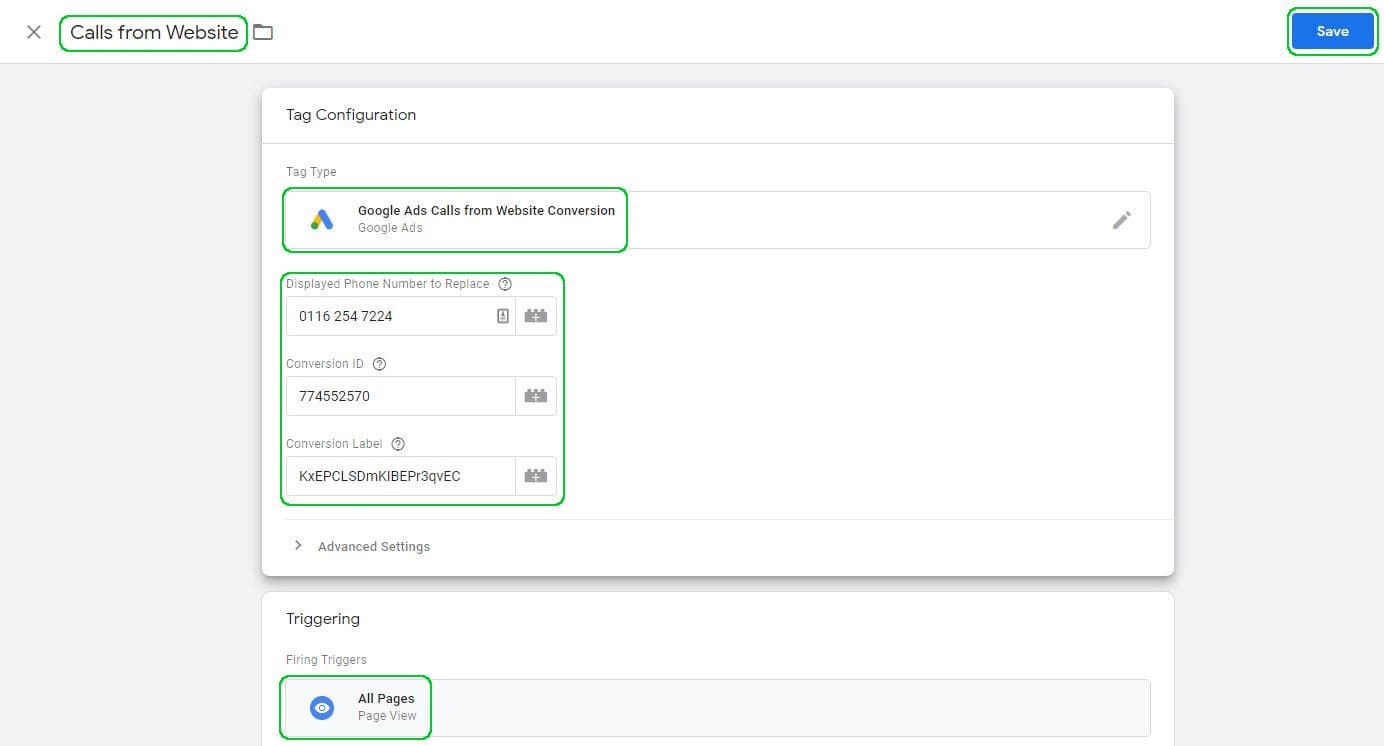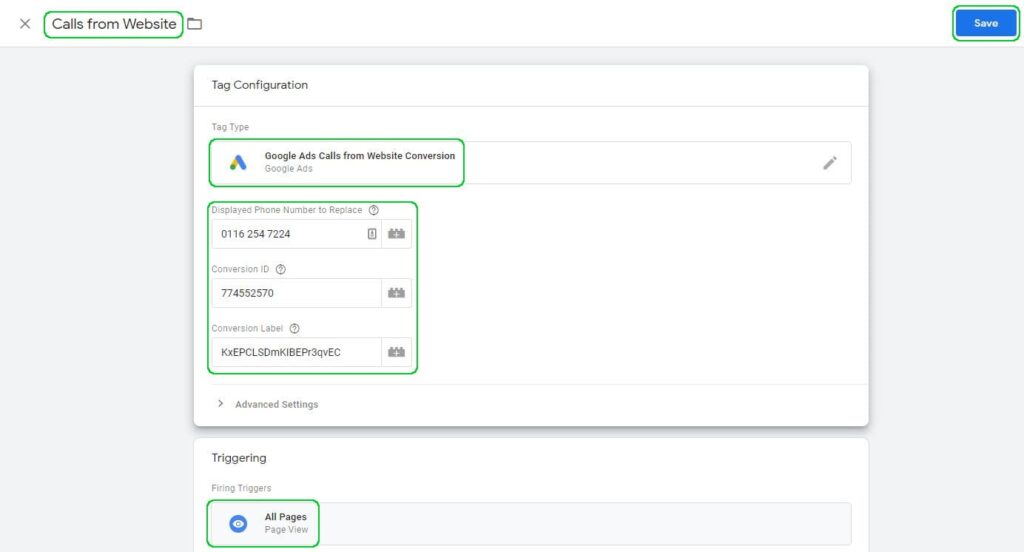 Submit and publish the tag and you're finished!
Step 3. Testing
Give it a few hours, for some reason it doesn't always work immediately. To test I take a brand keyword (usually very low cost) and search it on Google, click the ad and if you land on the page and the number changes you've done everything correct.
Alternatively, you can use 'Preview' mode


When the orange box is showing you can open your website in the same browser and see which tags are firing and where

Done! It's literally that easy now, no bits of custom code to install and edit. Google has done all the hard work for you. Good guy Google.