Google Analytics 4 (formerly known as APP + Web beta) has landed and is now the default Analytics you will get if you are signing up for Google Analytics for the first time or if you are creating a new web property for your website. However don't panic – your existing Google Analytics will be just fine for the time being. Our advice is not to chuck away your existing Google Analytics property just yet – rather just look to set up GA4 in addition to what you've already got so you get the best of both worlds.
Although some things will seem familiar, GA4 is a fundamental shift away from what went before in terms of data collection, insights, tools and capabilities. The move is driven by the changing dynamics of user privacy, industry standards, and a world less reliant on cookies to track users across devices. Here's what it promises:
Smarter Insights
By applying Google's advanced machine learning models, the new Analytics can automatically alert you to significant trends in your data – like products seeing rising demand because of new customer needs. This also includes new predictive metrics such as potential revenue by audience segment and churn probability.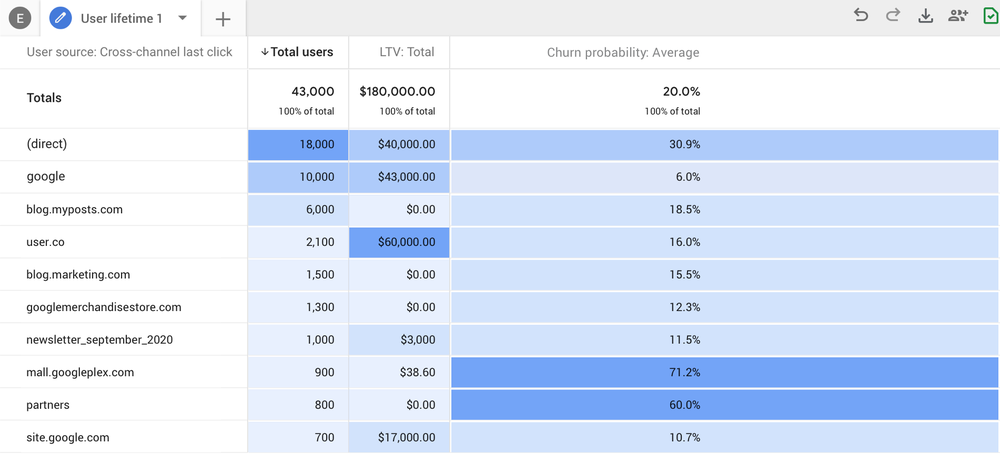 A more customer centric view
The new Analytics gives you customer-centric measurement, instead of measurement fragmented by device or by platform. Google now provides more intelligent user identification based on a range ID signals from what Google knows about the users. For example, you can see if customers first discover your business from an ad on the web, then later install your app and make purchases there. Google Analytics 4 really steps up its game in helping you better understand the life cycle and the touch points a customer has with your business.
More Data Controls
With a new approach to data controls, you can better manage how you collect, retain and use your Analytics data. More granular controls for ads personalization let you choose when to use your data to optimize your ads and when to limit your data use to measurement.
Event based tracking (including Auto Event Tracking)
A fundamental change in Google Analytics is the shift away from URL-based tracking to more of an event based model for collecting hits across website or app. Google Analytics in addition to pageviews will now also track Scrolls, Outbound Clicks, Video Engagements (for Youtube videos) and Site Searches, File Downloads, automatically. This is all helpful, however to track things like purchases, form submissions and anything other you will still need to setup custom events (via website code or Google Tag Manager). Google Analytics 4 provides a list of recommended event naming conventions you should use. This can be found here

Bye Bye Goals, Hello Conversion events
One change that is quite startling when you go into Google Analytics 4 is the apparent lack of goal setup. Goals are renamed as 'Conversions' and are now event based, relying on you having event triggers setup on page. At the time of writing, there is no way to create 'Conversion' events directly within system – so no more URL-based 'destination' goals or time spent on site based goals currently. I am sure the ability to create conversions based on page URL is going to appear again very soon. (Note in the previous beta they had the ability to edit event parameters – I'm sure this will be returning very soon).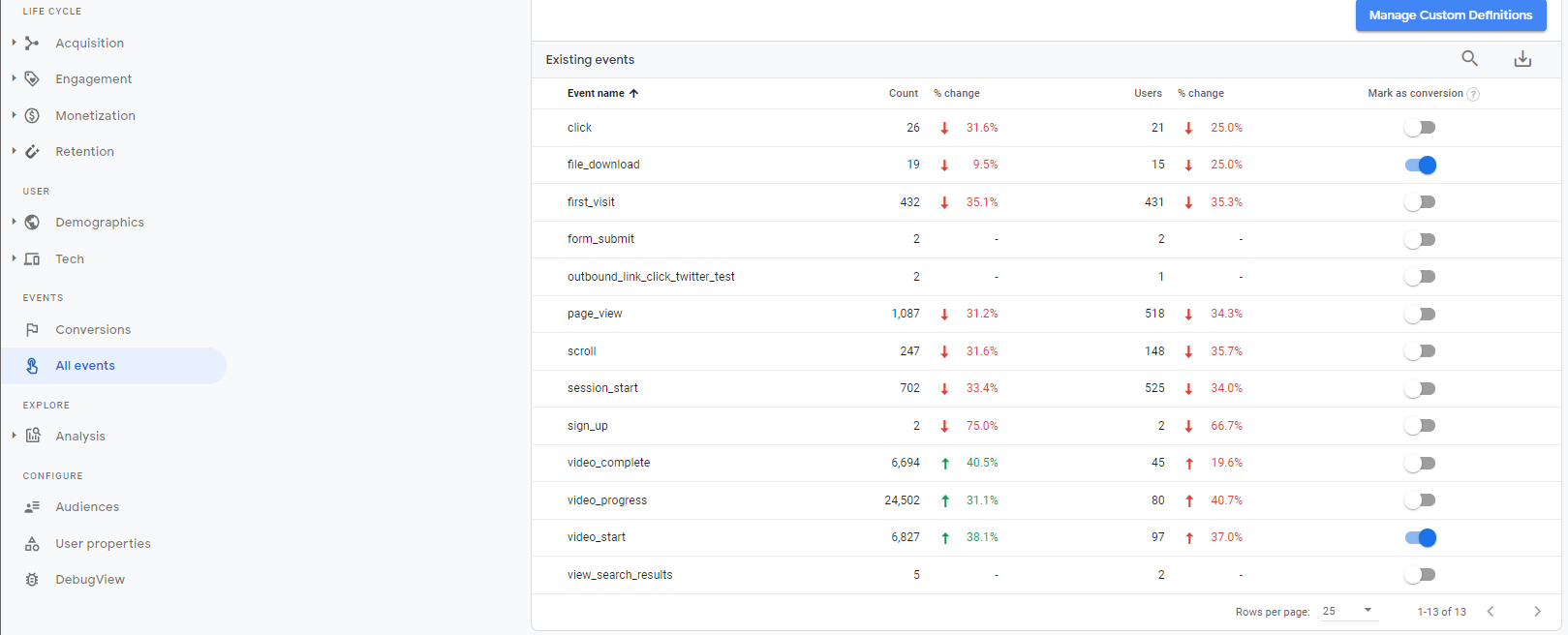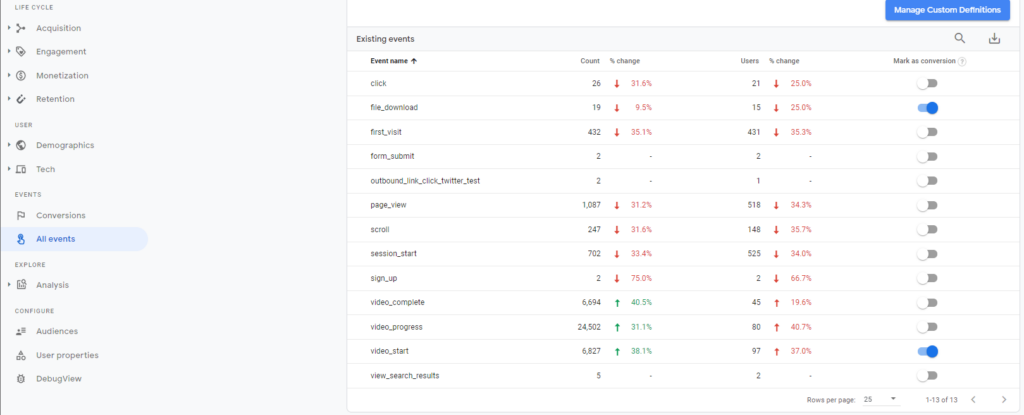 New Ecommerce Schema
For ecommerce businesses there is a bunch of new alternative ecommerce code required in order to track purchases and ecommerce activity. You can choose between gtag code or Google Tag Manager datalayer code. Details found here. Our recommendation is to always use Google Tag Manager where possible as it'll give you the flexibility to easily make changes and also allow you to use the data collected for other tags also eg Google Ads, Facebook etc.
Cross Domain Measurement
Google Analytics 4 makes cross domain tracking even easier if you take visitors from one domain to the other. Now this configuration can be done through admin settings without the need to code on site or use Google Tag Manager.
New Funnel Reporting
– Google Analytics 4 offers fantastic new custom user funnels to allow you to analyse steps across a single journey or across multiple visits to your website. What's great is that these funnels are super flexible so can be created and modified retro actively. This was previously functionality that was only available to Google Analytics 360 customers ££.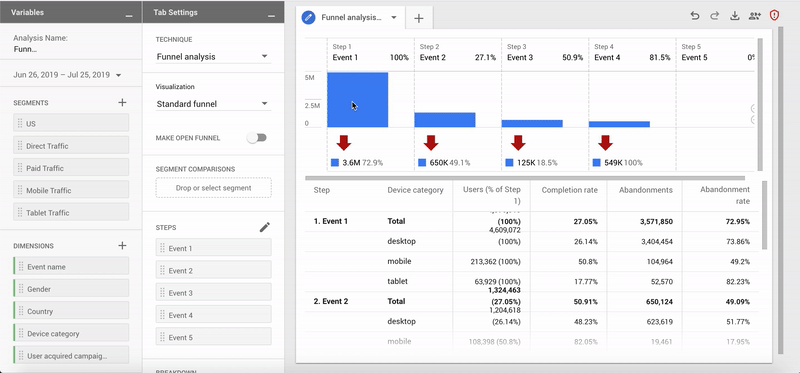 Linking to Big Query
One really cool feature of Google Analytics 4 (at least for the time being) is its ability to push data from Google Analytics into Google Big Query (Googles Data Warehousing) product.  This then gives you the ability to then use a SQL-like syntax to query that data and combine with other data sources and do your own analysis. This feature was previously only available to Google 360 customers!
Summary
Google Analytics 4 offers a much needed change for Analytics reporting generally, and whilst the current version of the product still has some flaws, I encourage all businesses to signup and and take advantage of the benefits it can provide in addition to keeping an existing Google Analytics property like Universal Analytics.
No doubt we'll be seeing even more features and modifications rolling out over the coming weeks and months with this new product. Google Tag Manager is still your best friend when it comes to implementing Google Analytics and conversion tracking on your website , so I would encourage all to consider Google Tag Manager when implementing Google Analytics 4 and new tags on your website.