Social Media provides your business with access to millions of potential customers. However, it also provides customers with easy access to your business. Users now have 24/7 access to their favourite brands on Social Media.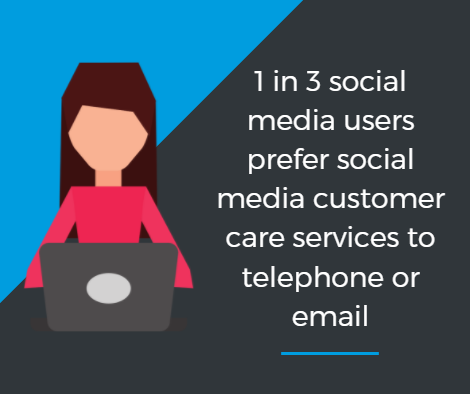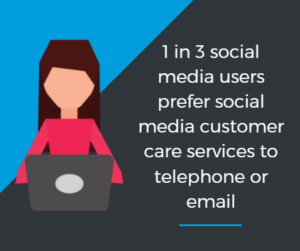 Source: www.socialmediatoday.com
Social Media puts customer service in the hands of the user, they can contact you free of charge at any time of the day. As the channel is public, users also expect to receive a positive response as brands will be keen to protect their image.
The golden rules of social customer service
When dealing with any queries on Social Media, try to stick to the following rules:
Address all enquiries
Be prompt and consistent
Show that you care
Represent the values of the business
Go above and beyond
These rules are very similar to any other customer service model. The only difference with Social Media is that the customer can make their query public.
What language to use on Social Media? 
It's important that you're not fooled by the relaxed nature of Social Media. When you're talking to users online, it's important to make sure your tone of voice reflects your business. Just because the channel can be used informally does not mean you can't remain professional:
You should aim to be: Helpful
Informative
Knowledgeable
And you do not want to be:
Frustrated
Cold
Unsympathetic
How to respond to a query on social media 
When responding to a user on Social Media, stick to the basic customer service rules:
Apologise (if a complaint)
Reach out
Be authentic
Build rapport
Clearly provide a resolution to the problem or question
MYTH BUSTING: People will quickly advise you not to apologise when dealing with complaints, there is concern around taking responsibility for something that may be out of your company's control.  However, this does not always need to be the case:
"Thank you for getting in touch. We are sorry that our store staff did not complete the refund you requested. The store should have been able to help & if you return it to the store, the manager should be able to assist."
"Thank you for bringing this to our attention. We shall contact the store & investigate this issue, in the meantime, please could you send details of your purchase to us via private message. We are sorry for any inconvenience this may have caused & we'll ensure that a member of the team contacts you ASAP."
When apologising to a customer, ensure that you are being genuine and apologise for any inconvenience that it has caused. Don't blame other parts of the business for problems that may have occurred and don't make excuses. Do what you can to help the customer, try to go above and beyond.
Response examples 
We've put together a few examples of how to respond to a few queries you'll often see across social media.
The 'We're really sorry' response 
There may be some situations such as website issues or store returns that cause for you to apologise without taking the conversation to direct message.
Here we recommend:
Apologise for the situation
Provide key instructions on what they can do/ how long they may need to wait
If nothing can be actioned, let them know the concern has been passed to the correct team
Or provide them with the customer care details to make an official complaint
The 'How you can use it' response 
Some of the questions you may receive will focus around how to use a certain product.
Here we recommend:
If possible, provide them with the information over a tweet. Or direct them to the appropriate information on the website or recommend the specialists in store
Once resolved, always encourage them to let you know how they're getting on with the product (if pet focused, how about a snap?)
The 'Help us get better' response 
Sometimes customers may have suggestions on how to improve the service or products.
Here we recommend:
Thanking them for their suggestion or feedback
Let them know you've passed their comments onto the right team and it will be looked into/ taken into consideration
Let them know if they have any other recommendations, they can let the Twitter account know
The 'Thanks, you're too kind' response 
It's equally important to respond to positive comments as well as negative.
Here we recommend:
Liking the post/tweet from the customer
Reply with a thank you and that you appreciate the feedback
How to deal with negative feedback on social media 
Does the customer query fall into one of the below categories? If so, then we would advise that the conversation be moved to a private message:
Require personal information to be communicated
It is negative and/or a complaint about the business
It could result in a complaint being made
Questions about general information such as postage costs, average delivery times and product information can be responded to publicly – this may help other users find the answers they are looking for.
What if the user will not move the conversation to a private message? 
Sometimes customers will want their query resolved out in the open – they may be focused on creating friction rather than seeking a solution. If this occurs, let the customer know that you need their contact details and therefore this needs to be provided in private. Let them know it is for their own safety that this conversation is directed over private message. Never ask for a user to publicly disclose their personal information. Advise users that they will need to send order details or account information securely so that you can assist with their query.
Should you hide or delete negative comments from users? 
It can be tempting to delete negative comments from your page, it may not always be the best option. If users notice that their comments have been deleted, you may end up with a bigger issue.
Top tips for hiding or deleting customer comments:
Hiding or deleting posts should be used tactically in order to limit negative customer sentiment
We recommend always responding to the post (moving it to DM, if required) before hiding it
A negative post can present an opportunity to turn into a positive, so don't discount it straight away
If you do decide to hide it, remember, all of the customer's friends can still see the post when you hide it. You are only hiding it from your timeline, and the post may still appear in newsfeeds
Do not delete negative customer posts – only hide them
Spam posts can be deleted
How NOT to respond on social media 
Let's finish this off with a few obvious but important points!
When responding to any query, make sure you read the situation, don't try to be funny or witty if it's not in your brand's nature or the situation does not call for it.
Silence is not golden, do not leave long periods of time before responding to users. If a customer has reached out to you then make sure you are replying.
When you are writing your response…
DO NOT use shortened words such as nxt instead of next
DO NOT copy and paste responses
DO NOT blame other areas of the business
DO NOT make excuses and try not to be vague