We're taking a look at the most important updates that have been released in PPC in the last month.
The last month has brought some new PPC updates and announcements of coming changes in the world of Google Ads. We are here to make sure you are up to date on all the important ones. We will also identify any actions you need to take.
New Business Logos and Business Names in Ads
Google has announced for mobile devices they are launching a test to display business names and logos as part of the ads. This update adds a new dimension to ads. It makes businesses more easily identifiable at just a glance.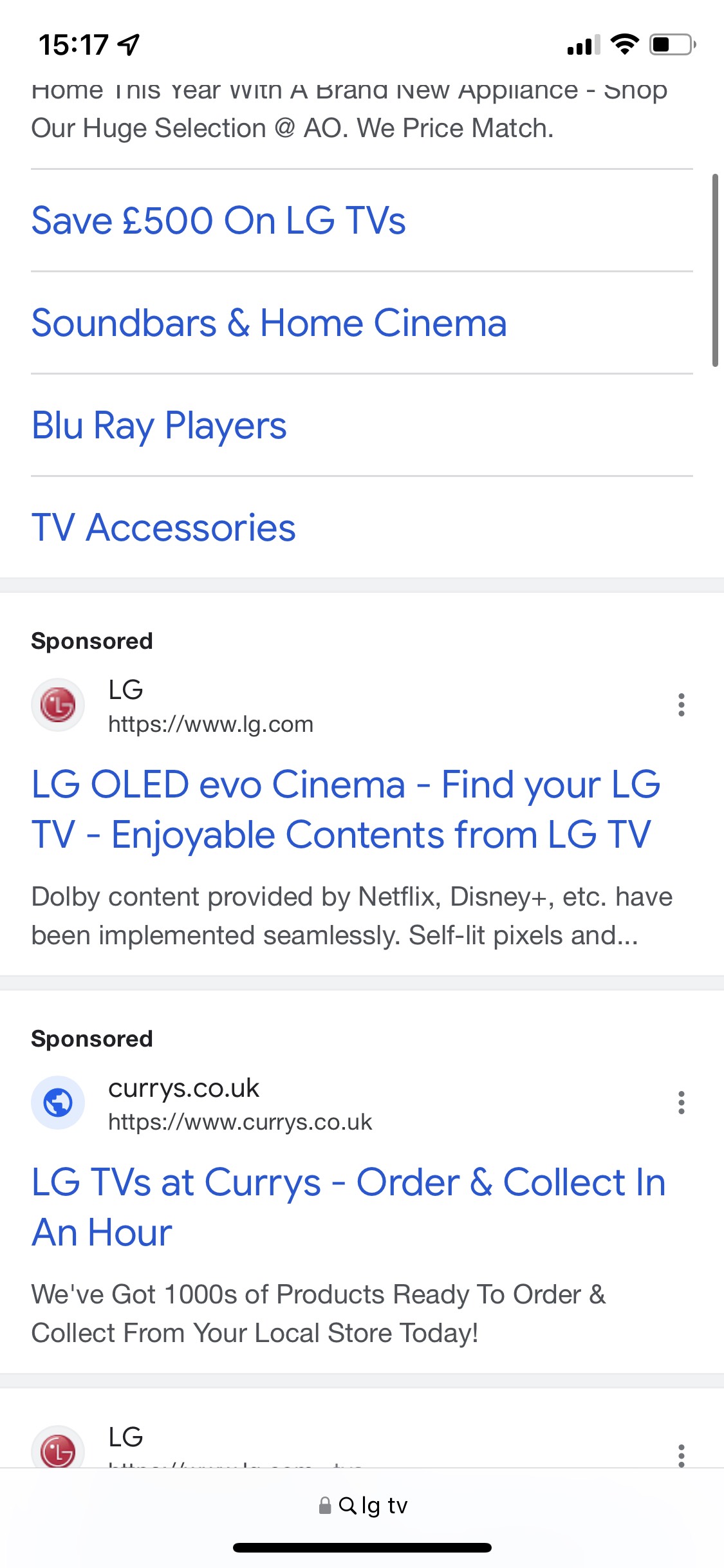 The test is rolling out globally, but there are some eligibility criteria that you have to meet. This includes:
An active ad account with spend in the last 90 days
A good history of policy compliance
Active search ads
You must be a verified advertiser
Where possible Google will auto-generate these from information on your website. Where this isn't possible the logo will display as a blue globe icon. The business name will just appear with the display URL taking up that space. This is what you can see happening for Currys in the example screenshot above.
You can add and edit these business logos and names within the assets (formerly extensions) section of your Google Ads account. We have seen this start to appear, so keep your eye out.
We recommend ensuring these are added or automatically generated correctly as we anticipate impacts on click-through rates. Particularly where some logos are showing, and others are just the globe icon.
Google notes that these will show at their discretion and may not appear for all searches.
Google is Trialling New 'Sponsored' Ad Label
Previously in the search results, ads appeared with a little 'Ad' label above or next to them. In Google's new test they are trialling the use of 'Sponsored' in black bold text.
Google says this should make it easier to differentiate and identify these ads against organic results.
You do not need to take any action, but keep an eye on your click-through rates. This is for paid and organic if you rank organically for your keywords).
Google to Reject Ads That Lead to Intrusive Landing Pages
Google has announced their landing page policies will become more stringent. The new rules will aim to improve landing page quality. Google will start to disapprove ads that lead to pages with intrusive or annoying ad content.
This policy covers things such as:
Pop-up ads
Auto-playing ads with sound
Large sticky ads that stay when scrolling
You will need to ensure that your landing pages adhere to the new 'Better ads standards' policy. You can also review the full guidelines on what is not allowed.
Removal of Content Targeting for YouTube Conversion Ads
Google has announced that in 2023 YouTube ads that are set to drive conversions will no longer support content-based targeting. Content-based targeting covers topics, keywords and placements. This will be a big change for advertisers currently using such targeting mechanisms with campaigns with conversion objectives.
Google has said that with machine learning and automation they are better able to establish the content placements in which ads will perform best.

For now, the campaigns will continue to run as they are but come early 2023, these targeting choices will be removed. Any existing targeting will also be removed so be prepared for this before your campaign targeting is expanded.
New Reporting Columns for Results
These columns have been around in beta in some accounts for a little while. Google has announced this is now rolling out. The columns are designed to make reporting on conversion actions easier within accounts.
The three new columns are:
Results
Results value
Conversion goals
You used to be able to access this information using a segment. This new update means you will be able to see a breakdown in a quicker format.
The results column will show a breakdown of the conversions received from each of your primary conversion goals. It will also show the breakdown of the conversion on how they are working for your campaign. When you create a campaign, you can select which conversion points to optimise. The new results column will break down between which your campaign is optimising for and then other primary conversions.
The conversion goals column will show which conversions your campaigns are optimising for.
Updates to Responsive Search Ads Asset Reports
Previously you have been able to review individual assets and combinations of assets for your responsive search ads. These were displayed with impression data. Unfortunately, Google has not yet announced plans to show more than impressions, but they have announced a change.
The change falls in line with recent updates to rename ads and extensions as 'Assets'. In the responsive search ads asset reports you will soon be able to see the combinations of headlines and descriptions alongside the extensions.
Conclusion
That rounds up our top feature updates and releases for this month. If you want to find out more about any of these new releases or see how they could be implemented in your account, then get in touch.