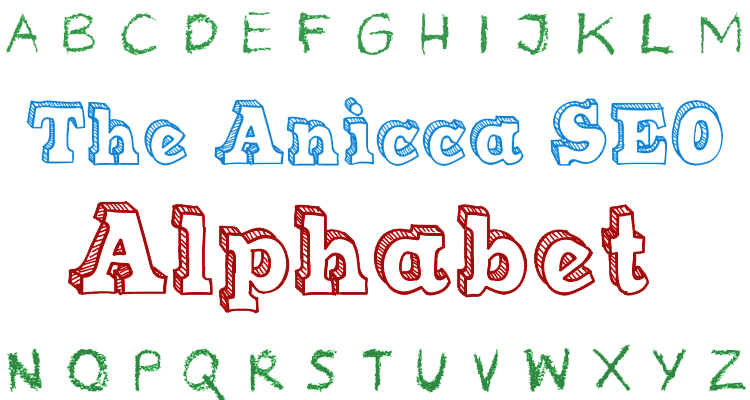 SEO can be a tricky industry to understand, made even more difficult with all the SEO jargon that gets thrown around. We've compiled an SEO Alphabet for you so that you can at least know some of the technical SEO words that get used!
A is for Algorithm – How Google works out how to rank websites.
B is for Bing – The Microsoft search engine.
C is for Citation – When your business is listed on external sites.
D is for Duplicate Content – Something you need to avoid!
E is for External Links – But only from authoritive and relevant sites!
F is for Fresh Content – To keep your users engaged.
G is for Google – Which needs no introduction!
H is for Hummingbird – One of Googles search algorithms.
I is for Indexation – Make sure your website is indexed!
J is for Javascript – It's a dynamic programming language.
K is for KPI – Which stands for Key Performance Indicator.
L is for Links – These can be internal, external, follow or no follow.
M is for Meta Data – The information which Google pulls through.
N is for NAPs – Name, Address, Phone Number.
O is for Optimisation – Essential for SEO!
P is for Penalties – All the P's; Panda, Penguin & Pigeon
Q is for Queries – Searches people have found you for.
R is for Rich Snippets – How data is displayed in SERPs.
S is for Structured Data – A mark up language for SERPs
T is for Trust Rank – How trustworthy is your website?
U is for URL – Uniform Resource Locator. (Typically Your web address)
V is for Visibility – How easy is your website to find?
W is for WordPress – WordPress powers 25% of the internet.
X  is for XML Sitemap – Create & submit this to Search Console.
Y is for Yoast – One of the most popular plugins for SEO.
Z is for Zeitgeist – Google's series of events.
We hope that this will help you out and start you on your journey to become an SEO expert! Or if you are already in the SEO / marketing industry then you could even share this with your clients!