Google have announced a spate of updates to paid search, some of which could change the face of pay-per-click forever. Read about the changes to see how they'll affect you.
1) Changes to Ad Rank
Google's constant testing of new ad extensions and formats has provided them with data that proves their effectiveness. So convinced are they of the positive impact of ad extensions and formats, Google have decided to include them as a factor of Ad Rank. Previously, Ad Rank was calculated using Max CPC bids and Quality Score, but now, they will take into consideration the estimated performance of Ad Extensions and Formats.
This means two ads with the same Max CPC bid and Quality Scores will compete on the expected impact of their Sitelinks, Social Extensions etc. When assessing ad extensions/formats, Google will take into consideration click-through rates, relevance and their prominence on the page.
What are Ad Extensions and Formats?
Formats are anything that visually enhance ads, such as seller ratings and social annotations. Ad extensions are a form of ad formats and include features such as click-to-call, location extensions and the newer, Review extensions.

What to do?
Ad extensions are incredibly easy to set up and manage and they give your ads more real estate on the results page, so we've always recommend everyone use them (setup is free, too). This new announcement, however, makes them more important than ever before.
Ads in campaigns with newly added ad extensions/formats may have to have their bids raised to stimulate CTRs and ensure they're still in the running for ideal positions. In contrast, if your ad extensions are already performing well and are highly relevant, your CPCs might actually drop!
In each auction, Google will show the highest performing and most appropriate extension/format, so be sure to set up all that are relevant.
2) New Campaigns for Product Listing Ads (Shopping)
Currently, most of the information relating to your PLAs is found in Google's Merchant Centre, but the new Shopping Campaigns will see all data (and more) brought in to AdWords, which will make optimising PLA campaigns much more efficient (hoorah!).
The new campaign type allows you to see the product inventory in AdWords and create product groups for them. Within the campaigns options will be a Products tab which will list your approved products and their attributes (as set in the product feed).
One of the main benefits of the new campaigns is its advanced reporting function –now, users can see data on specific product and product categories without having to create new product groups.
What's more is that Google will provide insights into your industry – benchmark columns will display aggregate CTRs and CPCs of those advertising similar products. In the future there will be impression share data as well as a bid simulator.
That's the good news! The bad news is that the new campaigns are currently only available for beta testing in the US, so we may have to wait until after Christmas before we cna access all this juicy information!
3) Mobile Product Listing Ads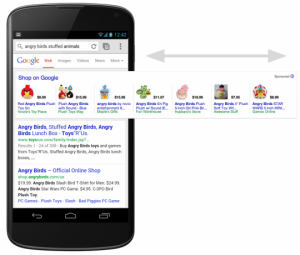 There's no doubt that smart phones have revolutionised consumer behaviour in shopping and in search. Google, who have been at the forefront of mobile-optimised search have now updated the way product listing ads are displayed on mobile to benefit both user and advertiser.
The new scroll function means that users can see more products without having to leave the search results page. Apparently, early tests have shown an increase in the number of visits to advertisers' sites as a result of the scroll bar, so if you haven't already done so, change your mobile bid adjustments now!
4) Location Targeting Settings
Current default location targeting options mean that only users searching within your targeted location are able to see your ads. As of November 11th, this will be changing so that users searching for a specific location will see your ad even if they are outside of your targeted location.
The example provided by Google to illustrate this point was of a hotel targeting Paris with keywords like 'Paris hotels'. Whereas before, ads would only be seen by those on Google.fr or Google.com in France, they will now be seen by anyone using that search term wherever they may be.  This is already how targeting works within countries, but the changes mean that international searches will too work like this.
For those that do not want their ads to be seen in countries other than the ones specified, they can opt to serve ads to just 'people in my targeted location' in the 'advanced settings' section or apply targeting exclusions as before.
5) Shared Endorsements
Also on November 11th, Google will set live their 'shared endorsements' feature on their search network, which will make your friends stars in your ads!
The feature will display the profile picture and name of anyone you're connected to on G+ that has either +1'd or written a positive review about a product. It goes without saying that'll you'll have to be logged in to Google for the shared endorsements to be displayed.
This is yet another example of Google personalising ads to encourage clicks, which is great for advertisers, but not so much for the faces appearing across the search network. For this reason, Google has made it easy to opt out so that your +1s and reviews won't be displayed. To opt out, go to your settings and uncheck the option box at the bottom of the page. Simple.

6) How Anicca can help you keep ahead?
How to keep up with all the changes in Google?
Every week Google are announcing more new changes to both AdWords and organic search. Consequently the whole team at Anicca are scouring the official and other search blogs to make sure that we are up to date.  The staff use Feedly and Flipboard on their phones or desktops; as this enables us to easily find relevant articles and blog posts.
Any news is then posted using Google+ or LinkedIn, so please follow us on these platforms. Â If the news is important enough we will write our own blog article, you can receive these automatically if you signup for alerts. Â We also send an email out every couple of weeks with the news – sign-posting you to these articles.
SEO and PPC Boot Camps
In addition to news alerts we also offer training in both PPC and SEO. The next boot camps are shown below:
SEO Boot Camp – 20th-31st January 2014
AdWords Boot Camp – 17th – 28th February 2014.
You can choose to attend between 1 – 10 days.  Prices are £200 for 1 day, £500 for 3, £750 for 5 and £1,500 for 10 days. Places are strictly limited – so book now!
Free Technical audits of PPC accounts
If you are currently spending more than £1000 per month on AdWords and are looking to move your PPC management from your existing supplier (or in-house team); then we can carry out a free technical audit of your account.
We will give you an honest appraisal of how the account has been set-up and managed. Â We will identify any gaps or features that you are not exploiting and give you an indication of how much money you could save or the opportunities to grow your account.
If you want to know more about any of our PPC (or other technical services please contact Ann Stanley on 07930 384443 or email ann @ anicca. co. uk (no spaces in email address).