Kenda Macdonald presented "How to Build an Engaged list" at Anicca Digital's 6th Leicester Digital Live Conference on 16th February.
You can watch the replay here, download the pdf and read the summary below:
Watch the video
Read and download the pdf here
10am – Kenda Macdonald, Automation Ninjas
Read the summary

Kenda Macdonald, bestselling author and founder of Automation Ninjas, takes us through a wide range of strategies, tips and tactics to create, build and boost your customer lists to generate real growth.
What should your list(s) look like?
Your customer list should be made up of people who want to hear from you because you know how to help them, they understand the value that you offer and, consequently, they want to come back time after time.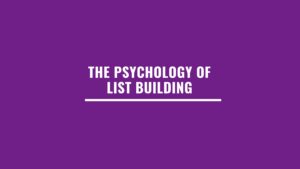 We have evolved as a species by building and belonging to communities of people that we trust. Similarly, we have survived by not trusting the unknown. The same applies today in all aspects of life, including business. Unfortunately, at the outset, businesses are always in the 'unknown' category, so trust must be built through engagement.
Psychographics
We can use two psychographic approaches to build this trust:
IAO – Understand the interests of the community, see how they manifest in attitudes and ultimately create opinions.
Interest
Attitudes
Opinions
PMO – Understand the problem that is being faced, contribute to the mindset to solve that problem and provide the solution that is the ultimate outcome.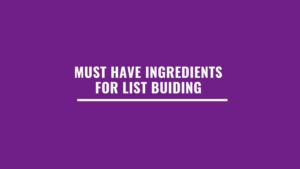 The ingredients for list building
Your list-building methodology needs several key ingredients
Understanding of your audience
Some value exchange
A prominent sign-up form
A CRM or marketing automation system in the background
A communications plan to add value and build relationships
Good quality content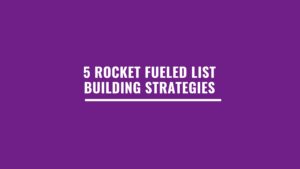 Five List Building Strategies
Once you have the basics in place, you have a choice of strategies that you can pursue:
1 Capture those email sign-ups
Make your sign-up form obvious
Make it an event
Put multiple lead magnets in place
Cater for all levels of awareness
Add some rocket fuel by:
Naming your list
Adding social positioning
Displaying social proof
Showing the benefits
2 Blogs, organic traffic and lead magnets
Use content to raise your position
Cater to SEO intent
Educate your traffic
Prove your authority
Use CTAs and sign-up options throughout
Add some rocket fuel by:
Combining intent with awareness levels and product questions
Daisy-chaining your content
Sprinkling micro case studies throughout
Using testimonials
3 Webinars
In-depth time spent on the problem
Create value by breaking the problem down
Show your knowledge and authority
Capture lead information and upsell
Add some rocket fuel by:
Validating the problem by using search volume
Advertising and building hype
Encouraging participation
Following up afterwards
Retargeting
4 Active Social Distribution
Add value through social media
Distribute content repeatedly
Engage where your audience resides and provide helpful content
Add some rocket fuel by:
Splintering content for ongoing impact
Using content in your outreach
Repurposing content for articles
5 Advertising
Drive traffic to content that works
Use social, search, physical ads
Employ paid promotion
Add some rocket fuel by:
Using search intent as well as volume
Keeping your CTAs clear and strong
Catering to varying awareness levels
Retargeting to increase ROI
For further information, visit automationninjas.com.