Learn how to complete keyword research for your site with our two-part guide. We've put together the best tips and tools for keyphrase research for your SEO and PPC campaigns in 2022 to improve your site's visibility in search engines.
Read on to find useful tools for finding keywords, a guide to understanding and improving the Quality Score and relevance of your Google Ads, and how to use keyword research to create supporting content like How To guides and FAQs pages.
Don't forget to check out part one of our guide on How to Do Keyword Research for SEO & PPC.
How to find keywords
There are a lot of free and paid keyword tools to help you find the most relevant keywords and keyphrases for your website. The following steps outline how to get started with keyword research and utilise your findings for PPC and SEO campaigns.
Check out these tools to start gathering your keywords:
Search Console (free tool) – view performance data in Search Console to find out what keyphrases are already being used to find your site. This might highlight opportunities where you can improve your optimisation or your content to increase click through from search engines.
Ahrefs (paid tool) – use this to identify the organic keywords being used by your competitors. It's highly beneficial when getting started with keyword research because it shows the terms that your potential customers are searching for.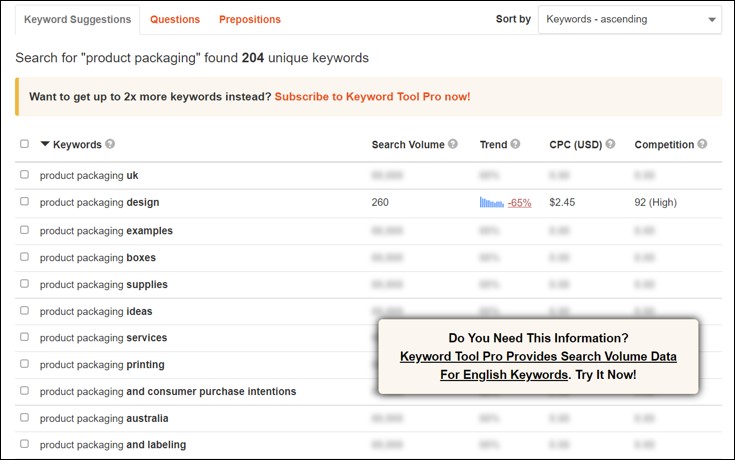 Keyword Tool (free tool) – a quick way to research short-tail and long-tail keyphrases for Google, Bing and more.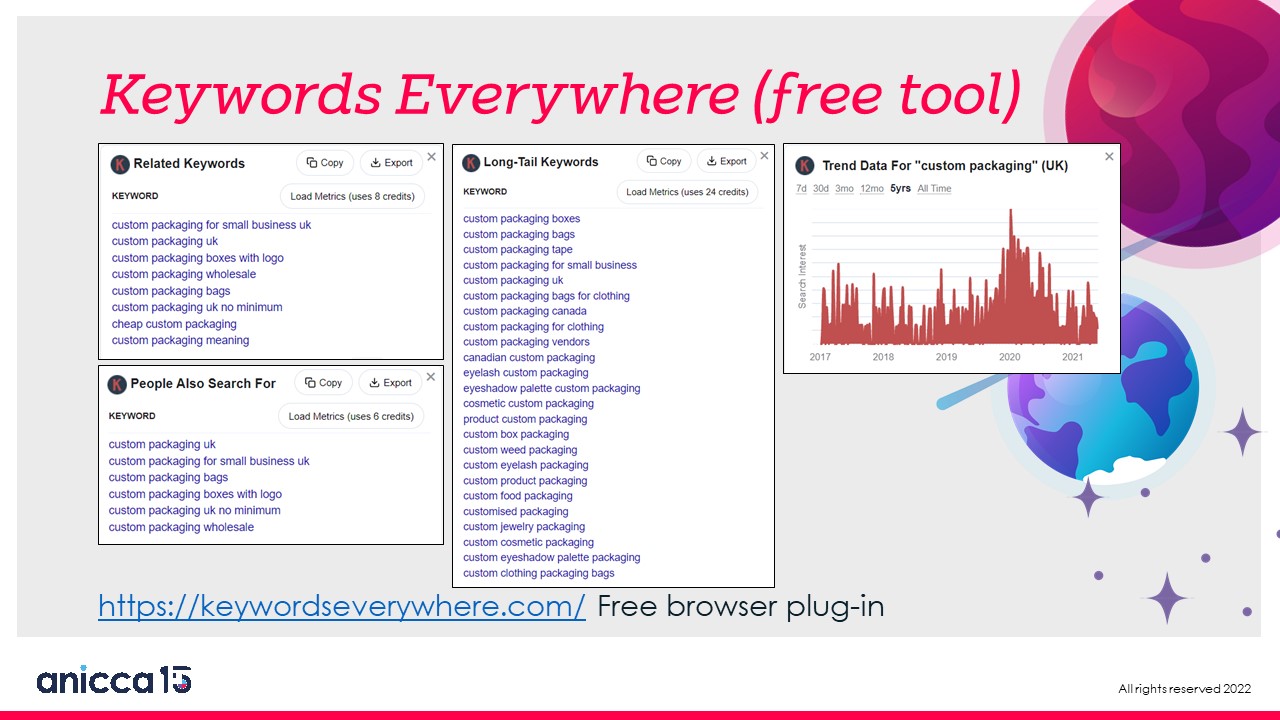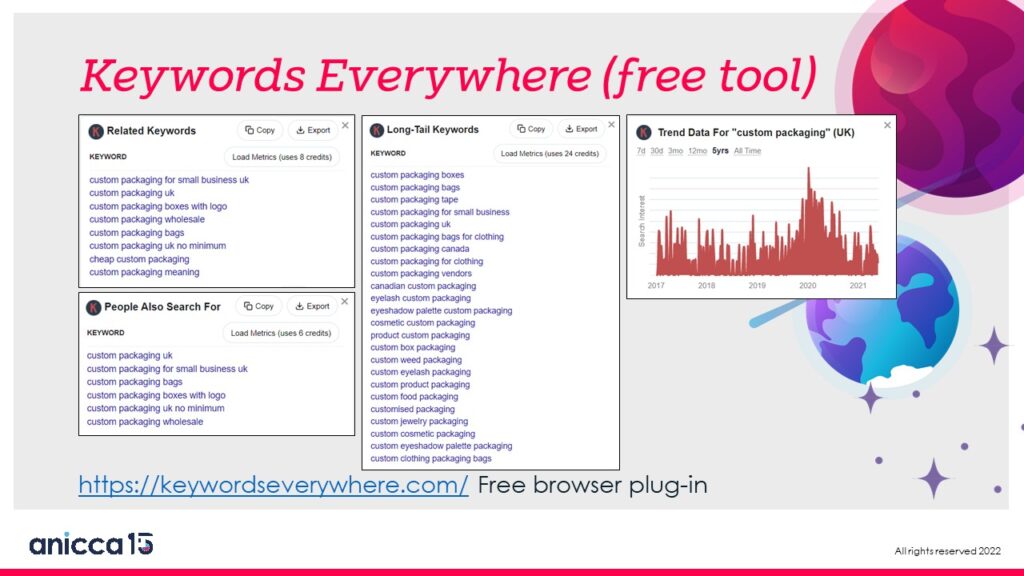 Keywords Everywhere (free tool) – this free browser plug-in is a must-have. Every time you search, it will display related keywords on the right-hand side of your screen, as well as long-tail keyphrases and 'people also search for' suggestions.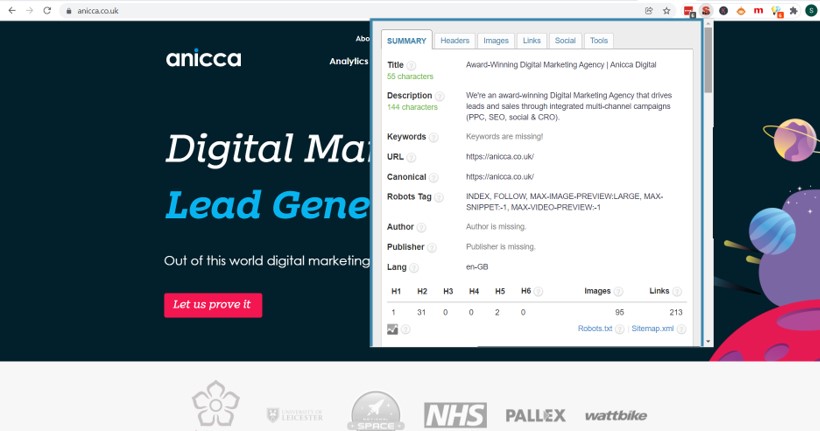 SEO Meta in 1 Click (free tool) – again, this is worth using to check the current use of keywords on competitor sites. Use it to see the copy being used in title tags, meta descriptions and heading tags, which all indicate how well a page has been optimised.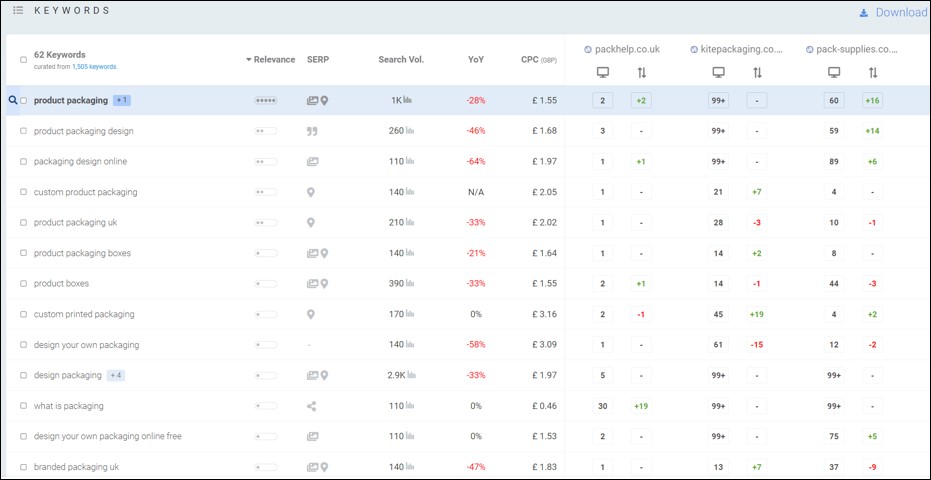 Topics by SEOMonitor (free tool) – find keyphrases for SEO and PPC, plus their search volumes and cost-per-click data. You can also add competitors to view their current visibility and the number of website visits driven by a keyword topic.
SEOMonitor (paid tool) – find search volume, ranking data and opportunity scores for keywords to determine suitability. You can also add competitors to see how they rank for the keywords you are targeting and see how search volume changes over time.
What is the Keyword Planner Tool?
The Keyword Planner Tool is a free native Google and Microsoft Ads tool that helps you to discover new keywords related to your business.
The tool shows you the estimated search volume, along with the estimated cost-per-click to target a selected keyword.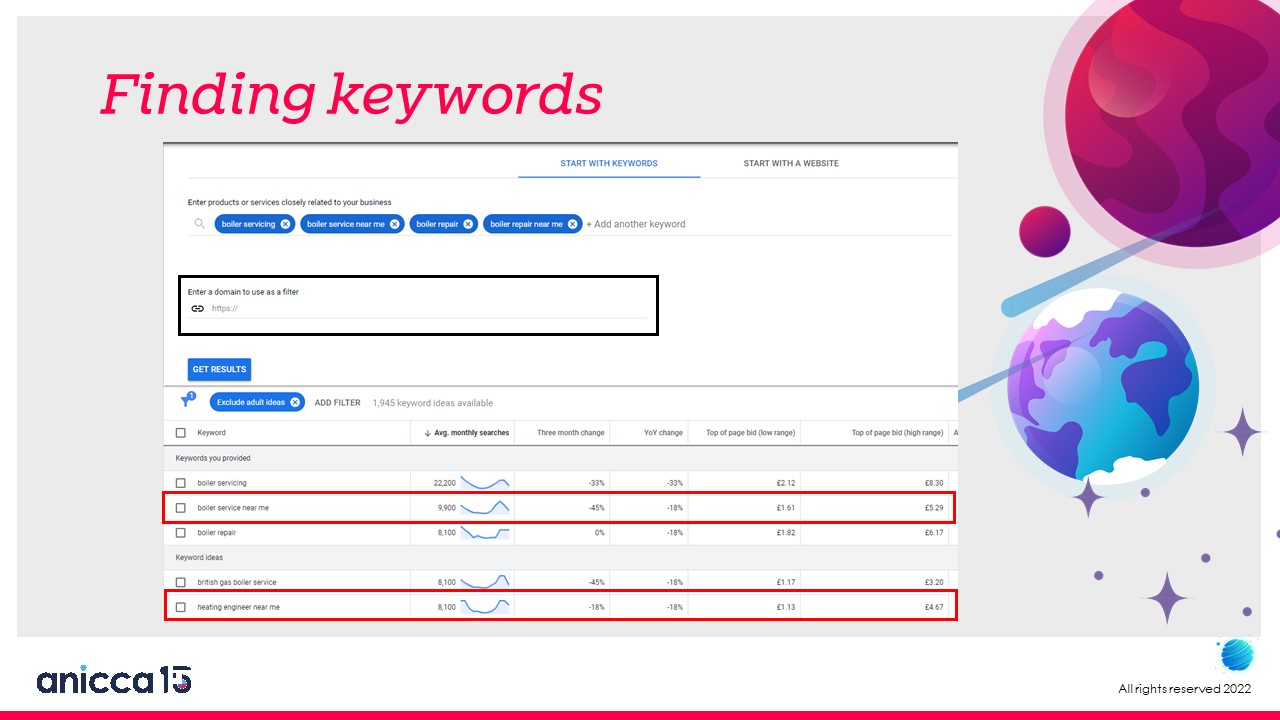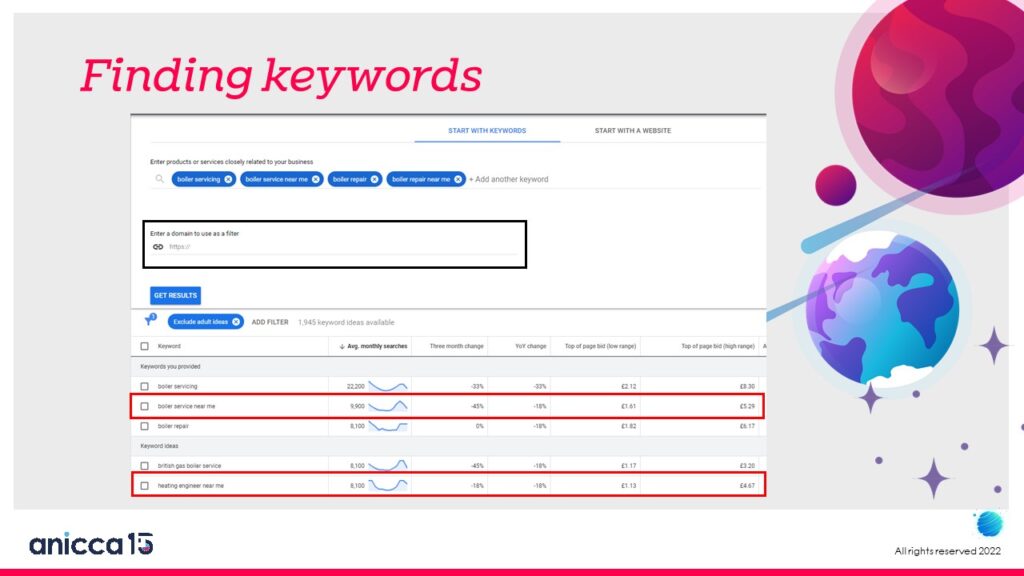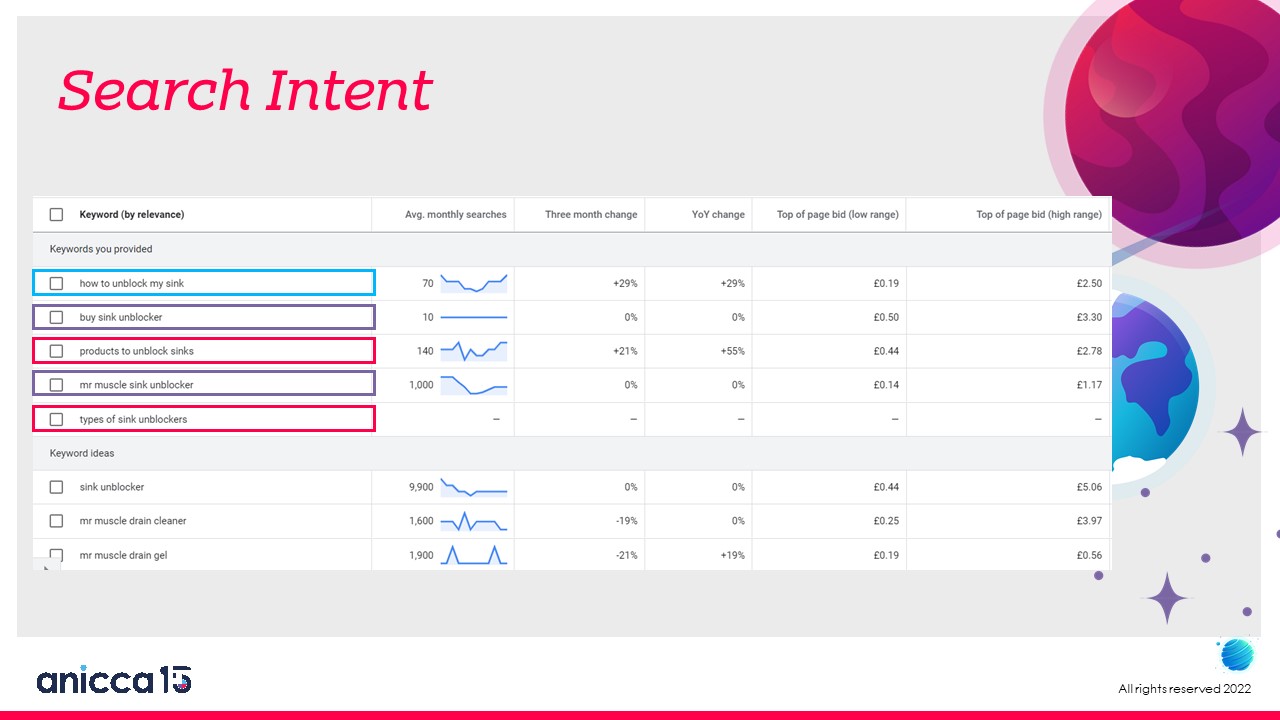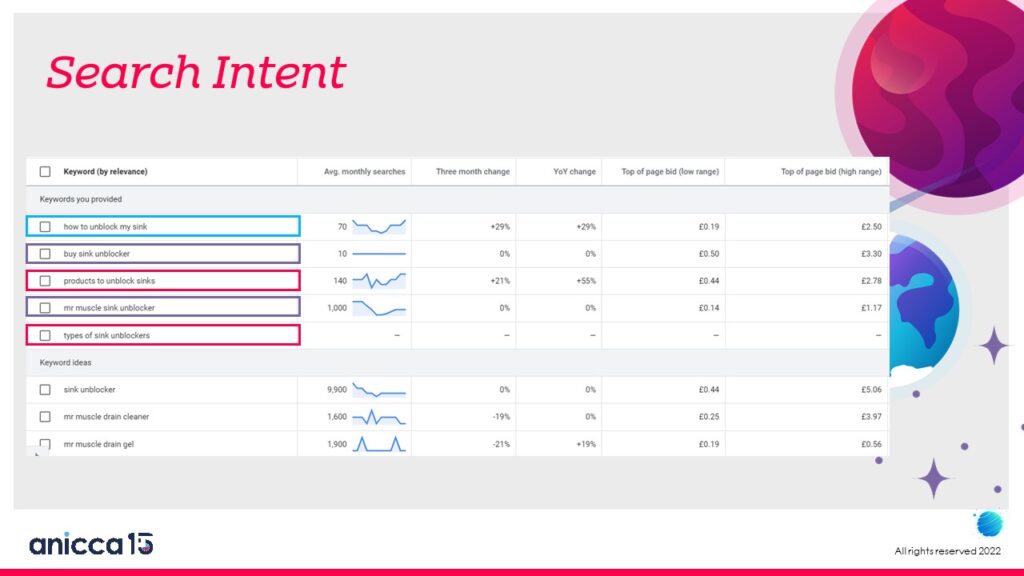 SEO optimised pages help speed up the process of doing keyword research and act as a good foundation when trying to find additional keywords.
You can also utilise forecasting, where Google/Microsoft Ads looks at your historical performance and ad quality to determine what sort of cost per click or click through rate you could expect to see from a particular keyword.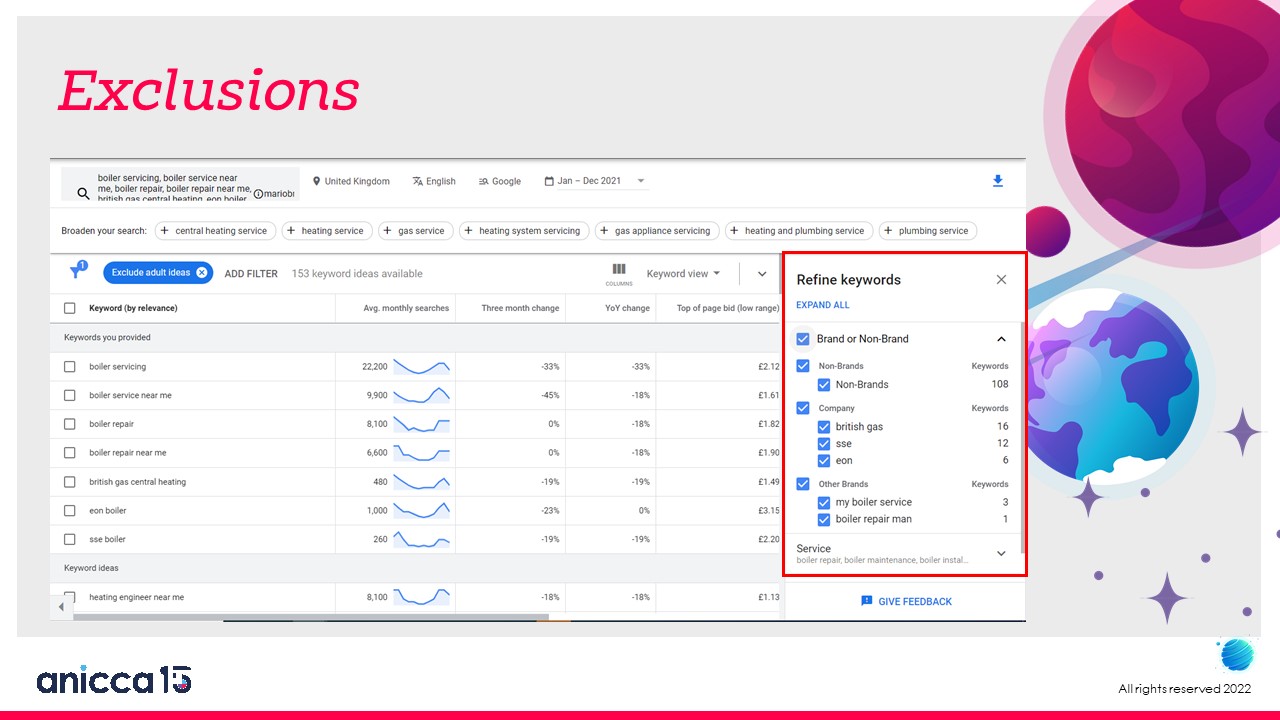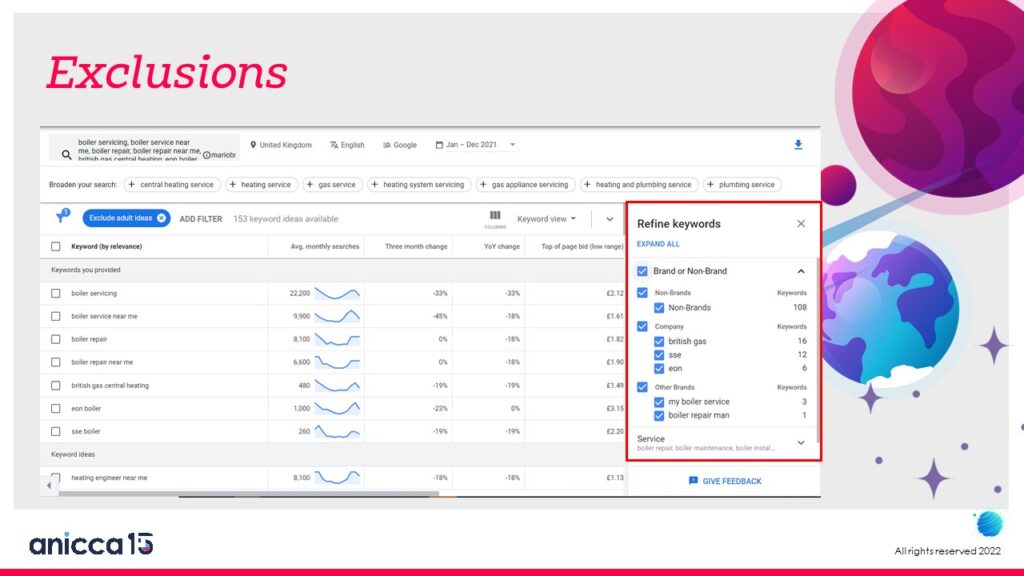 Keyword research techniques
Keyword research involves more than just finding your keyphrases. You will need to apply techniques for evaluating their worth and relevancy to your website.
In SEO, we determine the most suitable keywords by comparing the following data:
Search volume – How many searches there are per month for a keyphrase? The keywords you optimise for need to have some search volume, otherwise you won't be found in Google. High search volumes are ideal but if your business operates in a niche market, DON'T rule out any keywords with under 100 search volumes.
Difficulty score – How difficult is it to rank for your chosen keyphrase based on current competition? The lower the score the more chance your site has of gaining visibility (note, if you have no optimised content on your site then ignore the difficulty score).
Rank – Where does your site currently rank for these keyphrases? Note current ranking positions for desktop and mobile.
Ideally, you are looking to assign two to four keyphrases per page or topic to increase the potential visibility and reach of your products or services.
Map your chosen keyphrases to the pages of your website by prioritising the following:​
High search volume​
High relevancy to the core topic on the page (don't just choose a high-volume keyword if it doesn't fully describe the page)​
Low difficulty score
What is Quality Score in Google Ads?
Quality Score in Google Ads and Microsoft Ads is the grade (out of 10) that the search engine provides to indicate the relevancy of the different elements of your account to your customers' needs.
The primary reason why Quality Score matters is that it directly impacts how much you will pay for each click.
A Quality Score is made up of a combination of your ad relevance, expected click-through-rate (CTR) and landing page experience.
How to improve Google ad relevance
Google ad relevance is based on how well an ad matches what the user is searching for and whether the ad message then ties into your chosen landing page.
Incorporating keywords from your ad group within your ad will help to improve the relevance.
It also helps to monitor for search terms triggering, as these are ultimately what your ad needs to answer and not just the keyword you have used.
Keep in mind that the expected click-through rate is a prediction, so it's different from the actual click through rates shown in the "CTR" column of your account.
Unlike the actual "CTR" column, this status considers how the keyword performs both within your account and across all other advertisers' accounts.
The expected CTR is also adjusted to eliminate the influence of ad position and other factors that affect prominence and visibility, such as ad extensions.
To improve ad relevance and Quality Score you need to ensure the landing page experience matches user expectations. Your website should:
Offer relevant, useful and original content
Promote transparency and foster trustworthiness on your site
Make mobile and computer navigation easy
Load quickly to avoid users bouncing off the page, so make it fast
How to assess and improve your Quality Score in Google Ads
The following tips will help you to maximise your Quality Score and make improvements where necessary.
Below Average
This means that your CTR, your ad and keyword combination, or your landing page, are not performing or as relevant as expected. They may not be specific enough or your ad group may cover too many keyword topics.
Average
This means there are no major problems with keyword scores when compared with other keywords across Google Ads. However, there may be room for improvement with regards to your ads, keywords or landing page.
Above Average
Your keyword is outperforming others across Google Ads within the same category. Learnings should be taken from the setup of this keyword group and applied to others to improve your Google Ads & Microsoft Ads performance overall.
Making content visible in Google
It's not just the main landing pages for your products and services that you need to optimise. Any supporting content for your site also requires keyword research and optimisation, otherwise it won't be visible in Google and your audience won't be able to find it.
Complete keyword research before you create content. Knowing what your audience is searching for can help to inform the topics that your content will cover and provide the information they need to drive them towards conversion.
Types of content you can create using keyphrase research include:
FAQs – common customer queries, Featured Snippets
How to – fix, make, do
Guides – shopping guides, gift guides
Thought leadership & opinion pieces – trends, predictions, changes to user behaviour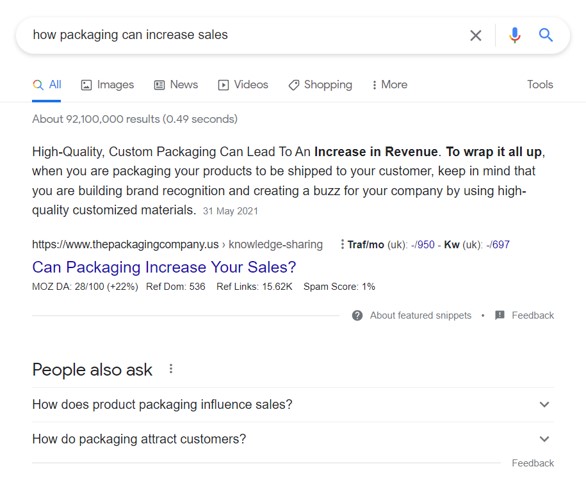 There are numerous benefits offered by incorporating keywords in supporting content:
Optimise your site for long-tail keyphrases – these are easier to rank for and are more likely to achieve conversions
Ranking for keywords with search volume helps drives additional traffic
Using a mix of keywords attracts new audiences and users
Acts as a trust signal by showing authority and expertise on a topic
Encourages conversions by providing the extra information users need
Gain a Featured Snippets position in Google, which increases visibility and click through
Helps to build backlinks to your site – valuable for referral traffic and SEO
There are some useful free tools that can help you get started with finding keywords for your content.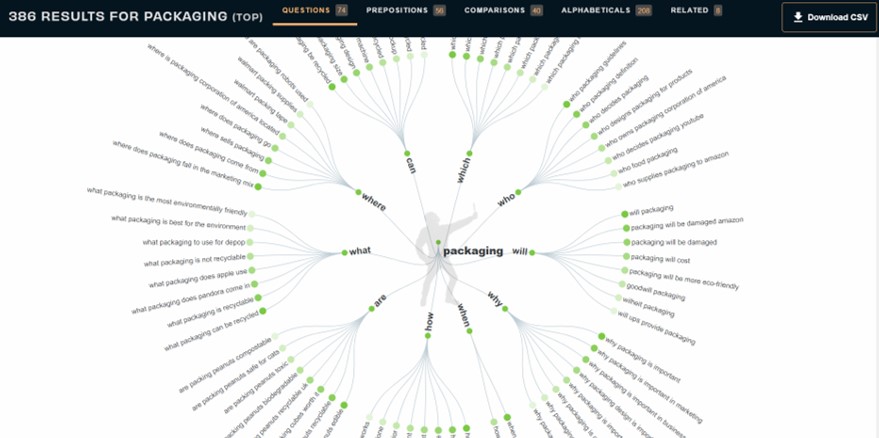 Answer the Public offers two free searches per day and provides valuable insight into your customers and the information they are looking for online. It demonstrates the various ways that users are searching, including terms like 'why', 'how', 'what', 'where' and 'vs', to research topics and compare products and services.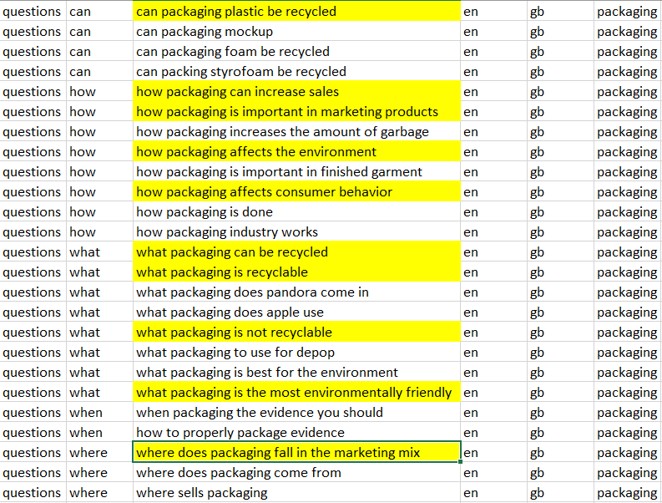 While it doesn't offer search volume data, it does provide a downloadable excel document, making it quick and easy to then add the keywords to a tool that does give you that additional insight.
The keywords you find can help you to:
Incorporate longtail keyphrases
Create structured content
Develop long-form content
Answer real customer queries
Repurpose content for PR and social campaigns
Google Trends is another free tool that can inform the topics your content covers. Again, it doesn't offer us search volume data, but it does tell us how user interest and search behaviour changes over time and how it differs between countries.
It offers daily search trends and real-time search trends – valuable insight for creating reactive content and identifying unfolding opportunities – and shows interest in a topic on an international, national and regional level.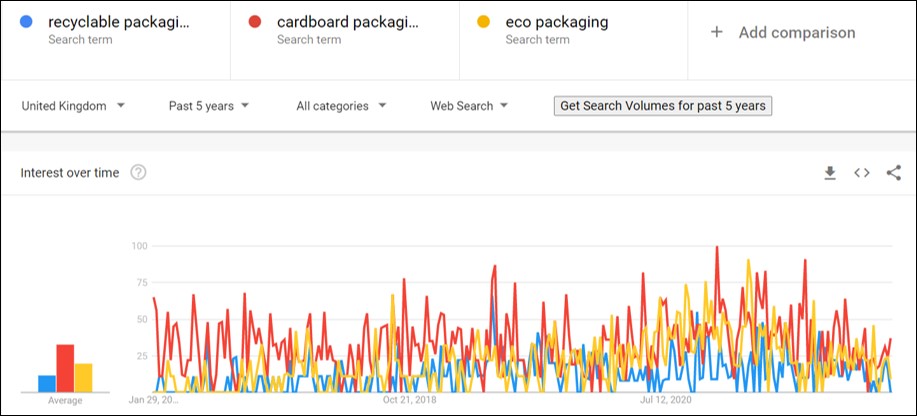 Reviewing & updating keyword research
Keyword research and optimisation is never a finished job. We recommend reviewing and updating your keyphrase research regularly to identify areas of improvement and new opportunities. In SEO, we review and refresh keyphrase research for our clients every six to 12 months, while our Paid Media crew monitor search terms and update their keywords at least once a week to ensure the very return on investment.
Reasons to review & update your keyword research regularly include:
Of the billions of searches that happen on a given day, 15% of daily searches are new to Google
Search behaviour evolves due to changes in language and search methods, for example voice search has increased long-tail searches, mobile has helped increase searches for products and services 'near me'
Interests and trends are constantly changing (just think how quickly content around Squid Game and Wordle popped up)
Industries invent new technology, launch new products & services
Key tips & takeaways for keyword research
Your audience can't find you without relevant keyphrases
Define your brief and understand what your audience is looking for
Consider the search intent of users
Use short-tail and long-tail keyphrases for maximum benefit
Combine PPC and SEO activities to make your keywords work harder
Keyword choice, ad content and landing page quality heavily influence Quality Score in Google ads – which ultimately affects how much you pay
Keyphrase research can be used for content inspiration (and product ideas)
Search behaviour is always evolving so review and refresh regularly
Missed part one of our guide? Check out all the tips you need for keyword research for SEO & PPC in 2022.
Alternatively, find out more about our SEO services and Paid Media services for support with your keyword research and digital marketing campaigns.