Are you looking to learn more about SEO & PPC keyword research? We've compiled a two-part guide to using keyword and keyphrase research for your PPC and SEO campaigns, covering everything from what keywords are and why they are essential to understanding search intent and combining short-tail & long-tail keyphrases.  
Read on to get started with our recommended tactics for 2023.
What are keywords in SEO & PPC? 
Keywords, which are also known as key phrases, are the descriptions we type into search engines to find products, services and information.​ ​The websites with the results that Google considers most relevant will be displayed in the search engine results pages (SERPs), either in the organic listings or as ads at the top of the page. 
Keyphrases are essential for driving traffic to your website, as search engines use them to match user queries with relevant content.​ ​They can be used effectively to drive more traffic and more relevant traffic to your site, whether organically or via Paid Media.​ Although your approach to keyphrase research for PPC may differ from how you do SEO keyphrase research, they should be used in partnership to create a unified strategy to drive more traffic and conversions.
A study of 1 billion web pages by Ahrefs​ found that 90.63% of pages receive no traffic from Google, partly due to a lack of optimisation for relevant keyphrases​, while ​5.29% of pages receive only one to ten visits. That's an awful lot of pages that are receiving little to no traffic, which could easily bring in more users with the strategic use of key phrases. ​ 
​Keywords can also help us to create useful supporting content that complements your products or services. They can reveal valuable audience insights and trends as search behaviour changes over time. 
For example, Google's Year in Search 2022 tells us what audiences were most interested in, which can help us to develop content ideas: 
More people than ever were searching for how to improve their lives, with questions about

'Can I?'

or

'How can I?'

World became the top search globally 

Searches for Queen Elizabeth, Ukraine and India vs England followed

London topped maps searches, with Buckingham Palace and Big Ben topping the charts for cultural landmark searches
Short-tail vs long-tail keywords 
Keywords can be split into two types: short-tail keyphrases and long-tail keyphrases. The table below details the key differences, with each type offering its own benefits, such as higher search volume for short-tail keywords, while long-tail keywords make it easier to convert traffic once it lands on your site.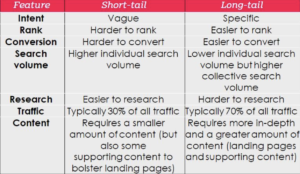 Examples of short-tail keywords​ 
​Short-tail keyphrases typically contain one or two words​ that are less specific in nature.  
For example: 
​Digital Marketing​ 

Google Ads​ 

SEO Services​ 
Examples of long-tail keywords​ 
​Long-tail keyphrases typically contain three or more words and tend to be used to find more specific information or products. 
For example: 
When to post on LinkedIn​ 

How much should I pay for PPC advertising?​ 

Best SEO Tactics 2023​ 
If we keep in mind that ​14.6% of all Google searches come in the form of a question (Backlinko, 2020),​ it helps to demonstrate how long-tail keyphrases can potentially be applied when creating and optimising content for your site. 
Types of keywords in PPC 
In PPC, keywords are split into three different types of campaigns – brand, generic and competitor – to target the various ways that users search. 
Brand​
​Any term that contains a reference to your brand​ 
​Main aim – to protect & defend your brand​ 
For example​ 
The Range Furniture​ 

Experian credit report​ 

Yankee candle​ 
Generic​
​Any term that describes the product or service as a whole rather than the business​ 

​Main aim – to reach prospects/audiences​ 
For example 
Adidas football boots​ 

Accounting software ​ 

Mobile phone deals 
Competitor​
​Keywords that specifically relate to competitor brand names and terms​ 

​Main aim – to raise brand awareness and win leads/sales from competitors​ 
Note: For the purpose of Ad account structure, third-party party brands would be included under generic campaigns e.g. Dulux or Adidas​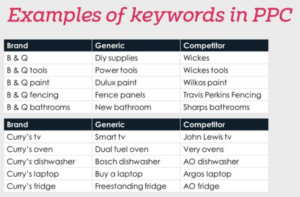 Understanding search intent  
Before you start, it is important to keep in mind that all of your keyphrases will need to be validated.​ 
You need to understand what the user is looking for and how your site matches the user's search intent and evaluate how your keyphrases will be used on the page.​ 
Search intent is essential because users won't convert if they can't find what they are looking for. 
​Before starting your keyphrase research, you need to define your brief. 
What am I trying to achieve (KPI)? ​ 
Generate visibility​ 

Inform & educate​ 

Encourage engagement​ 

Drive traffic from my blog to the product page​ 
​The following questions will help to determine your audience and their search intent​: 
Who are my customers and audience?​ 

What do they want to buy or know?​ 

What is their knowledge level? The industry terminology you use might be different to that used by your customers​ or terminology may change as they become more knowledgeable on a topic 

Who are my competitors online?​ 
​The answers will help us determine your audience's search intent and how you can use key phrases to bring them to your site via Google Ads or organically. 
Types of search intent 
User search intent is broken down into three different types: 
Navigational – these queries are keyword searches for a specific website or webpage. ​ Navigational queries often relate to brand terms and can affect all buying cycle stages.  
Examples of navigational keywords include: ​"product packaging"​ or "cardboard product packaging"​. 
Informational – these queries make up the largest proportion of keywords and happen at the earlier awareness stage of the buying cycle, so they are harder to convert into sales. ​Blog posts are examples of content where informational keywords are often targeted. That's because a blog post is more about informing rather than selling. ​As such, these are more beneficial to optimise from an SEO point of view.
Examples of informational keywords include: ​"What is the most popular packaging?"​ or "What is the cheapest form of packaging?"​ 
​Transactional – these queries are keyword searches where the searcher shows signs that they are ready to purchase something and can include short-tail and long-tail keyphrases. Transactional queries happen at the last stage of the buying cycle and are easier to convert. However, they tend to be more competitive as they are targeted on sales pages and are often the first keywords to research and optimise for. ​ 
Examples of navigational keywords include:​ "buy custom packaging"​ or "order packaging boxes".  ​ 
Applying keywords     
Keeping in mind the types of keywords that we want to use (short-tail and long-tail) and the user's search intent (navigational, informational, transactional), let's look at how we might apply these to a real scenario. 
Example:  
To drive organic traffic to this landing page 'website.com/4K-LED-TVs' ​ 

We need to explore all sub-topics around "4K LED TVs" and then optimise the page​ 
Samsung 50-inch TVs make more money, so place emphasis on "Samsung 50-inch LED TVs" during research​ 

We need to sell 500 units to make £xx in six months ​(our KPI)​ 

We need to put optimisation live in 1 month to start gaining authority in Google​ 
Our approach:​ 
We need to find less competitive, long-tail keywords to rank faster in the target time frame​to achieve this. 
We need a combination of problem-solving and technical terms​ that cover the different types of search intent – information, navigational and purchase – to reach our target audience and convert them once on the site. 
​We need to consider that people may need education before purchasing and, therefore, may require additional product information or guides on the page or FAQs linked to the category or product page​.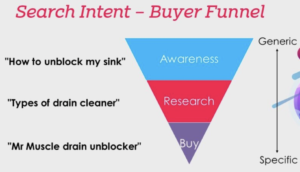 This highlights an opportunity to optimise for several long-tail keyphrases, which are typically easier to rank for and offer a higher chance of conversion (purchase).  
The purchase funnel helps to demonstrate how this approach guides the user towards converting by providing the resources they need to understand the products or services they are researching. It shows how 'awareness' and 'research' can be used to drive a user to purchase. Plus, it can be applied to PPC and SEO.  
Watch a replay of the webinar, or check out Part Two for the best tips and tools for keyphrase research. Find out more about our SEO and Paid Media services for expert support with your keyword research and digital marketing campaigns.  
SEO Strategist Brad Longman offers a free 30-minute consultation to go through anything surrounding SEO, from existing campaigns to advice, Brad's happy to help. You can book a meeting with Brad through his calendar here. 
Or, if you wanted to discuss your PPC activity, you can book a free 30-minute consultation with Holly, our Head of Paid Media. Whether to analyse your existing activity or look at what new opportunities there could be for you. You can book a meeting with Holly through her calendar here.