Understanding the profiles of your current customers can be hugely beneficial in learning how you can reach new ones. Building the picture of these users, however, can be a complex process with increasing levels of online activity and touch points before these users make the final conversion.
There are some quick insights and hidden gems however that you can gain though through your Google Ads (formerly AdWords) account and more specifically your remarketing lists. You can take these insights and apply them both in your account, but also to your marketing strategies.
By looking at data gathered through your 'all converters' list, you can build a picture of these customers' demographics, interests and the technology they are using. With this data you are also able to see how this benchmarks against users within your target country.
What Information Can You Glean?
1. Demographics
Google pieces this information together based on Google account logins and complex algorithms. If Google can't definitively categorise a user, then these will be ranked as unknown.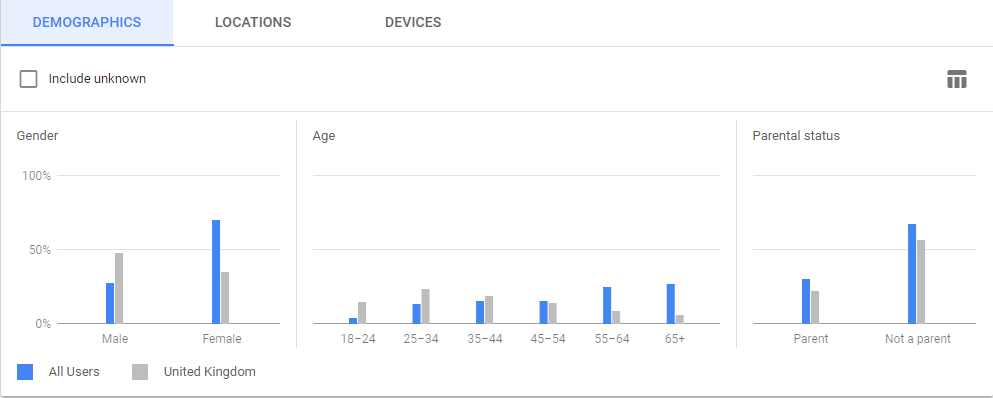 You can see the age, gender and parental status of your past converters. This alone may not provide a great deal of insight, but by layering different insights together you can start to create your audience profiles.
2. Locations
For locations, you are able to see the distribution of your past converters by countries and cities and what percentage of your converters fell into this.

In order for Google to log a city or country there has to be some statistical significance to the level of data.
3. Devices
Although some cross-device data is included into the devices used, the device split is predominantly based on what device a customer was using at the point of conversion.

4. In-Market Audiences
The in-market audiences gives you insight into the kinds of products and services that your past customers have shown a strong purchase intent towards.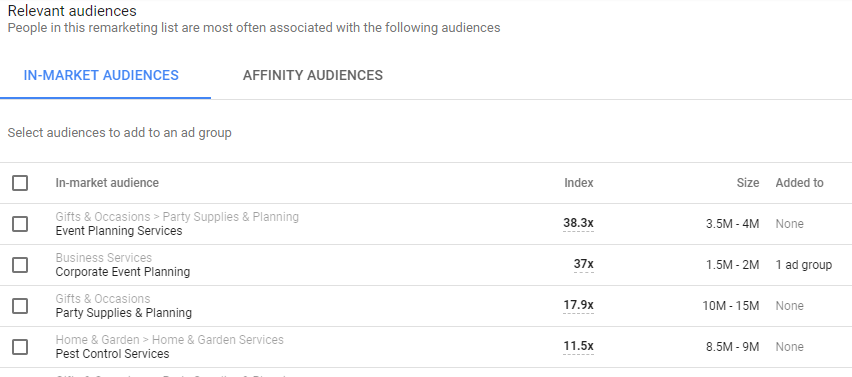 5. Affinity Audiences
Affinity audiences offer a broader picture of your converters general interests and can include things such as 'dog lovers' and 'tv drama fans'.

What Can You Do With All This Data?
In short, you can build actionable insights.
If you know that your ideal customer is female, 55-64 and has shown a strong interest in 'Event Planning Services' this allows you to create highly targeted display campaigns. You can also feed any traffic back from such campaigns into new remarketing lists.
Whilst the all converters list provides the most valuable insight you can also see similar breakdowns of users in some of your other audience lists.
Beyond Google Ads (Formerly AdWords)
There is also a wealth of data you can get from Google Analytics for user demographics and interests which, when combined with custom data segments you can narrow down on certain audiences such as your mobile converters.
With this blended data you can then create targeted marketing campaigns.
To find out more about how you can utilise your Google Ads and Analytics data get in touch below.