SPOILER – people don't like advertising!  
"Advertisements are now so numerous that they are very negligently perused, and it is therefore become necessary to gain attention by magnificence of promises, and by eloquence sometimes sublime and sometimes pathetic"   
This is the quote by Samuel Johnson back from 1759. Even then people were quite fed up with advertising, let alone today. Most internet users actively avoid advertising for one or another reason. Users use ad blocking technology or change their media habits to try and see fewer adverts, and some are even paying a premium for streaming services just to avoid the ads.   
And the reason people are avoiding it is simple – they don't trust it. Trust is something that has become increasingly important, and people are becoming more belief-driven and need to trust in the brands they engage with. They want honesty, authenticity, and purpose. If people trust you – they pay attention.   
Reach and frequency is the key to building the trust – once people see your message across 3 and more different channels, their trust in it strengthens: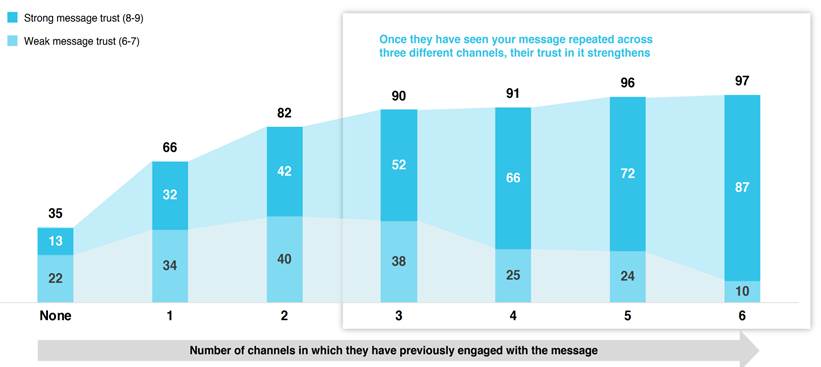 So that's all great, right? But what does it all have to do with Spotify advertising?   
In the first quarter of 2022, Spotify reported 422 million active users worldwide. This marked an increase of over 60 million in just one year. Spotify is also the 7th most popular mobile app for average time spent by UK people and it's also the number one most positively talked about brand by millennials that you can advertise on, according to YouGov WOM index. This makes the evolution of Spotify advertising a natural progression as the brand looked to grow its revenue and service.   
Spotify was founded in 2006 by Daniel Ek and Martin Lorenzon with their main HQ in Stockholm, Sweden. From this base, Spotify has continued to grow, boasting 422 million active users at the time of writing. 182 million of those users are premium subscribers, which leaves nearly 240 million people worldwide that could potentially hear or see your Spotify ads.   
 So with these numbers in mind, let's dive in and see what kind of audience we can reach on Spotify: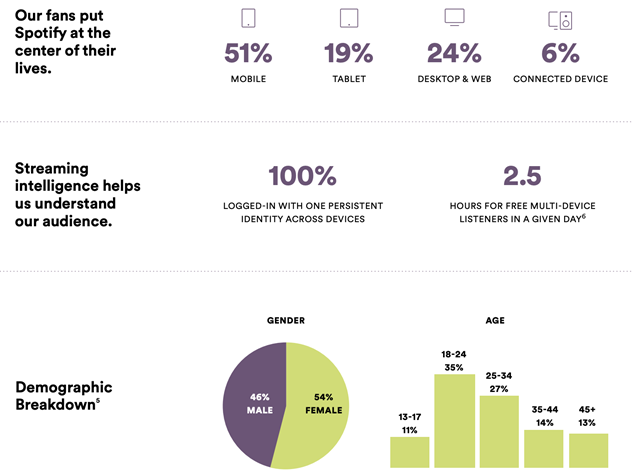 Most people listen to Spotify on their mobile devices and 100% of the users have logged in across multiple devices (that's quite a lot, right?).   
Needless to say that music is something we always have on in the background, regardless of what we do: working, relaxing, training, cooking, socialising… Even as I'm writing this I have my favourite metal playlist blasting out of my speakers. It's also become clear that since the COVID-19 pandemic began, Spotify users have changed their behaviour and most of their days look like the weekends: rather than switching from smart speaker to Spotify in the car or their mobile device, people just keep using the smart speaker or whatever device they listen to Spotify on in their homes. This is perhaps not as frequent as it used to be now that people are back in the offices, but certain patterns remain.   
So how about the ad formats that Spotify offer? Surprisingly, there are a lot more than you may have thought! Alongside standard audio advertising, Spotify also offers video ads, podcast ads and custom experiences. Let's dive into each format and see what it looks like in practice!
Spotify audio ads
If you ever used a free version of Spotify, there's a very good chance you came across one of those. Audio ads are served between songs while there are no distractions and the listener is focused on what you have to say.
Spotify video ads
On other platforms, video ads are often viewed while muted. On Spotify, listeners are engaging with their sound switched on, offering a valuable opportunity for your message to be seen and heard.   
Video Takeover ads are delivered during a listening session when the user is actively browsing through the catalogue to discover music and podcasts. The ads include a companion banner with a customizable call-to-action to help drive engagement. Keep in mind that the Video Takeover ads are delivered only when the screen is in view. You can also use Spotify video advertising runs through the sponsored session format, which initiates a 30-minute ad-free listening session once the ad is viewed.
Spotify podcast ads
People form a strong connection with their favourite podcasts and hosts. For brands, that connection creates a unique opportunity to connect with people in a trusted, direct, and engaging media environment. The world's most influential and important voices are on Spotify. Over the past few years, Spotify brought the best podcast creators and studios to their platform, creating a content library of over 2.2M podcast titles including 400+ Original and Exclusives. When you advertise on podcasts, you place your message alongside these voices—reaching your audience as they tune in to the shows they love.
Custom experiences
When compared to other Spotify advertising costs, custom experiences are on the pricey side. However, this premium Spotify ad formate can be right for you if you're looking for something truly unique and noticeable for your brand. Custom experiences come as overlay banners, homepage takeovers or leaderboard banners and they provide an unmatched experience for your brand.   
Now that we've covered the ad formats, why don't we go in and walk through the process of creating the ad in the most widely used format on Spotify: audio.
How to create
Spotify audio ads
When we create new campaigns on Spotify ad studio, we choose from 3 options: brand or organisation, artist's music, and concert: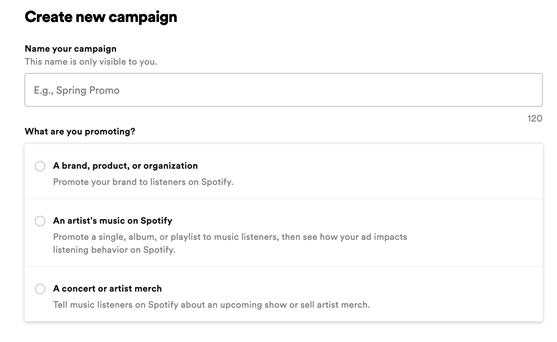 Structure
The structure of campaigns on Spotify is quite similar to Facebook where we have campaigns, ad sets and ads. You can define the budgets on the ad set level and you can also choose the ad format (as you can see it's only audio and video as to get the custom experiences set up you'd need to contact a Spotify representative) and platform you want to run (among a variety of targeting options we will cover in the next slide). The platforms available are iOS, Android and desktop.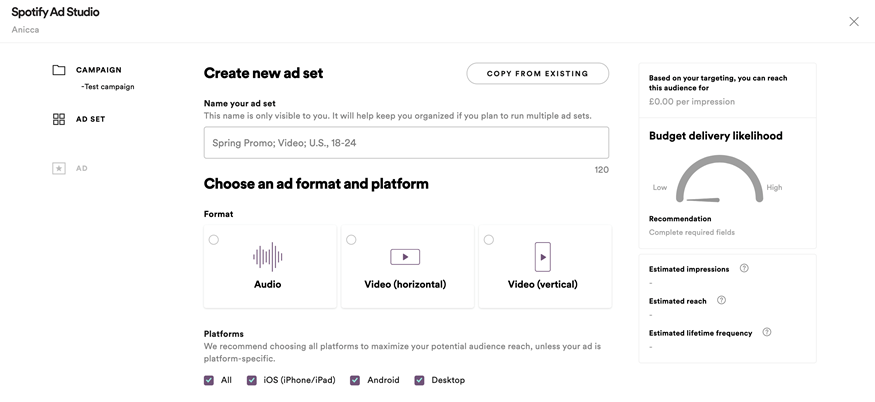 Target Audience
Once we choose the format and name of our Spotify ad set, we can specify the start and end dates of our campaign and the budget and then comes the exciting stuff: the targeting options!   
You can choose the location as broad as a country level, but if you need to be specific, Spotify allows you to choose cities or bulk add postcodes: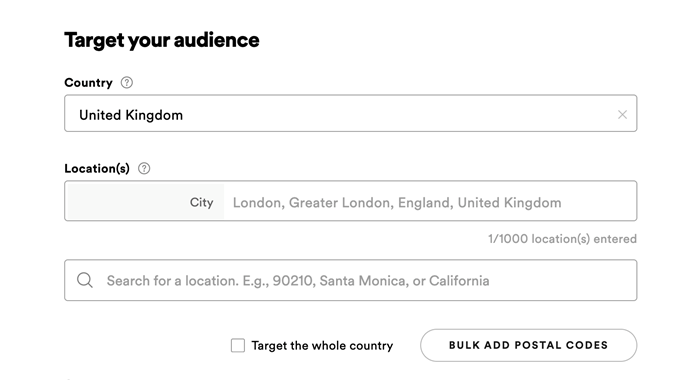 We then move on to demographics and interests. The default age on Spotify ads available to target is 13 to 65+ which you probably don't want to leave as it is as this is quite broad. We can also choose the gender we want to target here and other additional targeting options: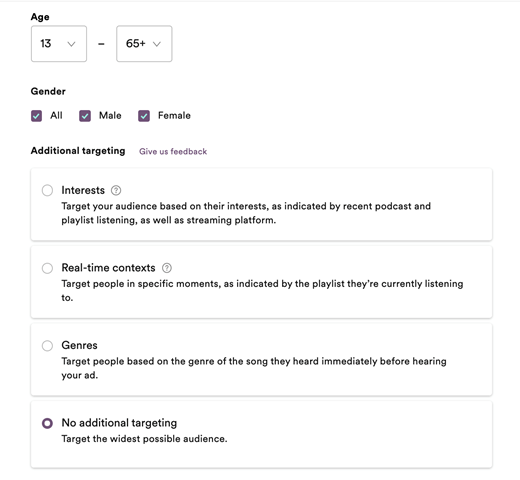 Interests. If for instance, we are targeting a "gaming" interest that means showing your ad to people who listen to gaming-related playlists and/or who sometimes listen to Spotify on their gaming consoles: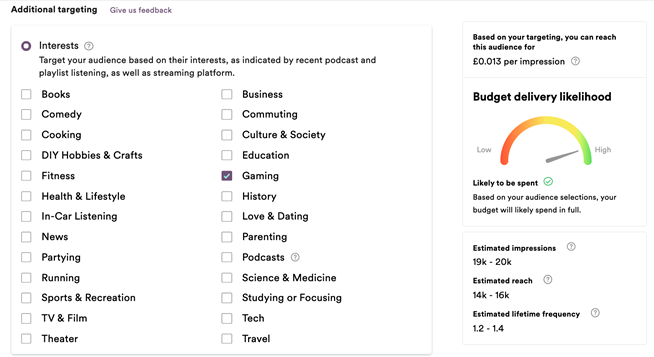 However, if we choose real-time contexts your Spotify advert will be served to a user while they are listening to a gaming playlist: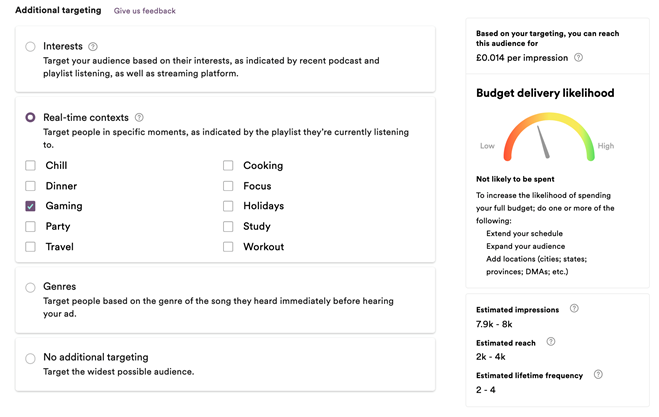 You can also target people based on the music genres they're listening to: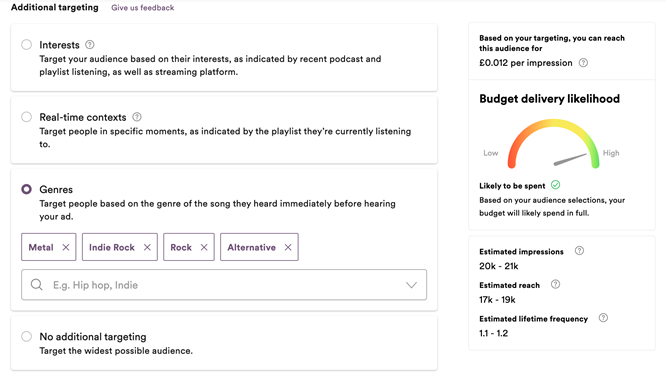 Perhaps my favourite part about creating an audio ad on Spotify is the fact that they are helping you create your audio ad for free.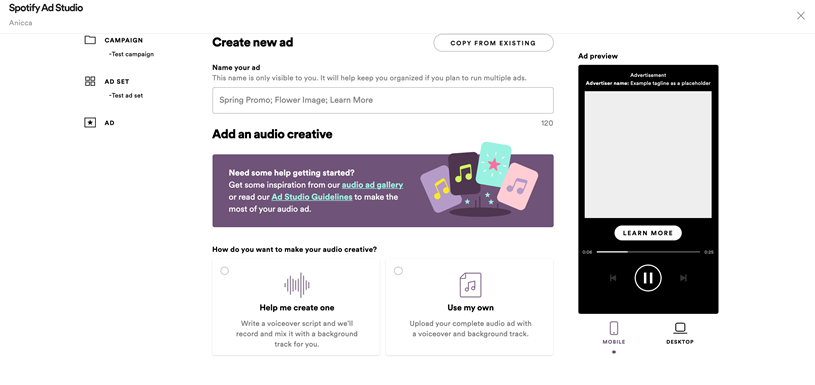 You can still use your own ad if you wish, however, Spotify does a really good job creating the ad and it sounds nice and professional.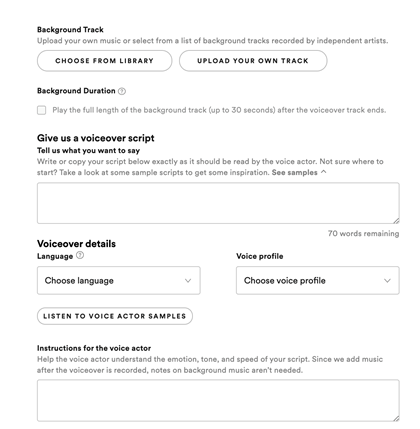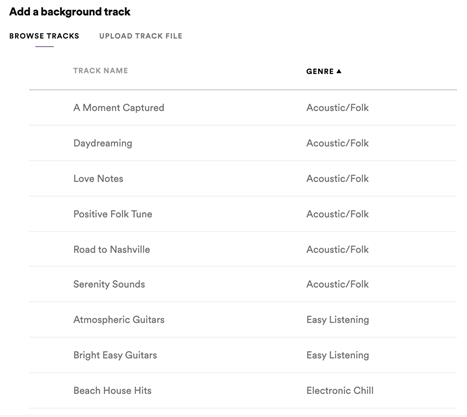 You can even choose the background music track from the Spotify library or upload your own (make sure you have rights to use it if you are using a custom music track) and add the voiceover script which can be up to 70 words long: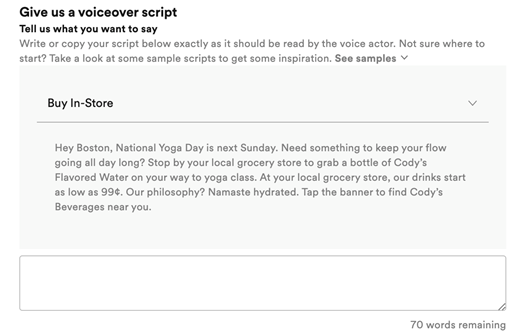 There is a variety of languages to use for your Spotify advertising campaign too, and you can also choose the age and gender of the voice profile to make sure your ads are resonating with your targeted audience. You can also listen to every voice example before proceeding with it to get a better idea of what your ad will sound like.   
You can even give the instructions to the voiceover actor to give them the best possible idea on how to read the script.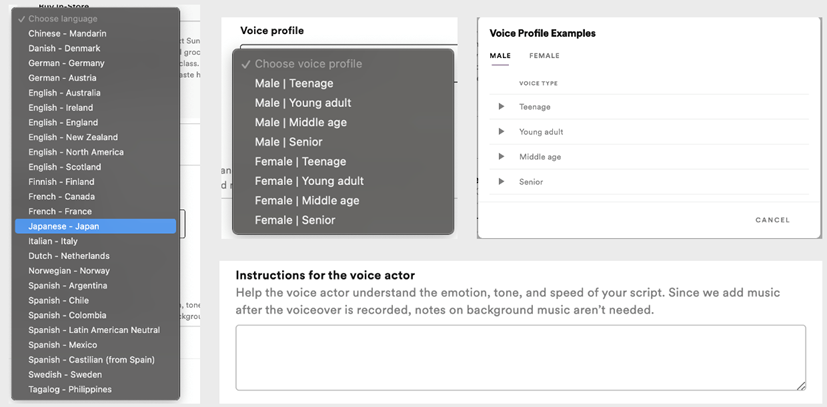 Once you've made your selection, you can now either upload the image or choose it from the library, add a call to action button and click-through URL (where you may want to include UTM tags to make sure this is tracked in Google Analytics), add the advertiser's name and a tagline.   
Once this is done you can then submit your ad and Spotify will get your ad created for you within 2 business days. You can then either approve it or request changes if you're not happy with it. Once the ad is approved, your campaign will go live and the ad will be played to the audience of your choice.   
And that's it! However, before I wrap things up, let me include some of the best practices for the audio ads below.
Be clear and memorable

. Ads that are personalised to their listener get a higher level of engagement.  

 
For a 30 seconds ad, the best practice is to

keep between 50 to 70 words

and keep the pace even throughout. 

 
Mention the business

when running audio. Seems obvious, right? You'd be surprised that 9% of campaigns don't mention the business name audibly in their audio. Verbally mentioning the business is a sure-fire way to generate stronger results. 

 
Ads with a direct call to action have ~3x higher clickthrough rates

¹¹ than those with none, so if clicks are what you're after, it makes sense to include one. At the very least, you can prompt the listener to do something, like saying to "tap to find a location" 

 
Adding music to ads is a natural fit with Spotify —

ads with background music resonate

, driving 4.3x higher intent than ads without. When selecting music, think about the type of music your audience listens to. We don't want to kill anyone's vibe, right? 

 
Real-time context targeting helps businesses

reach listeners in the right moments when they are likely to be more receptive

to brand messaging. Campaigns that include audience segment targeting when relevant drive 2.7x higher awareness and 5.3x higher intent than campaigns that include basic demographic targeting.
To reiterate the key takeaways, I'd like to mention the following:   
Spotify is a great platform to improve your brand trustworthiness  

 

It's easy to start

advertising on

Spotify

due to a low minimum budget requirement  

 

Spotify helps you to create your first ad – for free!  

 

Follow the best practices and reach your audience in the right place and at the right time
Let us help you reach your audience
At Anicca, we are constantly looking for new and interesting ways to reach new audiences, improve conversion rates, and ultimately help your business grow, If you're interested in finding out more about how we can help set up Spotify ads or want a hand with your paid media accounts please contact us today. Our team have years of experience with businesses of all shapes and sizes and we can't wait to help you realise your potential.