Following digital creative best practice helps create a strong first impression, build out brand identity, convey key information, narrate your story, and build consumer trust.
But in 2022, what are the key trends that will get you noticed to your target audience? There are several generic learnings that we suggest for this year that will create the biggest impact.
This blog covers:
What does 2022 look like for creative trends and what your users want to see
The first thing to note when it comes to Digital Creative in 2022 is relevance. In the last few years, being 'relevant' is the most successful attribute to grabbing the eye of the user. This makes your content and message a 'thumb stopping moment.'
Traditional success in marketing was always around impact, and budget. This success was controlled due to accessibility through channels and connectivity, and muscle memory as that is how it was always done.
The last 20 years has adapted our way of digesting content and it is accelerating in change year on year. No bigger change has occurred than in the last two years through the pandemic, where users and audiences have controlled their own exposure to digital content and have been forced to re-educate themselves through the requirement to be more digital.
This brings us to 2022, and the ultimate requirement to be relevant in all we do digitally on both a personal and business level. This may sound like something alien, or out of our grasp of understanding, yet success in digital and embracing these factors are both logical and simple to understand.
What do users want to see and what is content fatigue?
Whether it is your brand or the content you are creating, the best place to start is with your audience. Who are they? What do they do? Where do they spend their time? And what do they engage with? All creative is about communication and THIS YEAR, and the last two years has been awash with optimism, bright colours, vibrance and fresh speedy typefaces. But that is beginning to drag, and we are all getting content fatigue. This is where we are fed up with several factors like the topic of the Pandemic and the 'we're all in this together' message. 2022 is about rediscovering independence and allowing users to redefine themselves as unique and independent once again.
So, is your next step in creative a believable and relevant voice for what YOU represent, rather than what you think you SHOULD document, the best option? Yes, we think so.
Forget the false optimism, forget the equitable approach, and forget the healthy mind, healthy world message as a core message, because users are beginning to wane, and it's because they can see right through you.
Instead, focus on your core messages, your product, your service, your rules. Recognise opportunities in these fields and highlight why you do it better or uniquely. Whether you are a business that sells bricks, or an influencer that does make-up, hone in on your craft and highlight the reasons why you are good at what you do. It is a reset back to what we were doing a few years back, when the world was digitally smaller and less advanced, the reason we started to explore common grounds, flash in the pan trends, and think beyond our brand was because we were in a phase of discovery. Now we have been made to advance our digital usage and there has been too many mistakes made in the real world around us from politics to disease, we find information quicker and share it on. There are far more users here than ever before, so for now, we need order, we need reliability, and something to trust. We no longer use digital to escape the rules of the world, we are transitioning to use the real world to escape the rules of digital. Welcome to content fatigue.
No matter your industry and agenda, the theme and trend for this year will focus on what you do best. Showcase USP, and what you are good at. BUT leave space to allow collaboration, ask opinions and keep the conversation two-way. This gives a more realistic version of trust and reliability over and above a traditional sales message.
The construction industry is one that is predominantly new to digital, for example, due to the pandemic removing the over-the-counter traditions through lockdowns and new legislations. Although this industry is slow to adapt to digital, its industry traditions pave the way for success on digital platforms in 2022. Over the counter traditions, are a good real world learning tool for us all to adopt in our Digital Strategies.
The benefits of a trade counter include:
Relationship building through conversations and sales
Persona tracking in understanding needs and requirements
Product highlighting based on demand and buzz words
Referral and word of mouth incentives
What do customers wish to see more of?
Is my brand digital-ready and if not, what can I do to update it?
It's important to remember, that a brand is not just a logo. Your brand is everything you represent. Your colour palette, your imagery, tone of voice, your morals and social responsibility and yes of course, your logo. All these factors encompass your 'brand' on either a personal or corporate level.
Each entity is as important as the next and helps engage your audience on an ongoing basis. From new eyeballs to repeat engagement. In 2022, we as users have become the best data miners of any being before us, our attention span is now an attention muscle, and we make split second decisions whether to engage with content or simply swipe past.
We as users do not use social media for example to look for you, we are there to discover, we use websites to find relevant information as quickly as possible, we scroll industry publications to discover relevant and interesting things. As users we do not care for your intended narrative, and we will only give you our time if you show me something I can digest in a split second that will in turn convince me to stay and read. So, with this your brand needs to be digitally ready to engage a user in 0.25 seconds (source 1.1 Facebook) or you've lost them.
The main aspect of digital branding is around clarity, and consistency. It is especially important that your content is easily distinguishable from one post to the next but most of all it all needs to be OWNED, otherwise you will give consideration to your competitors if it is not. Let us stay with the construction industry for a moment, if you sell roof tiles, an image of your product without wrapping that in branded colours, or logos, may resonate with the audience to consider a competing roof tile manufacturer, and you have just given them a sale. Remember that 0.25 seconds. Is that enough time to notice you through the content?
So logo first. Is it clear as a profile icon, and is it clear on a website? If not, can you take one aspect of the logo such as an icon or one letter and wrap it in the colours of your brand? Are you using the correct colours on your posts and are you framing your images with colour? Is your logo being used on your content? The logo as your profile image is not enough these days. It MUST be on the image too.
Below I have used an example of a brand using social media without being digitally savvy, and then I have updated the same asset so you can see what I mean by being digital brand ready.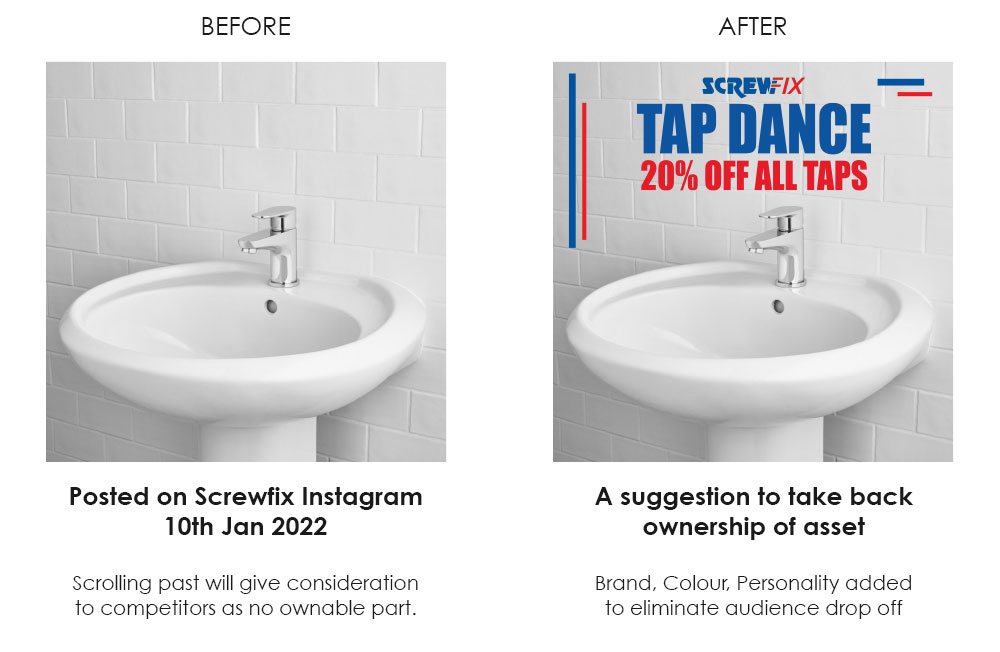 Apart from this, we mention imagery, tone of voice and typography. Create a set of rules for all, Anicca now has a new brand and with it a new headline typeface that helps us stand out in message and both look and feel. The old typeface remains in our logo and body copy. Doing this has allowed us to update our brand.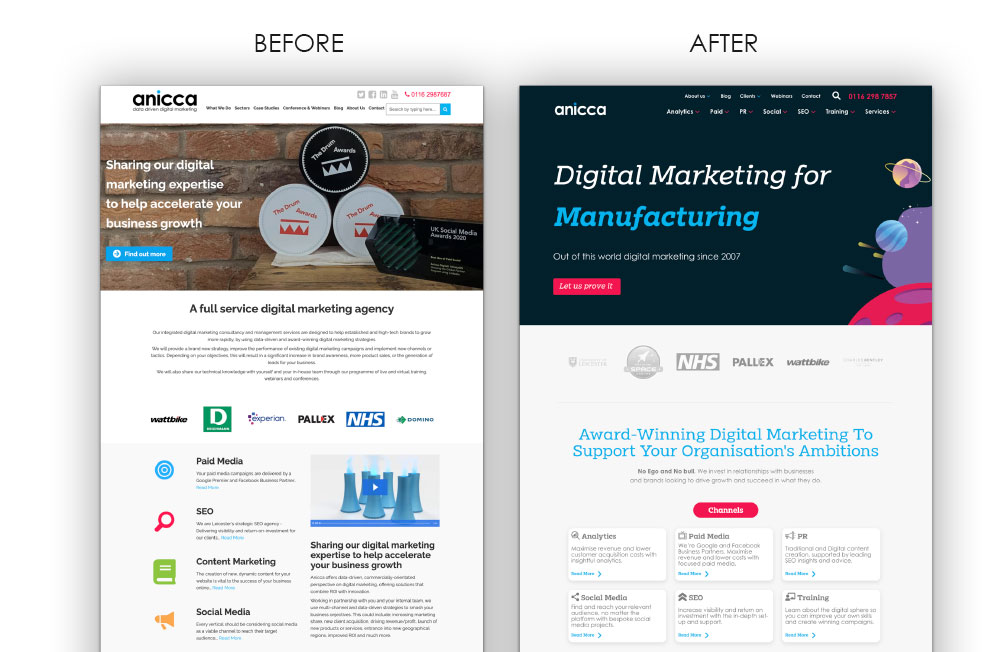 We have also made this change throughout our suite of assets for complete consistency and adopted new rules in imagery also. You can see this change here across everything from One pagers, presentations, social posts, and website. Even our Linktr.ee is now branded accordingly.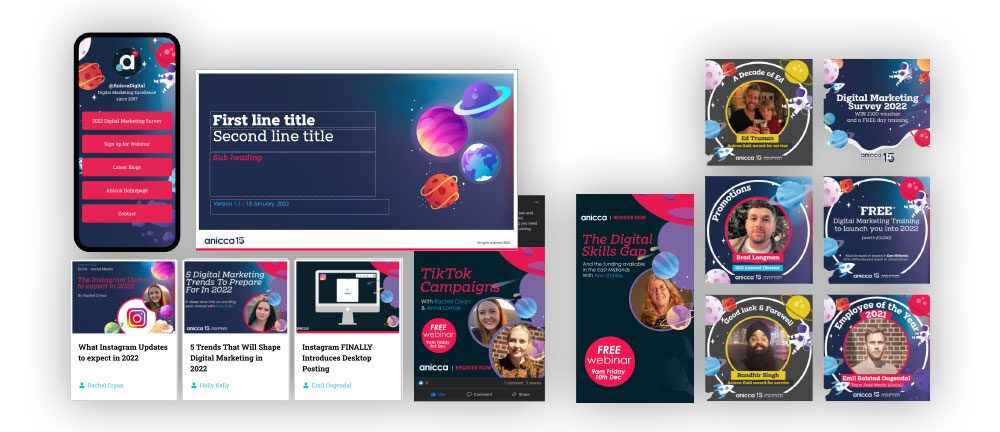 This is a prime example of clarity and consistency. The benefit of adopting this approach allows us to grow and scale at a more consistent rate, allows users to recognise and notice our content quicker, and gives trust and reliability to our messaging. With this brand, we are now:
Stick to what we know in being experts in our services
Celebrate our staff because they are our product
Created an open forum to discuss ideas and concepts
Allowed us to streamline our vision and create missions and objectives
Implement process that allows us to scale
Be more attractive to both current and prospective clients
Attract new talent to join our team
That is the power that a clear and consistent digital brand can hold. And the best part of this, it creates a time stamp online, meaning if anyone tries to mimic you or copy your look, then it is easier to approach.
You may think that your brand is less important due to your industry or your traditional way of conducting business, however we can quite confidently inform you that you would be wrong. We go back to the start of this blog in saying, no matter who you wish to engage, we are all people and users of the platforms, we are attracted to consistency and looking for content to engage with, even with the best product or service applicable to that user, they simply will not find you in such a crowded place.
Mimic the experience that a user is exposed to daily. Think of products and platforms that they use. Corporations like Amazon, Netflix, Facebook, Uber, Deliveroo, all have product-less services, in most they flog the product of others. Their vast budgets and success now rely on 'user experience' and they are the driving force behind us advancing our digital attention muscle to be a well-oiled data mining machine. Your content needs to try and keep up with these experiences. Liken it to a real-world high street, leaving an Apple store to enter a Newsagent is a much different experience, you would not buy an expensive product from a newsagent because the surrounding does not create trust, it has a price ceiling due to that psychology. Your digital presence is the same, if a user leaves Netflix, to open Facebook where they then see the latest BMW ad, and then scroll to your ad or post, is it as clear, and as engaging as where they have just been? That is the level we all must aim for.
Finally, this isn't a one-time fix, adapting to trends and the world around you is an ongoing labour of love. Keeping an ear to the ground regarding legislation and public affairs is of paramount importance. As you grow, you may become disconnected with the audience, or the needs of a customer. Re connect and keep reminding yourselves who your audience is. Rely on the voice and thoughts of the team around you and recognise the possibilities of allowing others to talk you out of topics and themes.
Recently a high-profile influencer was in the news for the wrong reasons regarding not understanding the class divides and poverty, accusing her of being "tone-deaf". To now, Molly-Mae has had a successful career and has indeed worked hard to achieve it, but her comments caused backlash as she looked down on the people that feed her, her following. However, the now infamous interview was a faux pas from two separate brands? Yes, that of Molly-Mae Hague, but perhaps also that of Steven Bartlett, who has seen very quick success in founding Manchester based digital agency 'The Social Chain' and who is now the latest Dragon in BBC's successful investment show. It was the responsibility of his team to protect his guest in the editing of said interview and was his responsibility to use his platform to perhaps take a level of responsibility for the mess himself… However, his response was to play a card against an attack on the rights of women… a topic that he felt would shed him in a good light but caused yawns and eyes rolls amongst his followings. So here we have two successful 'brands' who have grown quickly beyond themselves and haven't taken the time to update their brands to the needs of their users.
How to achieve the best engagement with your Social and web content
We have kind of already covered this area, we know how to create our content, and we know how to update ourselves and keep our finger on the pulse, but how do we post and create the relevant engagement for the channel?
And again, the best way to think about this would be to understand the audience, and STOP thinking about content as just a singular asset and rather an 'eco-system' of content for each subject. But what does that mean?
When thinking about user behaviour, we need to understand the scale of how they digest or will digest your content. From social media, where users can be on-the-go, to websites and late-night scrolling where you have the privilege of 'captivated viewing'. Ideally this scale needs varying assets that say the same thing but in separate ways and it is all to do with the privilege of time.

On-the-go content is for users that will see it by accident. They will digest a lot of posts, they are passing time, they're in between tube stops, waiting in a queue for their coffee, or picking the kids up from school. They may digest a simple one liner and you will be implanted in their short-term memory.
Captivated viewing means you have their attention muscle for a little longer. They may have remembered your content, looking for your service, they may just have more time than before, they are relaxed and less hectic.
Now because we do not have abilities to know when users are in which stage, and the chances are their attentions are split, we create multiple assets that appeal to the scale of the state of the user. That way, cumulative exposure and concurrent engagement will work together to benefit your engagement, thus creating an eco-system of creative content.
We are now thinking in eco-systems, we need to consider message, and what your month looks like in terms of strategy? What is on the horizon for your brand? Do you have a new adhesive launching in the industry? Are you launching a new website? There are specific best practices depending on whether you wish to speak about your product or brand. Planning the content monthly will allow you to understand what is required within the ecosystem you wish to create.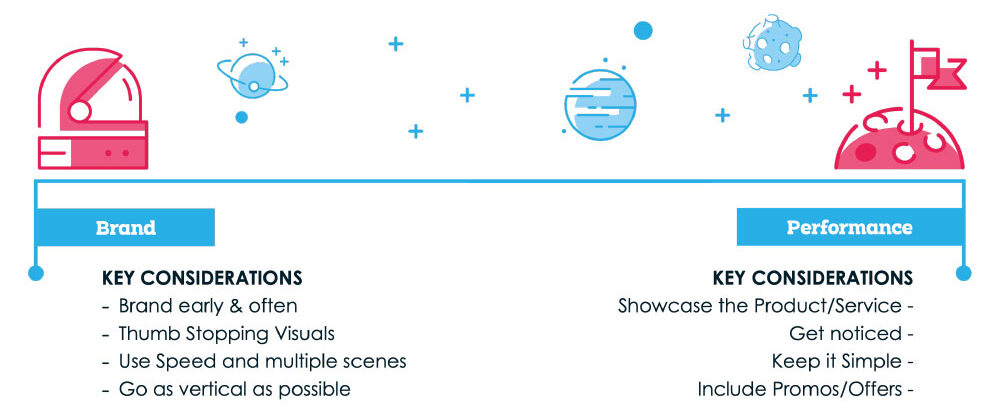 As an example, Week 1. You wish to highlight the tool of the summer. The new spade, the best dig since spades were invented.
We have a product to highlight
We need our brand on the asset all the way through so users knows it is us
We need a square post on social channels as a flat image
An animation in vertical to use on stories
a video highlighting usage in landscape that we can use as ads on YouTube and on our website.
Make it all quick and exciting
Use colour and movement
We have an eco-system plan for week one highlighting both our brand and the hot product that appeals to our audience.
When creating the asset or briefing into your content creators we will remind you of the six key best practices.

Applying these rules will achieve the best creative, whilst always testing and learning what achieved the best outcome for what you were trying to achieve in the first place. Listen to your users and make sure you respond to their requirements.
Finally, the overall take out in content creation would be to:
Think Bigger
Create eco-systems, not executions
Encourage partnerships. Highlight other brands and in turn they will do the same
Be ambitious and push boundaries by being on platforms people would not expect and humanising your brand with the faces of your team.
Think Consistent
Every outward facing post is a chance to build (or ruin) your brand
Make sure you are planning and connecting your message across all assets
Only YOU care about solving your own objectives. Make it snappy and quick to digest
Think Inspiration:
Be inspired beyond your industry. Do not just look at competitors. See how people use the platforms you are on and use ideas you see
Look at competitors, Influencers, content creators, partnerships may happen, or you may recognise something no one is doing
Find out how your users use platforms and what they like to do on there. From TikTok to LinkedIn what can you do to stand out?
What is success and how do we measure it across platforms?
Success is whatever you decide it to be, but digital marketing can hold some myths as to what people class as success.
Clicks, likes, comments, and shares are common phrases that we hear when talking about success in Digital Marketing but realistically, they mean nothing without context. Normally we look at results on a case-by-case basis for brand, objective, and industry standard.
A client selling T-shirts will not have the same success metrics as a local council promoting a national holiday.
Objectives are subjective and it is important you understand what success really is for you or your brand.
Anicca are in an extremely fortunate position to be leaders in reporting and data collating. This means that we are better equipped than more creative agencies to drive success and show you what the competition are doing.
Our tools and subscriptions are not cheap but that is the value of having a partnership with an agency like us. Not only do we have the experience in recognising opportunity, but we also know how best to guide and optimise based on results. Our fee is incomparable to the extra revenue that our team will drive for you.
Researching metrics in your industry can be hard to come by, but we are happy to point you in the right direction.
In Summary
If you have made it this far, thank you for your time, and I hope it's been helpful in guiding you in the right direction of brand building and content creation in 2022. From the change in content approach, to the ways in which to think of content and produce thumb stopping moments, I hope you can take something away to get you going on your path to the best engagement through optimising your brand.
If you would like to get in touch regarding anything creative or brand-related across anything digital, then I am happy to answer any questions.
Please reach me at [email protected].