For local businesses, getting found for local searches makes a huge difference to store footfall, website visits and ultimately, conversions. If you own a cafe or a restaurant and someone in the area searches for 'cafes' or 'restaurants', then Google will display the businesses geographically closest to them. So, how do you ensure that your business stands the best chance of appearing in the local pack, Google Maps and organic listings? Follow our five simple steps below.
Local SEO is ever-evolving and Google is constantly pushing more localised content and displaying businesses which are geographically closest to searchers for relevance.  Google is also adding new features to Google My Business on a frequent basis, so the very first action you need to undertake is:
 1. Set Up Google My Business
Google My Business is the holy grail for local businesses. This displays all the information a user needs to know when they search your company; including directions, address, contact details, reviews and opening hours. It's essential that you have claimed and created your free Google My Business account and include as much information as possible to ensure users have everything they need to find or contact you.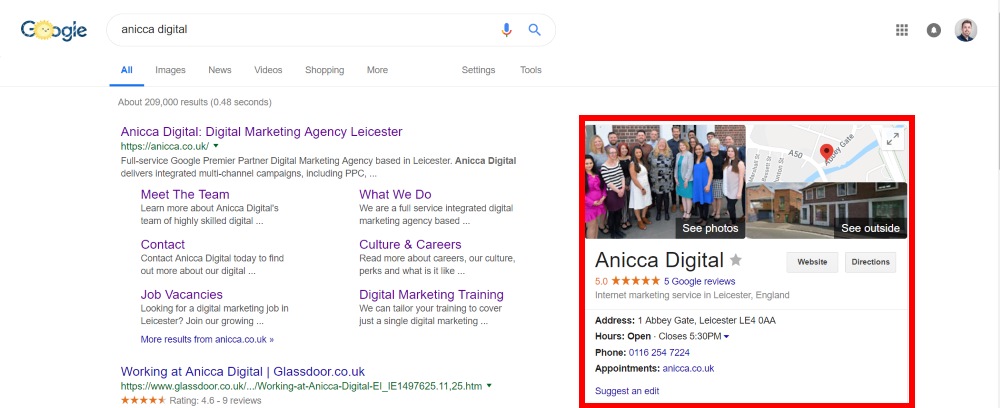 Align Google My Business with your website
When you create your Google My Business account, it is critical that you use the exact same business name, address and phone number (NAP for short) which is displayed on your website. This helps Google to identify your business as well as pass authority to you from your citation listings.
 2. Build Local Citations
The next step is to start building local citations. Citations are references to your NAP details (Name, Address & Phone Number) and if implemented correctly, it can be as valuable to your website as a direct link. Citations can be obtained from a range of local and industry directories across the web such as Facebook, Apple Maps, Yelp, Foursquare, Scoot and Thomson Local.
When building citations, it is vital that you input your details exactly as they appear on your website and your newly created Google My Business account.
How to find citations
There are a number of resources available when you are looking to find citation websites to list your business. You can either use an automated tool such as Bright Local or do it manually. When you are researching suitable directories to list your website on, Google is by far your best tool, simply search for "best local directory websites for uk" or "(location) directory" and you'll be shown hundreds of lists with directories.
When assessing whether a site is good enough to list your business on, here are a few simple things to look for:
Does the website look genuine?
Does it look like a website you'd use yourself?
Does the website look as if it caters for businesses or customers? (try to avoid websites where the first thing you see is a huge button saying 'list your website'
Benefits of automated submissions
There are many benefits to using a company to submit your citations, the main benefit is that your NAP details will be uploaded consistently. It will also save you heaps of time because it eradicates the need to source and submit your business to those websites.  With certain tools, you can also pick the websites you'd like to be listed on and the sites suggested will also cater to your geographical location as well as industry.
Benefits of manual submissions
If you are a small business with a modest or you have no marketing budget then manual submissions is your best option.  You should be able to submit around 10 listings in a couple of hours. You can also check the websites and ensure that they are appropriate for your business eg you wouldn't want your restaurant listed in a plumber directory.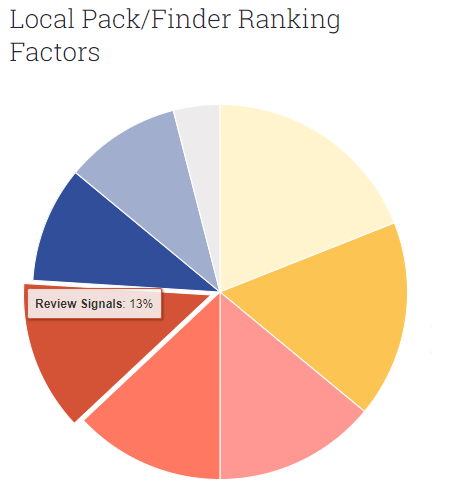 3. Reviews Matter
Reviews play a huge factor in determining your company in local search packs. According to the 2017 Moz Local Ranking Factors study, review signals account for 13% of local pack rankings.   Google My Business signals is the most important at 19% and citation signals at 13%.  This means that reviews are equally as important as the citations you build!
Getting reviews can be a tricky task, most business owners will know that people only leave reviews when they're dissatisfied. Try to encourage customers to leave reviews on your Google My Business profile, if you use an email marketing platform, create lists of converted customers or frequent visitors and ask them to leave a review and offer an incentive in return. When they do leave a review, make sure that you respond and thank them for taking the time to leave a review. If you own a physical store,  ask customers to leave a review during a conversation and explain to them how to leave a review. The more reviews your business has, the more Google will trust that your business is worthy of a spot in the local pack.
4. Optimise Your Titles and Content

Of course, optimising your website still matters! If you're using a popular CMS system such as WordPress, then editing titles, descriptions and headings are simple. You can download a free plugin such as Yoast which enables you to easily edit your page titles and descriptions, you won't need a developer to do it for you. Make sure that you list the city/town name within your title tag, the service you provide and also mention it within the content of your page too.
5. Use Structured Data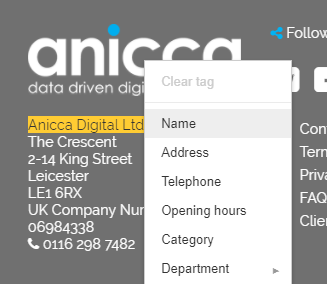 Finally, you should be looking to make use of structured data (also known as Schema). Structured data helps Google to identify key information about your business. There is a specific local business schema you can use which you can add to each page of your site so Google can easily pick up your business name, address and phone number. If you're not sure how to use the schema code,  try the data highlighter tool in Google Search Console  you can simply highlight information on your website using your mouse and tell Google what it is.
Local SEO is a fast-paced industry and like all things digital, it's ever-changing.  If you implement these five tactics on your own website, then you have a better chance of getting listed in the local pack, increase web traffic as well as conversion rates. Here at Anicca Digital, we work with many multi-location local businesses. If you need any help or advice, feel free to get in touch, and we'll be ready to help.