Ed Truman presented "Stepping into Google Analytics 4" at Anicca Digital's 6th Leicester Digital Live Conference on 16th February.
You can watch the replay here, download the pdf and read the summary below:
Watch the video
Read and download the pdf here
2pm – Ed Truman, Anicca Digital
Read the summary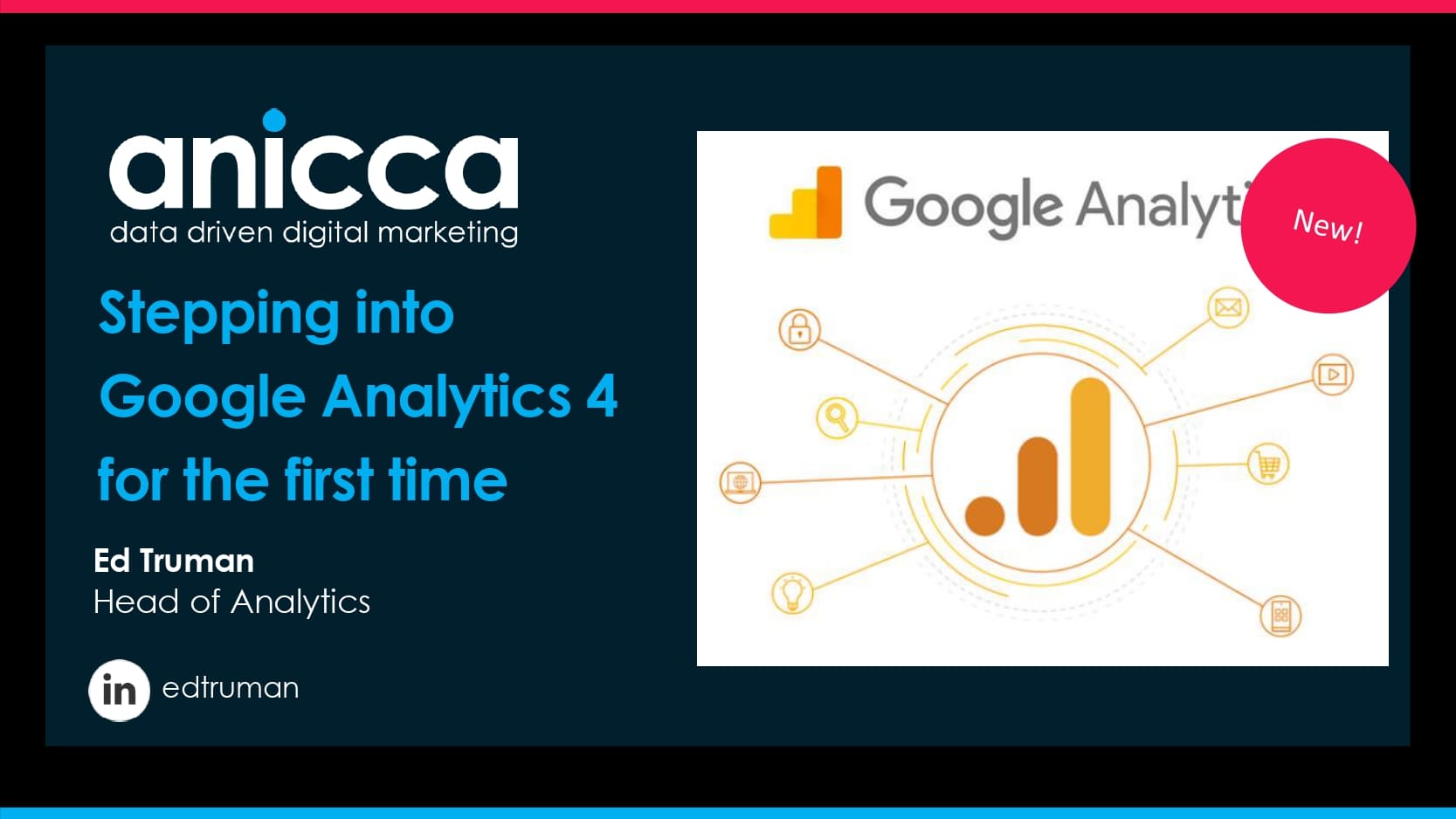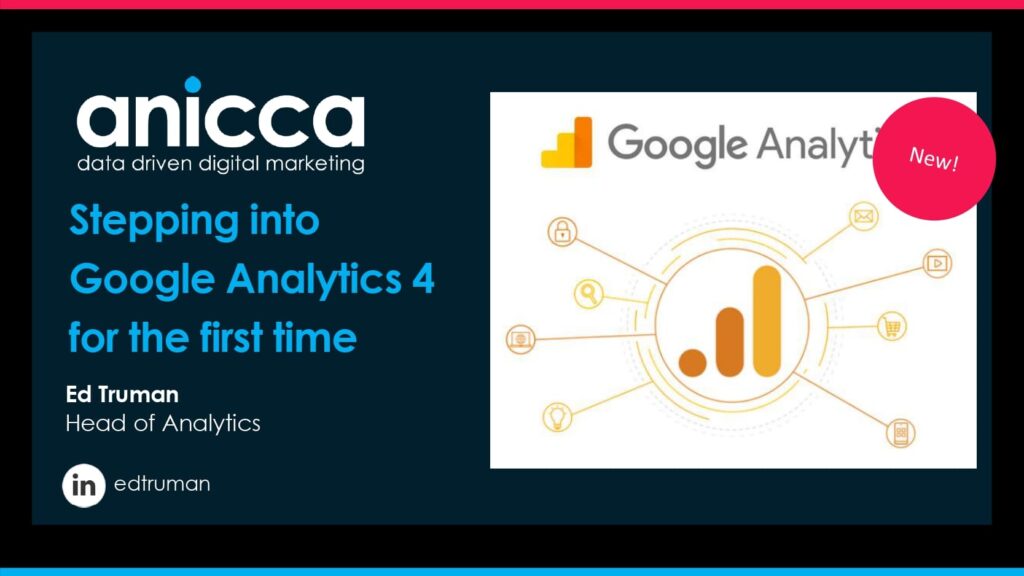 Anicca Digital's own Head of Analytics, Ed Truman, shares the key features of Google Analytics 4 and the benefits they can offer businesses.
Google Analytics 4 is the evolution of the universal analytics tool, which has been a long-standing platform since 2013.
The new platform is a reimagining of analytics, rebuilt from the ground up with a new interface and new reporting model, bringing Mobile and App under a single platform.
Key noteworthy developments of Google Analytics 4
Page views and session-based metrics have been removed, with new concepts introduced.
There is improved cross-device tracking capabilities, which is highly valuable in an age of increased user privacy and cookie protection. Google is addressing the concerns around tracking users and that this is becoming more difficult. GA4 aims to assist with overcoming those challenges.
Sampling issues have been resolved in GA4.
Getting started requires a new property and a complete refresh and re-tagging of tracking on your site, as well as new conversion tracking.
It offers enhanced visualisations and custom reporting
It incorporates a greater use of AI, along with better automated insights
The main differences of GA4
Brand new interface and large scale changes to reports and interface
Basic reports from previous Google Analytics are missing in Google Analytics 4
Less focus on sessions (visits) – more focus on users and events
Goals are now conversions
Profile views replaced by streams
Limited filtering options
Limited ecommerce reporting
User data held to a maximum of 14 months
Attribution modelling still not available
No content or channel grouping
Bounce rate replaced with new engagement metrics

GA4's brand new user interface
Reports are arranged differently to Google Analytics
They benefit from a lot more automation and prediction
The interface is more like a dashboard, featuring score card metrics
It features more interactive real-time reports
Overall provides more information than the current platform
New engagement metrics include 'engaged sessions per user', which has been brought in help you gain an understanding how users are engaging with your site.

Page reporting
Engagement reporting provides valuable insights, auto-detecting if someone engages with content by scrolling the page, for example.
Enhanced automatic event tracking – users are tracked straight away but there is also built-in auto-tracking to monitor outbound clicks, video engage, file downloads, etc.
Cross-device capabilities are sophisticated and the tools GA4 brings to the table do a much better job of tracking users across different devices. GA4 uses Google signals and ad preferences to tie user data and behaviour together across devices.
GA4 as an event model
Everything is event-based – from sessions to page views to conversions.
Some are automatically collected, custom events like sign-ups and add to cart are also available so you can create your own.
New events – a dedicated section lists all events, so you can see volumes of what is being clicked.
From this you can create conversions from the events and every event allows for extra info to be added.
New audience builder capabilities
Users and sessions allow you to group different audiences together based on your own criteria.
You can create temporary or permanent lists, and these can be transferred for use in Google Ads.
Create audience triggers that fire an event every time a new member is added to a list – if the audience member meets your defined target
New predictive metrics
GA4 benefits from AI working in background
This enables it to generate purchase probability stats
If you meet the right quota for traffic, these will become available to you
It can tell you who is likely to convert over next seven days

Conclusions
The main benefit of GA4 is that it provides a better understanding of your data, with more flexibility and freedom to create the reports that you need.
Ed's key advice is not to run GA4 on its own but to run it in conjunction with GA. By dual tagging your site, you can run both analytics platforms in parallel and gain all of the insights you need.
Find out more about how Anicca Digital can support you with your Google Analytics.