Rewind 30 years, and the discussion around "traditional PR" vs. "digital PR" didn't really exist. The function of "PR" or "Public Relations" was for brands to raise awareness by being spoken about in the local press (newspapers), on the radio, or even on television.
Although the definition of PR hasn't changed much in that time, the Chartered Institute of Public Relations defines it as "the discipline which looks after reputation, to earn understanding and support and influence opinion and behaviour", the evolution of digital has changed the way brands, marketers and PR agencies approach it.
Anicca Digital offers PR as a service,  alongside traditional PR methods, we have evolved over the years with a more digital approach to create campaigns that get your brand spoken about, whilst building links and clicks.
So, let's look at the differences and similarities between traditional and digital PR. It's worth mentioning that both tend to want to achieve the same thing; to increase brand awareness, build a positive reputation and manage crisis communications.
What is Traditional PR?
Traditional PR is focused on gaining coverage in "traditional" forms of media like printed newspapers, magazines, radio, and television.
Arguably, it's much harder to get your content down in print than it is to get it placed online. The space is much more competitive, and you've got to compete with advertorial (paid-for) space within a few magazine or newspaper pages.
The most popular way to gain coverage was (and still is) by creating a press release. A written article explaining your topic or story would be sent to relevant journalists and usually followed up with a phone call to get it placed.
Before the "information age" or the rise of digital, the way in which brands/marketers reached journalists was very different. But nowadays, journalists generally prefer to be contacted by email.
Top Tip: For your best chance of placement, we always recommend sending over your press release in the morning, and making sure it's packaged with great visual content (images/videos)
However, relationships are extremely important if you want to get your brand spoken about. Understanding the journalist, what they write about, and how you can help them will go a long way to getting your story placed. You need to build and nurture your relationships with journalists. In doing so, you'll build a robust, trusted contact list for when you want to land your story.
Whether you send that information via email, over the phone or in the post is entirely irrelevant.
Although for your story to land successfully, you'll want to use an approach that integrates different communications tools. Your one email that lands in an inbox that receives thousands isn't going to get noticed very quickly – especially if your subject line is overcomplicated (or boring), or you don't deliver something that visually packs a punch.
What is Digital PR?
The Digital Marketing Institute defines Digital PR as "a strategy used to increase awareness of your brand using online methods." In many ways, it's like traditional PR, but you can reach a much wider audience online, and results tend to be quicker.
Digital PR uses digital marketing strategies such as Search Engine Optimization (SEO), content marketing, social media and influencer marketing to reach your intended audience. It's about creating content and telling your story in a way that will get your target audience talking about and sharing it online.
Ensuring your content is optimised to rank in Google is an excellent way to reach potential customers. You can answer their problems through your content, they'll come through to your website, and your killer user experience (UX) will convert them (hopefully).
Recently PR Strategist, Katie Ford presented her webinar on "Planning a PR Strategy",  the image below is a screenshot demonstrating the key differences between traditional PR and digital PR methods. To catch up on this webinar, click here.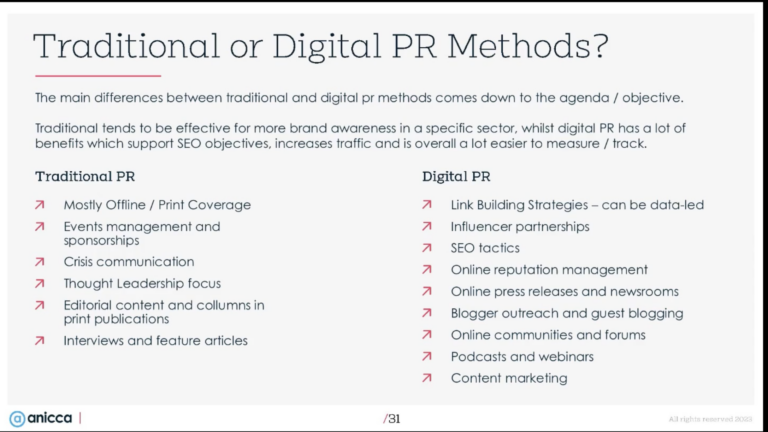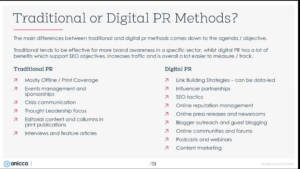 Top Tip: Ensure your blogs or articles are roughly 1,500 words to improve performance. Data from Backlink shows that Content ranking on page 1 of Google has an average of 1,447 words.
Historically, digital PR has been perceived to be just about link building, where you gain links from other websites to build your authority. Although this is integral and will significantly impact SEO metrics, it shouldn't be your only focus.
Content is king for Digital PR. Data from Marketing Charts shows that 52% of B2B buyers say they're "definitely" more likely to buy from a brand once they've read their content. They are reading an average of 13 articles before making a buying decision. Your brand's content needs to be among that to be in for the running.
Another key factor is trust… Because with so many options available, people will only buy from brands they trust. That's where brands have to position themselves correctly – if you're landing links from well-respected and relevant publications (i.e. a logistics company would want to be placed in authoritative publications like Logistics Manager), then this will do wonders for your brand image. But a link from an irrelevant, dodgy site probably won't have the same effect.
Choosing Your Digital PR Agency
This is where working with a PR agency can come into its own. Especially if they understand the world of PR, digital and SEO. These channels don't live in isolation anymore. A great PR agency will be kick-ass storytellers, be able to get your content placed in highly authoritative publications and understand the technicalities behind SEO and how to rank in Google.
It sounds straightforward, but not all agencies can offer this. But, Anicca Digital certainly can – our team is an excellent mix of creative and technical minds.
We've run many successful, integrated campaigns for our clients that have hit their objectives and got results. Just check out this case study where we got 1.3 million coverage views for Pall-Ex or this excellent PR and Social campaign for Diwali and Leicester City Council.