Ambush Marketing: In a Barbie world
 Ambush marketing is one of the cheekiest forms of marketing, where companies often flirt with regulations. 
 In this blog, we will use a looser definition of ambush marketing. Still, the Cambridge definition is "a situation in which a company tries to advertise its products in connection with a big public event, without paying any money, although they are not the official sponsor". Essentially, it refers to companies hijacking and jumping on another brand's campaign without having the official rights to do so.  This is often done through hints and tactical elements, where the viewer can usually connect the dots. 
Ambush marketing is particularly common in sports. The FIFA World Cup regularly has ambush marketing campaigns created by non-sponsors. For example, one of its official sponsors is Adidas. However, in the lead-up to and during every World Cup, Nike will launch a massive campaign that never directly refers to the tournament. The ads will usually feature participating players wearing national team kits. And often feature the country the tournament is hosted in.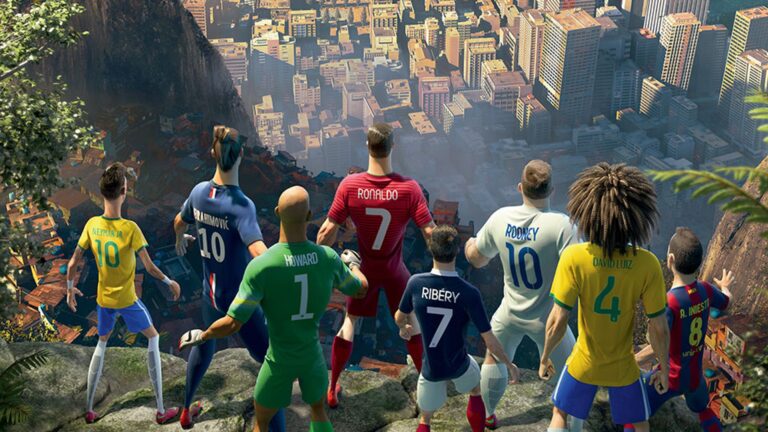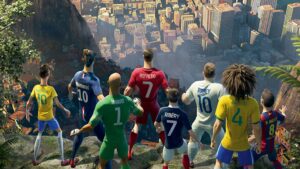 Nike campaign during the Brazil World Cup 2014. Photo Credit: Youtube – POPnSPORT 
Barbie World
The marketing campaign for the new Barbie movie has been extremely effective in demonstrating how strong branding can get you very far. The iconic Barbie pink stands out and by reminding the public of the association with the brand, the battle was already half won. In fact, the colour association is so recognisable that all they needed was a pink billboard with a a date.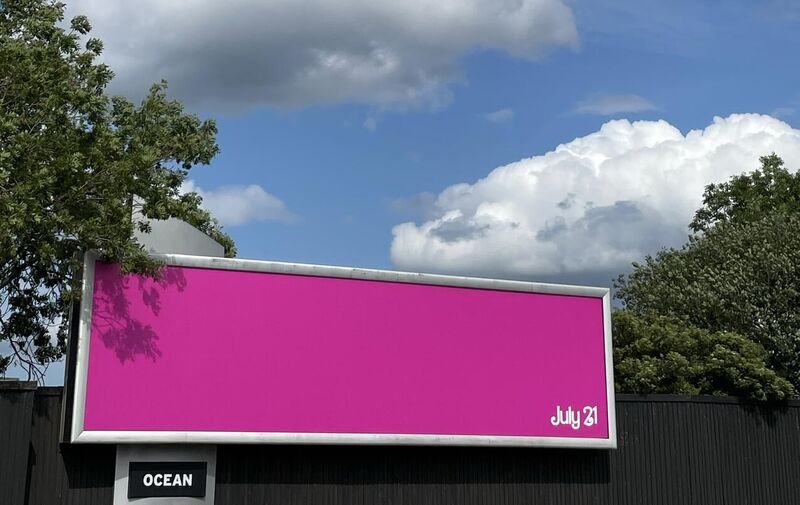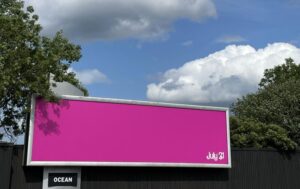 Photo Credit: Jennifer Killens 
Other companies that have nailed their branding through colour association, include EasyJet and CocaCola, both of whom have strong associations with other colours, namely orange and red/white, respectively. 
When it comes to ambushing Barbie's campaign, it actually doesn't have a particularly negative impact on the main campaign – conversely, it helps to elevate the original campaign. Whereas for the FIFA World Cup, Nike's ambushing means that Adidas will see less value in their sponsorship and therefore argue that they should pay less. 
 Now, the amount of brands who have piggybacked on the Barbie hype is uncountable. Whether it has been through a social media post where the logo changed colour for a day, or whole new products being created. 
 One example is Burger King Brazil, they advertised a burger with a pink sauce, placed on a pink background – which, thanks to timing, made it a not-so-subtle hint that it was a Barbie burger.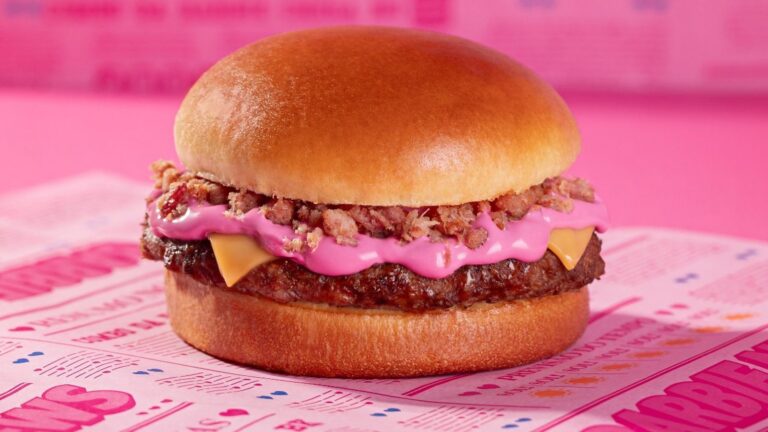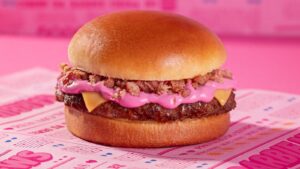 Burger King Brazil Photo Credit: @BurgerKingBR 
Others took the hint even further, such as 'Not on the High Street' with their "Pink Friday Sale" which they highlighted was totally coincidental. 


Not on the High Street. Photo Credit: creativemoment.co 
And then we have the ultimate ambush, Oppenheimer. While Oppenheimer offers a star studded cast; including Cillian Murphy, Florence Pugh, Robert Downey Jr., Emily Blunt, Rami Malek and Matt Damon to name a few; the appeal of the movie was likely to be limited to a certain demographic. 
 It's also likely that the Oppenheimer marketing campaign, on its own, would only have had a certain degree of impact –  which would appeal to their core target market. By piggybacking on the Barbie campaign, Oppenheimer opened the doors to a much broader audience, in a much more impactful way.  
As a result, the movie has exceeded all expectations. According to Universal, it's the first R-rated film to gross more than $10 million for seven days in a row.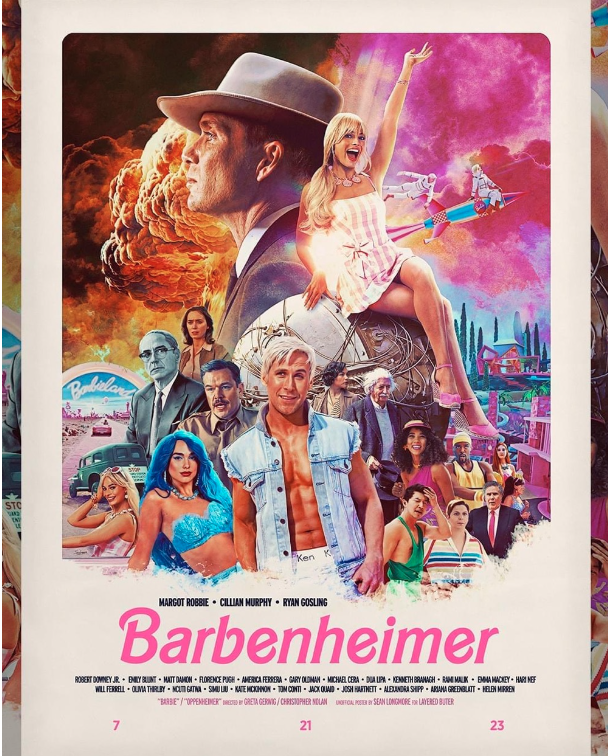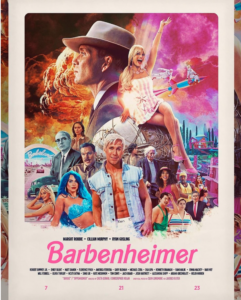 Barbenheimer. Photo Credit: @ThatTallGinger/Twitter 
Overall, Barbie also benefited massively from the amount of ambushing. 
And combined, the two movies have been breaking records ever since their release. 
 The AMC Theatres (which has been around for 103 years!) announced its best week ever from July 21-27 based on admissions revenue. 
Other records: 
This is the first time in box office history that two movies opened to over $80m each.

 

Oppenheimer's opening weekend is the second biggest of all time for a biopic, behind only American Sniper ($89.3 million).

 

VUE surpassed its weekly admissions record by 40% across its eight European markets.

 
Now, there is great speculation as to how much of the ambush was deliberate. And it's likely that it initially wasn't even considered, but as social media made the connection, they seized the opportunity and helped amplify. Why don't I think it was intentional to start? First of all, on paper the connection between the movies is extremely loose and far from an obvious collaboration. 
Secondly, you have factors such as joint release potentially harming both movies as people pick one of the two. 
 When director Nolan went with Universal, he specifically added a clause that required a three week exclusivity period. In other words Universal had to ensure that no other films would be scheduled for three weeks either side of the release date. 
 There's speculation that Nolan even wanted the release moved when heard of the clash, however that would require that Universal cleared 6 weeks of releases at short notice. 
 As the two releases were confirmed and memes started appearing, there may have been a penny dropping moment where they realised that: 
Barbie's marketing campaign was significantly more explosive and attention-grabbing

The target audiences for both movies are sufficiently different to be considered non-threats. And any viewers that could be added from the Barbie market would be considered a bonus.
That's when they're likely to have gotten fully on board with the Barbenheimer ambush strategy – and as a result reaped great benefits.