Tis the season to be…winning awards!
Amidst the early throes of the festive season, the team here at Anicca Digital has been gearing themselves up for two key events in the digital marketing calendar — the UK Search Awards 2016, and Google's first ever Premier Partner Awards. As a small agency, being nominated for both of these awards is great news for us, not only does it recognise the hard work we do for our clients, it also makes us incredibly proud to be featured amongst other high achieving agencies in the UK , and in the case of Google Premier Partners, Europe.
So these awards, what are they?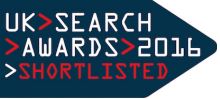 In association with Bing, the UK Search Awards, which took place on Wednesday 30th November, was held at the impressive Bloomsbury Big Top in London, and celebrates outstanding achievements in the world of SEO, PPC and Content Marketing. In its sixth year, with 1,500 attendees and upto 200 entrants in each category, we were shortlisted for three awards: Best use of Social and Search (for our Velobici Kyklos Continental campaign), Best Integrated Campaign and PPC Agency with less than 25 staff.

Rewind back to our E-Commercial 2016 conference, to the moment that Google's Philip Shearer announced to the room that we had become finalists in Google's European Premier Partner Awards 2016. So what does being a Premier Partner entail? Google introduced the Premier Partner status this year and this recognises agencies that work hard to maintain Google standards, achieving AdWords certifications and proving to generate solid AdWords revenue in growth. Having this status also gives us access to the best training and certifications, to keep delivering the best results for our clients. Proud as punch? You bet.
We could be part of history in the making, being shortlisted as finalists in the Shopping Performance and Search Performance categories, the winners of which will be announced in Dublin on Monday 5th December. It'd be great to finish the year off in style and add one, if not two awards to our MD Ann Stanley's Business Woman of the Year award that she scooped at the Leicester Women in Business Awards.
Wishing everyone a happy and successful Christmas and a prosperous 2017, from all the team here at Anicca Digital.