The rel=nofollow tag has always been a hot topic in the SEO industry and this week is no different, Google has put it back in the spotlight with the announcement that they will be treating rel="nofollow" links differently moving forward.
The news comes as part of an announcement about two new link attributes that they have rolled out including rel="sponsored" and rel="ugc". So, what exactly are these links for?
rel="sponsored" – This new link attribute has been brought in specifically to be used for links that are part of an advertisement, sponsorship or 'compensation agreements' which is likely for things like product reviews.
rel="ugc" – This link attribute is specifically for user-generated content. So if your website has a comments section, or if you run a forum, it should be standard practice to ensure these links are marked as 'ugc' from today.
Does this mean nofollow Links pass authority?
Previously, rel="nofollow" links were not used for crawling or indexing (because Google does not follow these links) and the links also had no correlation with rankings. From today, however, Google may use nofollow, sponsored and ugc marked links as a hint for ranking. This is actually quite a significant update from Google. Previously nofollow links were widely used by highly authoritative news outlets and media websites to protect themselves from Google algorithm penalties, even if the websites they were linking to hadn't paid to be promoted. From now however, even if the nofollow attribute is used, Google may decide that authority can be passed, resulting in more authority and potentially better organic visibility for the website being linked to.
Google also announced that from March 2020, it will also be using these link attributes for crawling and indexing, so anyone relying on nofollow links to keep pages out of the index need to find a new tactic. See this infographic below from MOZ which explains in further detail how Google will be using link attributes moving forward.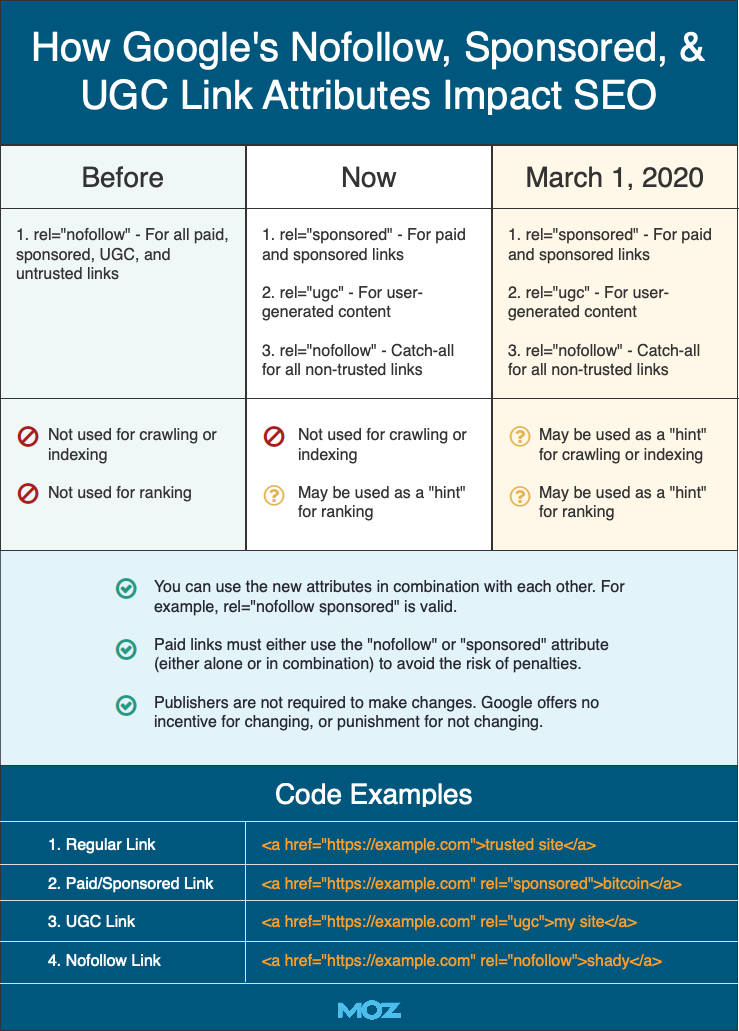 These advancements in Google's algorithm show that they are becoming much more sophisticated in being able to work out what links are likely to be 'paid' for. It also means there could be quite a shake up in the SERPs now as nofollow links begin to have an affect on the SERPs. This is great news for those working on PR campaigns where you may receive links which are nofollow. Only time will tell how much different these changes will make, but in my opinion and I am sure many others, it is a step in the right direction.