Our MD Ann Stanley, has recently started the Goldman Sachs 10,000 Small Business programme, so she has written this article to explain how both Anicca Digital and Goldman Sachs can help you grow your business!
Part 1 – How Anicca can help you grow your business using digital marketing?
Part 2 – Helping you develop your business plan
Part 3 – The Goldman Sachs' 10,000 Small Business programme (a free 16-week executive training course)
Part 1 – How Anicca can help you grow your business using digital marketing?
Anicca Digital's main purpose is to help our clients grow their business by sharing our extensive understanding of all aspects of digital marketing. 
During our initial discussion and diagnosis, we explore your business and marketing plans, to formulate a strategy to use digital marketing to achieve your marketing objectives.
BACRA – the stages of the customer sales funnel
We use the acronym BACRA to understand the customer journey and identify which marketing channels can best be used to achieve your targets and KPIs at each stage of the customer sales funnel:
For both ecommerce and lead generation clients, we can help you understand your current performance, provide a strategic plan, implement campaigns, undertake staff training and technical support, in order to work in partnership with your team to develop your business. 
Depending on your location, we can also advise clients on sources of grants and funding, and use this to get more marketing from your available budget!
Auditing your website and digital marketing
Traditionally many clients came to us just asking us to help them with the PPC or SEO. We would normally carry out a free technical audit of their existing website, Analytics and PPC accounts, identifying the issues and develop a strategic plan to fix them.
Now that we offer a wider range of services; (including social media, content marketing, PR, Analytics and conversion rate optimisation), we find that many more clients want a holistic and integrated approach to their marketing.
In addition, our larger clients tend to want us to manage all their digital channels, particularly if they want to focus on branding or retention, as well as acquisition and conversion.
Because of this change in emphasis, we have developed a new customer-centric approach to auditing websites and marketing effectiveness – which is shown in the diagram below. It is more detailed then the BACRA model described above because it considers the website primarily from the customer's perspective!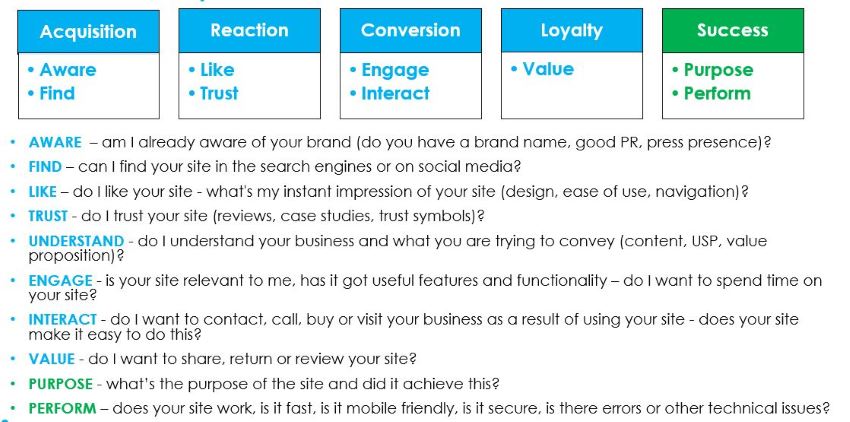 These audits still retain the data-driven approach that Anicca is known for, but they also incorporate a review of the more creative side of your content and social media platforms.
Please email me on [email protected] to find out if you qualify for a free website review.
Part 2 – Helping you develop your business plan
If you have not already created a business plan, then you might want to consider techniques such as SOSTAC to help you create your first plan:
·        Situation Analysis
·        Objectives
·        Strategy
·        Tactics
·        Actions
·        Control
However, if you have never created a business plan before, then it is likely that you will be cautious and will just project your 3-year future based on your historical results and your current business activities.
This can be a dangerous approach. You may lack ambitiousness, miss opportunities or be unaware of the possible impact from serious threats such as competitors, suppliers or external forces like Brexit.
A business plan will be much more successful if you carry out a full analysis of your internal strengths and weaknesses, or the external threats and opportunities. This is the so-called SWOT analysis, and it is one of many business analysis tools that you could use to better understand and formulate your plan.
Business planning and analysis tools
There are a whole range of tools and techniques that can help you develop your business plan:
SWOT
Used to describe your internal Strengths and Weakness, and external Opportunities and Threats
PESTEL
Understand your external environment with the following factors; Political, Economic, Social, Technology, Environmental and Legal
Porters 5 Forces
Understand the competitive rivalry within your sector/industry by analysing the power of customers, power of suppliers and the treat of new entrants or the threat of substitutes/alternative business models.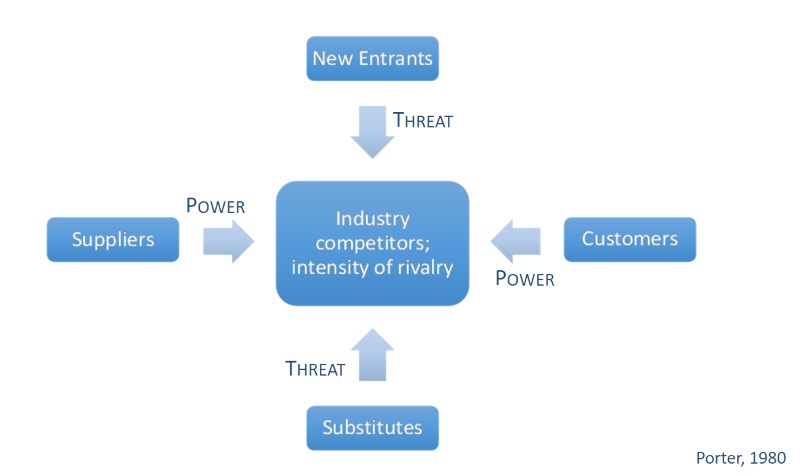 Business Model Canvas –
A model devised by Alexander Cowan http://www.alexandercowan.com/business-model-canvas-templates/ which includes 9 elements describing customers and income, versus resources and costs.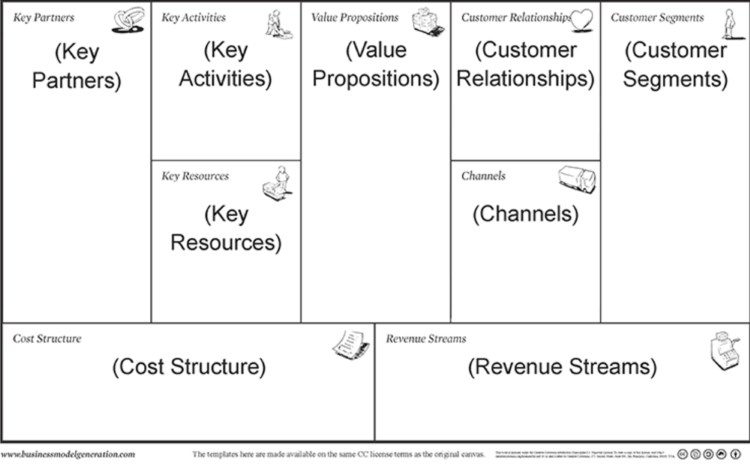 Ansoff's Matrix
A 2 X 2 grid (or matrix) describing alternative business strategies for developing products and/or markets:
Cat 1 – existing products/services and markets (market penetration)
Cat 2 – new products/services for existing markets (product development)
Cat 3 –  existing products/services for new markets (market penetration)
Cat 4 – new products/services for new markets (diversification)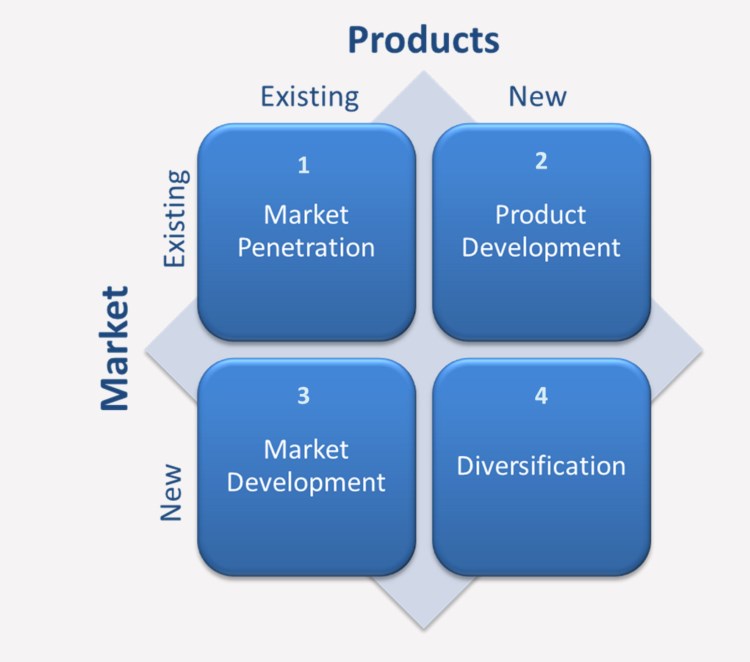 Pyramid of Resources –
A way of categorising your resources (physical, human, financial, intellectual etc.) into 4 classifications (peripheral, base, core and breakthrough) – where breakthrough resources are unique to your business and often give you your competitive advantage.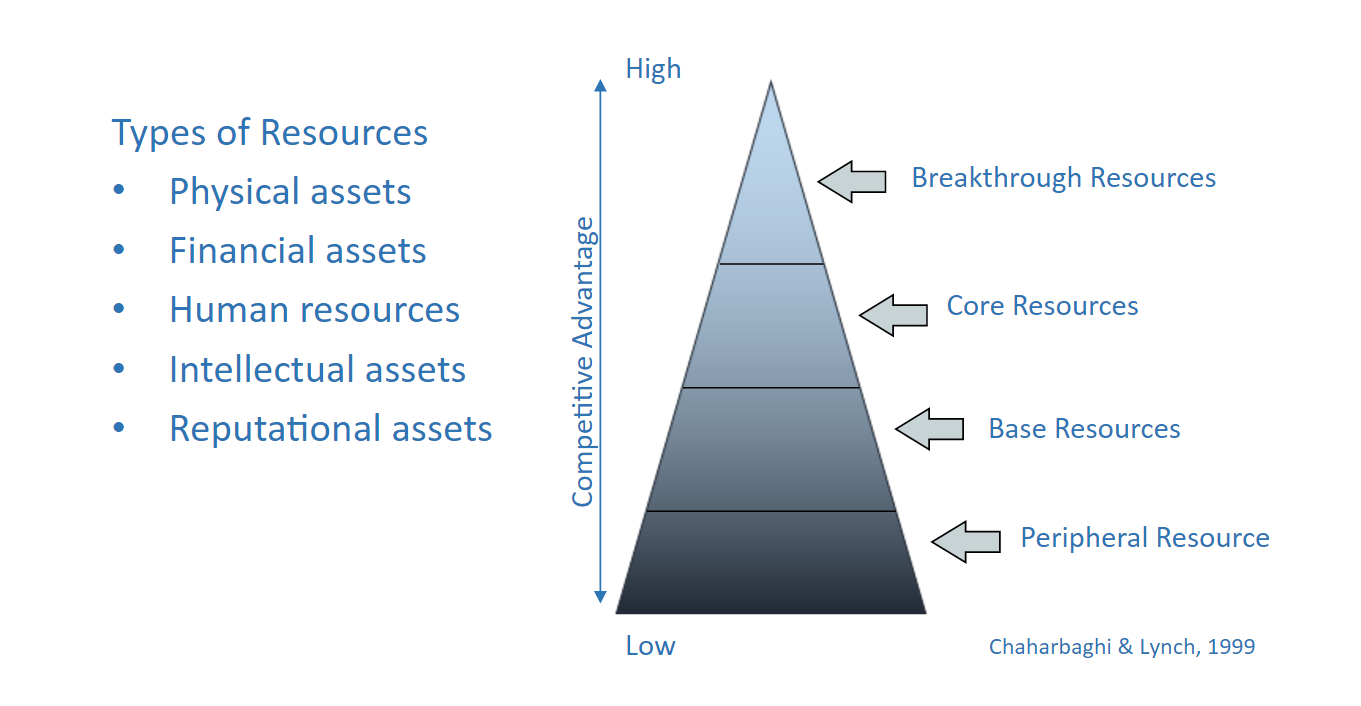 Boston Matrix –
This is another 2 x 2 gird, based on the market share of a product or service vs its growth.  When plotted on the graph – the size of the circle represents the size of the business
The 4 quadrants all have names and are descried as follows – 
Stars – whose high share and high growth will be important in the future,
Cash Cows – that supply funds for that future growth;
Question Marks – could be converted into stars with the added investment.
Dogs – have low growth and low market share.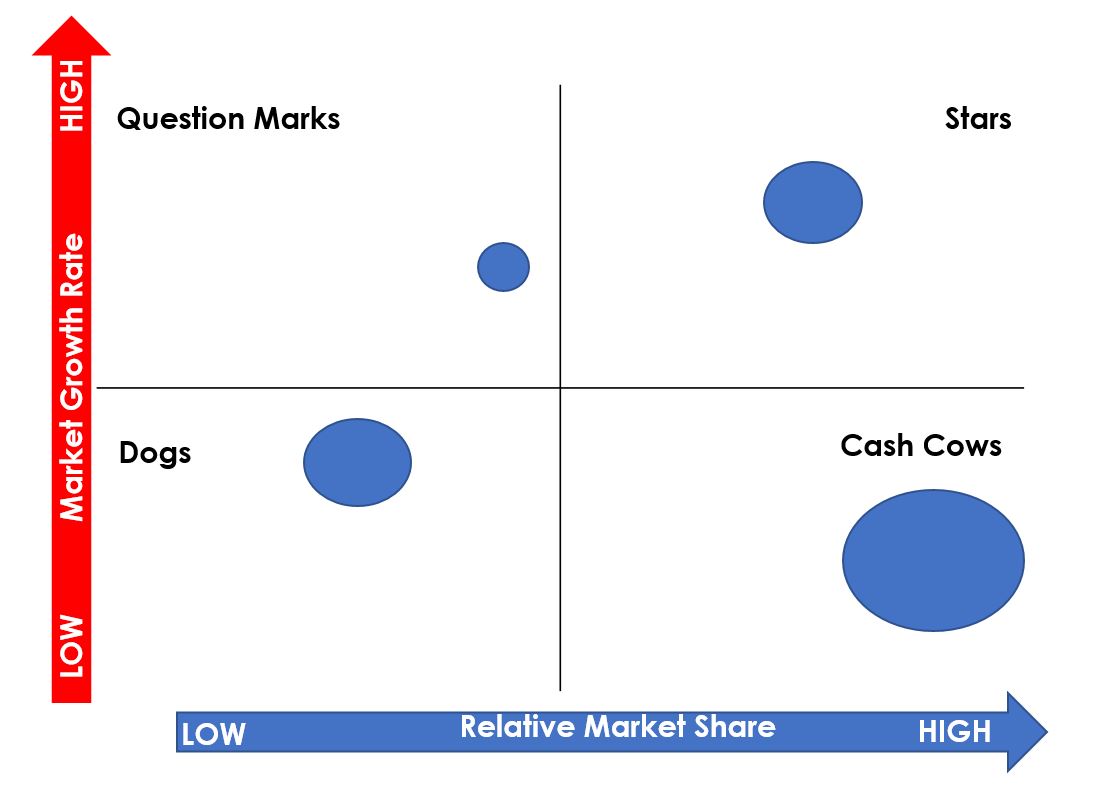 Part 3 –
Improving your management skills with the Goldman Sachs 10,000 Small Business programme (a free 16-week executive training course)
If you want to grow your business and answer yes to any of the questions below then you should consider the Goldman Sachs 10,000 programme:
·        I did not recognise most of the tools/techniques above and I admit that I probably lack the expertise to carry out a full analysis of my business
·        I don't have a trusted or external advisor who can challenge my assumptions, conclusions and any strategy I propose
·        I do not have a network of contacts that can inspire me and give me ideas of how things are done in other industries?
·        I cannot afford the time or cost of a full management course, (such as an MBA), but would be happy to work very hard part-time on a course – so my business is not disrupted
Who are Goldman Sachs and what is the 10,000 Small Business Programme?
Most people have heard of Goldman Sachs, but according to Wikipedia:
"The Goldman Sachs Group, Inc. is an American multinational finance company that engages in global investment banking, investment management, securities, and other financial services, primarily with institutional clients"
The Goldman Sachs foundation has developed the 10,000 Small Business programme and describes the UK programme as follows:
"After extensive research, Goldman Sachs launched the 10,000 Small Businesses UK programme in 2010 to specifically address the support gap for small enterprises, helping them to unlock the economic and job creation potential of their businesses.
The programme is designed by leading experts and is run in partnership with the Said Business School at Oxford University, the Aston Centre for Growth at Aston University, Leeds University Business School at University of Leeds, and the Manchester Metropolitan University Business School at Manchester Metropolitan University."


How did I get on the programme?
I must thank Tajinder Banwait from Urban Apothecary London for alerting me to the benefits of this programme.  She was organising a seminar for one of the regular reunion meet-ups of the alumni from her cohort, and she asked if Sukh and Sam from the Anicca team could give a seminar on What's new in SEO and What's New in Social Media (which of course we obliged).
She then explained about the course and how she had completely changed her business strategy because of developing her new business plan during the 16-week programme. She also expressed how inspiring it had been and the value of all the contacts she had made (both the academic tutors and the fellow businesses).
I then researched more about the course and found out that there was a new cohort nearly every quarter, so I could apply for the next course (which started in January 2017).
What are the benefits of joining the 10,000 Small Businesses programme?
Below is a diagram from the course showing an overview of the elements of the 16-week programme, which includes:
3 residential courses – with the hotel and tuition fees all paid for (you must make your own way there)

A weekly schedule of learning – including,
o   Home based study material delivered through their online platform
o   2 webinars a week with the entire group of around 40 other business owners
o   A weekly teleconference with your growth group of 6 delegates, with discussion facilitated by your growth expert – this is to discuss the exercises carried out that week
Help to develop your business growth plan – which is the final output from the course
Can anyone apply?
The programme is specifically designed for growing businesses with high growth potential. This means that start-up businesses are not eligible and there are certain criteria that you must satisfy before you can apply (see graphic below):
•                 The applicant must be the primary owner / co-owner of the business, or the most senior decision-maker if the business is not limited by shares
•                 The business must have been operating for at least three years and will generally have between five and 50 employees
•                 The business should have an annual turnover of at least £250,000
•                 Social enterprise applicants must be commercially operated businesses that achieve their social purpose through trading rather than grant funding
•                 The business must be scalable and capable of generating additional local employment
•                 Applicants should not have extensive recent management education
•                 Preference will be given to those businesses operating in or on behalf of disadvantaged communities or regeneration areas
The application process
The application process consists of several steps and is relatively quick and easy:
•                 Online application form – where you need to provide extensive details about yourself and your business. This does take a couple of hours to complete and you will need to provide supporting information such as your accounts. However, you don't have to do it all in one sitting and can save your application and return to complete it (mine was submitted at the end of October 2016)
•                 You will quickly here if you have been accepted for the interview round (I heard on 7th November 2016)
•                 You will have your identity checked before attending an hour-long interview in the centre nearest you
•                 The interview seemed to be primarily to answer questions about your plan, to assess your passion and commitment. The course leaders that interviewed put me at ease and the experience was very business-like (mine was held on 29th Nov)
•                 I then heard that I had been successful on the 16th December – just in time for ChristmasJ
•                 The first residential (in Leeds) was held 17th January, but we had some learning material available the week before
My experience so far
I published this article at the end of January, so I have completed the residential course and one week of the ongoing learning.  When I started the course, I was already in the process of producing our business plan, so the management team have already utilised a load of additional tools to help with the analysis.
The two-day residential course was a mixture of short lectures form the amazing academics, followed by group and individual exercises.  We were reviewing various techniques and theory around:
 

Internal and external analysis

Identification and prioritisation of opportunities

Understanding our biases when making decisions and techniques to evaluate options

Introduction to financial management (understanding balance sheet and the profit and loss)

Use of the Business Model Canvas to layout the elements of your business

Use of the LivePlan software to collate our plan
Networking and learning with the other delegates in the group
Considering there was 42 of us in the group, we had enough opportunities to work with or talk with nearly everyone in the room.  For me, this was the most valuable part of the course – there were 3 key conversations that stood out:
·        Understanding the way that solicitors run their business as an LLP
·        How interim managers are often brought in during the acquisition of new businesses
·        How the government was now funding graduate level apprentices, which could help fund training courses for our management team
Back in the office – ongoing learning
Since I returned we have had a hectic process of discussing and working through all the models with the management team.  We then had a mix of webinars, homework, and teleconferences to discuss our group projects. This week I was in my element as we had to review our partner's website. I was also able to offer the rest of our group our website audit, as for many on the programme – digital marketing is going to be a major opportunity!
Next week we are talking about financial ratios, so I am looking forward to updating my knowledge on this.
Apply now for the 2017 spring cohort 4 – (April – July 2017)
If you want to apply for the next cohort (April to July 2017), then you will need to get your application under way as soon as possible at https://www.10ksbapply.co.uk
Application closing date: 27th February 2017
Interviews: 21-28 March 2017
Final decision: 10th April 2017
New Higher apprenticeships for training your management team – 90% funded level 4 or 6 qualifications
When I first saw the programme, I considered sending Darren Wynn, our operations director, who wants to do an MBA, but the final condition is that the participant should be the majority owner and therefore able to make decisions and able to implement the plan. So, it looked like I would be the only one eligible and by that time I was very excited to go myself!
Interestingly, as a direct result of attending the course, one of the tutors has informed me that there is a new government funded scheme for graduate apprentices where they will fund 90% of a higher degree in management.  Whilst research this we found information on the higher apprenticeship scheme. From April, the government will be providing 90% funding for level 4 to level 6 management qualifications.  You can find out about this at https://www.gov.uk/government/publications/higher-apprenticeships-guide-for-employers
Find out more
Please feel free to contact me on [email protected] if you want to hear any more details about these opportunities, or if you would like to discover how Anicca's digital marketing consultancy service can help you grow your business.