Local SEO is forever evolving and more and more businesses are now realising the importance local SEO plays in marketing. We've put together a little guide of must-haves for your local business.
1. Google My Business
One of the most important things to have for your local business is a verified Google My Business profile. This is essential if you want to appear in the Google Local listings.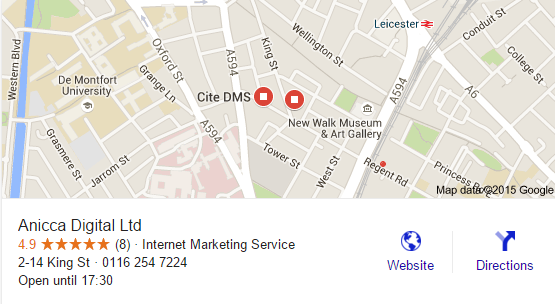 If you want to appear within the Google Local listings then there are many factors which come into play. As you can see in the example above, reviews really help out getting the top listing in the snack pack – as well as fully completing the profile with opening hours, address details and phone numbers. The Google Local Listings have recently reduced from 7 listings to 3. We wrote about this in our blog post about the Google Snack Pack. For example, if you were in position 4-7 in these listings, review your business page using these guidelines.
 2. NAP & Citations
Secondly, you need to manage your NAP (Name, address and phone number) listings and citations. NAP listings and citations, when used correctly, will act as links to your website without there even being a physical link to your website (yes, Google is that clever now!). So wherever your business is listed, make sure your details are aligned so that Google can trace the details back to your website.
3. Schema Mark Up
Another important aspect for local SEO is the use of Schema, or structured data mark up. For local businesses there are plenty of different schemas that you can use. Whether you are a restaurant, concert hall, plumber or a garage there is a schema for you. The most popular schema is the local business schema, which allows you to mark up your address and make it easy for Google to see and understand. Again, this MUST be aligned with your Google My Business page and NAP listings to work well.  There are plenty of different schema tags to choose from on the Schema website and you can also use Google Search Console or the structured data mark up tool to test the code.

Local SEO is not a simple one time thing; it requires constant improvements and monitoring. Google even has its own ranking algorithm for local businesses. It has also developed local targeted penalties like Pigeon which effect local searches and map listings.
Here at Anicca we have recently launched our local SEO service to help small and local businesses break through to the first page of Google and maximise their local business. If you need more information about this service and how it will benefit your business take a look at our SEO for small businesses section of the website or call our office on 0116 254 7224.