Google have been incredibly busy and while you might be fed up of reading about secure search and the latest algorithm update, you might be interested to learn that they have released a stint of new features in Google analytics which are set to make your life that little bit easier.
To give you a small taster into what these new features are we've collated a list of them below, however a further 36 new features are soon to be added so stay tuned!
ABCs (Acquisition, Behaviour & Conversion)
A popular feature for many, Google have worked hard to refine this report to ensure that users are able to distinguish how you acquire users, their behaviour on your site after an acquisition and their conversion patterns. This is set to replace the 'Traffic' sources' section on the left hand navigation.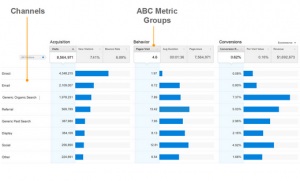 Unified Segments
Designed to help those who are new to analytics while offering further insight to a seasoned professional, unified segments include; user segmentation, sequence segments, segment templates, a dully refreshed UI and cohort analysis.
Audience Reporting
Find out who is visiting your site with the new audience reporting feature in Google analytics. Designed to help online marketers discern who their target audience is, this new feature will provide detailed insight into the age, gender and interests of those who are visiting your site.
SDX (Storage Data Acceleration)
Users will now be able to hit level data from Google analytics within Google BigQuery which will deliver more complex querying of un-sampled data. Google BigQuery is a web service that allows you to perform analysis of large data sets. This is a planned feature for Google analytics premium account.

Analytics Academy
This is a new online learning platform which has been designed to help marketers and analysts stay ahead of the game by utilising all that Google analytics has to offer. Throughout the year you will have the exciting opportunity to take part in an instructor-led course.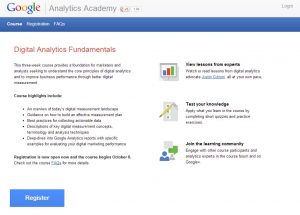 These are the latest updates in Google analytics, however there are more to come so stay tuned!