If you log in to your search console account today and visit the search analytics section, you will notice that Google has quietly released a new feature called 'Compare Queries'.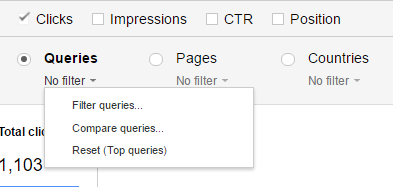 What this means is you can enter the queries you want to see impressions, visits, position or click through rate for and compare them against each other which can be really useful should you need to choose just a single phrase to focus a page around.
If we compare 'mens shoes' and 'mens trainers' over the last 90 days you can see how 'mens shoes' is out performing 'mens trainers' on both clicks and impressions.

Neither of these phrases perform on the first page of Google, so from this quick analysis we can already see the better phrase for this company to focus on would be 'Mens Shoes' as this would look to provide the most engagement. It's a real time saver instead of having to go through and manually view and compare each set of data separately.
The tool is going to be a great addition to the already data-rich search analytics feature in Google Search Console and our SEO team will be using it to its full potential to make the best decisions for our clients.