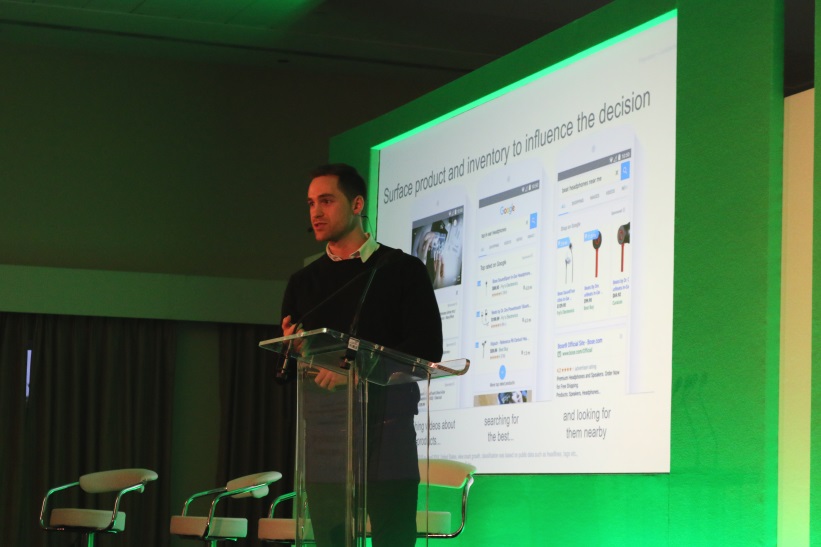 Anicca Digital's annual E-Commercial 16 conference saw many speakers grace the stage at Leicester's Marriott Hotel. From Anicca's own MD Ann Stanley, who gave expert insights on remarketing strategies in Search, Social and Display to James Murray, EMEA Product Marketing Manager for Bing talking about voice and visual search and Philip Shearer, Shopping Lead for Google, who ended the day's events with his engaging keynote on the Future of Google Shopping.
What is the future of Google shopping?
When it comes to Google shopping, it is all about Micro-Moments .
With the rapid increase in mobile searches, consumers are driven by micro-moments. Our longer desktop or laptop online sessions have been replaced with shorter, fragmented and spontaneous sessions with search engines such as Google and Bing developing the complexity to answer our spontaneous 'of the moment' questions. In Google's words:
·         I want to know moments (houses for rent Leicester)
·         I want to go moments (cinemas near me)
·         I want to do moments (how to change a headlight)
·         I want to buy moments (Samsung Galaxy A3)
Capitalising on these micro-moments can set you in the minds of consumers for the rest of their shopping journey, online and offline and most of us aren't proving to be ready for them.
Revealing Shopping Statistics
According to Google:
'90% of smartphone users aren't absolutely sure of the brand that they want to buy when they begin shopping'
This means that brand loyalty hasn't even come into play. Customers are at the early stages of their shopping journey and are willing to shop around. Be the guide for them.
'There has been a 57% decline in foot traffic in-store with visit values increasing by up to three times'
So what is the logic behind this? These days, many of us are driven by 'where can I buy' searches online, with local inventory ads  going one step further into helping our store searches to be more specific, detailing stores nearest to us, as well letting shoppers know whether a particular store has the product you want in stock. Mobile devices have become an advertising space for your stores, with online customer experiences helping to draw more footfall into them. The Google Maps 'send to my phone' function also brings the online and offline experience closer together, where you can send a location that you find on Google Maps to your phone, tablet or car. Another factor that bumps up the store visit value is online reviews. According to Nathalie Nahai, web psychologist, 'lack of trust is the biggest impediment to successful e-commerce and interpersonal relationships'. In fact, 88% of people trust online reviews as much as personal recommendations.
With this in mind, it also worth noting that 50% of online interactions involve multiple devices. So it might be that whilst the awareness phase of a customer's search may take place via a mobile, a purchase may involve using a laptop or desktop. To many, laptops and desktops have a legacy of feeling safer and as mentioned earlier on, are associated with longer activity such as entering payment details.
What can brands do to capitalise on 'micro-moment' searches?
In short, produce quality content that answers these questions or allow for seamless customer experiences where user generated content such as testimonials and reviews can influence or sway a purchase. Reviews needn't take the form of written reviews either, with vlogging and 'unboxing videos' tapping into our preferences for consuming visual content.
Putting a focus on long-tail searches is the way to go. What are the specifics that people are searching for? Aim to answer these questions at every stage of the customer journey. Tools like answer the public and Google's related searches are great for this. Ask your customer services what customers are asking questions about. Understand the language they speak using reviews for guidance. Keep an eye out for what your competitors are doing.
Anicca Digital and the digital community

With our successful E-Commercial conference now over, we have already started to plan the next one. Yes, that's right, E-Commercial 17 is on its way. You can also buy tickets for E-Commercial 17 right now.
At the heart of the E-Commercial conference is a desire to develop a solid community within the East Midlands digital sphere, where we can share knowledge and experience so that we can always be looking to 'do better' for our businesses and for our customers.
Leicester Digital, a social and networking group is another event spearheaded by Anicca Digital providing an opportunity for anybody interested online marketing to attend meetups on a monthly basis, listen to or provide a talk with a digital theme and to socialise in a relaxed environment with like minded people. Come and join us, we'd be happy to see you.