In January, Head of Creative and Client Strategy, Thom Shardlow, presented a webinar on how to plan your creative in 2023. Thom covers three key areas to ensure this is implemented successfully: cumulative exposure, audience first, and visual representation. 
Cumulative Exposure 
Creative refers to the visual representation of a brand's service and product. This can be displayed on digital elements such as organic posts on social media, paid content on social media and Google, websites, and email. However, creativity also encompasses other elements such as OOH (out-of-home) and leaflets. As a digital marketing agency, we focus on the digital aspect of creative, including the ongoing design of landing pages, user journeys, presentations, internal communications, press releases, case studies, and partnerships. All of these channels need to be considered when thinking about creative, as it is about cumulative exposure and ensuring that the audience is consistently seeing and being reminded of a brand's look and feel.
It's easy to think that social media isn't working because it's too saturated and everybody is promoting on these platforms. Also, it's common to see low conversion rates when analysing data from social media, but it is important to consider the cumulative exposure and the ecosystem of the user journey. Social media plays a crucial role in boosting conversions and it is important to have all elements, such as landing pages, websites, and emails working together in order to achieve the best results. This approach of considering every aspect and having everything live at any given point is key to ensuring an always-on approach that will drive conversions.
Audience First 
Once you have devised your creative, it's important to have the customer journey at the forefront of any creative campaign. The 'audience first' approach is a fundamental principle in digital marketing, as it is about targeting decision-makers with digital content at all times. This approach focuses on understanding the need states of the audience and where they are in the marketing funnel. This is essential in order to effectively deliver digital content that will resonate with the target audience and ultimately drive conversions.
This follows in stages: 
The discovery phase is when the target audience is being introduced to the brand or has very little awareness of the brand, therefore the aim is for the creative to become a catalyst for the awareness journey.

The launch phase is the target audience, has awareness of the brand, but are yet to purchase and become consumers.

Finally the optimised phase, this group has already bought from your brand and wish to be contacted again. 
Even though this is the same target audience group, they have different needs, and they need to be targeted concurrently With these stages, there is a criteria you need to have gone through about your target audience and the creative before it goes live. 
When will they have time to absorb this content?

Are they going to see this on the go, i.e. when they're on their commute or on a lunch hour and just searching social? 

What time of the day are they going to see the content? 
A great example of this is an advertisement campaign by Adidas that was released following Argentina winning the World Cup, featuring Lionel Messi holding the World Cup. The campaign uses a simple image and a strapline "impossible is nothing" which is easy to understand and grasp quickly. The author is noting that this is an effective way to capture attention, as it requires minimal time to absorb the information. Adidas is a global brand that doesn't need to focus on the discovery phase, however, they have captured its audience, which is why this creative content works so well.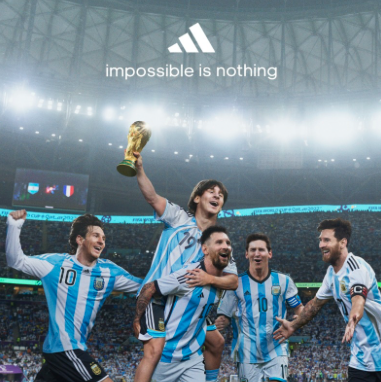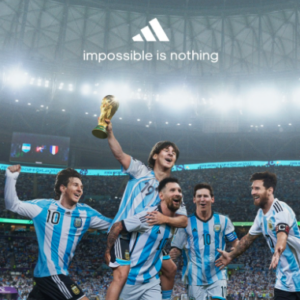 Image One: Adidas "Nothing is Impossible" Social Media Campaign
Visual Representation 
Visual representation in branding includes elements such as typeface, colour palette, imagery, tone of voice, company culture, and relevance to the target audience. These elements should be considered and executed effectively in order to create a strong brand identity and stand out from competitors. Users/consumers make quick judgements about a brand based on visual representation. In today's digital age, attention spans are shorter and users are quick to scroll past content that does not catch their attention.
Visual representation is more than just your logo, here is a list of elements to consider when producing content for your brand. 
Typefaces

Colour

Palette

Imagery

Tone of Voice

Culture

Product / Service

Staff

Audience
When planning the exposure you require for your creative asset, you need to be well-represented within the asset. If you don't brand your own content then you will be giving consideration to your competitors. You have just 0.25 seconds to grab the attention of the audience, so make your point quickly and clearly. In order to get your campaign right the first time with your branding, six criteria must be met: 
Showcase your brand up front, and make this as great as it can be, so your audience doesn't consider your competitors.  
Timing/ Platform location
Where will this asset be seen? 
What time of day will your audience be engaging? 
Make sure this is appropriate for hitting the mark with your target audience. 
Video first is the order of today, 85% of video is still seen without sound, but captures the audience more when it is added. 
Make sure it's fit for purpose, design the creative for the platform, otherwise this will not do the creative justice. 
Keep the balance right, and re-engage the audience if it's a long video. This engagement could be through colours and movement. 
Don't churn out the same creative repeatedly; make it fun and push the limits of your brand and expertise. 
An example post that uses the six points above really well is FedEx. This post uses diagonal shapes to stand out. The shapes are intentional and designed to catch the viewer's attention as they scroll through their feed. The post also uses brand typography with the correct typeface, colours, clean and white space, and relevant, believable images. The overall design of the post feels well-designed and owned by FedEx, and is a simple example of effective branding on social media.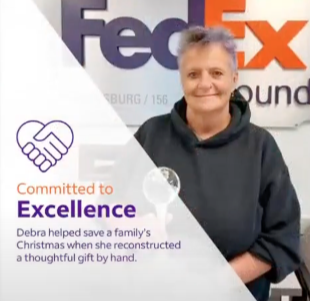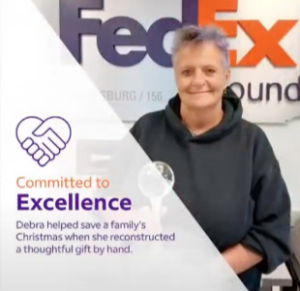 Image Two: Example social media post from FedEx
In summary, it's important to focus your creatives on using captivated viewing, discovery, launch and optimised need state.
Discovery: Is it on brand? Will it captivate the audience? 
Launch: Is the launch scenario right? Time of day, right platform? 
Optimise: Is this performing well? Is the brand message well received?
 If you are looking for creative services to help elevate your business, Anicca Digital offers a wide range of options to choose from. Our team of experts can help with branding, UX design, A/B testing, and much more. Anicca Digital has the skills and experience to bring your vision to life.