What's new in search during October? Knowledge panels appear in autocomplete results, Google re-works core documentation and adds a product to Google Ads.
During October 2022, these were some of the highlights:
Knowledge Panels Rendering within Google Autocomplete
Google Anti-Spam Update Complete
Google Unavailable Video Update for Ads
No Need to use English URLs for Non-English Pages
Google Webmaster Guidelines becomes Google Search Essentials
New Content Suitability Centre for Google Ads
Read on for the detail.
Knowledge Panels Rendering within Google Autocomplete
Posted October 21st on SEO Roundtable
A very interesting search experiment was recently documented by Search Engine Roundtable: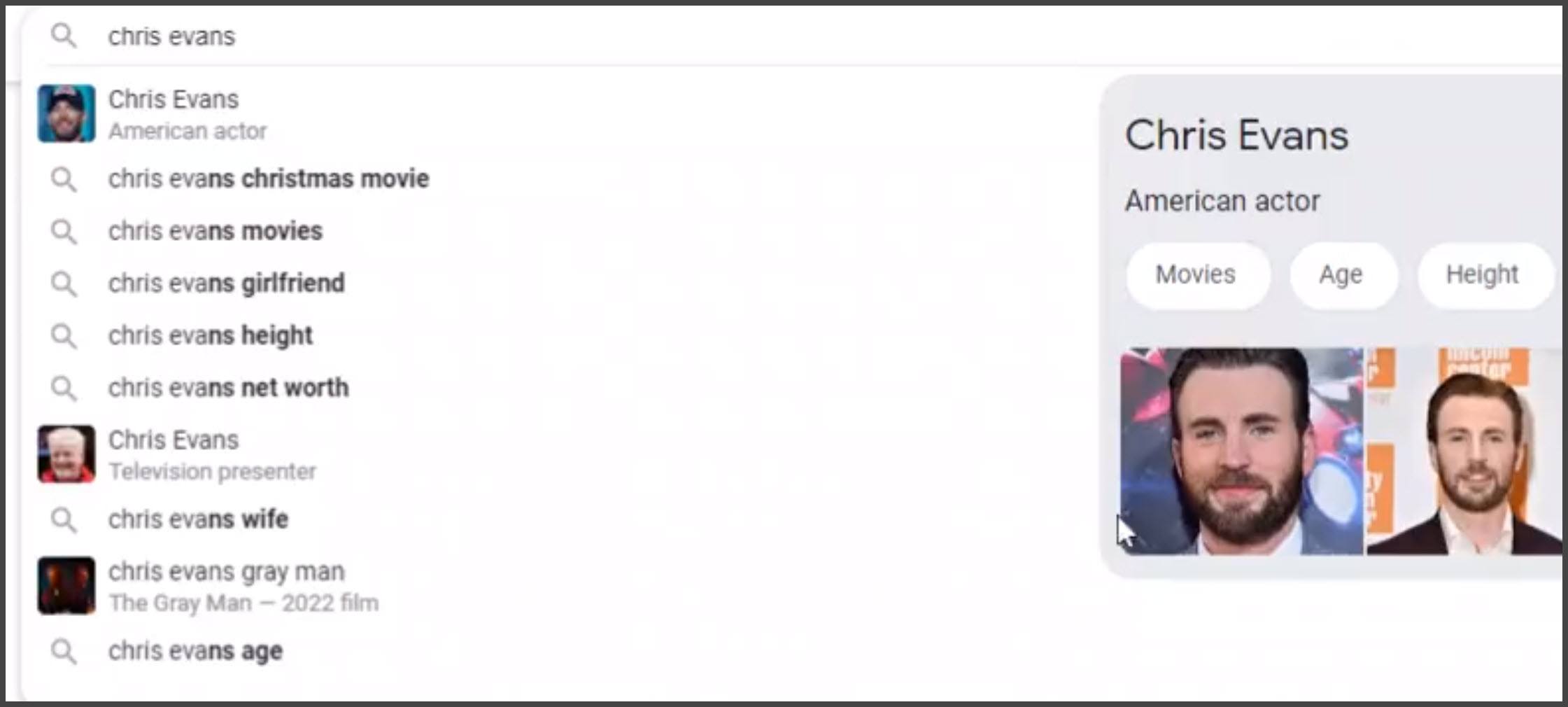 It was observed that Google were trialling a limited integration of autocomplete results with accompanying knowledge panels. This new development allows for rich, contextual information to be surfaced, even before a search is processed.
Google continues to experiment with more visual features, in the hopes of evolving from a 'search engine' into a 'knowledge engine'. Google wants to directly answer user queries, rather than supplying a list of links. The younger generations continue to demand more visual results, as evidenced by the adoption of TikTok as a search engine.
Main takeaway: As modern platforms (Instagram, TikTok) become more 'search-like', platforms such as Google respond by surfacing media in a visual way. Google seeks to provide searchers with meaningful information, rather than lists of links.
Google Anti-Spam Update Complete
Posted October 19th on Google Search Updates – roll out complete as of October 21st 2022 (Search Engine Land)
On October 19th, Google posted a note that they were overhauling search spam detection for their search engine. The roll-out for this update was apparently complete as of October 21st, within 48 hours of the update announcement.
It's not at all unusual for Google to release documented / named anti-spam updates:
https://developers.google.com/search/updates/ranking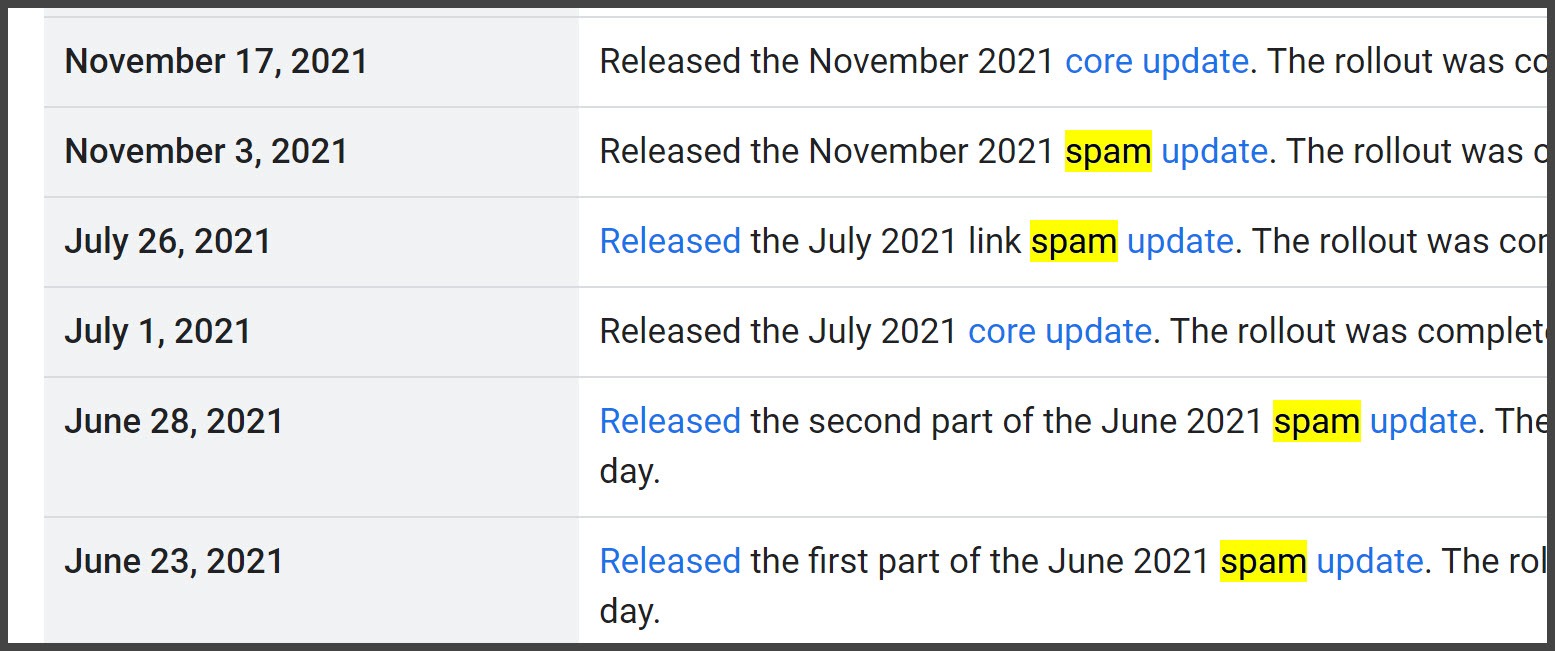 During 2021, there seemed to be an anti-spam update of some kind almost every month. In 2022 though, there has been nothing (at least, nothing 'Google official' until now in October). Is this a warning from Google, are we about to see some months of anti-spam activity? Black-hat SEOs beware, a new crusade could be on the horizon.
Here is Google's guidance regarding the recent update:
"Sites that see a change after a spam update should review our spam policies to ensure they are complying with those. Sites that violate our policies may rank lower in results or not appear in results at all. Making changes may help a site improve if our automated systems learn over a period of months that the site complies with our spam policies."
You can find Google's search spam policies here.
Main takeaway: Google may be gearing up for more serious anti-spam activity as we saw during 2021. Familiarise yourself with Google's search spam policies and act accordingly.
Google Unavailable Video Update for Ads
Posted October 19th on Search Engine Journal
This information was posted by Brooke Osmundson on Search Engine Journal (you can also see Google's documentation here). This is what Brooke had to say:
"In further moves towards transparency to advertisers, Google quietly updated its Unavailable Video policy in Google Ads this week.
The update gives advertisers a clearer understanding of the disapproval reason and how to rectify the issue quickly."
In essence, Google Ads which utilise videos will now get more information, as and when a video is rejected by Google. This will enable those serving video ads to adapt more quickly to Google's stringent rules, policies and regulations.
Here is some information directly from Google: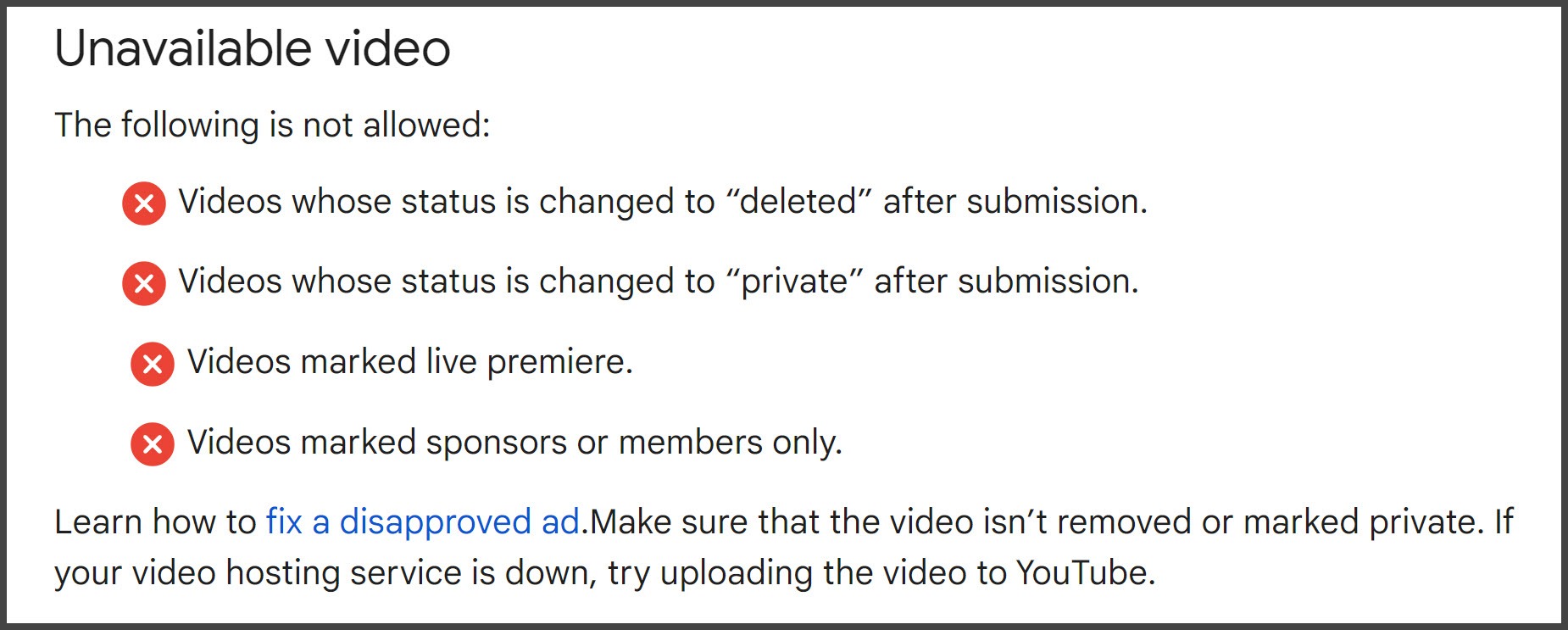 Will the main Google Ads platform begin flagging these failures in a granular way? We don't know the answer yet. Usually when Google update their policies, in-platform changes aren't too far around the corner.
Main takeaway: Google have changed their Unavailable Video Policy within their documentation, to make it a little clearer – as to why videos may be rejected.
No Need to use English URLs for Non-English Pages
Posted October 17th on SEO Roundtable
An interesting comment from John Mueller (a search advocate at Google, coordinator of Google Search Relations); this comment was documented on Search Engine Roundtable. The comment was originally posted by 'JohnMu' (John Mueller) on Twitter.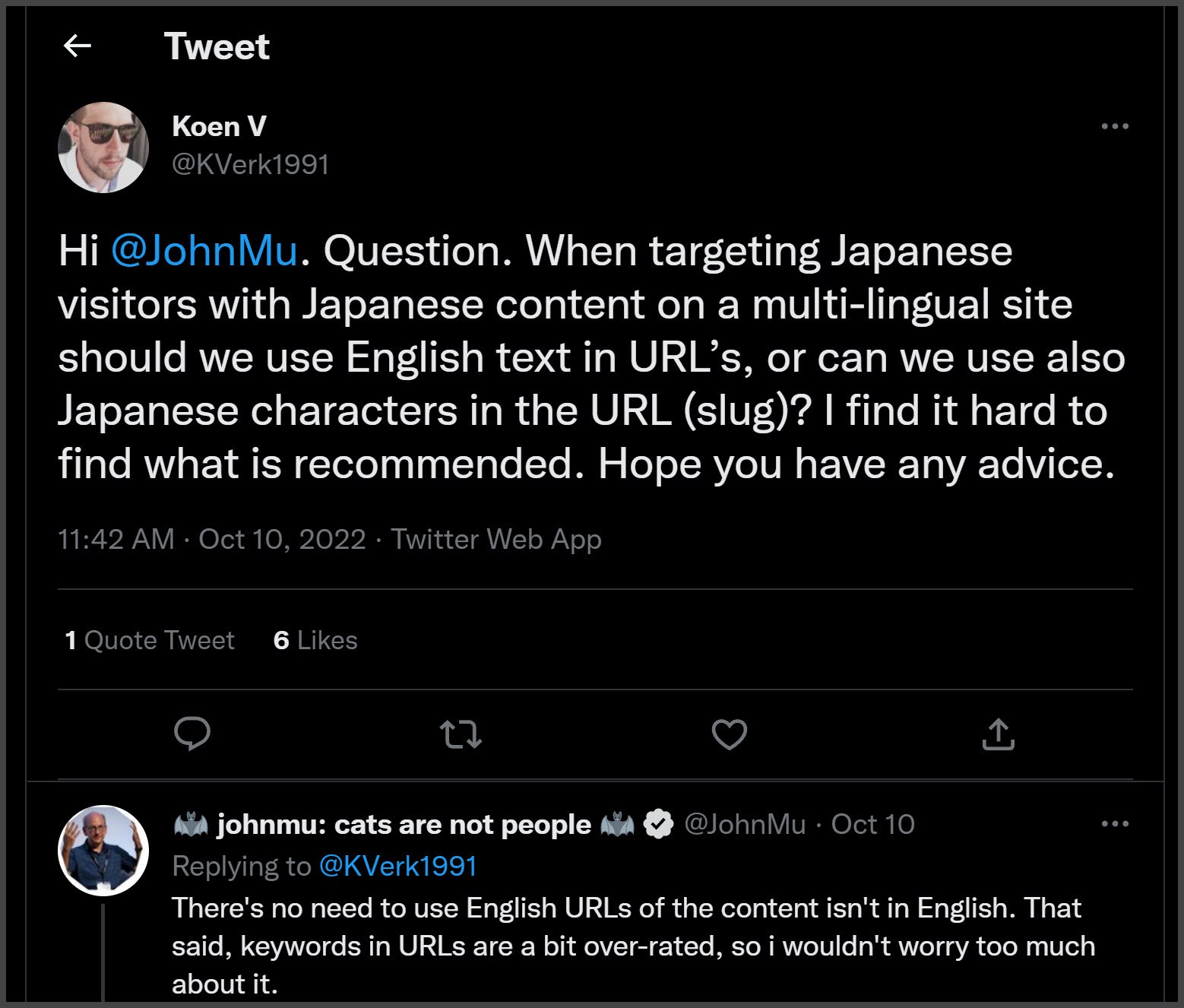 I think that for a long time, everyone in SEO has known that language-tailored URLs are better for search targeting. Have a French page? Use French words and language in the URL string, that is just common sense.
So why the query? Well, the question here really relates to coding and character sets. With the Japanese language, it's not just the words which are different. Japan uses fundamentally different characters to communicate, a different alphabet.
You can get a better understanding of this query, by visiting this page: https://www.key-shortcut.com/en/writing-systems/world-map-of-alphabets-scripts
As you can see, different nations and cultures utilise different 'writing systems'. Usually, countries that use the same writing systems will also use the same alphabets (individual writing characters / letters). Although the Latin language is dead, it is not dead as a writing system. If you see words written using the typical "abc" alphabet that we know in the west, that's likely to be the Latin writing system.
However, there are many other writing systems which use entirely different characters. For example, there's Japanese (Hiragana, Katakana, Kanji), Chinese (Chinese Mandarin, Chinese Simplified) and Russian (Cyrillic). The web was created in the west, and by default HTML (and most other programming languages) utilise English letters (Latin writing style characters) within their coding.
So, isn't there a chance that utilising non-standard characters within the HTML (for something like a URL string), could stop Google from interpreting a page properly? For example, what if you were to use Japanese Kanji within a URL string? Would it break Google's ability to crawl the page?
According to John Mueller, this is not a problem. Having said this, I wouldn't jump to start including a load of non-standard characters in your URL strings. That's because, I'm not entirely certain that John Mueller interpreted the user's query correctly (he talks more about words and language, whereas the user was asking about writing systems and character encoding).
Main takeaway: John Mu has stated that optimisers don't need to use English words in foreign-targeted URL strings. This is somewhat of a no-brainer.
Google Webmaster Guidelines becomes Google Search Essentials
Posted October 14th on SEO Roundtable
Google Webmaster Guidelines has been rebranded as "Google Search Essentials". This may only seem like a small change, but it confirms that Google are taking a more active role in the search community. For many years search specialists have spent hours interpreting Google's various guidelines and policies, determining the correct implementation for themselves.
That's unlikely to change. Quality rater guidelines and advertising policies are still really important. But the term "search essentials" show that Google are more willing to comment on subjective implementation than before.
In addition to the name change, you will also observe a number of Google documentation changes in October.
Here's some additional information on the changes from Search Engine Roundtable:
"Google changed more than just the name, Google also changed the overall format, added clearer terms and examples and also tried to simplify them for easier consumption. Google explained they updated the:
Technical requirements: It is a new section to help people understand how to publish content in a format that Google can index and access.
Spam policies: Google updated its guidance for its policies against spam, to help site owners avoid creating content that isn't helpful for people using Google Search. Google explained that most of the content in these spam policies has already existed on Google Search Central in the "Quality Guidelines", Google did make a few additions to provide clearer guidance and concrete examples for issues like deceptive behaviour, link spam, online harassment, and scam and fraud.
Key best practices: Google published new guidance with key best practices that people can consider when creating sites, to create content that serves people and will help a site be more easily found through Google Search.
The new spam section has content on:
New deceptive behaviour related-topics such as misleading functionality
New section on other behaviours that can lead to demotion and or removal, such as online harassment, and scam and fraud
Consolidated topics related to link spam and thin content"
The new 'technical requirements' section shows that Google are getting a lot more involved on the integration side of search.
Main takeaway: Google have re-branded their Webmaster Guidelines documents as Search Essentials, and have updated swathes of their documentation. Google are now taking a more active role in terms of recommendations for technical requirements and subjective search deployment.
New Content Suitability Centre for Google Ads
Posted October 14th on Search Engine Land
Information from Search Engine Land (posted mid-October), reveals a new area of Google Ads to be explored. The Content Suitability Centre aims at "bringing together everything you need to manage our best-in-class suitability settings, for all campaigns on YouTube and the Google Display Network" – Google, official page for the new product is here.
Some more information from Google:
"Through streamlined controls, the new content suitability center will take out the guesswork for brands in curating the environments that align with their values."
Barry Schwartz (writing on Search Engine Land) had this to say:
"Google has launched a new content suitability center in Google Ads where you can manage your suitability settings for all campaigns on YouTube and the Google Display Network"
"The new suitability center in Google Ads allows you to manage the suitability controls under a single point-of-entry. You can use the content suitability center to easily set your suitability preferences for inventory modes and exclusions across YouTube and the Google Display Network."
"This should save you time, reduce errors and improve the management of these controls in a more central place. Google added the company will share more in the coming months to help you continue to align with what works best for your brand identity and navigate the growing landscape of content."
Here's an image of the new product and features, directly from Google: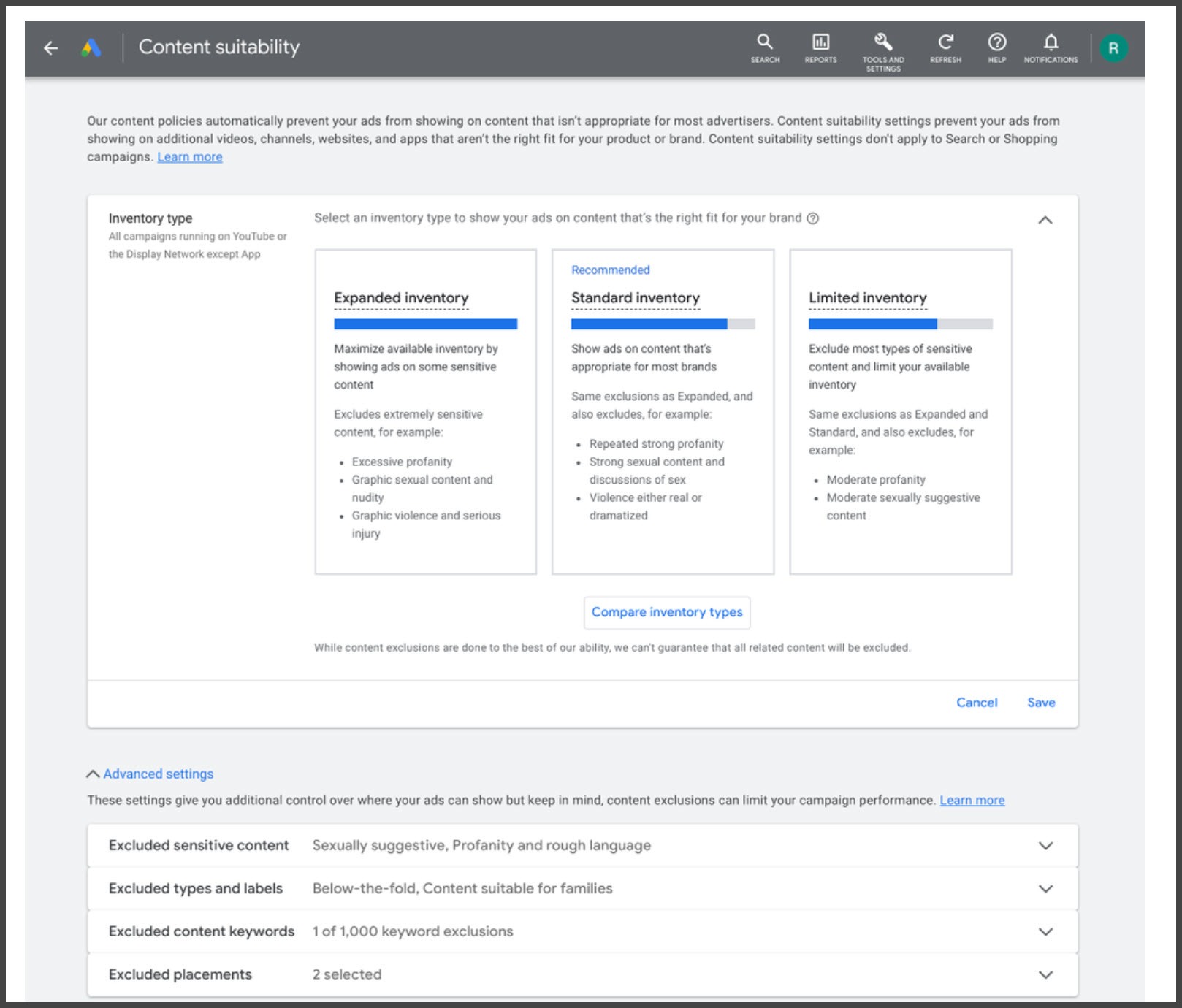 Main takeaway: Google are trying to make it easier and more streamlined, for those managing ad-campaigns to assess content suitability. Suitability controls are now under a single point of entry, increasing advertiser efficiencies.
Here at Anicca, we stay up-to-date on all SEO, search and algorithmic developments and apply them to our clients' campaigns. You can check out our SEO services here. Impressed with our knowledge and coverage of search? Give us a call on 0116 254 7224.