If you are running a Pay Per Click campaign you'll have probably noticed a new sign that's popping up alongside your paid ads. This little "Yellow Ad" image only appears in desktop search results – in a similar format to ads shown on mobile devices – but while it's only a minor change, could the bright yellow colouring of this small but informative sign act as a deterrent for prospective customers or invite customers in? If this question is keeping you awake at night or something you haven't even consider until now, continue reading as I try to answer this question.
Is the New "Yellow Ad" Sign Live?
The new "Yellow Ad" is still in Google's testing stage, and while it is something which could potentially affect the Click Through Rate (CTR) of your ads, at the moment it won't appear every single time. Sometimes the ad layout will show with the yellow ad image and sometimes it will resort back to the original format, depending on which browser you are using there and then.
What Does it Look Like in Google Search Results?
We did a search on "Man Utd Shirt" to see the difference between the two.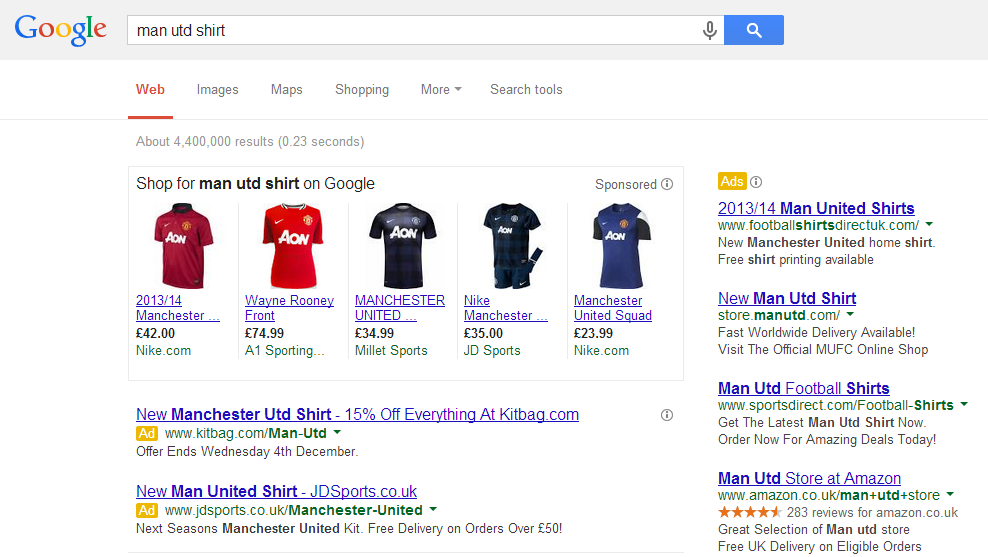 The new layout features a white background and just a faint grey line separating them from the top of the organic search results. The yellow ad image can clearly be seen on the top and side results.
As you will see from the picture, the ad sign does not appear in the Google shopping feed, which could be positive news for eCommerce businesses.
The original had a light yellow background for top positions 1-3.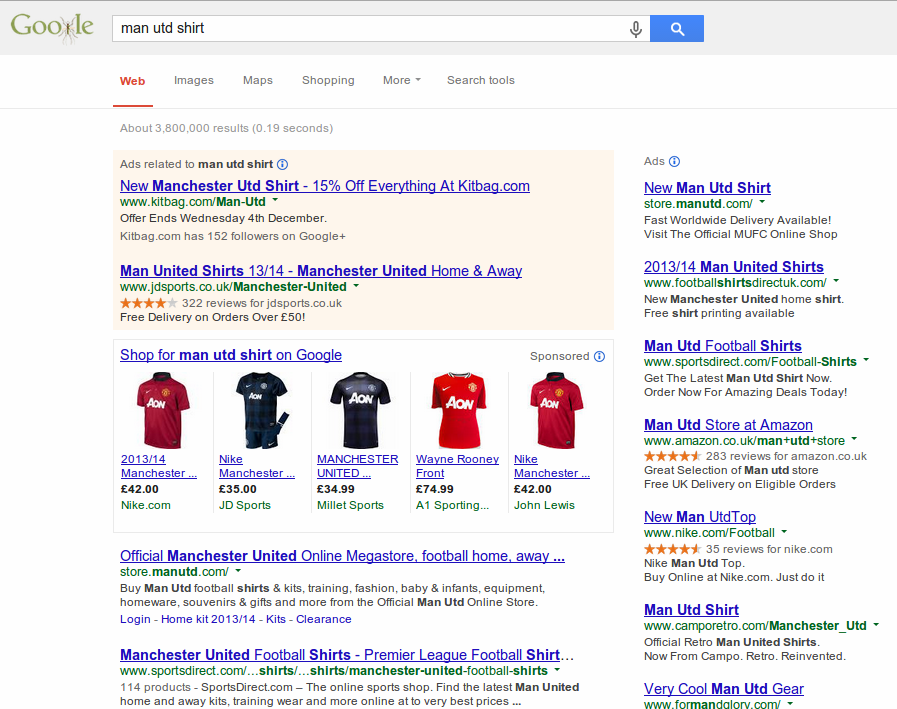 Why Did Google Introduce The New Ad Sign?
Opinions differ on why Google is testing the New Ad Sign, but many believe it is due to a change in guidelines from them Federal Trade Commission who state:
"In an ongoing effort to ensure that its guidance for online advertisers stays current with changes in digital media, the Federal Trade Commission consumer protection staff sent letters to search engine companies to update guidance published in 2002 on distinguishing paid search results and other forms of advertising from natural search results. The letters note that in recent years, paid search results have become less distinguishable as advertising, and the FTC is urging the search industry to make sure the distinction is clear."
Good or Bad: What is the Impact?
Currently, without doing any testing it's hard to say whether the new ad sign is going to be good or bad. One thing is certain, the new ad sign is vibrant and hard to ignore, and where the customers probably didn't realise that a result was a paid ad, it could influence the consumer and alter their normal search behaviour – having an effect on CTR and conversions. Whether this is good or bad, it's hard to tell.
Needless to say, it will be interesting to see if the Click Through Rates (CTRs) of our ads will go up or down with the new vibrant sign next to it.